AV Homes (NASDAQ:AVHI) is a top-25 homebuilder with operations and large land holdings in Florida, Arizona and North Carolina - all markets experiencing net population growth and a recovering housing market. The company underwent a dramatic turnaround led by CEO Roger Cregg (formerly CFO of Pulte Homes), and following TPG's $135 million equity investment in mid-2013.
Under the turnaround strategy, AVHI has grown sales from $70 million on 306 homes closed in 2012 to sales of $764 million on 2,465 homes closed in 2016. EBITDA has increased from a loss of $15 million in 2012 to a gain of $68 million in 2016. And EPS has increased to a gain of $1.67 in 2016 (excluding a nearly $5/share income tax benefit) from a loss of $7.19 in 2012.
| | | |
| --- | --- | --- |
| AVHI's Turnaround | 2016 | 2012 |
| Sales | $764 million | $70 million |
| Homes closed | 2,465 | 306 |
| Adj. EBITDA | $68 million | ($15 million) |
| Adj. EPS | $1.67 | ($7.19) |
AVHI has a book value per share of $20.02, and its assets are primarily comprised of a large land position and a significant deferred income tax asset. The company owns over 15,000 lots and 7,000 acres of mixed-use land. In addition, its balance sheet as of year-end 2016 was very conservatively structured with a net debt-to-total capitalization of 28%. This compares very favorably to the U.S. homebuilding sector, which sports a net debt-to-total capitalization of 40% (as per Bloomberg). It also holds a significant cash balance of $69 million.
| | | |
| --- | --- | --- |
| Balance Sheet Metrics | AVHI | Bloomberg Peer Group |
| Net Debt-to-Total Capital | 28% | 40% |
| Net Debt-to-EBITDA | 3.0x | 4.1x |
| Cash % of Total Debt | 25% | 20% |
Though AVHI has demonstrated strong growth in earnings and the financial capacity to continue growing sales through acquisitions, it trades at a sharp discount to its peer group in both enterprise and equity value terms. Most importantly, AVHI trades at a sharp discount to its land-heavy book value.
| | | |
| --- | --- | --- |
| Valuation Metrics | AVHI | Bloomberg Peer Group |
| Price-to-2017E Adj. Earnings | 8.8x | 11.1x |
| Price-to-2016A Adj. Earnings | 10.2x | 12.7x |
| EV-to-2016A EBITDA | 8.6x | 11.3x |
| Price-to-Book (2016A) | 85% | 140% |
Overall, AVHI is well positioned for a continued recovery in U.S. new home sales, which are still at low levels as compared to history, and in light of a growing population. Moreover, if the U.S. economy benefits from a sharp growth pick-up, i.e. the "reflation trade," homebuilding and AVHI will strongly benefit.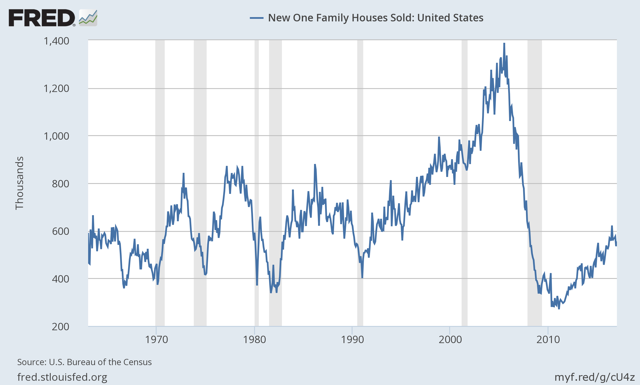 So, why is the stock trading at such a significant discount to its peer group and its prospects? I believe there are three institutional reasons and one recent strategic reason for AVHI's mispricing. Notably, I believe all of these factors are temporary.
The three institutional reasons for mispricing:
The company was historically a small homebuilder, and underwent a significant transformation during a period of great industrial uncertainty. Due to this housing uncertainty, investment has flocked to the larger builders at the expense of the private and smaller public builders - a group which AVHI belonged to up until recently. However, it has successfully transformed itself into a top builder with a national footprint, so it should join the ranks of the larger builders.
AVHI was a thinly traded stock lacking sufficient volume to attract institutional investors. Even today, about 50% of the company is held by TPG and other insiders. However, as the company's prospects have brightened, its trading volume has doubled from about 25,000 shares a day (~$350,000 in value) in 2012/3 to over 50,000 shares a day (~$710,000 in value) in the last year.
AVHI has lacked Wall Street analyst interest, and currently has only two banks covering it. However, this number should increase as it grows nationally and as it pays more M&A banking fees.
The strategic, and proximate, cause for undervaluation arose during the 4Q16 earnings call last week, when management guided for a 3% drop in 2017 homebuilding revenues. Even though AVHI exceeded 4Q earnings expectations by 78% and projected 2017 earnings of $36 million, the stock proceeded to drop by 10% before rebounding into the market close. Clearly, there were concerns that growth was coming to an end.
But I believe these concerns fail to properly interpret the nature of this sales slowdown. Fundamentally, homebuilding requires constant investment in new lots and development to show meaningful growth (assuming static home prices). If a homebuilder chooses to underinvest, its cash balances rise and debt balances fall, allowing it the capacity to invest in the future. Indeed, the key to value creation is for the builder to judiciously invest in properties that will generate an attractive return on capital rather than grow for growth's sake.
AVHI's slowdown in investment, and the resultant cash build in the latter half of 2016, explains the expected sales drop. However, today's announcement of the $50 million acquisition of Savvy Homes demonstrates that the company is still on a strong growth trajectory. Savvy Homes had revenues of $80 million in 2016, so assuming a similar level in 2017 and a deal close as of the end of 2Q17, AVHI's sales will actually increase in 2017. Furthermore, as mentioned above, AVHI has significant financial capacity, and thus, could invest in at least two more acquisitions of equal size without distressing its balance sheet. So, the fears of a drop-off in the company's sales growth are unnecessary.
Furthermore, the success of AVHI's recent acquisitions show that it has a proven and accretive acquisition strategy. By rapidly expanding its home closings with land and builder acquisitions, the company has leveraged its expense structure and increased pre-tax profit margins from 2.4% in 2015 to 5% in 2016. Since homebuilding is a relatively commoditized business, I believe that as AVHI continues expanding, it will soon achieve full-cycle pre-tax net margins of 8% - roughly the average level for public builders from 1990 to 2014.
The company also possesses a large deferred tax asset of $110 million, which can be valuable in deal-making. For instance, if we assume Savvy Homes achieved a 9% pre-tax margin on its $80 million of sales in 2016 and has a 38% tax rate, it made pre-tax income of $7.2 million and after-tax income of $4.5 million. Within AVHI, these taxes will be offset by the tax asset, leading to greater cash flows to the company.
Moreover, with these assumptions, AVHI will have a 2017 pre-tax EPS of $1.76, or 10% higher than management's projections last week. Again, if it continues utilizing its financial capacity and this tax asset by aggressively acquiring private builders, the company's earnings power will dramatically increase.
I believe the simplest way to value a homebuilder is to consider the company's book value, since it is primarily composed of marketable land assets. To this basis, we can add the expected increase in book value going forward to see if the company warrants some growth premium. The rule of thumb in homebuilding is, in the middle of the cycle, to buy a builder at 1x book value and to sell at 2x book value. The sector is currently valued at 1.4x.
AVHI is currently trading at 0.85x of book value - a significant and, I believe, unwarranted discount to its peers. The company has the ability and desire to grow, so it should trade more in line with other public builders. For instance, assuming two more acquisitions like Savvy Homes in 2017 and no price or organic volume growth, AVHI could generate pre-tax earnings of $58 million (a pre-tax EPS of $2.56) in 2018. It would take about five years of such earnings to fully monetize the deferred tax assets, but book value per share would increase by about 10% a year in this six-year period. For a comparison, the much more richly valued PulteGroup (NYSE:PHM) and Toll Brothers (NYSE:TOL) grew their book values by about 7% and 8%, respectively, over the past three years.
Moreover, as AVHI expands and is able to further leverage its expense structure, the company should be able to increase its pre-tax net margins from its current 5% to full-cycle industry levels of 8%. In light of these factors, I believe AVHI should trade at the current industry price-to-book ratio of 1.4x, or $28/share: 65%+ above its current $17 share price.
And finally, to reflect on the downside to the investment, AVHI has a low valuation, a very liquid financial position and significant land holdings. I believe these factors provide some buffer in case the "reflation trade" takes a bit longer than expected.
Disclosure: I am/we are long AVHI.
I wrote this article myself, and it expresses my own opinions. I am not receiving compensation for it. I have no business relationship with any company whose stock is mentioned in this article.
Additional disclosure: I may change my views on AV Homes and the value of AV Homes's shares at any time and for any reason. And I reserve the right to buy or sell shares in AV Homes at any time. I disclaim any obligation to publicly notify of any such changes.