Friday's speech by Fed Chair Janet Yellen had to be one of the longest of recent memory. It's fair too because after already very recently raising rates by a full 25bp in December the Fed is begrudgingly gearing up to raise again March 15th. That's what took her so long on Friday to get it out of her system: "Hike."
3,789 Words Reviewing Every Policy Decision Of The Decade
Nestled in many sleepy, fancy, economic phrases Fed Chair Yellen finally came out and said something:
"Indeed, at our meeting later this month, the Committee will evaluate whether employment and inflation are continuing to evolve in line with our expectations, in which case a further adjustment of the federal funds rate would likely be appropriate."
Even that sentence was tough for her.
Let's shorten it.
"Indeed, at our meeting later this month... in which case a further adjustment of the federal funds rate would likely be appropriate."
In the same sentence (where some traders may have fallen asleep before they reached the second part of that sentence) she finally came out and said it.
Let's shorten it even further for those with ADD.
"Later this month... appropriate."
Elazared:
"Screaming Hike."
Did Traders Catch That Or Pass Out?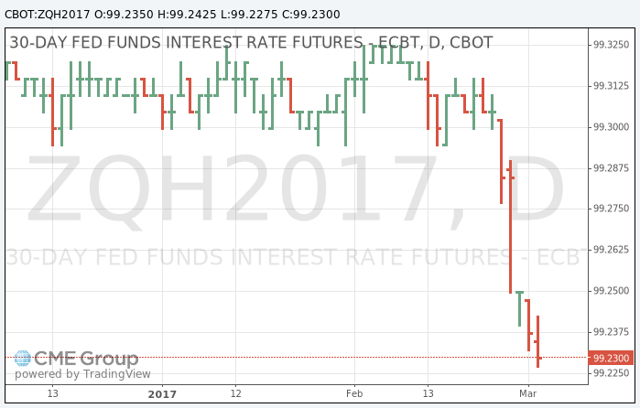 Source: CME
Here's the CME future that prices if markets expect a hike.
Let's do the math. 100 - 99.23 = 77bp. Current fed funds futures are at about 62 bp so we're still not at a full 25bp hike for March.
The fact that the chart is dropping means that chances are increasing.
What's strange is that in Yellen-speak, she came right out and called for a hike but markets aren't yet pricing in a 100% chance.
Some of those traders didn't make it through to the end of that key sentence.
How Many Hikes For 2017?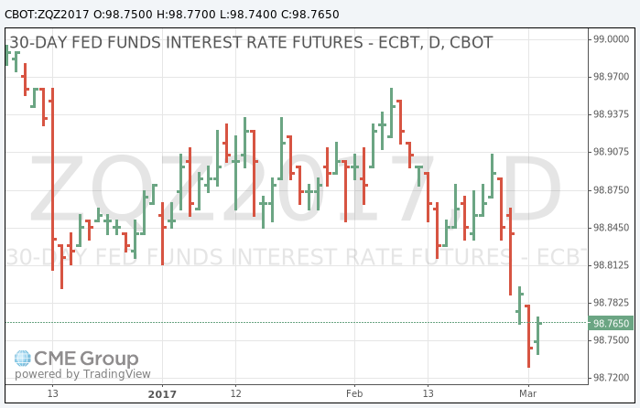 Source: CME Group.
100 - 98.765 = fed funds are expected to be 1.24% by December 2017.
Friday though, after Fed Chair Yellen's speech, futures priced in less of a chance for higher rates by year end. That's that last green line up on the right.
Versus today's 62bp fed funds rate there are about 2-1/2 more 25bp hikes priced into futures. The market is still under-expecting the Fed's three hikes for 2017.
We can't figure out why there would be less of a chance in December when March has more of a chance.
We'd guess that fed funds Futures traders either passed out by the time they got around to trading the December contract...
-or-
...they think that a March hike could slow the economy. If so there would be less of a need for more rate hikes later in the year.
Fed funds futures traders said through price changes that the economy is fragile enough that a rate hike could hurt.
Fed Could Actually Agree: Risk Later In Year
Fed President William Dudley is the closest to Fed Chair Yellen. We caught him on CNN saying in Fed speak that he doesn't really "really" have confidence yet in the economy.
Here's what he said:
"We haven't seen much effect of the improvement in confidence actually leading into greater spending."
He's not seeing any actual "real" economic changes but they're hiking anyway.
And as for fiscal policy he has zero confidence. He said,
"I don't put a lot of weight on it in terms of my model forecast."
If you are a Fed watcher he basically said (Elazarized),
"We're really raising rates in March for no reason at all."
Could that be true? No reason, not spending, no confidence in fiscal policy?
So What's Bothering The Fed? PCE
He left out one little part. No change in spending, no change in fiscal policy in their "model forecast."
The one teensy weensy little change that he left out... the PCE Price Index.
It jumped.
| | | | | | | | | |
| --- | --- | --- | --- | --- | --- | --- | --- | --- |
| | Jun | Jul | Aug | Sept | Oct | Nov | Dec | Jan |
| Core CPI | 0.2 | 0.1 | 0.3 | 0.1 | 0.1 | 0.2 | 0.2 | 0.3 |
| Core CPI Annual | 2.3 | 2.2 | 2.3 | 2.2 | 2.1 | 2.1 | 2.2 | 2.3 |
| Core PCE Mo-Mo | 0.1 | 0.1 | 0.2 | 0.1 | 0.1 | 0 | 0.1 | 0.3 |
| Core PCE Y-o-Y | 1.6 | 1.6 | 1.7 | 1.7 | 1.6 | 1.7 | 1.7 | 1.7 |
PCE Price, the Fed's main inflation gauge jumped out of nowhere to .3% in the recent reading.
If we annualize it that's probably what's starting to make the Fed sweat. If the read continued you'd get a 3.6% annualized rate. That would be a touch above their 2% goals and a reason to perspire.
For now everything is fine. 1.7% is harmless. But if we were to get a few more .3%s then the Fed will be too far behind the curve causing market risk.
We can now understand why Fed officials in unison have been scrambling to publicly announce their desire to hike. They had to get it off their respective chests.
And after a grueling 3,789 word speech on Friday, Fed Chair Yellen also managed to get it off her chest.
"Hike."
Conclusion
It's coming, a begrudging hike without growth and without an official big fiscal spend. The problem is if this hike is coming not because of growth, and not because of fiscal spending, but because of inflation, markets will have to work that out. That's not optimal. That could cause some volatility. We're not there yet but we need to be on guard.
Full Yellen Disclosure
Fed Chair Yellen, we love you and respect you. Way to go!
Disclaimer:
ETFs reported by Elazar Advisors, LLC are guided by our daily, weekly and monthly methodologies. We have a daily overlay which changes more frequently which is reported to our premium members and could differ from the above report.
Portions of this article may have been issued in advance to subscribers or clients. All investments have many risks and can lose principal in the short and long term. This article is for information purposes only. By reading this you agree, understand and accept that you take upon yourself all responsibility for all of your investment decisions and to do your own work and hold Elazar Advisors, LLC and their related parties harmless. Any trading strategy can lose money and any investor should understand the risks.
Disclosure: I/we have no positions in any stocks mentioned, and no plans to initiate any positions within the next 72 hours.
I wrote this article myself, and it expresses my own opinions. I am not receiving compensation for it (other than from Seeking Alpha). I have no business relationship with any company whose stock is mentioned in this article.