Nvidia (NASDAQ:NVDA) continues to drop, and while it was perhaps my best performing idea over the course of 2015 and 2016, I'm reversing my stance here following what has been a 200%+ year for the stock. Though it's likely business fundamentals will remain strong, I question whether the market has priced-in forward sales/earnings on more subdued growth comps for its consumer gaming unit, notwithstanding meaningful datacenter/auto revenue wins.
The stock has been on a downwards trajectory following the announcement of Q1'FY'18 earnings, which isn't at all surprising. Though I was one of the biggest proponents of Nvidia prior to its massive run over the course of 2016, the argument favoring both multiple expansion/growth levers that may perform above consensus estimates were far more compelling. Hence, Nvidia was great in 2016, but isn't a 2017 story with investing into.
AMD (NASDAQ:AMD) seems far more compelling, as an alternative semiconductor stock to rotate into.
Furthermore, I want to reassert the fact that while I'm revising my recommendation downward from "high conviction buy" to "hold," I'm confident that FY'19 (ending in January) will reemerge as a far stronger year on lowered expectations. This will be driven by sustained graphics revenue ramp that diverges considerably from consensus models.
I believe near-term risk/reward is no longer compelling. Given the priced-in uncertainty, and the degree to which NVDA's price chart suggests a topping formation, investors would be wise to move to the sidelines. Though I try to remain constructive on value comps, and believe a decent chunk of NVDA's growth premium can be justified, current fiscal year results will likely disappoint.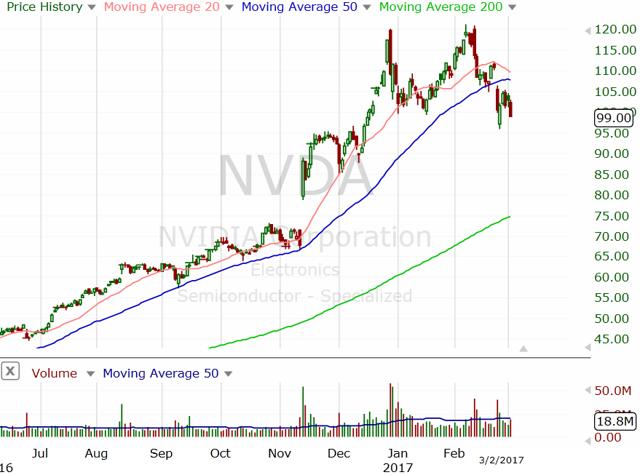 Source: Freestockcharts
The stock seems to breaking through $100 (support level) on heavy momentum, which implies the stock is on a path to much lower price levels in the interim. I would wait for confirmation of better financial results, or fully priced-in realization of reduced consumer graphics revenue prior to re-initiating a position in shares. I'm expecting a reasonable re-entry point for long-term investors to reemerge sometime in 2H'17.
Diving into the analysis
Though licensing is a near-term headwind, it will be offset by better than expected y/y comps in the datacenter business given the heightened attach rate for hardware accelerators for MLA (machine learning algorithms) and large scale AI compute.
Notwithstanding the potential upside in key business categories the valuations seem a little stretched when compared to peer valuations in the semiconductor space, and could easily be susceptible to some multiple compression upon diminished and subdued y/y growth comps in its consumer graphics business. These numbers received a solid boost from the launch of high-end cards (GTX 1080 and GTX 1070), which drove y/y increase in ASPs along with industry shipment growth.
The Desktop & Notebook attach rate for GPUs, i.e. AIBs (add in boards) increased by 3.85 percentage points over the course of 2016, whereas the consumer channel saw an uptick of 6.31 million GPU units over the course of 2016. Premium Research Subscribers to my service will receive a full GPU-market overview/data deposition exclusively this week.
However, upon working through figures, I believe Nvidia's gaming + OEM revenue (excluding licensing revenue to Intel (NASDAQ:INTC)) grew by $619 million y/y or 18.5% between FY'16 and FY'17, because of an $8.93 increase in average GPU unit ASPs paired with 2.77 million GPU unit growth y/y.
Of course, there are some caveats to my analysis. But expectations on FY'18 (ending in January) should be subdued from the consumer gaming segment, as I'm expecting the combined OEM + Gaming segment to generate $5 billion in sales, i.e. 26.46% y/y sales growth. This compares to consensus expectations of $5.315 billion for Gaming, OEM & IP revenue. If input the remaining growth comps the analyst consensus is expecting, my full-year revenue estimate for FY'18 hovers at $7.68 billion versus consensus expectations of $8 billion, which is 4% below. If Nvidia were ever to report a mid-single-digit revenue miss over the next four quarters, shares would likely sell off, as investors would need to discount more conservative figures from FY'18 onward.
I have conviction in my stance on GPU revenues, because AMD will gain both Notebook and Desktop graphics share in-line with historical trends from FY'15 onward. This is mostly driven by graphics refresh, paired with Notebook APUs diminishing the opportunity for Nvidia to sell into the Notebook channel.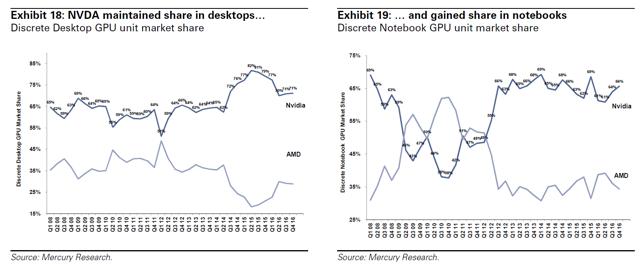 Source: Goldman Sachs
Furthermore, I expect Nvidia to lose 3.7 percentage points of market share to AMD in desktops, and 2 percentage points in Notebooks. This conforms with longer-term trends in market share between the two companies despite modest up-tick in Nvidia's total Notebook GPU unit share from Q1'CY'16 onwards.
I'm still anticipating NVDA to grow its consumer graphics business by 26.46% y/y in 2017 due to ASPs increasing by 16.4% y/y, and graphics attach rates increasing by 3.17 percentage points y/y, which translates into 8.65% y/y growth in Nvidia's GPU shipments.
I believe these figures seem reasonable, hence I'm expecting Nvidia to deliver revenue below consensus estimates over the duration of 2017. I'm certain analysts are a little too optimistic on GPU sales as many have embedded estimates that discount seasonal impact.
When things go amiss in the consumer graphics business the stock seems to follow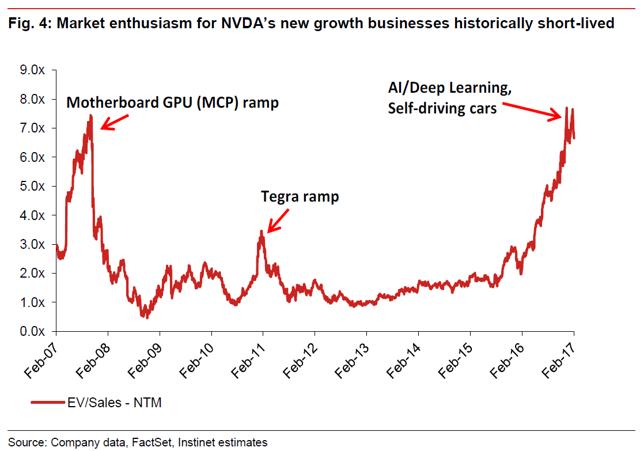 Source: Nomura Instinet
Absent extraordinary results in the core consumer graphics business, new growth categories have had a way of inflating expectations without delivering enough revenue/earnings to justify a compelling investment case. We've witnessed this on numerous occasions in the past, but let's just refer to the simplified EV/Sales deflation Nomura analysts put together to illustrate the degree to which expectations on emerging categories have led to EV/Sales expansion/contraction over the trailing 10-years.
From what I can gather, I believe datacenter hardware accelerators and automotive revenue are worth hyping up, as the TAM (total addressable market) is substantial. So, I'm not expecting the same type of mega-cycle in value expansion/contraction to continue. The prior illustrated cases by Nomura show the value compression coming out of the great recession in 2007, whereas Tegra never amounted to meaningful mobile market share, as Qualcomm's dominance with its Snapdragon/Adreno CPU/GPU series knocked out Nvidia and Intel (excluding A-series chips from Apple (NASDAQ:AAPL)).
However, I would also mention that Nomura's example is worth thinking about, as some value compression seems likely. I mean, I don't expect EV/Sales compression of 86.1% (which was mostly driven by the market crash of 2007 to 2009) or EV/Sales compression of 68.75% (which was driven by bloated expectation on smartphone market share gains from Tegra ramp). This would suggest, in either scenario, that Nvidia would be valued at either $15 or $31.25.
I don't think the Nomura analysts were suggesting something that extreme in terms of value compression, as they had revised their price target to $90, which I explain in more detail here.
But basically, the risk/reward profile isn't that compelling, because absolute revenue contribution from consumer graphics is disproportionate to the remaining segments. A modest downtick in y/y acceleration in consumer gaming will result in diminished expectations on the stock in the forward 12-month period. Hence, the datacenter and auto revenues are supplemental and could grow into a meaningful figure, but cannot be used as a crutch to lean on. The expected contribution from both segments won't mitigate near-term competitive headwinds in core graphics revenue.
Final thoughts
I have yet to assign a price target on Nvidia. But given the initial figures I'm getting on just revenue alone, and potential headwinds from competing AMD, the risk/reward is no longer compelling.
Furthermore, I'm expecting the market to price in more subdued y/y growth comps in the core consumer graphics segment. I'm also expecting events like upcoming quarterly earnings announcements to be periods in which longs should hedge or avoid shares altogether.
As a result, I'm lowering my rating from "high conviction buy" to "hold." I will also release a price target and financial model overview in the next couple weeks.
Cho's Technology Research is SA's premier technology research package that gives investors and traders an additional edge when investing into tech companies. It's a trade publication, research service and an idea generator, for more information click here.
Disclosure: I/we have no positions in any stocks mentioned, and no plans to initiate any positions within the next 72 hours.
I wrote this article myself, and it expresses my own opinions. I am not receiving compensation for it (other than from Seeking Alpha). I have no business relationship with any company whose stock is mentioned in this article.