Carl Icahn is getting more interested in biotech, notably Bristol-Myers Squibb (NYSE:BMY). For starters, Icahn has a stake in BMY, although it's unclear how much. And now he has brought on a biotech expert to help run his fund. Icahn hired Harvard geneticist Richard Mulligan as a portfolio manager. Mulligan has worked with Icahn in the past, and was a managing director at Icahn protege Alex Denner's Sarissa Capital for the last three years.
The hire signals that Icahn is ready to formally take on the beaten-down biotech space. The iShares Nasdaq Biotech ETF (NASDAQ:IBB) is down some 12% in the last 24 months, while the S&P 500 is up 13%. Meanwhile, BMY has also been an underperformer, with shares down 5% in the same period. The thesis is that the $100 billion drug company might be a buyout target. Generally, the focus is on selling off smaller companies to the larger ones, but Icahn is aiming high here. This comes after Denner left Icahn's firm in 2013.
Beyond just a buyout target, BMY has the pipeline that makes it a solid company, but the weakness in its immunotherapy drug Opdivo has created the buying opportunity, as BMY shares have fallen 25% since the 2016 high.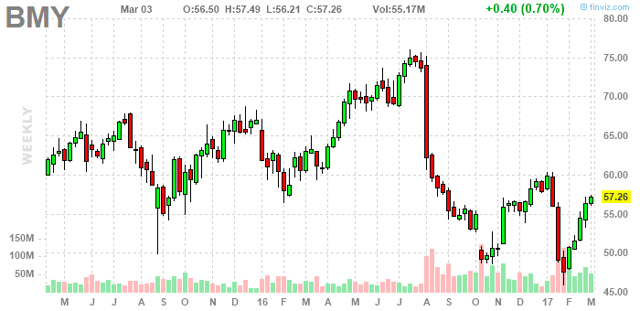 There's still a lot to love about BMY and Opdivo, as they have the potential to be much larger. Now, notable BMY buyers could be the likes of Novartis (NYSE:NVS), Roche (OTCQX:RHHBY) or Pfizer (NYSE:PFE) - PFE has been looking to up its presence in the oncology market, and is also looking for a major purchase. BMY has a strong oncology pipeline that could work well with PFE or even Gilead (NASDAQ:GILD). GILD has an interest in oncology, and has plenty of cash for a buyout.
Opdivo can be huge in the lung cancer market, i.e., the potential to bring in $10 billion a year. Despite the sell-off in BMY given the setback in Opdivo expectations, the truth remains that the drug will soon be used earlier in the lung cancer therapy process. BMY is working hard on making Opdivo the go-to drug for lung cancer, which is one of the biggest cancer markets and also one of the most profitable. Now, the company also has over 20 drugs in its oncology pipeline.
One thing to remember is that Icahn isn't always focused on the short term when it comes to biotech targets. The near-$100 billion market cap will make a buyout a hurdle. Still, Icahn is no fool. He could be setting up for the long-term here. Icahn's last major biotech target was Biogen (NASDAQ:BIIB) in 2007, where he was also pushing for a sale. That didn't come to fruition, thus Icahn pushed for board representation, got two board seats and spent nearly half a decade growing his stake and pushing for market value-boosting opportunities.
Disclosure: I/we have no positions in any stocks mentioned, and no plans to initiate any positions within the next 72 hours.
I wrote this article myself, and it expresses my own opinions. I am not receiving compensation for it (other than from Seeking Alpha). I have no business relationship with any company whose stock is mentioned in this article.