Investors should be constantly searching for a better deal. Brokerages are aware of the importance of costs, and several firms are dropping their online trading charges. Charles Schwab (NYSE:SCHW) already went from $8.95 to $6.95 and then to $4.95. Fidelity may have prompted the second cut when it went down to $4.95. Lower trading costs are great for investors, even if they are not trading frequently. For the ETF investor, it also reduces the incentive to stick with whichever ETFs are eligible for free trading with their brokerage.
Over the last few years, there has been intense competition for investments in ETFs, and it has brought the expense ratios down. The result was several solid options available for investors at much more reasonable ratios.
There are five dividend ETFs that quickly come to mind as strong options for the investor seeking a solid yield and growth in dividends paid. They were also screened to ensure fairly low operating expenses. There are a few others worthy of mention, but starting with five makes the comparison much easier. These are five of the greatest dividend ETFs for investors who want to protect themselves from high expense ratios without giving up a strong yield or a diversified portfolio. These are strong contenders for the top five dividend ETFs for 2017.
| | | |
| --- | --- | --- |
| Ticker | Name | Index |
| SCHD | Schwab U.S. Dividend Equity ETF | Dow Jones U.S. Dividend 100™ Index |
| VYM | Vanguard High Dividend Yield ETF | FTSE High Dividend Yield Index |
| VIG | Vanguard Dividend Appreciation ETF | NASDAQ US Dividend Achievers Select Index |
| DGRO | iShares Core Dividend Growth ETF | Morningstar® U.S. Dividend Growth Index |
| HDV | iShares Core High Dividend ETF | Morningstar® Dividend Yield Focus Index |
How Cheap Are They?
The expense ratios start as low as .07% and run up to .12%.

For the frugal investor, any of these options would be a reasonable choice so long as they are happy with the rest of the characteristics of the portfolio. It is important to emphasize that the biggest challenge to investing today is that the market is at record valuations following only slight improvements in the economic picture. Consequently, highlighting the ETFs shouldn't be seen as an implicit endorsement of current prices. The S&P 500 is exceptionally expensive, and there is still a strong correlation in total returns.
Dividend Yields
Admit it! You love dividends. You wouldn't be here if you didn't like dividends. This article is all about getting high dividends out of diversified ETFs with low expense ratios. Here are the dividend yields from the the top five dividend ETF contenders:

The winner for highest dividend goes to the iShares Core High Dividend ETF with a 3.17% yield. This seems like a good time to point out that HDV is regularly the winner in this column. If you run screening metrics for high dividend ETFs limited to low expense ratios and diversified funds, the highest yield usually ends up with the same ETF. Congratulations again, HDV.
The other two higher-yield entries are SCHD and VYM. Both are excellent ETFs. They have a healthy emphasis on dividends, but maintain a diversified approach.
How Does HDV Create Such a Strong Dividend Yield?
For this section, investors need to check the sector concentrations from Morningstar. The next five charts come from Morningstar.
Since the dividend yield on an ETF is a reflection of the holdings inside the ETF, it should be no surprise that HDV is allocating very heavily to sectors that are generally known for higher yields. Take a look at the fund's sector allocation: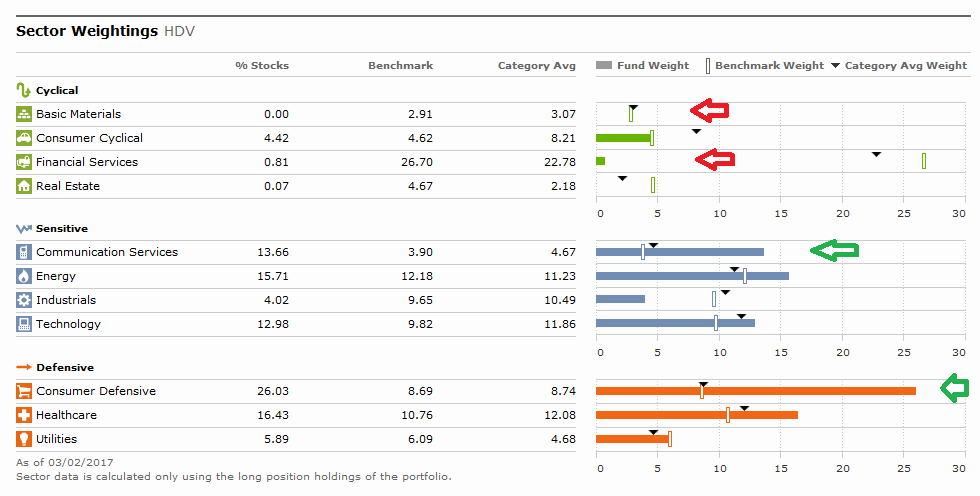 The two red arrows point to two areas investors in HDV should be researching. The lack of exposure to basic materials or financial services looks like it could weaken the portfolio's performance during a period of higher inflation and increasing short-term rates. The financials stand to benefit substantially from monetary policy that raises short-term interest rates. Theoretically, that policy would be brought on by inflation, which seems positive for basic materials.
It is worth pointing out that several banking stocks have seen absolutely massive rallies since summer 2016. As short-term rates moved higher and expectations for more hikes increased, investors are betting on the Federal Reserve paying banks for not lending money. That is a great business model to be in. I would love to be paid to not lend money. Of course, the increases also raise the effective yields on loan portfolios that use adjustable rates.
The exposure to real estate is also next to nothing, so investors would have an incentive to either use a REIT-based ETF such as the Vanguard REIT Index ETF (NYSEARCA:VNQ) or spend the time learning how to analyze REITs.
This is probably the biggest drawback of HDV. It offers the biggest dividend yield, but also could underperform on capital appreciation and dividend growth if inflation did take off.
Comparison to VYM
VYM is an alternative that runs materially lighter on the consumer staples (though still above the benchmark), but doesn't exclude most of the financial services sector. Consequently, VYM would be a more logical choice if the investor considers stronger inflation to be a very strong possibility or if they believe short-term rates will be increased even if inflation doesn't completely justify the movement.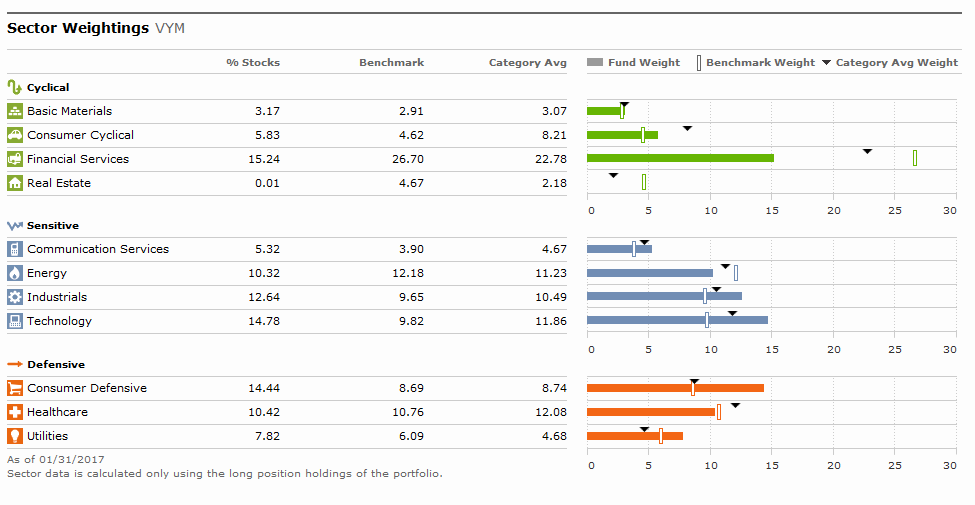 Overall, VYM is a decently balanced portfolio, though it still limits exposure to basic materials and has virtually no exposure to real estate. Since REIT dividends are generally taxed at higher rates, depending on whether it is classified as return of capital, VYM could be used in a taxable account, with VNQ or other REIT investments pushed into the tax-advantaged accounts.
VIG Loves Industrials
The portfolio of VIG demonstrates an ETF that is now very heavy on industrials. 23% of the portfolio is there, and it more than doubles the benchmark allocation.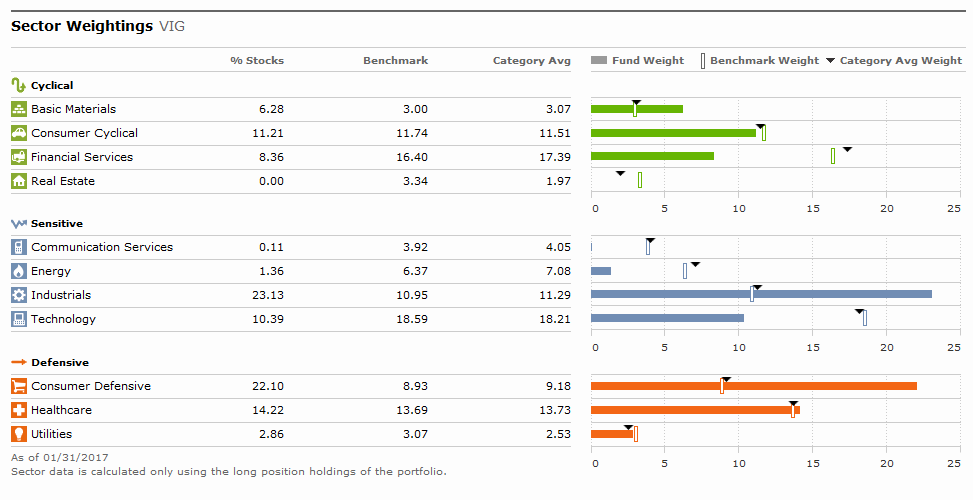 The heavy emphasis on industrials is not entirely unique, but VIG came in the highest on that metric. On the other hand, the fund had almost no allocation to energy or communication services.
This seems like a reasonable time to point out that investors should often look for ETFs that focus on the sectors they are not covering as much. If the investor is already doing their due diligence on one or two sectors, they can reasonably pick their own exposure in that sector. The ETF is there to give the portfolio the diversification it needs.
SCHD
SCHD is a frequent favorite among dividend ETF investors. Even yours truly was holding a material allocation here at points. The allocation dropped off dramatically as the equity indexes began setting new all-time highs, since the macroeconomic data doesn't suggest that the economy is really that strong.
SCHD regularly carries an exceptionally high allocation to consumer staples, which makes it an excellent choice among investors who are concerned about the economy but want to remain invested in equity. It is still very low on financials and ignores real estate, so it makes sense to complement investing in SCHD with doing due diligence on financials and REITs for the retirement portfolio.
DGRO
DGRO joins VIG in being a dividend ETF with a lower yield, and there is some clear similarity in the portfolios: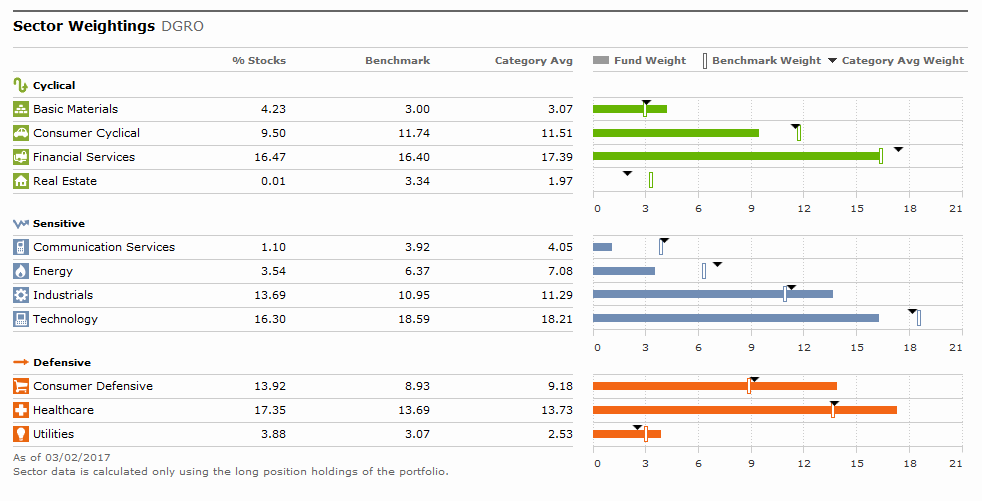 Like VIG, the allocation to communication services is small, and energy is low as well. It wouldn't make a great deal of sense for investors to pick both DGRO and VIG. One or the other should suffice. The investor picking DGRO gets significantly more technology stocks at the cost of consumer staples. However, DGRO meets VYM in being the only other fund with significant allocations to financial services.
What They All Need
Real estate is pretty much missing from all of the funds, and most have relatively low allocations to utilities. However, both of those sectors have fairly significant yields. Consequently, if an investor picks any of these five, they should be looking for ways to round out the portfolio with utilities and REITs. In some cases, they will need other exposures as well.
Tracking Dividend Yields for Income
I used the Best Real Time Dividend Portfolio Tracker to simulate putting all five of these ETFs into a dividend portfolio.

You can see the ETFs with their simulated purchase price and share count in the red box on the left and the resulting yields on cost and current yield within the purple box. In this case, the ETFs were used as part of a portfolio that shows a 3.94% yield on cost and a 3.54% yield on current market value.
Using the diversification checker, I can see that the portfolio is still heavily concentrated: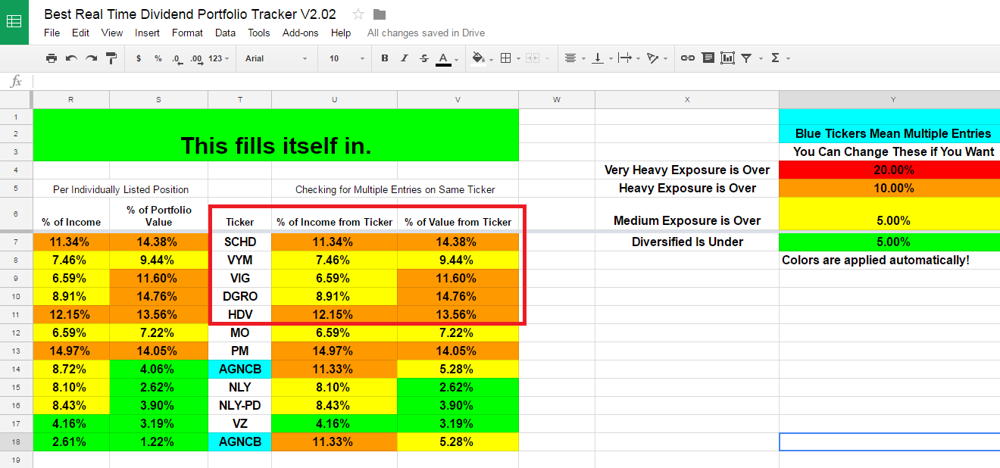 The red box shows the concentration of both income and portfolio value within those tickers. While the diversification seems a bit weak, it is less of a concern when we are dealing with ETFs, since each fund already has a great deal of diversification. If every stock underlying the ETFs' portfolios were included separately, the diversification would be excellent.
Conclusion
Each of these five dividend ETFs is a great choice for a long-term investor. However, this is far from the ideal time to publish on them, since equity indexes are already reaching insane heights. Based on the rally seen in the markets, each of these ETFs would start to get very attractive after about a 15% decline. Even a 10% decline could put shares within reach without grasping for equity at record-high prices.
Which ETFs would you add to the list for best dividend ETFs for 2017?
Disclosure: I am/we are long SCHD, MO, PM.
I wrote this article myself, and it expresses my own opinions. I am not receiving compensation for it. I have no business relationship with any company whose stock is mentioned in this article.
Additional disclosure: Also long NLY-PD. No financial advice given. Investors should do their own due diligence or consult with a professional who knows their objectives and constraints.