This article was sent to subscribers on Tuesday 02/28/2016.
The Secret to Apollo Commercial Real Estate (ARI) building book value while peers lost value comes down to two parts. The first is simple and should be obvious. They were holding credit-sensitive assets rather than interest-rate-sensitive assets so the value on the portfolio went up. There is nothing too confusing there. So what is the secret?
Equity Issuance Techniques
There are a couple ways to estimate how much book value a mortgage REIT gains or loses, as a result of issuing new shares. Since ARI was trading at a premium valuation during the second half of the year, they took advantage of it. That advantage was most pronounced in the fourth quarter. As I'll demonstrate, about $.11 per share in book value came from issuance. For the year, issuance drove BV higher by about $.15.
A Quick Thanks to ARI
ARI, thank you for being real about book value. Some mortgage REITs calculate their BV while recognizing preferred shares at the net proceeds from issuance rather than at liquidation value / call value. When a mortgage REIT does that and I'm running the numbers, I just sigh and shake my head.
ARI didn't pull that stunt, so the numbers come out clean. They are demonstrated below:

If ARI was recognizing those preferred shares at the net proceeds from issuance, my values would not be changed but the company would have reported an artificially higher book value per share.
Their latest earnings release clearly states $16.12 for Q4 2016 and $15.94 for Q3 2016.
How Do You Measure Gains From Issuance?
There are a couple formulas investors should know. One is TER (total economic return). TER is equal to the change in BV + the dividend.
What was TER for ARI? $.46 for the dividend + a gain of $.18 in book value = $.64. (potential rounding errors for a fraction of a cent)
Comprehensive Income
There are two techniques for estimating the gain from issuance. Both rely on comprehensive income since comprehensive income includes every change to the value of equity except the impact from paying common dividends and the impact of issuing shares.
The following tables will show how I calculate comprehensive income to determine where book value would have ended the quarter.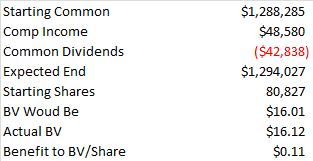 We use the starting common equity, add the comprehensive income (preferred dividends are already out) and subtract common dividends. That gives us the expected end. Divide it by starting shares and you get the book value you would expect. That would have been $16.01. Instead, we saw $16.12 and we verified the calculations at the start of the article. That means the gain to BV per share is about $.11 from issuance.
We can also approximate the net inflow per share issued with the following formula:

ARI was getting a pretty nice premium on their share issuance. Each new share they issued gave them around $.90 more than the book value of the previously existing shares.
Want to Run the Formula For a Year?
I ran it for 2016 as well:

For 2016 full fiscal year the gain comes in at about $.15 per share.
Alternative Method
An alternative way to run these calculations is to use comprehensive income divided by weighted average shares outstanding. That measure can be compared with TER per share. That method is faster. It is important to point out that these two methods do NOT have to be equal. This is an ironic consequence of not knowing exactly when the shares were issued and what book value was on those days.

What makes the benefit look so much smaller in this method?
This is actually an issue with dividends being paid at the end of the quarter and most of the shares being issued towards the end of the quarter. We can compare the weighted average shares to starting shares to determine how much the weighted average increased. Compare that to the total increase in shares and we get the following formula:

On average (key word there, average), the new shares existed for just over a fourth of the quarter or between 3 and 4 weeks. Yet, those shares required a full dividend to be paid. Since we know those shares didn't exist for long, I have a hard time believing they were contributing a material amount to the creation of comprehensive income. However, we know the company paid dividends on all of the shares that were outstanding 2 days prior to the quarter ending. Consequently, I tend to favor the first formula for accuracy and the second only for getting a rapid estimate.
I'll be working on getting together my dividend sustainability analysis on ARI. I wanted to have it ready sooner but got fairly swamped and it got pushed towards the back of the line. Why do this piece first? This looked like the quicker piece to write.
Subscribers already have access to several of my best upcoming pieces. They include two pieces on ARI going into their technique for creating book value (that was this article) and their dividend sustainability report. A piece explaining why I'm so bearish on WMC heading into earnings. A real-time update when the bid price on NLY-C was higher than the ask on NLY-E. It was about $.15 to $.19 per share in easy money for anyone selling C and buying E. Besides those pieces, there was also an update to my view on NLY along with my weekly series on discounts to current book value (rather than trialling, I model out all the changes in asset and hedge performance), and the best opportunities in preferred stock for mortgage REITs. If you're interested in reading my best work before it comes to market, check out The Mortgage REIT Forum.
Disclosure: I/we have no positions in any stocks mentioned, and no plans to initiate any positions within the next 72 hours.
I wrote this article myself, and it expresses my own opinions. I am not receiving compensation for it. I have no business relationship with any company whose stock is mentioned in this article.
Additional disclosure: Investors should perform their own due diligence. There is no financial advice in any of my articles.