OPEC, led by Saudi Arabia, blundered thinking it could destroy American shale oil. They caused many oil producers to go into bankruptcy, but the oil was still there waiting for the right price.
In the meantime, production costs have dropped due to gains in efficiency. EOG says it has cut its unit production costs by more than a quarter since 2014. BP plc's (NYSE:BP) CEO aims to be able to cover its investment budget and dividend payments at a real Brent crude oil price of between $35 and $40 a barrel.
And breakeven costs in the Permian basin have dropped to $40 per barrel. The Permian has been compared to a layercake, multiple layers of shale - six to eight oil-rich zones, one on top of the other - that offer companies the opportunity to drill through multiple reservoirs on the same real estate.
"People just don't seem to realize how big the Permian is. It will eventually pass the Ghawar field in Saudi Arabia, and that is the biggest in the world," said Scott Sheffield, founder of Pioneer Natural Resources (NYSE:PXD). "We think it could produce 8-10 million barrels a day (b/d) within ten years." That would make it a "New Saudi Arabia."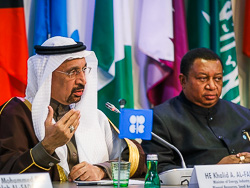 HE Khalid A. Al-Falih, Saudi Arabia's Minister of Energy, Industry & Mineral Resources and HE Mohammad Sanusi Barkindo, OPEC Secretary General. Source: OPEC.
OPEC has blundered again, underestimating shale oil. The Saudi energy minister, Khalid A. Al-Falih, said at a press conference in December that he didn't expect to see any shale response in 2017 due to the significant time lags involved, even though rigs have started rising again.
The Energy Information Administration (EIA) expects oil production in the Permian to go up by 70,000 b/d in March from February. At the end of January, there were 1,757 drilled but uncompleted wells (DUCs) in the Permian. That represents a 36% increase year over year.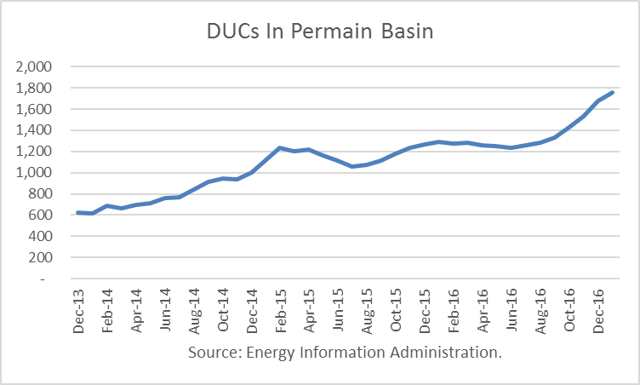 The Dakota Access pipeline is expected to be completed within weeks. That will effectively reduce the breakeven cost of about 500,000 b/d by $5 per barrel.
Pioneer is expecting to increase its production by 15-18% in 2017. EOG predicts an 18% rise. CLR is targeting a 20% increase in production by year end.
The "mini embargo" that OPEC has initiated this year is small relative to its 1973-74 embargo. But if OPEC were to cut that deep, there is little doubt there would be a U.S. policy reaction, such as a drawdown of the Strategic Petroleum Reserve.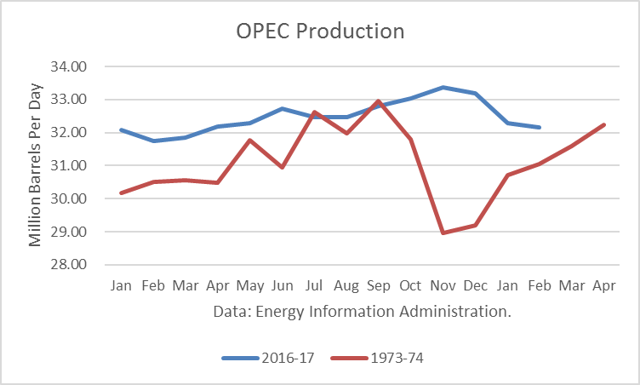 A bill has been introduced in Congress in January, the "United States Commission on the Organization of Petroleum Exporting Countries Act of 2017" (H.R. 545). Its purpose is:
to investigate any anti-competitive involvement of the Organization of Petroleum Exporting Countries (OPEC), its member nations, and affiliated entities in oil markets and make recommendations to reduce the adverse impacts on the United States of such involvement."
Conclusions
Gains in U.S. crude production could offset much of the cutback in OPEC production by the end of 2017 such that little of the surplus in OECD countries is drawn down. At that point, the question could be whether OPEC is willing to cut again to maintain oil prices in 2018.
Disclosure: I/we have no positions in any stocks mentioned, and no plans to initiate any positions within the next 72 hours.
I wrote this article myself, and it expresses my own opinions. I am not receiving compensation for it (other than from Seeking Alpha). I have no business relationship with any company whose stock is mentioned in this article.