Most believe the Federal Reserve will raise rates in a few days (March 14th) that will spark a pullback in Net Lease REIT shares.
I wish I had a crystal ball so I could determine whether or not a modest rate increase will impact Net Lease REIT shares. My guess is that there will be a slight correction, but nothing along the lines of what we witnessed in May 2013 when the previous Fed chairman announced the beginning of the taper - aka "the taper tantrum."
As I explained in an article last week, I have a HOLD on Realty Income (NYSE:O), recognizing that there could be a pullback around the corner. In another article, I explained my reasoning for initiating a SELL for Agree Realty (NYSE:ADC). I wrote that:
I see absolutely nothing wrong with Agree Realty, except that the share price is now trading at premium levels.
Last week, I wrote an article in which I examined the "valuation gap" that exists within the Net Lease REIT sector.
A number of Net Lease REITs are not trading at a discount - the difference between a seller's asking price and the market value of the company - or the so-called "valuation gap" for REITs like Realty Income and National Retail Properties (NYSE:NNN).
As I review the list of Net Lease REITs within the Intelligent REIT Lab, one particular company seems to jump out from the crowd. This REIT is of interest to me because of the sizeable "valuation gap" that exists. As I explained recently:
... even when selecting sound stocks, one needs some kind of buffer to protect against market fluctuations. That buffer is the margin of safety - or the difference between the real or intrinsic value of the business underlying the security and the price assigned to that security at the moment.
Why trust Mr. Market's opinion, though?
The purpose for this article is to focus on the cash this REIT generates and its balance sheet, as opposed to the opinions of investors in the market. If there is a "valuation gap," I will determine the true "margin of safety" by stripping away the confusion using meaning math - or what I refer to as the blueprint. As Joel Greenblatt has said:
it's about figuring out what something is worth, and then paying a lot less for it.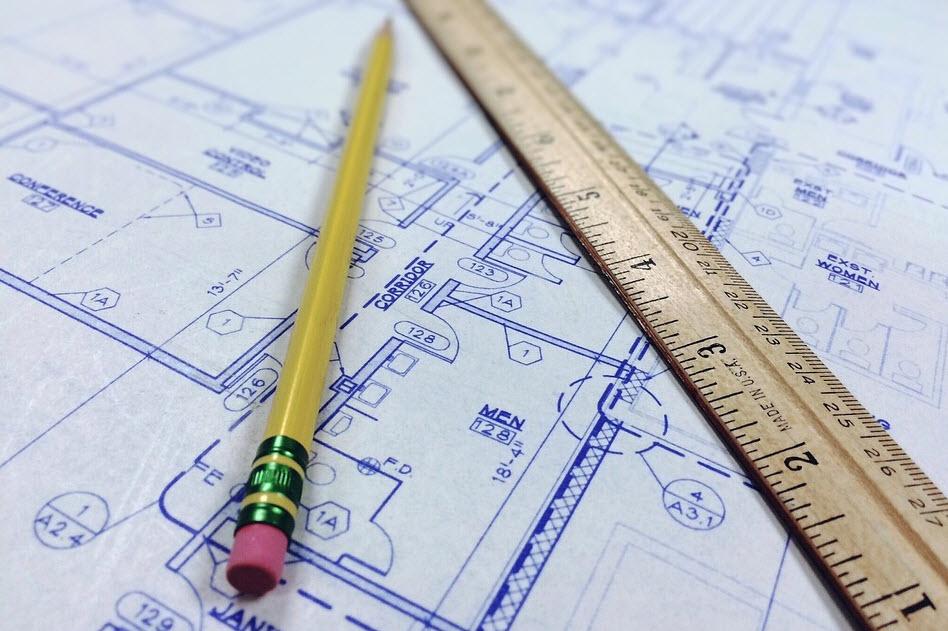 A "value trap" is a stock that appears to be cheap because it has been trading at low multiples of earnings for an extended time period. "Stock traps attract investors who are looking for a bargain because these stocks are inexpensive. The trap springs when investors buy into the company at low prices and the stock never improves. Trading that occurs at low multiples of earnings, cash flow or book value for long periods of time might indicate that the company or the entire sector is in trouble, and that stock prices may not move higher."
As I began to take a closer look at W.P. Carey (NYSE:WPC), it became clear to me that the Net Lease REIT is trading at a low multiple, but the sector is certainly not out of favor. As explained above, Realty Income, National Retail Properties and even Agree Realty Corp. are trading at a premium, while W.P. Carey is cheap.

As seen (above), WPC trades at 12.5x P/FFO. while O/NNN/ADC average 20x - over 7 turns below these peers.
In order for me to determine whether or not Carey is a "value trap," I decided to examine the blueprint in detail. Let's get started...
The Blueprint For W.P. Carey's Valuation Gap
Although WPC is a Net Lease REIT, it's important to understand the differences - not all Net Lease REITs are the same.
In 1973, Bill Carey started W.P. Carey & Co. with a focus on putting shareholders first, and by delivering sound risk management practices, Carey believed that "over the long run" investors would enjoy stable, risk-adjusted returns.
As a pioneer in sale/leaseback financing, Carey was one of the first companies to build a Net Lease vehicle to assist global companies to monetize free-standing real estate. Over the years, it has evolved into one of the largest Net Lease landlords in the world, with a successful track record of investing through multiple economic cycles (since 2013).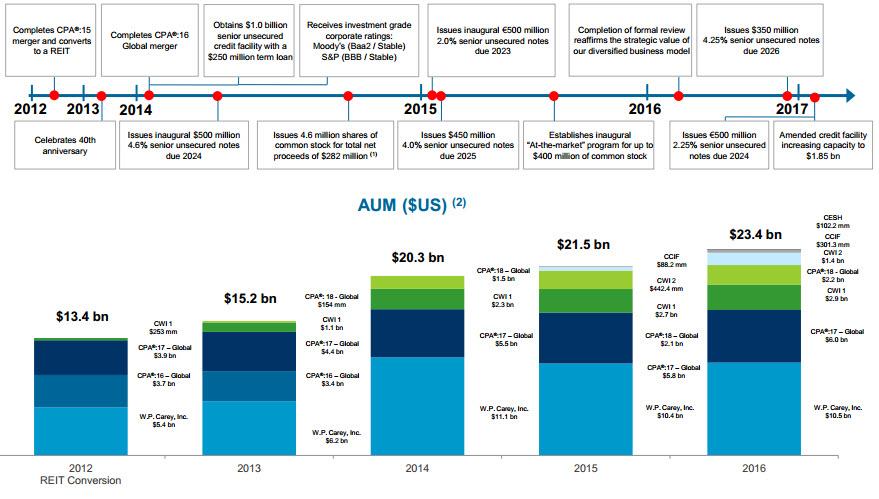 In 2012, the company converted from an MLP (W.P. Carey & Co. LLC) to a REIT (W.P. Carey, Inc.) to boost scale and to simplify tax reporting for shareholders (no longer used K1s). By merging W.P. Carey & Co. and Corporate Property Associates 15, Inc. (a non-traded REIT), the combined company (structured as a REIT) produced enhanced dividend payments and better flexibility to access capital.
Today, Carey's total capitalization is ~$11.657 billion, ranking the company as the 3rd-largest net lease REIT. Here's how the company compares to its peer group:

Bill Carey passed away in 2012, and over his lifetime (and beyond), the real estate legend provided investors with very stable returns that led to philanthropic activities aimed to improve access to high-quality education.
By focusing on his "long-run" investing mantra, Carey made sure his vision, drive and passion would become lasting contributions - he made significant contributions to the W.P. Carey School of Business at Arizona State University ($50 million), The Carey Business School at Johns Hopkins University ($50 million) and the University of Maryland's Francis King Carey School of Law (named for Carey's grandfather and graduate of the school).
Beyond Bill Carey's philanthropic activities, it's clear that his vision and approach to "intelligent investing" have continued to thrive and to provide lasting results, specifically through the power of compounding.
Carey recognized decades ago that owning high-quality real estate would not produce outsized returns over short cycles; but that instead, the best way to create wealth is to own shares that would generate durable dividends by always "investing for the long run."
See my Forbes article on Bill Carey (January 25, 2012).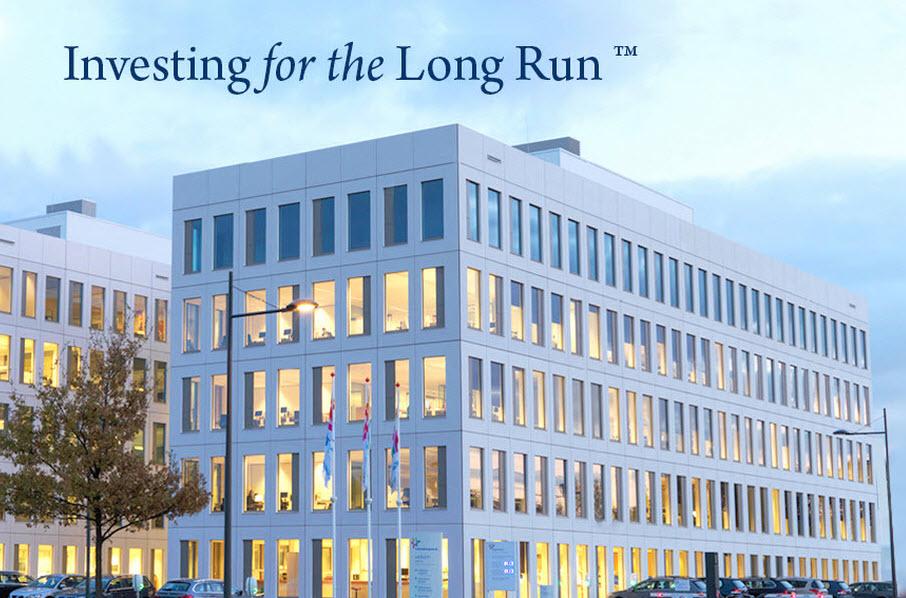 A Differentiated Net Lease REIT
When I filter out these higher-quality names (investment-grade rated with a long track record of dividend growth), I see even fewer opportunities.
WPC is one such REIT that we consider to be attractive. Based upon my thorough fundamental research, I believe the company is a particularly compelling opportunity based on a number of reasons, all addressed in this article (below).
First, let's begin with the history and composition of the portfolio.
WPC is a leading global net lease REIT that provides long-term, sale-leaseback and build-to-suit financing solutions for companies worldwide. The company is "self-managed" (always a good sign) and operates two business platforms: (1) owned real estate portfolio (95% of AFFO) and (2) investment management platform (5% of AFFO).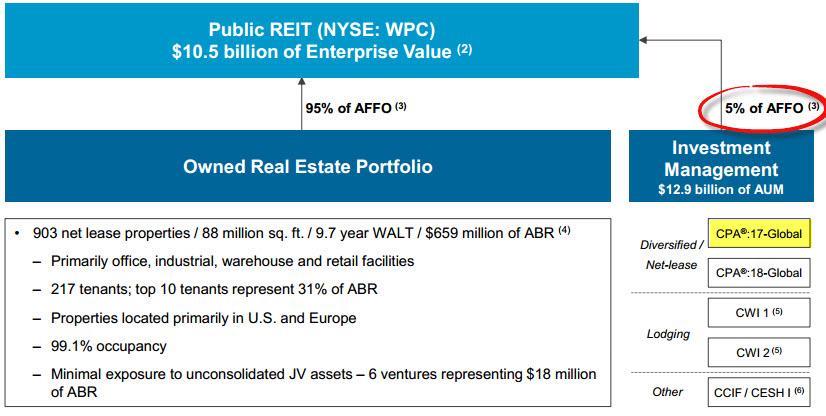 I have highlighted CPA:17 (above), and I'll address that later in the article.
As referenced above, prior to converting to a REIT in 2012, Carey was structured as an MLP, and since that time, the company has evolved into a diversified enterprise focused on six key priorities: (1) Organic growth - through acquisitions for the Owned Real Estate portfolio and new and existing Investment Management products; (2) Diversification - of income, capital sources and within real estate portfolios; (3) Operational efficiency and excellence; (4) Balance sheet strength and flexibility; (5) Proactive asset management; (6) Transparency - through disclosure and investor outreach.
At the end of the third quarter, WPC's owned real estate portfolio consisted primarily of 903 (down from 910 last quarter) properties across 19 countries, comprising 88 million square feet.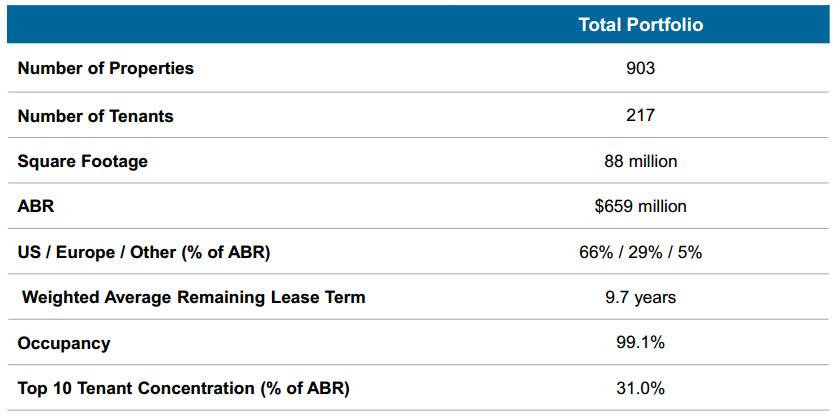 As you can see below, the company is diversified with a majority of industrial (30%), office (25%), warehouse (14%), retail (16%) and self-storage (5%).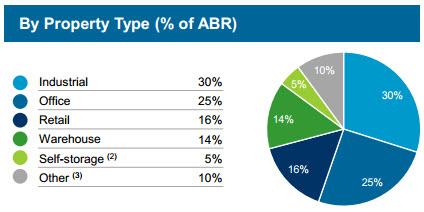 It's important to note that WPC has just 16% in "retail," while most of the other Net Lease REITs have large exposure in "retail." Retail is out of favor, and I'll touch upon the portfolio's performance below.
As you can see below, Carey invests in a variety of real estate categories: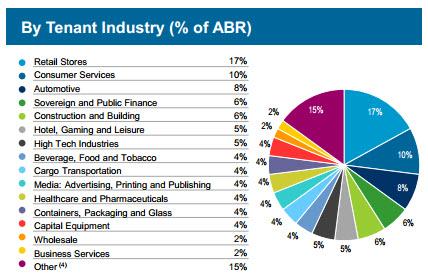 With over 900 properties in the portfolio, the REIT has a diversified model in which no one tenant accounts for more than 5% in revenue: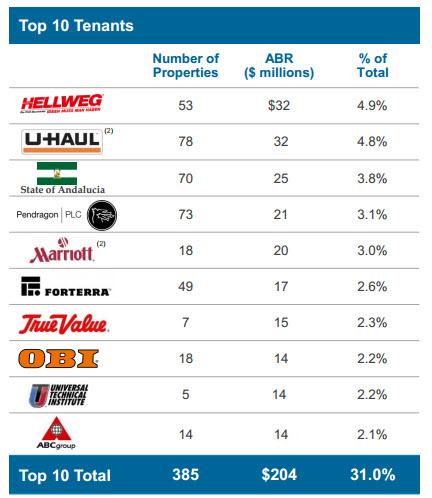 Another primary differentiator with Carey is its international exposure - the company has been investing internationally for 19 years, primarily in western and northern Europe.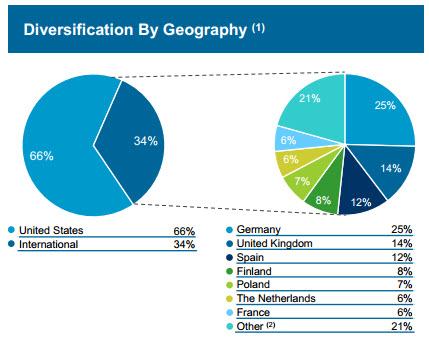 As you can see, around 34% of its revenue is generated outside of the US (was 37% last quarter), and the focus internationally has been in Germany (9%), France (2%), United Kingdom (5%), Spain (4%), Finland (3%) and Poland (2%).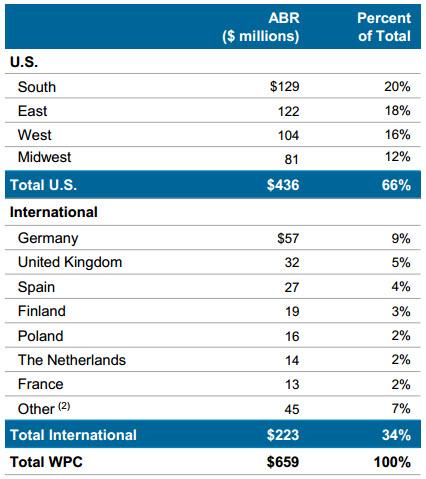 Carey has a long history of investing in Europe (since 1998), and the platform (built over the last two decades) requires expertise and experience that generates a flow of attractive deals. Jason Fox, CIO for WPC, remarked on the recent earnings call:
In Europe, cap rates remain low across the continent making it challenging to secure attractive investments with adequate yields in long-term sustainable value. There appears to be substantial interest from international buyers from Asia and the U.S. who also have the benefit of strengthened currencies.
Other Key Differentiators
One key differentiator for Carey - as I noted above - is the company's exposure internationally, and another unique quality is its growth drivers. Approximately 95% of leases have either fixed or CPI-based contractual rent increases, with virtually no exposure to operating expenses.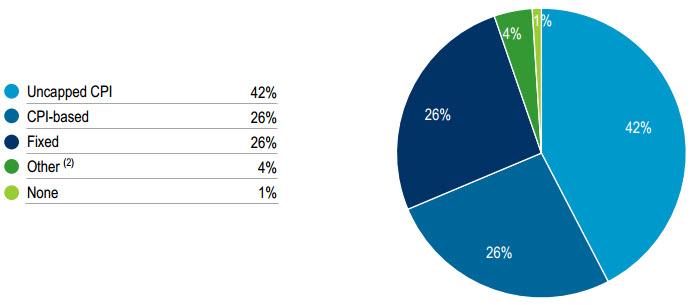 Jason Fox remarked on the recent earnings call:
The vast majority of our investments and in fact all of our deals in 2016 are sourced as directly sale leasebacks as opposed to buying pre-existing leases from third-party landlords in the secondary market. This differentiates us from any other net lease REITs.
By crafting leases directly with its tenants, WPC is able to negotiate leases directly, and this is a competitive advantage that allows the company to generate predictable rent growth. Fox continued, saying:
Focusing on more complex sale leasebacks has several key advantages. First, we face limited competition. There is a much smaller universe of buyers who can legitimately compete outside of the commodity segments of net lease. We have a 43-year track record of executing highly structured sale leaseback transactions, which gives us a high degree of credibility in the marketplace for these type of deals.

Second, access. With a leaseback the counterparty of the purchase becomes our long-term tenant. As a result, we get a high-degree of access to information about the tenant's business and its long-term prospects as well as access to its senior management all of which ensure we get a thorough understanding of the risks and merits of each transaction. We also get greater access to the real estate itself enabling us to better determine its value and quality and thoroughly evaluate its criticality to the long-term prospects of the tenant.

Third, superior lease structures. Because we are writing the lease, we are able to tailor it to those specific circumstances. As a result, we believe that we are able to achieve stronger more institutional quality leases with longer lease terms, better rent escalations, improved financial covenants when warranted and greater downside protections.
He summarized the sale/leaseback advantage, saying:
Because we source and structure complex sale leasebacks, we believe we are able to generate a significant cap rate premium relative to both the commodity segment of the net lease market and assets that trade on the secondary market. To be clear, however, greater initial deal complexity does not mean greater risk.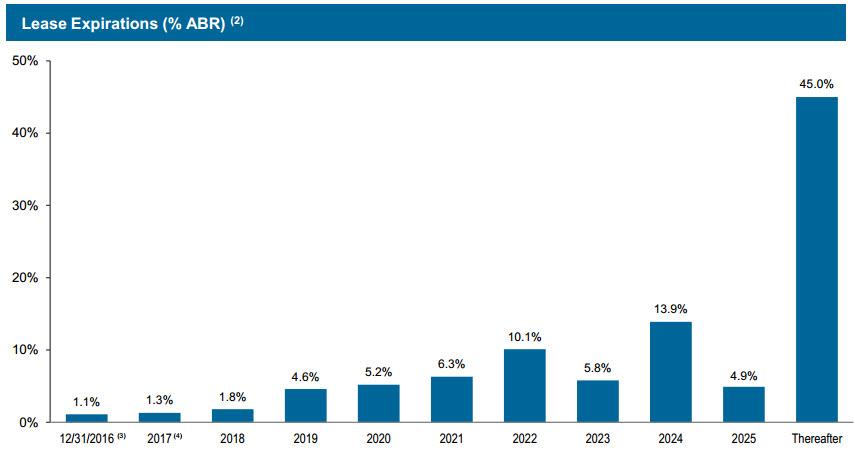 As mentioned above, another unique feature of Carey's business model is its Investment Management business.
For many investors and analysts, multiple business models create confusion, and oftentimes, that leads to underperformance in the organization. One of the primary reasons for the confusion relates to conflicts of interest that can distract the goals and objectives creating blurred management responsibilities.
One reason that Carey has been able to successfully operate its two lines of business is because of the company's long track record. Mark DeCesaris, the CEO, explained on a recent earnings call:
We let our reputation and our track record stand on its own. While there have always been and in any industry I think you see bad actors that come and go in that industry. We've stayed the course throughout it and our investors have benefited for it. Our investors in W. P. Carey have benefited from that business as well.
By raising equity through the non-traded REIT channels, the company has been able to build an impressive collection of assets and then merge them with the public business, W.P. Carey. Since 1973, Carey has aggregated hundreds of properties for the purpose of forming entities that would ultimately be sold or merged with W.P. Carey. Here's a snapshot of Carey's Investment management products:

The non-traded REIT industry is adapting for the better, with lower fees and back-end loads rationalizing the cost consistent with improving governance at the fund level. Also, Blackstone (NYSE:BX) launching its first non-traded REIT validates the continued improvements in the non-traded sector.
Carey has generated asset management fees, structuring fees and general partnership interests of $120-180 million in recent years. Accordingly, the company has been able to spread costs over a larger asset base.
Two of Carey's entities, CPA 17 and CPA 18, own Net Lease buildings, and it is likely that CPA 17 will liquidate in the near term. The $5.8 billion portfolio (CPA:17) was established in 2007: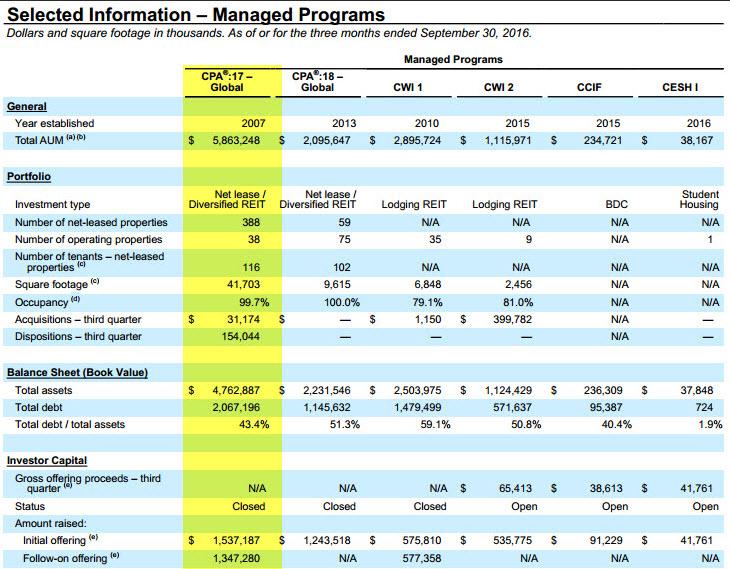 CPA 18 is smaller ($2.095 billion AUM), and the property portfolio commenced raising equity just three years ago (in 2013).
As I referenced in the past, I believe it's highly likely that CPA 17 will eventually merge with Carey's public REIT. As mentioned above, on February 3, 2014, Carey merged with CPA 16 in a deal valued at around $4 billion upon closing; the combined company had an equity market capitalization of about $6.5 billion and a total enterprise value of approximately $10.1 billion.
At the time of the merger, Carey's FFO jumped from $2.78 in 2013 to $4.56 in 2014, and the dividend grew from $2.44 per share to $3.39 per share - over 38%.

Remember, CPA 17 will look to monetize the portfolio, and there will likely be other bidders; however, it is doubtful that a third party will have the inside knowledge of the portfolio and infrastructure to invest internationally that Carey has. Most importantly, I view this unique platform as an asset and catalyst going forward.
Arguably, there are conflicts of interest that should be recognized, but the benefits outweigh the disadvantages. Unlike the RMR controversies I addressed in a recent article, WPC management does not receive any compensation from the managed funds, no performance incentive nor any participation in acquisition or M&A fees. WPC shareholders receive all of these benefits!
The Balance Sheet
Toni Sanzone was recently named CFO of WPC. She was in an interim role back in October 2016. She worked previously, from 2006 to 2013, at iStar Inc. (NYSE:STAR), a publicly traded, fully integrated finance and investment company, where she served in various capacities, including most recently as corporate controller. From 2004 to 2006, Sanzone served in various accounting and financial reporting roles at Bed Bath & Beyond, Inc. (NASDAQ:BBBY), and she held various positions in the assurance and advisory services practice of Deloitte LLP from 1998 to 2004.
At year end, WPC's net debt-to-enterprise value was 40.3% and total consolidated debt to gross assets were 49.7%, and the company's net debt-to-adjusted EBITDA was 5.8x.

During 2016, it successfully accessed both the debt and equity capital markets, issuing approximately $84 million in equity through the ATM program and issuing US$350 million of 10-year unsecured bonds in September at a coupon of 4.25%.
In January 2017, WPC issued $500 million of euro-denominated 7.5-year unsecured bonds at a 2.25% coupon.
Since the start of 2016, the company issued a total of approximately $877 million in unsecured debt and paid $865 million in mortgage debt on a consolidated basis. Since embarking on its unsecured debt strategy into 2014, WPC has issued a total of $1.3 billion in U.S. dollar bonds and $1 billion in euro-denominated bonds, and has paid approximately $1.7 billion of mortgage debt on a consolidated basis.

As a result, the company has reduced secured debt as a percentage of gross assets from 36% at the start of 2014 to below 20% today.
In conjunction with the repayment of mortgages, WPC has reduced its overall weighted average interest rate from 4.1% at the start of 2016 to about 3.7%. At year end, the remaining mortgage debt had a weighted average interest rate of just over 5%.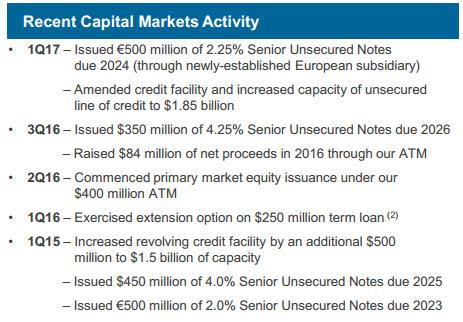 In February, WPC amended and restated its senior unsecured credit facility, increasing the capacity to $1.85 billion, comprised a $1.5 billion revolving line of credit maturing in four years with two six-month extension options - a €236 million term loan maturing in five years, and $100 million multi-currency delayed through our term loan also maturing in five years.
Compared to the previous facility, the revolver is 10 basis points tighter on spread at LIBOR plus 100 basis points, and the term loan is 15 basis points tighter at euro plus 110 basis points. WPC has also improved certain covenant terms to reflect progress in growing its unencumbered asset pool, and an increase in the multi-currency component to $1 billion.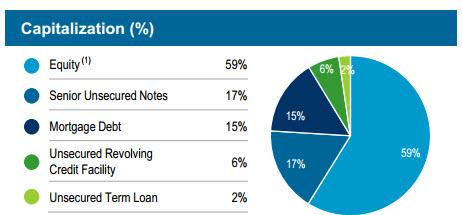 By extending the maturity of its debt through the amended credit facility and the recent bond issuance, the company has reduced balance sheet risk. For an illustration of this, see below:

Because WPC's balance sheet has access to the European debt markets, it has enabled the company to substantially reduce its exposure to the euro. Increasing the proportion of total debt that is denominated in euros has both increased the natural hedge on the company's euro-denominated rents and further insulated the NAV exposure to the euro.
Carey is focused on improving the quality of the portfolio, enhancing its credit profile, maintaining the flexibility of the balance sheet and running as efficiently as possible. In October 2016, Moody's affirmed all of its ratings on WPC, such as its Baa2 senior unsecured notes and long-term issuer rating. The other affirmed ratings are its Baa2 senior unsecured shelf and Baa3 preferred shelf. The ratings outlook is stable.
Moody's said the affirmation reflects the company's success in executing its investment strategy, its highly diversified portfolio and its ability to maintain a strong occupancy rate in the mid- to high-90%'s range through market cycles. The stable outlook, meanwhile, is because of the rating agency's expectation that the company will simultaneously reduce its secured debt levels, increase its unencumbered asset portfolio and sustain its current operating performance.
S&P also upgraded the unsecured notes in 2016 from BBB- to BBB with a stable outlook.
The Latest Earnings
For the fourth quarter of 2016, WPC's AFFO per share was $1.22, compared to a $1.27 for the year-ago quarter. Declines in both lease revenues and structuring revenues were partially offset by a reduction in interest expense, as well as higher asset management fees and distributions from the partnership interest in the managed funds.
For the full-year 2016, the company generated AFFO per share of $5.12, compared to $4.99 for 2015. On a full-year basis, lower G&A and interest expense, combined with higher asset management fees and distributions from the partnership interest in the managed funds, more than offset a decline in structuring revenues.
On a segment basis, owned real estate generated about 95% of total AFFO for the full year ($4.85 per share), with the remaining 5%, or $0.27, coming from the Investment Management business. WPC's CEO commented on the AFFO performance, saying:
... selling assets always presents a challenge for short-term growth in AFFO, but it's good for the valuation of the portfolio on a long-term basis as that capital is reinvested in assets that increased the weighted average lease term of the portfolio, increased the criticality of the asset base and improve the overall quality of the portfolio. Reinvesting disposition proceeds cannot always be perfectly timed, but ultimately those proceeds are reinvested and contribute to our long-term AFFO growth.
Paul Adornato, CFA, analyst at BMO, remarked (in a research paper):
On the (earnings) call we learned that of the $636 million in 2016 dispositions, roughly 70% were considered to be "residual Risk" assets versus "value creation opportunities" or "vacant properties." Furthermore, the blended IRR on $636 million is roughly 16%. We were surprised by this positive outcome and suspect it would be a surprise to others.
WPC said it expects to generate AFFO of between $5.10 and $5.30 per diluted share in 2017. Here's our AFFO model for the REIT and its peers: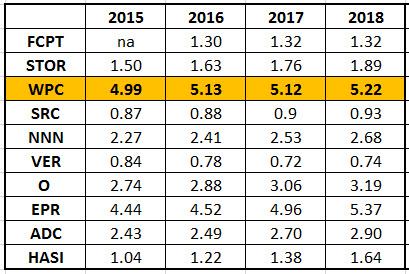 As you can see, I used the low end of guidance, and of course, the guidance does not include the possible merger of CPA:17. Here's how the AFFO compares (based on % growth):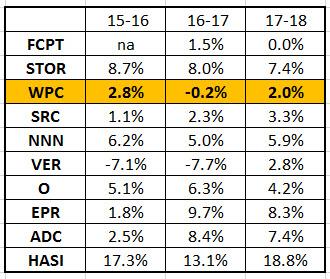 As you can see, earnings growth appears modest, but remember that the company has been improving its balance sheet and trimming its portfolio ($636 in dispositions). Take a look at the dividend history and payout ratio:

As you can see, Carey has been reducing its payout ratio - another good sign. Let's compare the payout ratio to that of its peer group:

Logically, Carey should have a lower payout ratio because the company owns a large number of office buildings (with larger cap ex requirements); however, the reduced payout ratio is a good sign. We forecast modest dividend growth in 2017, as illustrated below:

With the exception of the "outlier" year in 2013 (when Carey merged its non-traded REIT), the company has maintained a history of increasing its dividend by around 5% per year. Over the years, Carey has reduced its reliance on its Investment Management business (from 10% to 5%), while also reducing the payout ratio (from 80% to 77%).
How Long Is The "Long Run?"
As I have explained above, Carey is a uniquely positioned Net Lease REIT, and it's quite clear that the market is fearful. Take a look at the performance:

Clearly, Carey has underperformed, and the valuation gap exists.
With modest AFFO growth forecasted in 2017, some could question whether or not Carey should be held for the "long run."
Yet, a greedy investor could look at Carey and argue that shares are cheap, and that eventually, the notable risks (Europe and Investment Management operations) become opportunities rather than complexity risk.

Carey is yielding 6.2% - 200 bps higher than O and NNN - and while I don't believe shares will trade in line with these stalwarts, there is clearly a valuation gap. Take a look at Carey's historical valuation: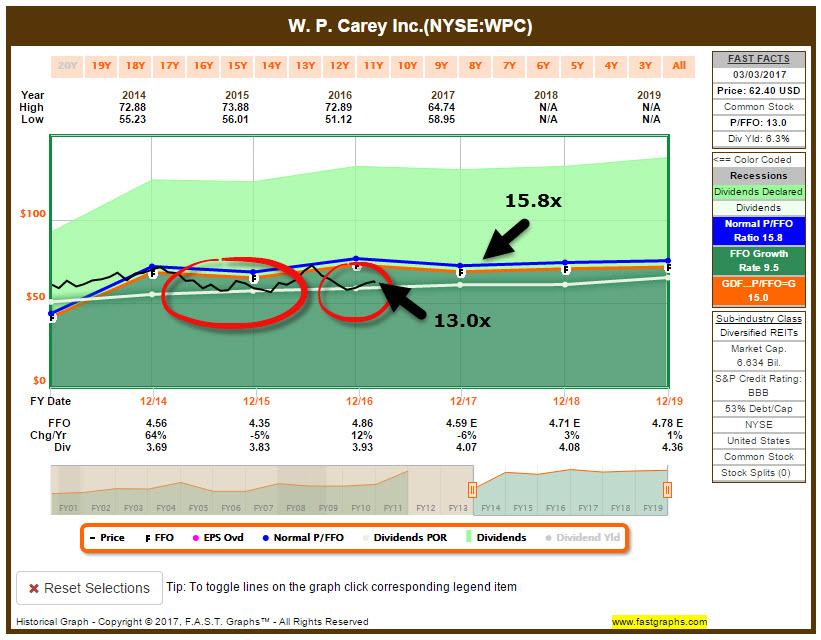 Since 2013, Carey has traded at 15.8x FFO, and shares are now trading at 13.0x. Why?
Perhaps Mr. Market has painted Carey by the same brush as VEREIT Inc. (NYSE:VER), another Net Lease REIT with complexity risk.
But VER has legal issues, and that overhang could persist (beyond 2017). Also, as noted above, retail is out of favor, and Carey has limited exposure to retail.
Most importantly, Carey has a secret weapon (not really secret, since I'm writing about it, though) - CPA: 17.
In summary, Carey has all of the ingredients to rally, the shares are mispriced, and while there is overhang (non-traded business and Europe), I believe investors can take advantage of the valuation gap by initiating a position at current pricing levels - the 6.3% dividend yield is attractive, and the potential returns are outsized. As Benjamin Graham wrote in The Intelligent Investor, the value investor's purpose is to capitalize upon "a favorable difference between price on the one hand and indicated or appraised value on the other."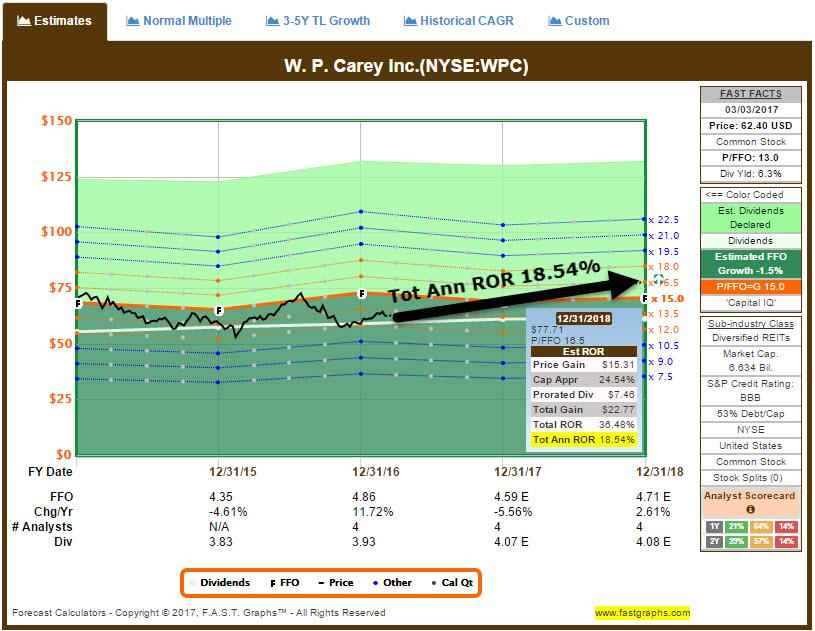 Check out The REIT Beat: I plan to publish a weekly Nothing-But-Net REIT Guide that will include WACC metrics and valuation tools. If you'd like to get more of my ideas, including early access to my highest-conviction REIT plays, access to Q&As with management teams, weekend REIT reports and more. We'd love to have you on board, so have a look.
Source: F.A.S.T. Graphs and WPC Filings.
Other REITs mentioned: Four Corners Property Trust (NYSE:FCPT), STORE Capital (NYSE:STOR), Spirit Realty Capital (NYSE:SRC), National Retail Properties (NNN), VER, Realty Income (O), EPR Properties and Agree Realty Corp. (ADC).
Author Note: Brad Thomas is a Wall Street writer, and that means he is not always right with his predictions or recommendations. That also applies to his grammar. Please excuse any typos, and be assured that he will do his best to correct any errors, if they are overlooked.
Finally, this article is free, and the sole purpose for writing it is to assist with research, while also providing a forum for second-level thinking. If you have not followed him, please take five seconds and click his name above (top of the page).
Disclosure: I am/we are long APT, ARI, BXMT, CONE, CORR, CCP, CCI, CHCT, CLDT, CUBE, DLR, DOC, EXR, FPI, GPT, HTA, HASI, KIM, LADR, LTC, LXP, O, OHI, QTS, ROIC, STWD, SNR, STAG, SKT, SPG, TCO, UBA, VTR, WPC, STOR,.
I wrote this article myself, and it expresses my own opinions. I am not receiving compensation for it. I have no business relationship with any company whose stock is mentioned in this article.