Snap Inc.'s (NYSE:SNAP) IPO is likely to draw short interest due to the lack of voting rights for Class A shareholders and a relatively large market cap of around $30 billion. The market cap reflects a P/S ratio of 75. Snap has a significant amount of priced-in growth, but shorting is a bad idea because the company's growth prospects seem to justify its valuation.
Snap can be compared with Twitter (NYSE:TWTR) because both products deal with a casual and ephemeral segment of the social media market that may be harder to monetize compared to less casual networks. Users enjoy a casual social media experience without the investment and personal exposure of networks like Facebook (NASDAQ:FB).
However, unlike Twitter, Snap has deferred growth by intentionally delaying monetization. Its cash position (considering IPO funds) keeps it cheap on the enterprise value metric and acquisitions are a viable growth engine. Advertising market growth further bolsters the bullish case for Snap Inc. and make shorting the stock a bad idea.
Snap Inc. vs. Twitter: Top-line Growth
| | | | | |
| --- | --- | --- | --- | --- |
| Company | IPO Year - TTM | One Year Prior | Two Years Prior | CAGR % |
| Twitter | $664,890 | $316,933 | $106,313 | 150.08 (2 Periods) |
| Snap Inc. | $404.48 | $58.66 | N/A | 589.53 (1 Period) |
Snap Inc. has a materially different growth profile than Twitter in the years surrounding the IPO. While Twitter's revenue growth has been healthy, it is nowhere near Snap's numbers. This is because, thankfully for stockholders, Snap has delayed monetization until only a few years before going public.
Much of the ultra-fast top line growth is really catch-up growth because advertisers were only allowed on the platform when it already had a huge amount of users. Snap Inc. is expected to hit $2 billion in revenue by 2018, according to Goldman Sachs, a key underwriter of the IPO. While Goldman shouldn't be taken at face value, Snap has a good chance of beating expectations because Goldman's projection is based on reasonable assumptions.
Goldman's $2 billion projection assumes DAU will increase to 221 million in 2018, up from 158 million at the end of last year. This growth assumption is actually conservative compared to Snap's historical growth trends.
From Q116-Q216, Snap's DAU grew from 107 to 158 which is 47%. Goldman is only estimating a 40% increase from 2017-18. Most of top line growth will probably come from expanded monetization of current DAU - in keeping with the deferred growth strategy mentioned earlier.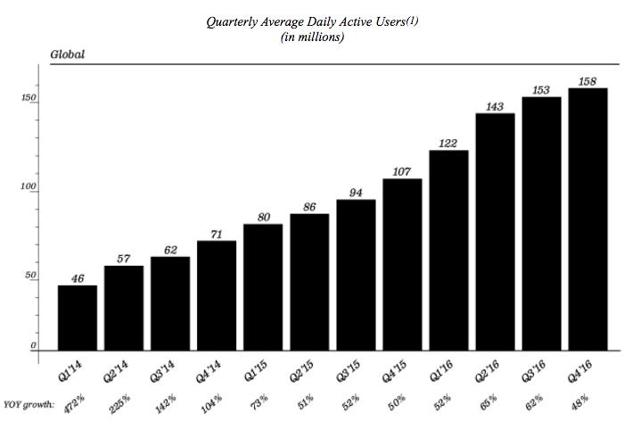 Snap Inc. is not necessarily the most efficient advertising platform available because of its unique and ephemeral picture-based format. But the platform is one of the most concentrated on the lucrative teen demographic and this could make up for its formatting challenges. Snap claims to have the best monetization potential in its target market and the evidence backs up this claim. For example, over 75% of teens in the United Kingdom use Snapchat. And the platform's demographic saturation is over double Facebook's in this market.
(Source)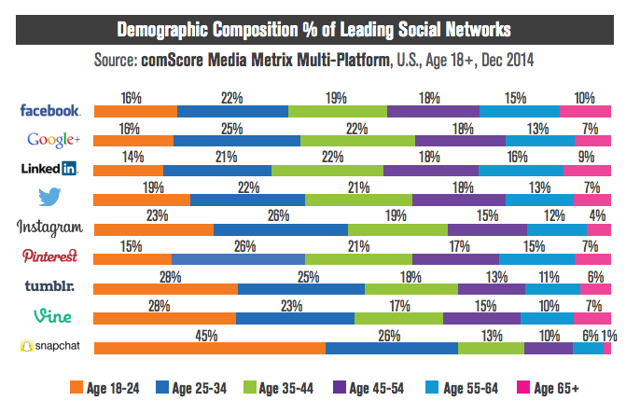 Let's look at the numbers (from company filings):
Global advertising market expected growth: $652 billion to $767 billion
Mobile advertising market expected growth: $66 billion to $196 billion
Snap Inc. has not made it clear exactly how much of global advertising growth will be in its specific demographic, but teens are known to be a premium demographic due to consumption patterns and the possibility of catching customers young for lifelong brand loyalty.
Facebook is actually declining among teens and this presents an opportunity for Snapchat to take marketshare from the larger firm.
Some investors have concerns about Snap's ability to monetize its platform, but there are many ways Snap can pull this off while charging a premium for its lucrative demographic. For example, here are some ways Snap can drive monetization:
1.) Selling user engagement: Ex. "Snap this picture of taco bell and tag our new Cheesy-Gordida taco to 20 friends and get one free."
2.) Selling ad space: Make users watch quick ad before they can view their snap.
3.) Selling user information: Sell location data, time, snaps per day, products tagged, etc. User information is an often overlooked source of social media value.
Is Acquisition Still a Possibility?
At $30 billion market cap, Snap Inc. is far away from the $3 billion Facebook offered in 2015. Facebook only has $8.9 billion in cash and equivalents on its balance sheet, so any buyout would need to be partially financed with debt and equity.
At this point, a buyout is unlikely, but still possible because Snap's huge IPO-supplemented cash pile makes it cheaper on the enterprise value metric.
However, what is more likely is that Snap will use its cash to acquire other companies. Snap went on an acquisition binge in the months before the IPO and this trend is likely to continue. It is not a good idea to short acquisitive super-growth firms because if this strategy is done right, revenue growth can be engineered to beat expectations. We know Snap is acquisitive because of its history.
From TechCrunch.com
1. Snap acquired Looksery in August. The Looksery acquisition was $79.4 million, with $71.2 million in retention bonuses.
2. Snap also acquired Bitstrips, the creators of Bitmoji personal avatars, in March last year. Snap paid $64.2 million for the company.
3. Snap acquired a "mobile search company" in August for $114.5 million - this is Vurb, a mobile search engine that pulls info from partnered apps.
4. Snap also says it acquired a "research and development-driven computer vision software company" in 2016 for around $47 million - this may be Seene, a start-up that let mobile users create 3D selfies.
Conclusion
Snap Inc. has IPOed with a huge valuation, and many will be tempted to short the stock - this is a bad idea. The company should not be compared to IPO failures like Twitter because even though both companies share an ephemeral style, Snap is different because of its front-loaded growth profile and niche position in a rapidly premium market.
Snap's huge amount of cash and its acquisitive strategy further bolster the likelihood of strong top-line growth in the future. The stock seems likely to hit Goldman's $2 billion revenue projection by 2018. And while the stock is pricey, it doesn't look overvalued when growth potential is considered.
Disclosure: I/we have no positions in any stocks mentioned, and no plans to initiate any positions within the next 72 hours.
I wrote this article myself, and it expresses my own opinions. I am not receiving compensation for it (other than from Seeking Alpha). I have no business relationship with any company whose stock is mentioned in this article.