President Donald Trump's proposed tax reform is intended to benefit Average Joe and Jane investors, but how will it impact real estate?
As I explain in my book, The Trump Factor Unlocking the Secrets Behind the Trump Empire, President Donald Trump has made most of his wealth in commercial real estate and it seems logical that he would structure tax laws to favor property investors, especially Average Joe!
Another well-known President, Dwight D. Eisenhower, signed legislation over 55 years ago (September 14, 1960) that created a new approach to assist individual investors (like Average Joe) with access to commercial real estate. That's when the REIT laws were formed and over time the industry has grown to a $1 trillion equity market capitalization and nearly $2 trillion in real estate assets.
Although not as revolutionary as the passing of the REIT law (in 1960), it appears that President Donald Trump will soon pass new tax legislation that could have a profound impact on residential and commercial real estate.
With Republicans in control of both the House and Senate, comprehensive tax reform is very high on the agenda for 2017, both for Trump and the leadership of Congress. As NAREIT explains,
As 2017 begins, it is quite likely that the first tax reform vehicle that will be considered will be the House Republican blueprint that was released earlier this year and is expected to be updated early next year with far more detail and specificity than we have seen so far.

Notably, President Trump's vision for tax reform as it evolved during the campaign was largely based on the blueprint with some key differences.
The blueprint is likely the beginning move in a very complicated process and is open to change, driven in part by constructive comments from various constituencies and in part by fierce opposition from a variety of interests. In addition, the views of the Trump Administration may be different than campaign documents suggest and the Senate has not yet weighed into the matter and may not for some time.
Simply put, there remains a wide range of potential outcomes for tax reform in 2017.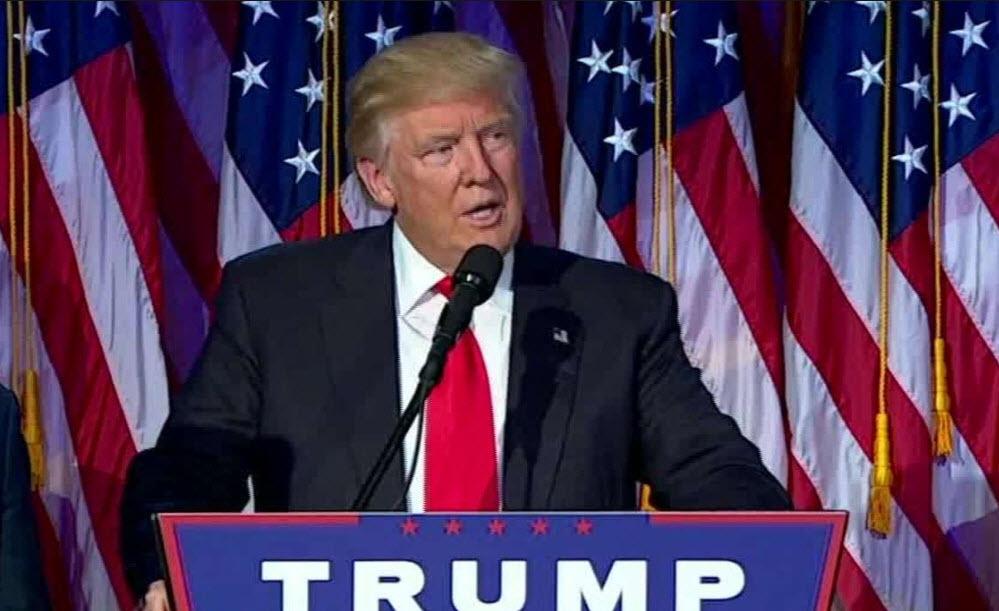 Let's Start with the Individual Income Tax
Let's first examine the proposed tax reform changes to the Individual Income Tax:
‣ Consolidates the current seven tax brackets into three, with rates of 12 percent, 25 percent, and 33 percent.
‣ Taxes capital gains and dividends as ordinary income but provides a 50 percent exclusion of capital gains, dividends and interest income. This is equivalent to taxing capital gains, dividends and interest income at half the rate of ordinary income, with three brackets of 6 percent, 12.5 percent and 16.5 percent.
‣ Increases the standard deduction and eliminates the personal exemption.
‣ Increases the Child Tax Credit from $1,000 up to at least $1,500 or maybe $2,000.
‣ Eliminates all itemized deductions besides the mortgage interest deduction and the charitable contribution deduction.
‣ Eliminates the individual Alternative Minimum Tax and eliminates federal estate and gift taxes.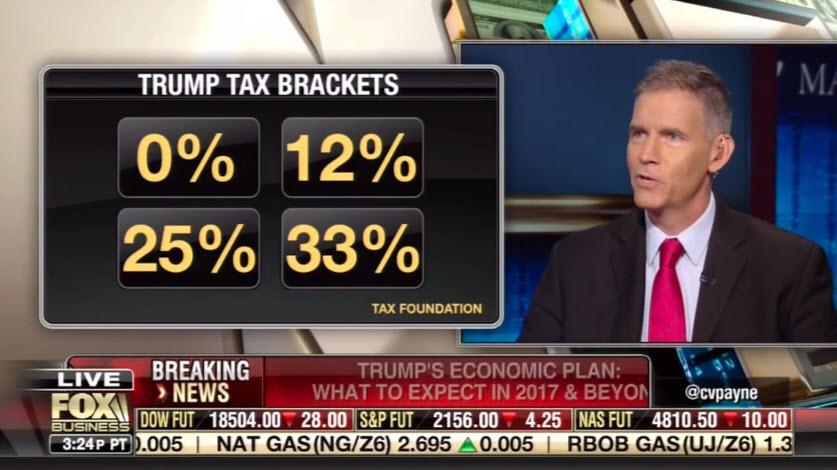 Source: Fox Business
What About the Business Income Tax?
Now let's examine Trump's proposed changes to Business Income Tax:
‣ Reduces the corporate income tax rate from 35% to 20% and eliminates the corporate Alternative Minimum Tax (or AMT).
‣ Taxes income derived from pass-through businesses at a maximum rate of 25 percent.
‣ Allows the cost of capital investment to be fully and immediately deductible. This will eliminate the current system of depreciation which will greatly simplify compliance and the cost of maintaining a depreciation schedule. This also eliminates the determination of what is a repair versus an improvement. Buildings will be fully expensed in the year of purchase. Land is excluded and is not depreciable.
‣ A full repeal of 1031 exchanges. Due to the immediate expensing provision being proposed, this would have little effect as replacement property would immediately be expensed.
‣ Eliminates the deductibility of net interest expenses on loans.
‣ Net operating losses will be limited to 90 percent of net taxable income and allows net operating losses to be carried forward indefinitely. Additionally, they will be indexed for inflation. The proposed change though does not allow net operating losses to be carried back.
‣ Any number of special interest deductions and credits will be eliminated.
How Will The Proposed New Laws Impact Real Estate (or REIT) Investors?
First off, I am confident that the REIT laws in the US will have no impact whatsoever on Trump's proposed tax plan.
In fact, President Trump has partnered with REITs in the past and around 5 percent of his Net Worth is held in various partnerships with Vornado Realty (VNO). As I explain in my book, The Trump Factor: Unlocking the Secrets Behind the Trump Empire,
Trump's partnership with Vornado boosts the billionaire's net worth…
However, another proposed tax change could impact real estate investors and this change would have reduced Trump's net worth by at least 5% (if the laws were not in existence).
Trump (Organization) owns two office towers with VNO and in my book I estimate the combined value of the trophy buildings to be $2.9 billion. By utilizing the 1031 exchange laws, Trump was able to create over $400 million in equity (Trump owns 30 percent in the two buildings) by utilizing the 1031 laws. I explained in a previous Seeking Alpha article,
Section 1031 exchanges have been a part of the Internal Revenue Code since 1921 and have historically been used by sellers of commercial real estate to defer federal and state capital gains taxes as well as recapture taxes. While commercial real estate ownership is often thought of as a tool for the rich to reduce and/or defer taxes, it is also a wealth building tactic for millions of middle class Americans.
Obviously, REITs have provided middle class Americans with a terrific vehicle to build wealth, but what about the 1031 laws?
Absent 1031 exchanges, there will be a big decrease in transactions which would negatively affect many U.S. taxpayers and result in fewer jobs in ancillary services involved in a sale/purchase like title companies, lawyers, lenders, banks, mortgage brokers, environmental companies, real estate agents/brokers and even reduced income to municipalities from less transfer tax revenue" says Scott Saunders of Asset Preservation.
According to Jonathan McGuire, CPA with Aldrich CPAs + Advisors LLP, President Trump wants to keep the 1031 law; however, the repeal of it could actually be positive as it relates to the trade-off being proposed. McGuire explains,
With the proposed changes, the repeal of section 1031 would effectively not be felt. The proposed immediate write-off of all Buildings in the year of purchase, an investor could sell a building and use the proceeds to purchase a new building(S) of equal or greater value.

Assuming the transactions were completed in the same taxable year, you would not recognize taxable income. The write-off would offset the gain from sale. If you bought a building less than the FMV of your sold building, you would recognize income on the difference, just as you would effectively under section 1031.

Where the repeal hurts, is if your property sells in year 1 and you can't complete a purchase until year 2. Therefore, you would need to consult your tax advisor to structure your deal to avoid unnecessary taxes.
Also, as noted above, commercial real estate owners may be dealt a double whammy if Congress eliminates the deduction for Business mortgage interest. Financing makes up a large portion of the capitalization structure for commercial real estate and much of this funding comes from banks, insurance companies and bond issuance. However, there are the benefits, as McGuire explains,
Congress is proposing to treat interest income as capital gain income. This means Interest income would get a 50 percent haircut before applying the applicable tax rate. This is meant to offset the elimination of business interest expense. The banks and other lenders will find a greater incentive to lend as this interest income would be taxed at a much lower rate. This could allow for lower lending rates on commercial loans as lenders would get greater return due to the tax reduction.
What About for REITs?
In a recent research report, Cohen & Steers explains,
Republicans' clean sweep of the White House and Congress increases the chances that Trump will be able to push through key policy goals, including increased infrastructure spending, tax cuts for businesses and individuals, less regulation, renegotiation of trade deals and immigration restrictions.

While there is little clarity on how these objectives will be carried forward, these policy priorities clearly represent a shift to a more pro-growth mindset for the government, likely driving increased inflation and pushing interest rates higher.
Higher inflation and tax cuts for businesses and individuals are generally good for REIT earnings and could provide a boost particularly to hotels, apartments, office, industrial and retail properties. (see our top REIT picks in the recent edition of the Forbes Real Estate Investor). As Cohen & Steers adds,
…a slowdown in global trade could be a headwind for coastal properties and industrial companies, and the stronger dollar can have a negative effect on hotels. As well, certain health care REITs could be challenged given the potential for reduction of government subsidies under a Trump administration.

Bigger picture, higher inflation may result in higher replacement costs, which could slow new property supply against a backdrop of improving economic growth, and hence lead to increased rents. On the other hand, higher interest rates could affect investors' return expectations for real estate, leading to higher capitalization rates (property yields).
In conclusion, I remain cautiously optimistic that President Trump's tax policies will result in positive property appreciation. Certain property sectors will perform better than others and that's why I recommend maintaining adequate diversification, with a large percentage of SWANs (sleep-well-at-night REITs).
Check out The REIT Beat: I plan to publish a weekly Nothing-But-Net REIT Guide that will include WACC metrics and valuation tools. If you'd like to get more of my ideas, including early access to my highest-conviction REIT plays, access to Q&As with management teams, weekend REIT reports and more, we'd love to have you on board, so have a look.
Author Note: Brad Thomas is a Wall Street writer and that means he is not always right with his predictions or recommendations. That also applies to his grammar. Please excuse any typos and be assured that he will do his best to correct any errors, if they are overlooked.
Finally, this article is free, and the sole purpose for writing it is to assist with research, while also providing a forum for second-level thinking. If you have not followed him, please take five seconds and click his name above (top of the page).
Disclosure: I am/we are long APT, ARI, BXMT, CONE, CORR, CCP, CCI, CHCT, CLDT, CUBE, DLR, DOC, EXR, FPI, GPT, HTA, HASI, KIM, LADR, LTC, LXP, O, OHI, QTS, ROIC, STWD, SNR, STAG, SKT, SPG, TCO, UBA, VTR, WPC, STOR,.
I wrote this article myself, and it expresses my own opinions. I am not receiving compensation for it. I have no business relationship with any company whose stock is mentioned in this article.