According to Forbes, Carl Icahn is worth an estimated $16.4 billion.
Not bad for a former Wall Street stockbroker who created most of his wealth by finding beaten-down stocks that trade at far less than intrinsic value.
In the 1980s, Icahn developed a reputation as a "corporate raider" after profiting from the hostile takeover and asset stripping of the American airline TWA. In 1988, he took TWA private, gaining a personal profit of $469 million and leaving TWA with debt of around $540 million.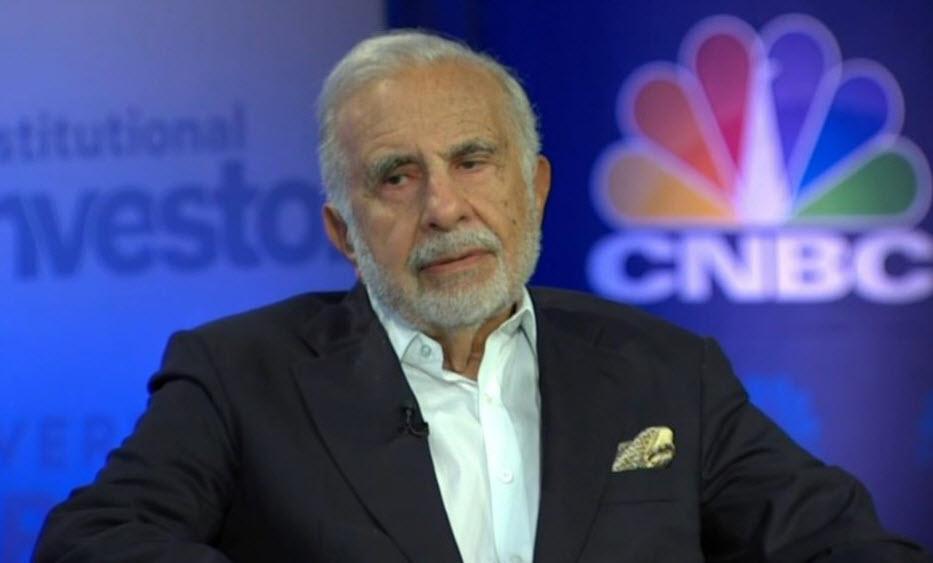 Much of Icahn's wealth is held in Icahn Enterprises L.P. (IEP) a master limited partnership formed in Delaware in 1987. Icahn Enterprises owns a 99% limited partner interest in Icahn Enterprises Holdings, a limited partnership that owns substantially all assets and liabilities and conducts substantially all of the operations.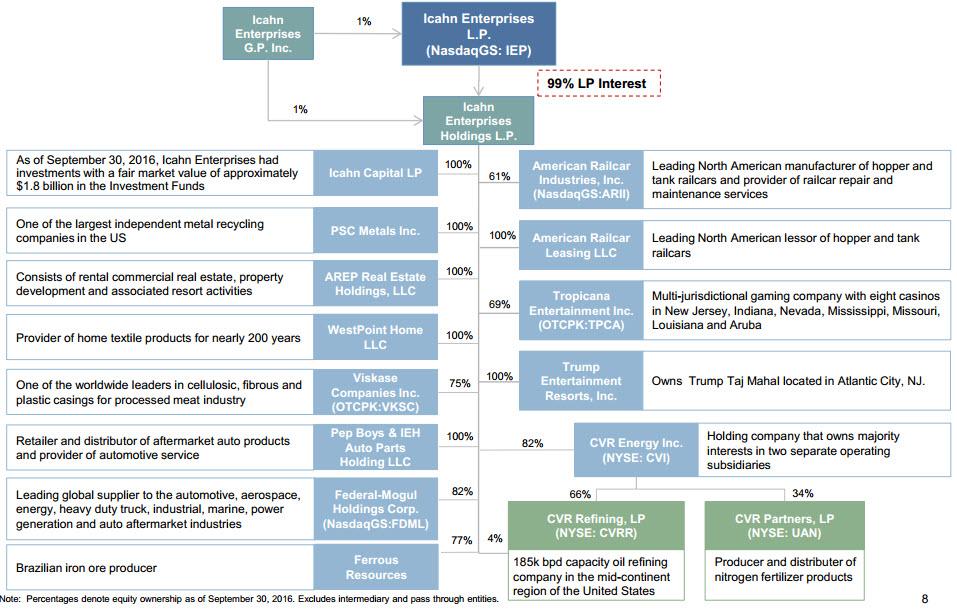 Icahn's estate has been designed to assure the stability and continuation of Icahn Enterprises with no need to monetize the billionaire's interests for estate tax or other purposes. In the event of Icahn's death, control of his interests in Icahn Enterprises and its general partner will be placed in charitable and other trusts under the control of senior Icahn Enterprises executives and family members.
Icahn Enterprises is a diversified holding company owning subsidiaries currently engaged in Investment, Automotive, Energy, Railcar, Gaming, Metals, Mining, Food Packaging, Real Estate and Home Fashion.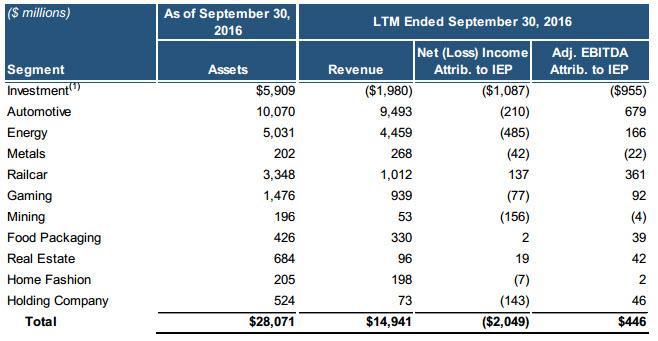 Invest Alongside This Corporate Raider
Inside Icahn Enterprises Annual Report (2016) the company describes its business on a simple formula:
…we seek to find undervalued companies in the Graham & Dodd tradition, a methodology for valuing stocks that primarily looks for deeply depressed prices. However, while the typical Graham & Dodd value investor purchases undervalued securities and waits for results, we often become actively involved in the companies we target.

That activity may involve a broad range of approaches, from influencing the management of a target to take steps to improve shareholder value, to acquiring a controlling interest or outright ownership of the target company in order to implement changes that we believe are required to improve its business, and then operating and expanding that business. This activism has typically brought about very strong returns over the years.
Icahn Enterprises exists as a diversified holding company that owns subsidiaries engaged in diverse operations, including several well-known companies: American International Group, Inc. (AIG), Cheniere Energy Inc. (LNG), Freeport-McMoRan Inc. (FCX), Herbalife Ltd. (HLF), Herc Holdings, Inc. (HRI), Hertz Global Holdings, Inc. (HTZ), Navistar International Corp. (NAV), PayPal Holdings, Inc. (PYPL), The Manitowoc Company Inc. (MTW), Manitowoc Foodservice Inc. (MFS) and Xerox Corporation (XRX).
Several of the operating businesses started out as investment positions in debt or equity securities, held either directly by Icahn Enterprises or Mr. Icahn. Those positions ultimately resulted in control or complete ownership of the target company. For example, in 2012, the company acquired a controlling interest in CVR Energy, Inc. (CVR), which started out as a position in the Investment segment and is now an operating subsidiary that comprises the Energy segment.
As of December 31, 2016, based on the closing sale price of CVR stock and distributions since the company acquired control, it had gains of approximately $1.3 billion on the purchase of CVR.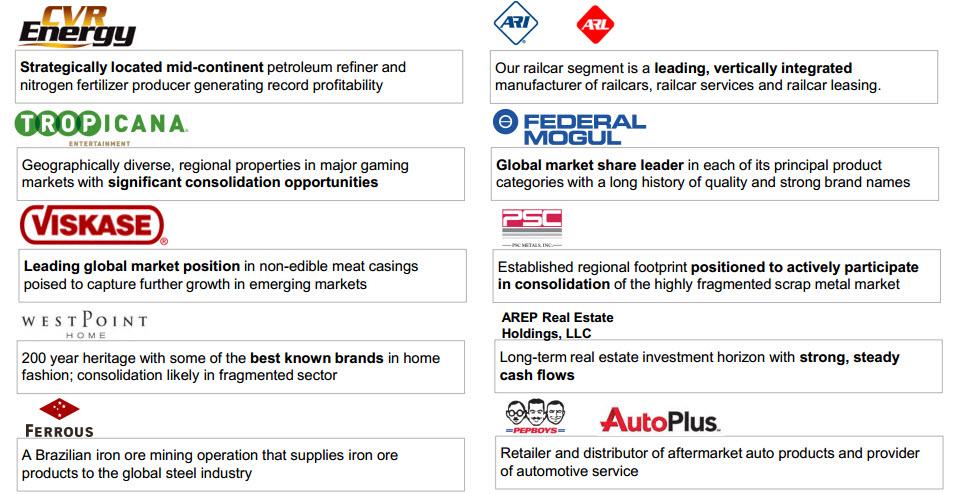 In the recent Annual Report, the company explained,
During the next several years, we see a favorable opportunity to follow an activist strategy that centers on the purchase of target stock and the subsequent removal of any barriers that might interfere with a friendly purchase offer from a strong buyer.

Alternatively, in appropriate circumstances, we or our subsidiaries may become the buyer of target companies, adding them to our portfolio of operating subsidiaries, thereby expanding our operations through such opportunistic acquisitions. We believe that the companies that we target for our activist activities are undervalued for many reasons, often including inept management. Unfortunately for the individual investor, in particular, and the economy, in general, many poor management teams are often unaccountable and very difficult to remove.
I find it interesting that Icahn has generated substantial wealth in his lifetime by squeezing companies that are "hoarding cash." The billionaire actually seeks "cash cows" that are sitting on profits, not spending the cash, "because they do not believe investments in their business will translate to earnings." The company explains its activist strategy:
We believe that the activist catalyst adds value because, for companies with strong balance sheets, acquisitions of their weaker industry rivals is often extremely compelling financially. We further believe that there are many transactions that make economic sense, even at a large premium over market.

Acquirers can use their excess cash, that is earning a very low return, and/or borrow at the advantageous interest rates now available, to acquire a target company. In either case, an acquirer can add the target company's earnings and the income from synergies to the acquirer's bottom line, at a relatively low cost. But for these potential acquirers to act, the target company must be willing to at least entertain an offer. We believe that often the activist can step in and remove the obstacles that a target generally may seek to use to prevent an acquisition.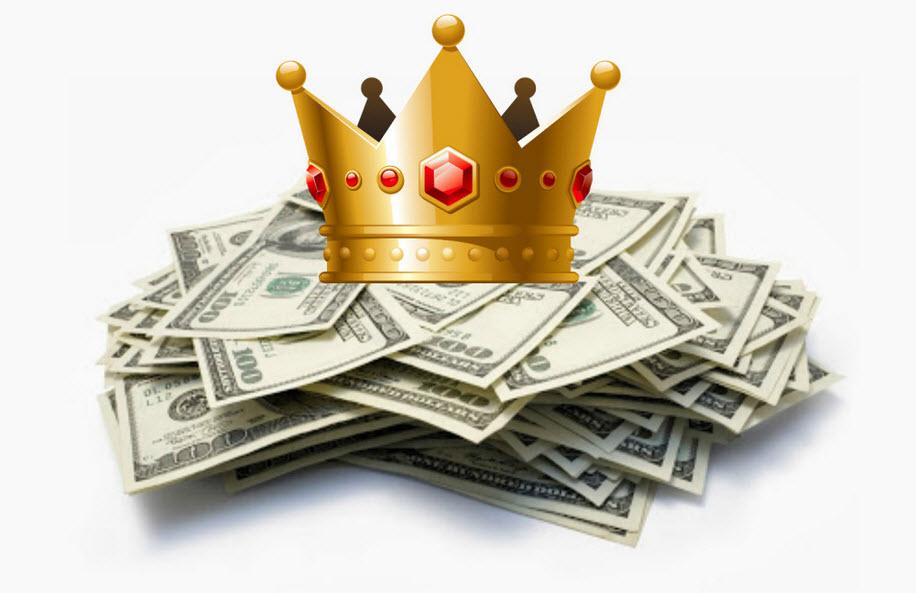 A Suggestivist Idea For An Activist
As I scanned over Icahn Enterprises Annual Report it became clear to me that there is substantial equity that can be realized by monetizing its vast real estate empire.
A few days ago, Chris DeMuth wrote,
IEP bought the Trump Taj Mahal last year. It subsequently shut down operations and is now selling it to a group led by Hard Rock International.
IEP acquired the Taj Mahal in February 2016 when Trump Entertainment Resorts Inc. (TRMP) emerged from bankruptcy. The Taj Mahal ceased its casino and hotel operations on October 10, 2016.
Terms of the deal were not disclosed and the sale is subject to customary closing conditions but is not subject to any financing condition. The sale does not include the former Trump Plaza Hotel and Casino in Atlantic City, which IEP continues to own and market for sale. Carl C. Icahn, Chairman of Icahn Enterprises, stated:
We at IEP are extremely happy with our ownership of the Tropicana Casino & Resort, and after considerable analysis and deliberation we determined that we only wanted to own one operating casino property in Atlantic City. A sale of the Taj Mahal therefore represents the optimal outcome for us. We wish Hard Rock and its partners the best of luck with the Taj Mahal.
Tropicana Entertainment Inc. (OTCPK:TPCA) operates eight casino facilities featuring approximately 392,000 square feet of gaming space with 7,900 slot machines, 300 table games and 5,500 hotel rooms as of September 30, 2016.
A substantial portion of Tropicana's indebtedness is subject to floating interest rates, which makes it more vulnerable in the event of adverse economic conditions, increases in prevailing interest rates, or a downturn in its business. I suggest that Icahn seek to monetize its owned gaming assets by facilitating a sale/leaseback with either MGM Growth Properties (MGP) - see my article HERE – Gaming and Leisure Properties (GLPI) or Penn National Gaming (PENN) – see my article HERE.
Icahn Enterprises has around $1.8 billion in assets (before the Taj Mahal deal) and by utilizing a sale/leaseback with a Gaming REIT, the company could de-leverage its balance sheet to upgraded hotel rooms and refresh casino floor products.
What About Manny, Moe & Jack?
In February 2016, Icahn Enterprises acquired all outstanding shares of Pep Boys for $1.2 billion. PEP owns its five-story corporate office building, approximately 300,000 square foot located in Philadelphia, Pennsylvania. Of the 804 store locations operated by PEP, 225 are owned and 579 are leased as of December 31, 2016. The following table sets forth certain information regarding the owned and leased warehouse space utilized by Pep Boys to replenish its store locations:

On September 6, 2016, Icahn Enterprises entered into an agreement and plan of merger with Federal-Mogul pursuant to commence a cash tender offer to acquire all of the issued and outstanding shares of Federal-Mogul's common stock not already owned for a purchase price of $9.25 per share, net to the seller in cash, without interest, less any applicable tax withholding.
Federal-Mogul is a leading global supplier of technology and innovation in vehicle and industrial products for fuel economy, emissions reduction and safety systems. Federal-Mogul serves original equipment manufacturers ("OEM") and servicers ("OES") of automotive, light, medium and heavy-duty commercial vehicles, off-road, agricultural, marine, rail, aerospace, power generation and industrial equipment, as well as the global aftermarket.
On June 1, 2015, Icahn Enterprises, IEH Auto, acquired substantially all of the auto parts assets in the United States of Uni-Select, Inc., a leading automotive parts distributor for domestic and imported vehicles. IEH Auto has 21 distribution centers and 288 corporate-owned stores in the United States and supports a network of more than 2,000 independent wholesalers. Through its banner and technical support programs as well as its offering of premium auto parts, IEH Auto has built its reputation on being the partner of choice for independent entrepreneurs eager to tap into the strength of a large network.
The combination of these acquisitions added new product lines to our Automotive segment, providing operating synergies, strengthening distribution channels and enhancing our Automotive segment's ability to better service its customers. Pep Boys and IEH Auto are operated together in order to grow their sales to DIFM distributors and DIFM service professionals, to grow their automotive service business, and to maintain their DIY customer bases by offering the broadest product assortment in the automotive aftermarket.
Federal-Mogul's world headquarters is located in Southfield, Michigan, which is a leased facility and approximately 57% of the facilities are leased; the majority of which are distribution centers, and sales and administration offices. Federal-Mogul owns the remainder of the facilities.
IEH Auto also leases its corporate headquarters located in Kennesaw, Georgia, which is approximately 34,000 square feet and most of its 288 stores.
I estimate that Icahn Enterprises could unlock around $1 billion of capital by selling its owned real estate within the Automotive sector. The PEP portfolio (including the corporate office) could fetch $700 million and the other logistic properties owned by Federal- Mogul could be worth over $300 million.
REITs like Realty Income (O), National Retail Properties (NNN), STORE Capital (STOR), Spirit Realty (SRC) and VEREIT (VER) could be bidders for the retail sites. Gramercy Property (GPT), Lexington Realty (LXP) and STAG Industrial (STAG) could be bidders for the industrial assets.
Icahn Enterprises also owns rental real estate, including a few single tenant buildings and 13 legacy properties with 2.9-million square feet (12% retail, 60% industrial, 28% office). The company also owns two parcels of land held for development (New Seabury in Cape Cod, Massachusetts and Grand Harbor in Vero Beach, Florida). The company also owns golf club operations in New Seabury, Cape Cod and Grand Harbor, Vero Beach, focuses on operating golf club and related activities.
Viewing inside the balance sheet of Icahn Enterprises it is evident that there are other owned assets that can be monetized. WestPoint Homes that licenses brands such as IZOD, Under the Canopy, Southern Tide and Portico owns and operates a manufacturing and distribution facility in Chipley, Florida.
Through its wholly owned subsidiaries, WPH also owns and operates a manufacturing facility in Bahrain and owns office and store space in Valley, Alabama and Lumberton, North Carolina where it operates two outlet stores, and leases store space for stores in Chipley, Florida, Foley, Alabama, Savannah, Dalton and Dawsonville, Georgia, Mount Pleasant, South Carolina, Vicksburg, Mississippi, Little Rock, Arkansas, Lancaster, Pennsylvania and leases various additional office space.
Strip Away The Real Estate To Unlock Value
It's no secret, Carl Icahn is a savvy investor, and there is no question that his shrewd investment mind-set has made him worth billions. It should also be no secret that President Donald Trump asked Icahn to serve as a special adviser on financial regulation within Trump's administration. Here's a snapshot of some of Icahn Enterprises top holdings:

As noted above, investments account for around 25% of the MLP and here's a snapshot of the returns (for Icahn Capital):

I thought it would be interesting to compare these returns (above) with REIT returns (Equity REITs) during the same period:

Are you surprised?
In 2008 both took a similar hit, but over the last 3 years, Equity REITs have outperformed. However, more interesting, Icahn Capital returned 10.01% since 2006 and REITs returned 9.84%.
Keep in mind, IEP's earnings are volatile and the company is essentially a hedge fund that is structured as an MLP vehicle. The company operates in volatile sectors such as gaming and energy, but the company also boasts a strong liquidity position -the subsidiaries have approximately $1.6 billion of cash and $1 billion of undrawn credit facilities to enable the company to take advantage of attractive opportunities. IEP ended Q4-16 with cash, cash equivalents, and the investment in the funds and revolver availability totaling approximately $4.5 billion.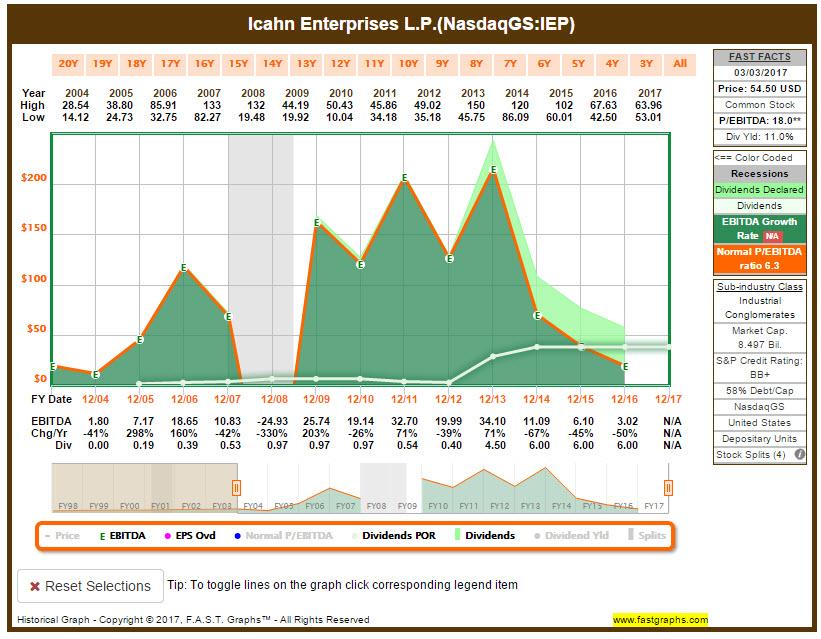 According to Forbes, "on the night of Trump's victory in November 2016, Icahn reportedly dumped $1 billion into stocks as world markets started panicking."
Carl Icahn and I have one thing in common: We both knew that Donald Trump would likely win the Presidential election. Over the last few years I have invested in excess of $250,000 on my book, The Trump Factor: Unlocking The Secrets Behind The Trump Empire. It was a "big bet" for me but I had foresight that the "silent majority" would show up on November 8th.
But that's where the comparisons with me an Icahn end, he is worth billions and he can afford to circle his prey and pounce when the time is right. He is a textbook example of the mantra I learned in business school, that is "cash is king."
However, we can learn from a successful investor like Icahn, as he once said,
I look at companies as businesses, while Wall Street analysts look for quarterly earnings performance. I buy assets and potential productivity. Wall Street buys earnings, so they miss a lot of things that I see in certain situations.
I can see why Icahn doesn't particularly enjoy the "Wall Street earnings" approach, I view IEP as a speculative operation that is nothing like the "sleep well at night" companies that I cover.
While IEP does have an outsized dividend yield of 11%, the dividend record is brief and the declining earnings stream doesn't represent a margin of safety.
My Takeaway: Icahn Enterprises should look to the REIT sector as a means to unlock value. There are over $1 billion of assets that can be monetized with a variety of REITs. The brick and mortar assets are top heavy and the balance sheet can become substantially lighter by taking a chapter from my Trump book and allocating capital that will return the highest overall returns.
While cash may be king, cash flow TRUMPs cash, and I believe that a stock with a strong history of earnings and dividend growth will ultimately outperform. As the legendary investor Benjamin Graham once explained,
One of the most persuasive tests of high-quality is an uninterrupted record of dividend payments going back over many years. We think that a record of continuous dividend payments for the last 20 years or more is an important plus factor in the company's quality rating.
In closing: I am not initiating a position in IEP. As a defensive investor, I must confine myself to shares of companies with a record of profitable operations and in strong financial condition. (see chart below for VNQ and IEP):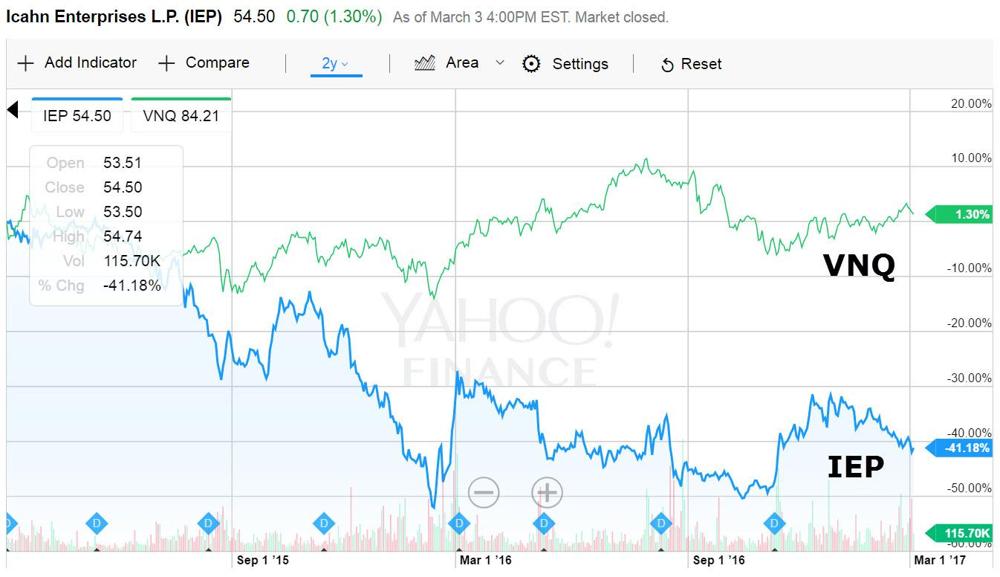 Check out The REIT Beat: I plan to publish a weekly Nothing-But-Net REIT Guide that will include WACC metrics and valuation tools. If you'd like to get more of my ideas, including early access to my highest-conviction REIT plays, access to Q&As with management teams, weekend REIT reports and more. We'd love to have you on board, so have a look.
Source: IEP Annual Report and company filings. FAST Graphs.
Author Note: Brad Thomas is a Wall Street writer and that means he is not always right with his predictions or recommendations. That also applies to his grammar. Please excuse any typos, and be assured that he will do his best to correct any errors, if they are overlooked.
Finally, this article is free, and the sole purpose for writing it is to assist with research, while also providing a forum for second-level thinking. If you have not followed him, please take five seconds and click his name above (top of the page).