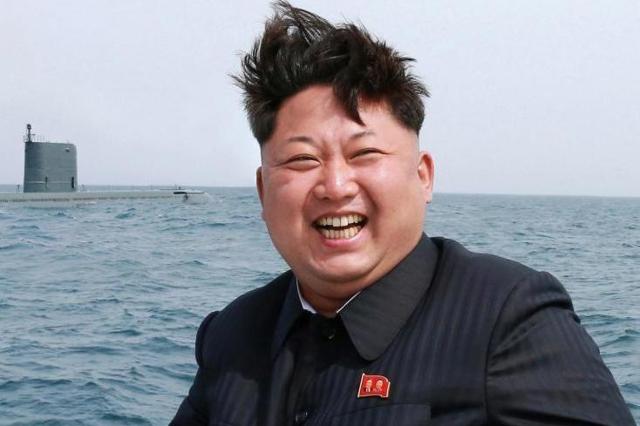 South Korea's Kim Jong-un. Source: upi.com
On Monday, North Korea launched several ballistic missiles into the Sea of Japan. The move will likely escalate tensions with South Korea and Japan:
One of the currently-unidentified projectiles could be an intercontinental ballistic missile, said a South Korean military official without providing further details. If true, the missile launch could prove a pivotal moment. In January, Pyongyang announced it was able to launch a long-range missile, capable of hitting the US, whenever it chooses. The country has never proven such capabilities, but the remarks elicited a rebuke from US President Donald Trump. "North Korea just stated that it is in the final stages of developing a nuclear weapon capable of reaching parts of the U.S. It won't happen!" Mr Trump tweeted at the time.
Tensions between North Korea, South Korea and the U.S. heightened after North Korea launched an intermediate range ballistic missile into the Sea of Japan in mid-February. Apparently, the missile test was designed to test the preparedness of the Trump administration. South Korea and the U.S. kicked off the annual Foal Eagle Exercise - a large-scale military training designed to improve combat preparedness of U.S. and South Korean forces in the region. North Korea threatened to conduct more missile tests in response to Foal Eagle training exercises.
Impact On Global Markets
Global financial markets reacted immediately to the news. In pre-market trading, the Dow (NYSEARCA:DIA) was off 0.31%, the Nikkei (OTC:NTKIF, OTC:NTETF) was off 0.50% and the Kospi was unchanged. U.S. financial markets have been on fire recently. The Dow now hovers over 21,000 and is up nearly 17% since President Trump was elected. Trump's vow to spend hundreds of billions on infrastructure has buoyed financial markets, particularly construction-related names. His plan to cut corporate taxes is expected to increase corporate profits with the mere stroke of a pen.
The fact that Trump's policies will ignite growth and inflation have been taken as a foregone conclusion. MarketWatch went so far as to say the risk of a bear market is close to zero, yet financial markets do not like uncertainty. Whether North Korea's missile launches are mere saber-rattling or something more ominous remains to be seen. The country claims it now has missiles that can reach the U.S. However, this has yet to be proven.
Since South Korea is closest to North Korea, it will likely feel the most threatened. The U.S. has spoken of plans to install a missile defense system in South Korea. North Korea's recent actions could fuel more talks of the need for a defense system. That would put both countries at odds with China, which fears a defense system could be used to monitor its missiles.
How Will President Trump Respond?
The missile launches are likely to get an immediate reaction from President Trump, either in a White House press release or via Twitter. The president made "making America strong again" one of his campaign slogans, and he followed that up with a proposal to increase military spending by $54 billion. I personally felt Trump needed to convince the public of an imminent threat to the country. North Korea might have just provided the fodder for Trump to make a convincing argument.
That said, the situation in Korea is a precarious one. Any talks of a missile defense system in South Korea or a bigger U.S. military presence could upset China. China has proven, in the past, a willingness to use its economic might - from restricting tourism to South Korea or a rare earth embargo with Japan and/or the U.S. - to punish those it feels threatened by. Any such actions could hurt the U.S. corporations, corporate earnings or sentiment towards global markets. China is the world's biggest buyer of oil and other commodities. Any threats to reduce purchases of these items could hurt the sentiment for commodity-related stocks and global markets.
Takeaway
The one event that could upend the U.S. bull market - geopolitical tensions - could be here. I expect an unpredictable Trump and potential provocations from China to create volatility for financial markets. This is not a good time to be long stocks.
Disclosure: I/we have no positions in any stocks mentioned, and no plans to initiate any positions within the next 72 hours.
I wrote this article myself, and it expresses my own opinions. I am not receiving compensation for it. I have no business relationship with any company whose stock is mentioned in this article.
Editor's Note: This article discusses one or more securities that do not trade on a major U.S. exchange. Please be aware of the risks associated with these stocks.