In this article we'll review the results of a comparison between auto loan debt load growth and the US population growth. We'll compare these factors on the timeline of 2000 - 2008 and 2008 - 2017. The results show substantial excess credit issuance and reveal substantial risk of income collapse at General Motors (NYSE:GM), Ford (NYSE:F), Daimler (OTCPK:DDAIF), Toyota Motor (NYSE:TM), and Honda Motor (NYSE:HMC). Today, consumer credit burdens exceed even 2008's crisis levels.
Indicators of the U.S. population's credit load point to strong similarities in unsustainable debt burden which is recognized to have contributed to the collapse of the global economy in 2008. The growth in consumer auto debt load has surpased the growth in population by a factor of 8 or more.
Today's young auto buyers are also burdened by further expansion in debt made available through national student loan programs. All indicators reviewed in this article point to a looming credit bust as the population's income is strained by debt servicing costs.
Credit growth has exceeded population and GDP growth. We'll compare 2000-2008 with 2008-2017 and learn the excess credit growth over population growth is at similar levels to when crisis last struck the auto markets.
The definition of insanity is doing the same thing twice and expecting a different result. Yet the data reveals auto manufacturers and dealers are doing just that.
Here's the data.
US Auto Loan Debt Burden Growth Versus US Population Growth
I'm using a peak-to-peak debt timeline at 2000-2008 and 2008-2017. Using the peak-to-peak is a conservative estimate which understates the magnitude of the excessive auto loan debt growth we've had in recent years.
Auto loans grew by 10.8X population growth in the previous bust's lead-up and right now we're at 8.11X or greater excess credit growth. Debt markets may be hitting their ceiling and rising interest rates are set to squeeze many consumers and cause automobile sales to slow down as vehicles become more expensive (today, most vehicles are sold on credit).
2000-2008 auto loan debt load grew by 10.8 times population growth: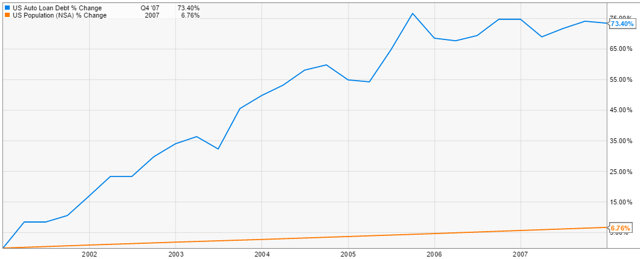 Source: Faloh Investment, YCharts (leads to a ycharts affiliate link)
2008-2017 auto loan debt load grew by 8.11 times population growth: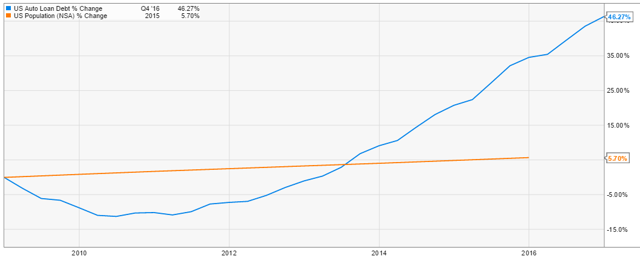 Source: Faloh Investment, YCharts (leads to a ycharts affiliate link)
Excess auto loan growth is much more severe than the 2008-2017 timeline indicates. Moving the chart to represent a trough-to-peak timeline of 2011-2017 (similar to 2000-2008), we get a more illuminating result: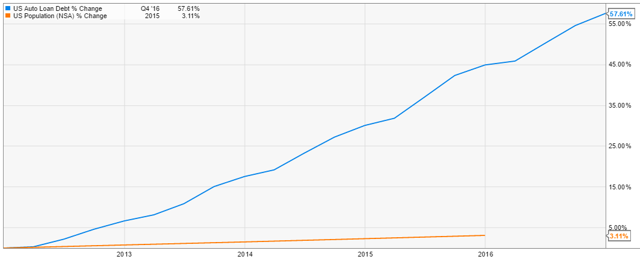 Source: Faloh Investment, YCharts (leads to a ycharts affiliate link)
As the 2011-2017 timeline reveals, the actual magnitude of recent auto loan growth in excess of population growth is in the range of 14X - 19X for the 2011-2017 period. The larger excess growth over the 2000-2008 period is attributable to the prevailing lower interests rates during the period as compared to last decade's and additional boldness of auto loan creditors who believe they will be bailed out by the government again during their next blow-up.
Whether or not auto creditors are bailed out in the next credit bust, there are likely to be casualities such as GM shareholders experienced in the bankruptcy of that company, and the exceeding stress on investors caused by F's price per share collapsing by over 90% in the previous bust.
Auto Loan Delinquencies On The Rise
The debt load's size is not material unless the loans enter delinquency and default. Well, more and more auto loans are heading toward default as evidenced by the data.
2013-2016 growth in auto loan delinquencies: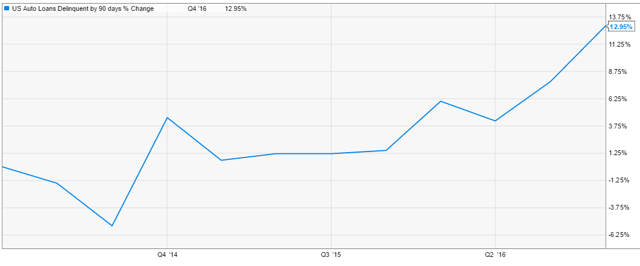 Source: Faloh Investment, YCharts (leads to a ycharts affiliate link)
Delinquent auto loans have grown by 12% over the trailing three years and they also grew by 12% from 2004-2007, a coincidence, or evidence of a growing problem?
2004-2007 growth in auto loan delinquencies was also 12%: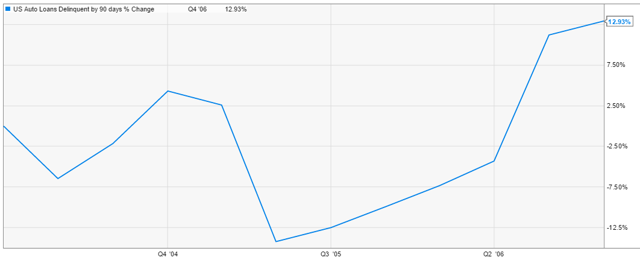 Source: Faloh Investment, YCharts (leads to a ycharts affiliate link)
Rising Rates Make Cars More Expensive
Today most automobiles are sold on credit with small down payments. Rising rates will diminish automobile sales as the vehicles become more expensive to purchase due to higher interest rates. Slowing auto sales (because cars are more expensive) coupled with increasing delinquencies will combine to make another perfect storm of difficulties for the automobile business.
The substantially overindebted U.S. consumer is a risk to automakers and dealers, as individuals with exposure to rising interest rates get squeezed into deciding between rent (mortgages), credit cards, student loans, and car loans.
Based on the fragility of automakers to the credit cycle and the excess credit outstanding, I rate the automakers GM, F, DDAIF, TM, HMC a strong sell due to substantial risk of capital loss over the short and medium terms as credit chickens come home to roost.
Disclaimer: Opinions expressed herein by the author are not an investment recommendation and are not meant to be relied upon in investment decisions. The author is not acting in an investment, tax, legal or any other advisory capacity. This is not an investment research report. The author's opinions expressed herein address only select aspects of potential investment in securities of the companies mentioned and cannot be a substitute for comprehensive investment analysis. Any analysis presented herein is illustrative in nature, limited in scope, based on an incomplete set of information, and has limitations to its accuracy. The author recommends that potential and existing investors conduct thorough investment research of their own, including detailed review of the companies' SEC filings, and consult a qualified investment advisor. The information upon which this material is based was obtained from sources believed to be reliable, but has not been independently verified. Therefore, the author cannot guarantee its accuracy. Any opinions or estimates constitute the author's best judgment as of the date of publication, and are subject to change without notice. The author explicitly disclaims any liability that may arise from the use of this material.
Visit my profile at SeekingAlpha and Follow me to get the latest information on stocks. -Faloh Investment
Disclosure: I/we have no positions in any stocks mentioned, and no plans to initiate any positions within the next 72 hours.
I wrote this article myself, and it expresses my own opinions. I am not receiving compensation for it (other than from Seeking Alpha). I have no business relationship with any company whose stock is mentioned in this article.
Editor's Note: This article discusses one or more securities that do not trade on a major U.S. exchange. Please be aware of the risks associated with these stocks.