Parkland Fuel TSX:PKI or (OTCPK:PKIUF) is a lesser-known company but one of North America's fastest growing independent marketers of fuel and petroleum products. They deliver gasoline, diesel, propane, lubricants, and heating oil to commercial, wholesale and retail customers in North America. Parkland's brands include Bluewave Energy, Columbia Fuels, Elbow River, FasGas, Farstad, Island Petroleum, Les Petroles Parkland, Pioneer, Propane Nord-Ouest, RaceTrac, Sparlings and Superpumper.

From the company website,
"Our mission is to be the partner of choice for our customers and suppliers, and we do this by building lasting relationships through outstanding service, reliability, safety and professionalism.

We are unique in our ability to provide customers with dependable access to fuel and petroleum products, utilizing a portfolio of supply relationships, storage infrastructure and third-party rail and highway carriers to rapidly respond to supply disruptions in order to protect our customers. In ten years we have welcomed more than 1,000 employees and 20 companies to the Parkland family. Their entrepreneurial spirit, combined with Parkland's supply platform and access to capital, has led to great growth opportunities for employees, and great service for customers."
Friday, March 3rd, 2017 the company hosted their Q4 and FY 2016 conference call.
To help understand the company, the reporting segments are as follows:
Retail
Supply and wholesale
Commercial
Parkland USA
The following pictures are slides snipped from the conference call. Sadly the snips are of poor quality, but hopefully the slides will be available elsewhere in presentations on the website.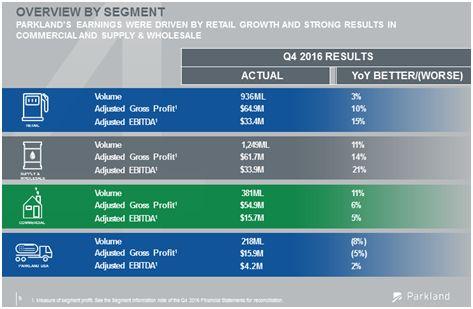 The earnings report was good and congratulations were often given on the call.
"It's been a great year at Parkland. In fact, another record quarter and another record year. We have continued to successfully deliver against our strategic plan to grow organically, deliver a supply advantage, and acquire prudently."

-Bob Espey President and CEO.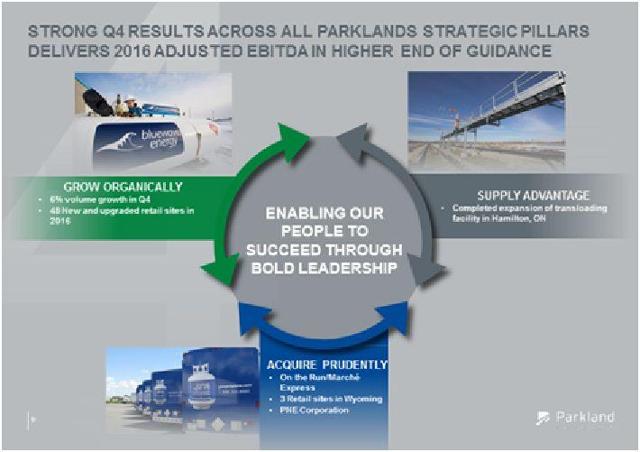 Q4 Adjusted EBITDA grew 19% compared to Q4 2015 reflecting growth in all segments including 21% growth in Supply and Wholesale, 15% growth in Retail Fuels, and 5% growth in Commercial Fuels.
FY 2016 Adjusted EBITDA grew 18% yoy reflecting growth of 39% in Retail Fuels, 25% in Supply and Wholesale, partially offset by a 19% decline in Commercial Fuels, mainly due to lower economic activity in Western Canada and warm weather. Retail fuel margins were down off of highs, as expected and as experienced by other fuel operations such as Couche-Tard and even Costco (NASDAQ:COST) in its most recent report.
A record 10.4 billion litres of fuel and petroleum products was delivered in 2016, representing 8% growth compared to 2015, which was led by growth in the Supply and Wholesale and the Retail Fuels segments. Retail Fuels grew 3.8%.
In Q4, Commercial Fuels delivered 50% more propane than Q4 2015 due to organic growth, several propane-related acquisitions and comparatively colder weather. The Supply and Wholesale team had a 25% improvement in Adjusted EBITDA compared to 2015.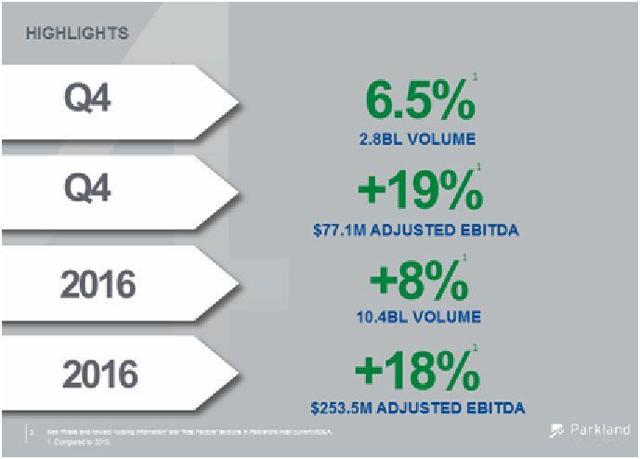 The Parkland USA segment suffered a little, as activity in the Bakken area slowed down this year. Economic activity which translates to demand for fuels and weather which can either increase or decrease demand for fuels are the two largest factors that are hard for companies to predict.
"Early indications are that we are seeing a bit of a tailwind in the West. The spirit of that would be cautious optimism and we will have to see how this trends here into the spring to really see it as a tailwind at this point. On the retail side, volumes tend to be steady, but we do see fluctuations in margins and that is out of our control The reason for the range is that we we see volatility in our forecasts. On the retail side we do see volatility in our margins particularly on the LPG side." - from the conference call.
Parkland grows organically as well as through acquisitions and completed the expansion of a transloading facility in Hamilton, Ontario.
In 2016, Parkland invested $89.2 million in acquisitions expanding the retail operations across North America and the propane business in Canada.
On August 22nd, 2016 Parkland announced its largest acquisition with the agreement to acquire the majority of the Canadian business and assets of CST Brands, Inc. from Alimentation Couche-Tard which is buying the rest of the assets. This is expected to close in Q2 2017.
On October 5, 2016, Parkland closed the acquisition of the On the Run/Marché Express convenience stores.
On October 27th, Parkland announced the acquisition of PNE Corporation and three service stations in Wyoming.
"Parkland continued its successful track record of seamlessly integrating acquisitions and maximizing synergies, led by the Pioneer acquisition that continues to track ahead of plan."
-from the Press Release. On June 25, 2015, PKI acquired 393 properties in Manitoba and Ontario, Canada from Pioneer Energy.
I found the question and answer section of the conference call more interesting than usual. One question was regarding the mention of Mexico which had not been heard before. The answer was, "We do sell on a wholesale basis, some LPG's into Mexico. It's a new market for us...but not material."
Another question was about the 2017 guidance. Guidance for 2017 is $255M - $285M Adjusted EBITDA. It was stated that no acquisitions are built into the guidance, but guidance will be adjusted when the CST acquisition closes. There is economic activity and weather variations in giving the guidance.
As I mentioned in a previous article, Parkland's dividend history is a bit complicated. In 2010 Parkland converted from an Income Trust to a Corporation and the dividend has been raised every year since. This year is no different. On the conference call and in the press release it was announced that the dividend has been raised. It is a small increase: two cents per share, from $1.134 to $1.154, and will go into effect for the dividend payable on April 13, 2017 to shareholders of record at the close of business on March 22, 2017.
This is a monthly dividend. For qualifying investors there is an Enhanced Dividend Reinvestment Plan allows shareholders to repurchase shares with their dividend at a 5% discount, which is one of the reasons I DRIP this dividend. The current yield is 4.02%.
The dividend raise was small and during the Q&A time, a question was asked about the dividend which has grown marginally every year. "Why not hold back the cash, even though it's only 2 cents ... why not hold the cash for the deal pipeline ... as it would increase your fixed cash cost as an organization?"
CEO Bob Espey replied:
"As Parkland has grown over the years we have had a very stable base of investors that have appreciated the yield and this is really just keeping them whole from an inflationary basis. Our intent, as we stated previously, is to continue to drive our payout ratio well below 50% before there are any sort of material increases in the dividend."
As has been clearly stated before, we can continue to expect very small dividend growth for quite a while, despite record earnings and organic and acquisition growth. This is not a stock you should be looking at if dividend growth is far more important to you than a growing company with growing future prospects. The dividend is obviously still in transition from Parkland's time as an income trust. The current payout ratio is 94% with the adjusted dividend payout ratio at 64%, so do not expect significant dividend increases anytime soon. Despite clearly stating their intentions in regards to the dividend, management and board obviously value the shareholders enough to make an annual raise.
My first article on Parkland appeared a year ago and within days I tripled the small holding that began in December 2015. I have been DRIPping since and again doubled the holding in July 2016. I also own shares in the competitor, Alimentation Couche-Tard TSX:ATD.B or (OTCPK:ANCUF) who focuses more on retail operations and convenience stores. I am content to continue holding my shares, receiving the 4% dividend (my current yield-on-cost is just over 5%) and will continue to follow this growing company.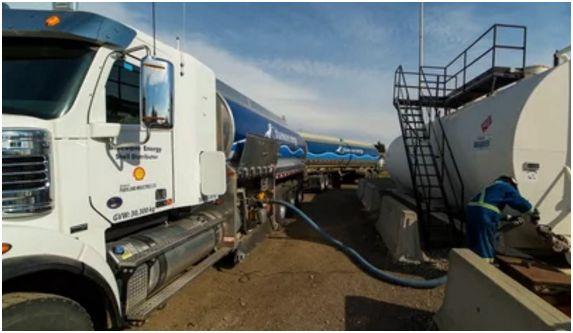 Disclosure: I am/we are long PKIUF, ANCUF.
I wrote this article myself, and it expresses my own opinions. I am not receiving compensation for it (other than from Seeking Alpha). I have no business relationship with any company whose stock is mentioned in this article.
Editor's Note: This article discusses one or more securities that do not trade on a major U.S. exchange. Please be aware of the risks associated with these stocks.