Consumer and business sentiment surveys are standard economic fare. They are watched closely by investors to provide clues about future corporate performance and to provide guidance on stock market (SPY,QQQ,DIA) trends.
We've been seeing some 'good' survey news of late. February's University of Michigan Consumer Confidence Index came in at a 15-year high. And the Institute for Supply Management release put February's overall index at the highest reading since October 2015.
But is this all really good news?
Here is the Consumer Confidence overlayed with GDP per-capita growth.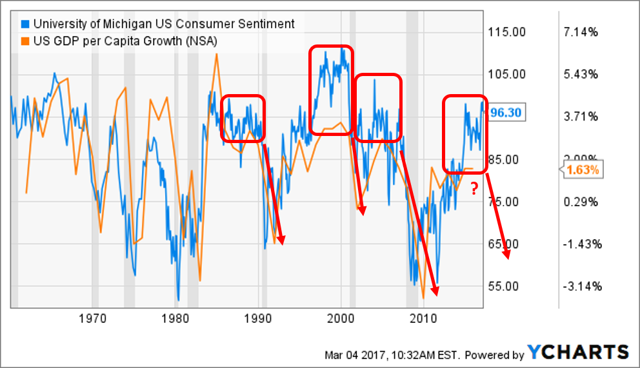 Source: Y-Charts
There are four cases where the Consumer Sentiment is at an extreme relative to growth, showing excessive overoptimism. Note that the last two prior peaks, which rose well above the GDP measure on this overlay, preceded sharp drops in the GDP. These sharp drops also coincided with drops in the major stock market indices.
The largest consumer confidence peak, the overoptimism in 2001, occurred right before the tech stock crash. Clearly, high optimism doesn't foretell high growth and it may actually foretell impending economic trouble.
We are now straddling another relative high, again showing overoptimism.
What about the ISM release? There is another aspect to this story that bears watching.
In part due to business optimism, it seems that companies are preparing for growth. Consequently, inventories have been rising.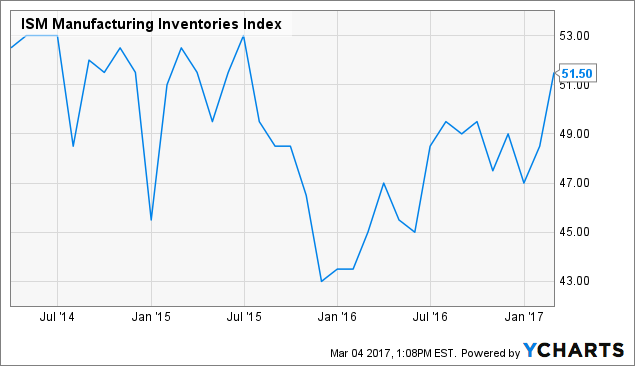 Source: Y-Charts
Rising inventories are likely a sign of growth-preparation rather than growth itself at this stage.
And it turns out that inventories often increase going into recessions. Looking at the long-term chart, we see this occur several times.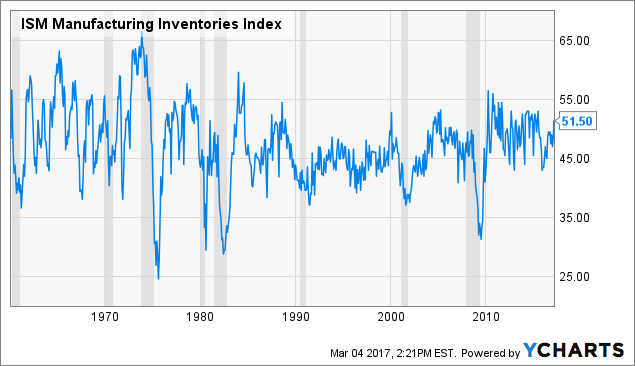 Source: Y-Charts
Growth hasn't begun to pick up appreciably, as noted by the Atlanta Fed, which has reduced its first quarter GDP forecast to a below-trend and below consensus 1.8%. So the overall current-measure story in no way promises an improving economy.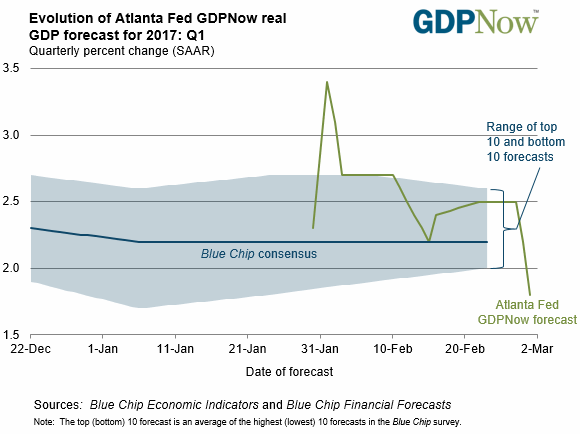 Source: Atlanta Fed
To conclude, the recent survey results require close monitoring and broader-than-headline interpretation. I'm not saying a recession is imminent, but recent survey results are not all that rosy even though on the surface they may look positive.
Digging deeper, overoptimism and parallel measures are consistent with a slowing economy and may actually foretell an economic downturn.
Disclosure: I/we have no positions in any stocks mentioned, and no plans to initiate any positions within the next 72 hours.
I wrote this article myself, and it expresses my own opinions. I am not receiving compensation for it (other than from Seeking Alpha). I have no business relationship with any company whose stock is mentioned in this article.