Another week down, and another busy week keeping up with everything. Boeing continues to surprise, and instead of commercial orders taking the headlines, their defense wing is bringing the praise. Contracts rolled in at an elevated speed this week as well, taking a quick look at last week's figures you'll see the changes quickly.
Lockheed has been awarded an astonishing $18 billion in contracts since October 1st, 2016. This fiscal year has been good to them, despite negative headlines. Boeing also had a great week, easily passing $7 billion so far this fiscal year.
Significant Contracts
Lockheed has thrust to their current level thanks to a $1 billion contract for the F-35 sustainment. If you have any doubt that this is the fighter jet of our immediate future I'm not sure what could convince you otherwise.
On the other side of the F-35 coin is the F-18, and Boeing was awarded a $678 million contract for seven EA-18G aircraft and five F-18s. The readiness struggles of the Navy and Marine Corps F-18 are well documented, and this is the result.
Northrop Grumman was awarded a $18 million contract for the Airborne Laser Mine Detection System mounted on the MH-60. With China bolstering the South China Sea and naval standoffs with Iran, this is an important technology to ensure freedom of navigation of the seas. Anything that counters an adversaries anti-access/area denial capability is important today.
Navistar Defense (NAV) got $440 million to upgrade 1,085 MRAP vehicles owned by the United Arab Emirates.
Weekly Performance
Another solid week for the sector, though mostly flat. The big surprise was BAE Systems.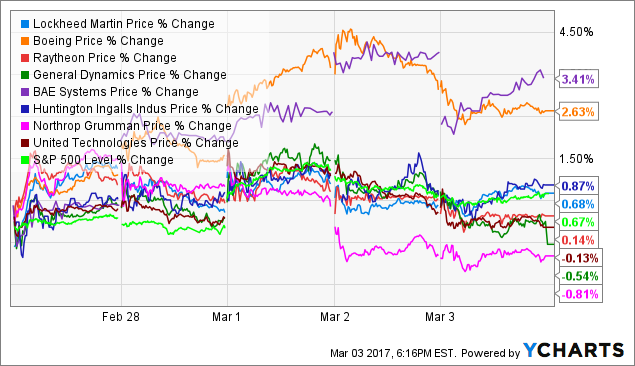 LMT Price data by YCharts
Half of our companies underperformed, and half outperformed. This is the second week where trading was mostly flat, and I'm further convinced that the market is waiting for a catalyst to drive shares either way. What will it be? I have no clue.
Lions and Tigers and Downgrades, Oh My!
On the 1st, Citi (C) gave their thoughts on the defense industry and saw it a bit overvalued. As I pointed out in last week's edition, the entire sector has had a great year and based on historical measures does appear to have run ahead of itself.
I'm bullish on the sector as a whole, it is hard to bet against defense unless you have a good case for world peace breaking out, but their caution is well founded. This is not a fast growing industry even if the share prices may show otherwise right now, and future returns can easily disappoint investors who do not realize this.
Even with President Trump vowing more domestic defense spending and NATO allies vowing to spend up to their 2% of GDP requirement on defense, that money can take an awfully long time to find it's way on the income statement. Investors, even long-term ones, should also understand the political risk that comes with some of the larger contracts. Take the F-35/JSF for example; this program is not new, it is on it's fourth US president, and for a time its existence was threatened.
I'm not saying sell everything, nor am I saying buy anything, but healthy caution is never a bad thing.
Boeing Is Flying High
A year ago if I would have told you that Boeing was going to be up over 50% in twelve months and beat the S&P 500 by over 30% would you have believed me? Looking back at Boeing articles here on SA shows a mixed bag, some contributors rolled out titles such as "End in Sight for Boeing's Bullishness" yet others felt the negativity was unnecessary and wrote, "Time to Buy Boeing Despite the Negative Headlines."
The bears lost that fight, and Boeing has had a great market-beating twelve months.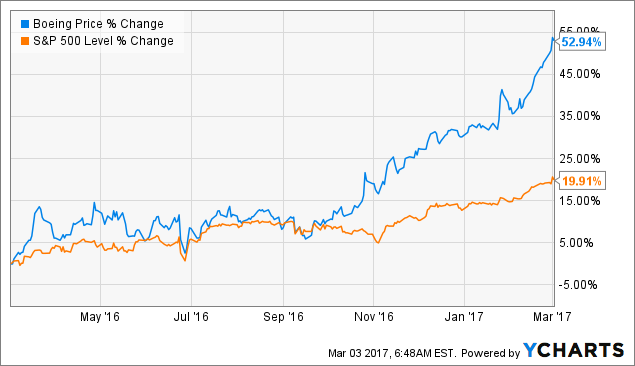 BA data by YCharts
The rise in Boeing hasn't necessarily been due to commercial airliner sales, though they have been executing on that front as well. The optimism surrounding Boeing is largely due to their defense segment. Not long ago there was a lot of negative sentiment surrounding their defense operations and the lack of a long-term fighter jet contract that had previously been a staple in that sector.
It seems that now Boeing has turned a corner. The KC-46 Pegasus refueling tanker has cleared some hurdles and is on its way. The F-18 and EA-18G are getting a bit of a second wind as we have seen recently. The T-X Air Force trainer contract is down to (mostly) Boeing and Lockheed and Boeing look pretty good there as well. The Minuteman II replacement is on the Horizon and Boeing also stands a good chance to win that contract. The MV-22 they manufacture with Textron (TXT) is also in high demand. And there is also that little segment of their business that sells non-military aircraft, which is doing well too.
All of that "feel-good" sentiment has pushed Boeing to a trading level it has never before seen. Investors may start to get squeamish here, thinking that such a huge run will eventually lead to a fall. Taking a look at FAST Graphs should help visualize the current price relative to earnings.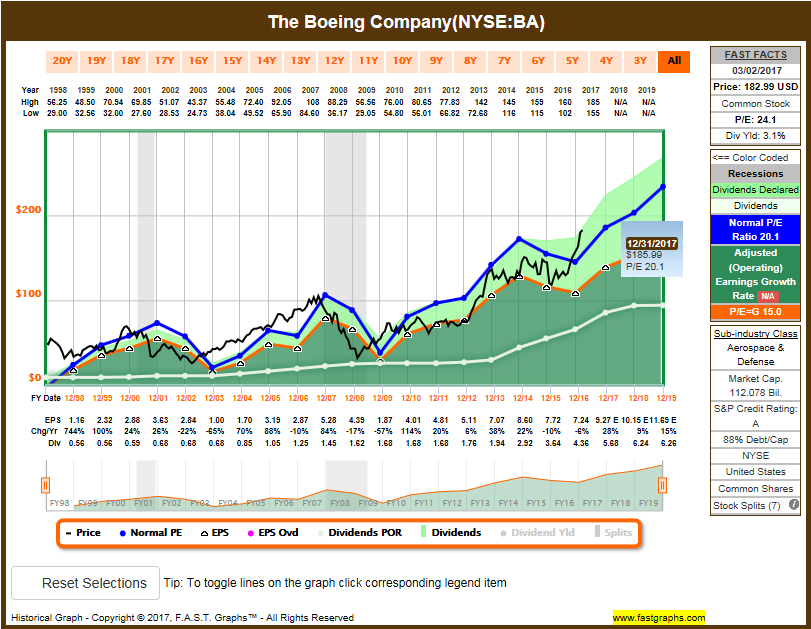 If we are so inclined to extend this company a bit of slack and base our investment off anticipated 2017 EPS, the company is actually undervalued here. A lot can happen between now and the close of this year, but Boeing is an old company that operates in an industry with a huge moat, so huge that China is having trouble making inroads. Dividend investors are probably salivating looking at that dividend, which has more than doubled since 2013.
Just based on defense Boeing looks attractive right now. The entire sector is enjoying a revitalization after years of doubt and sequestration. The company also offers an interesting way to get heavy exposure to both civilian and defense aerospace.
In Other News
Syrian peace talks are ongoing and the US still doesn't have a big role.
Russia, along with their Syrian involvement, is also throwing their hat into the Libyan ring.
Iraqi forces are moving heavy against Daesh forces in Mosul. They appear to be trapped, and anybody who is familiar with the Falaise Pocket knows how this ends.
The Huey, manufactured by Textron, may see its sun setting as the DoD looks for a replacement.
Boeing is suing Denmark over the fighter jet contract it didn't win.
In a message to Pakistan, Israel and India decided to team up to develop a new missile defense missile. With a burgeoning middle class, huge population, and incredibly deep tech-talent pool, look to India as a big player in defense in the next decade.
On Seeking Alpha
Trent Walsh dives into Jacobs Engineering (JEC) which was mentioned in last week's update.
L&F Capital Management covers Taser's (TASR) recent quarterly results and looks at what is to come.
Integer Investments goes deep into what uncertainty Boeing is facing.
The Coming Week
The Trump administration has pushed increased defense spending pretty hard in this last week and we should start to see more detailed plans on how to spend that money very soon. The media also made a big deal about the White House exploring military options for North Korea even though that has been a thing since the 1940s anyway.
I appreciate you reading, please leave your thoughts and questions in the comments. If you don't already follow me and would like to receive the weekly updates on this sector along with my other posts, please hit "follow."
Disclosure: I am/we are long RTN, BAESY.
I wrote this article myself, and it expresses my own opinions. I am not receiving compensation for it. I have no business relationship with any company whose stock is mentioned in this article.
Editor's Note: This article discusses one or more securities that do not trade on a major U.S. exchange. Please be aware of the risks associated with these stocks.