It has been exactly a year since I trimmed down the Oil & Gas Sector holdings in my portfolio by selling my ConocoPhillips (COP) shares.
Back in February 2016, the Earnings results that were followed by a dividend cut led me to keep only Chevron Corporation (CVX) as a representative of the sector within my portfolio.
In the recent year, the Energy sector started to recover following the oil price's impressive recovery from sub $30 to over $50 price per barrel. This seemed to be a good time to start looking for new candidates for the portfolio.
I ran into Enbridge Inc. (ENB) when I was looking into the Utilities' sector. Spectra Energy (NYSE: SE) was recently merged with Enbridge generating a more diversified company where its business is balanced between Crude and Gas with a high potential for synergies and high-scaled projects across North America.
Enbridge is a Contender in David Fish's CCC list as it increased its dividend during the recent 22 years and it is expected to continue and grow it in the foreseen future. Here is a quote from Enbridge's homepage:
"We have a strong history of increasing dividends to shareholders. In January 2017, we announced our 23rd consecutive increase to our annual dividend per share. We expect to announce a further increase to the quarterly dividend by an amount sufficient to bring the aggregate increase in the dividend to approximately 15% above the prevailing quarterly rate in 2016. We expect further 10% to 12% annual dividend growth from 2018 through 2024. While we believe in growing our dividends per share and providing dividend income to our shareholders, we maintain strong dividend per share coverage and a conservative payout ratio of 50% - 60% of ACFFO."
Enbridge's model is less risky than traditional Oil and Gas companies as its business model has 96% of its cash flow pinned out by long-term agreements and 95% of its earnings are exposed to commodities price swings.
Enbridge's Debt-to-Equity seemed to be pretty sustainable in the recent years and while the EPS faced some swings in the recent years, the Company was able to maintain its position as a dividend Contender.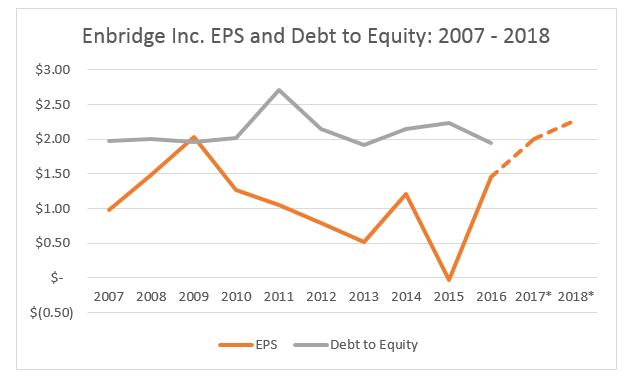 I bought ENB shares at $41 per share. Based on the recent $0.447 dividend per share per quarter, it represents a 4.3% yearly dividend which meets my criteria.
By adding this holding, my portfolio includes a total of 23 holdings:
Avista Corp. (NYSE: AVA), BHP Billiton (NYSE: BBL), Cracker Barrel Old Country Store, Inc. (NASDAQ: CBRL), Care Capital Properties, Inc. (NYSE: CCP), Cummins Inc.(CMI), CyrusOne (CONE), Chevron (NYSE: CVX), Eaton (NYSE: ETN), Enbridge, Johnson & Johnson (JNJ), HCP (NYSE: HCP), Main Street Capital (NYSE: MAIN), National Health Investors (NYSE: NHI), Realty Income (NYSE: O), Omega Healthcare Investors (NYSE: OHI), Philip Morris International (NYSE: PM), Schwab U.S. Dividend Equity ETF (SCHD), Tanger Factory Outlet Centers, Inc. (NYSE: SKT), AT&T (NYSE: T), Unilever (NYSE: UL), Vanguard REIT ETF (NYSEARCA: VNQ), Ventas, Inc. (NYSE: VTR) and WEC Energy Group, Inc. (NYSE: WEC).
Happy investing!
Disclosure: I am/we are long AVA, BBL, ENB, ETN, CVX, CONE, T, PM, WEC, O, OHI, NHI, CBRL, HCP, JNJ, MAIN, UL, VNQ, CMI, SKT, SCHD, VTR.
I wrote this article myself, and it expresses my own opinions. I am not receiving compensation for it (other than from Seeking Alpha). I have no business relationship with any company whose stock is mentioned in this article.
Additional disclosure: The opinions of the author are not recommendations to either buy or sell any security. Please do your own research prior to making any investment decision.