Every week I publish a recap, and every week I provide my most educated opinion to the extent my experience and knowledge of the markets allows me to. Interestingly, some folks believe I'm just throwing out a sorry excuse of an article week after week without any real substance. For some reason, intellectually sophisticated individuals think that in order to generate alpha in the markets, traders/investors must present ideas based on complex quantitative and qualitative research.
I will refute that notion with my utmost conviction. Successful investors are not the most intellectually sophisticated individuals, but those who have the best critical reasoning skills, who've been able to crack the code and accept the status quo. The status quo is optimism and belief in the overall need for humanity for self-realization. The latter pushes millions of entrepreneurs and workers around the world to strive for a better standard of living, and that is the foundational principle for why the markets' status quo is optimism.
Optimism is a simple way of explaining why markets, in the long run, tend to move higher. The folly of "real" research is that it cannot take into account all potential factors currently influencing the markets. Therefore, most researchers have preconceived notions and then gather information that proves their preconceived notion, conveniently disregarding other information that refutes their biased notions. If I'd be currently bearish, I'd search for a number of indicators proving my stance, such as CAPE ratio, P/S, EV/EBITDA, GAAP earnings, etc. I'd conveniently dismiss other items, such as rising stock prices, as illogical, and furthermore, would try to explain rising stock prices away citing factors like Central Bank manipulation, plunge protection teams, stupid retail sheep flocking in due to higher prices, etc.
I have learned over fifteen years of trading that there is no free lunch (i.e., no clear arbitrage-like conditions), and that the price of a security or of an index contains all available public and non-public information at any particular time. What I will concede is that there are various degrees of importance attached to thousands of different bits of information being thrown out on a daily basis. Critical thinking skills should help in untangling this web of data and focusing on what factors drive the market at any particular time. And what drive the markets are fear and greed, very basic human emotions. In order to assess fear and greed, I've simplified my approach by using market sentiment surveys (AAII investor survey), indicators of market internals ($bpnya, $nya50r, $nya200r, NYSE cumulative A-D line and a host of others), relations between stocks and interest rates (bond yields vs. stock valuations) and, finally, the actual price and historical price patterns.
In addition, I have studied the behavior of VIX in various market conditions since 1990, i.e., I wanted to know why VIX increased between 1996-1999 as the markets were going higher, why VIX was in a low-volatility regime in 1993-1995 and 2004-2006. I have been searching for historical regularities and contradictions in VIX behavior relative to markets' behavior, and after years of studying, I've come to certain conclusions and no longer was at the mercy of "real" researchers. After all, what is the purpose of research? To help make money. If research is deep, complex, very sophisticated, but untimely and ultimately incorrect, then it ain't worth the paper it's printed on.
I've made similar mistakes. Simply look at my track record on Transocean (NYSE:RIG) to see how I correctly predicted the company would beat analyst estimates quarter in and quarter out, but failed to incorporate macro headwinds facing oil price and offshore drilling in particular into my research. I cost myself and many investors a lot of money by being intellectually sophisticated (i.e., making complex and correct predictions on EPS beats), but lacked basic critical reasoning skills to understand the extent of macro headwinds facing the overall industry and the corresponding downside pressure on the stock.
Let's consider my philosophical tangent finished and discuss the issue at hand. The VIX index, yet again, closed below 11 - to the dismay of numerous volatility longs. I follow various forums where VIX-related products are discussed and ideas are shared, and the pain being suffered by those long volatility is irrefutable.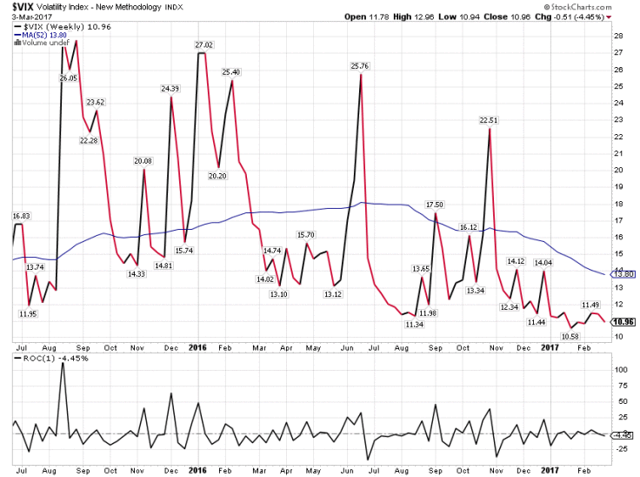 30-day synthetic future closed around 13.75, meaning roll yield is running to the tune of 25% as of Friday's close.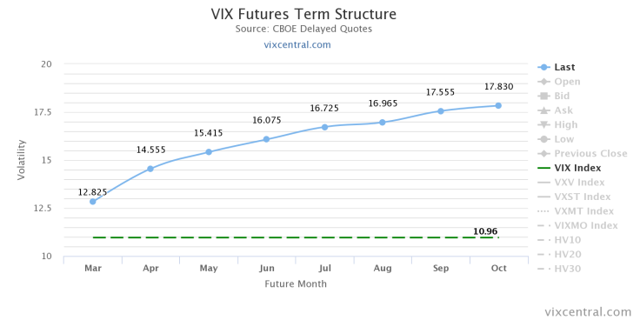 Despite roll yield expanding over the past week, the ProShares Short VIX Short-Term Futures ETF (NYSEARCA:SVXY) managed to climb higher, and closed near its all-time weekly high.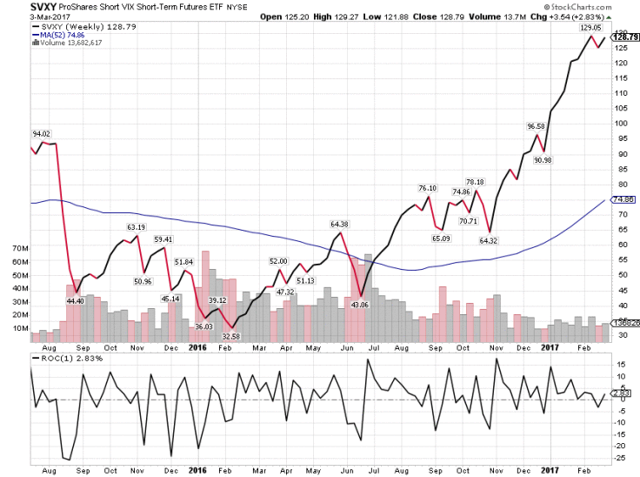 If you recall from last week's recap, I made a slight change to my short call positions in anticipation of a near-term move higher in SVXY. Odds continue to favor a break of $135 over the next couple of weeks, and especially closer to March VIX future's expiration.
Positions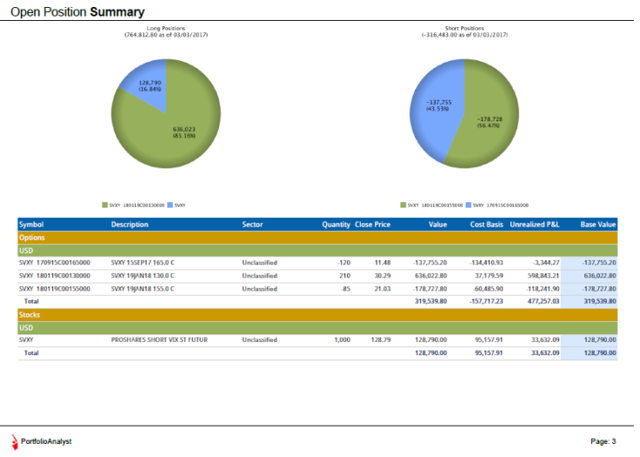 Obviously, the markets must cooperate for SVXY to continue higher, and so far, there is little evidence that a correction is imminent. However, despite record-high weekly closes for major indices, internals got weaker. $BPNYA and $NYA200R both finished the week lower, and more importantly, the percentage of NYSE stocks trading above 50-day moving average is now firmly below the 70 level, closing the week at around 67. The absolute levels are still high enough to avoid a sharp correction, but I'm duly noting weakness in internals.
Another sign of relative weakness is the fact that advancing and declining issues have been mostly neutral over the past two weeks, despite decent moves higher by major indices. Interest rates shot higher further putting pressure on stock valuations. On the sentiment front, all is relatively well, with bullish sentiment at relatively benign levels and oscillating below 40%.
To sum it up, hefty roll yield is still firmly in place, skewing odds in favor of short volatility strategies. I'm noting slight deterioration in market internals and higher interest rates. At this time, the deterioration is not significant enough to warrant a scenario for a sharp correction. I'm staying overall delta-long SVXY until signs of potential correction become more evident.
Account performance YTD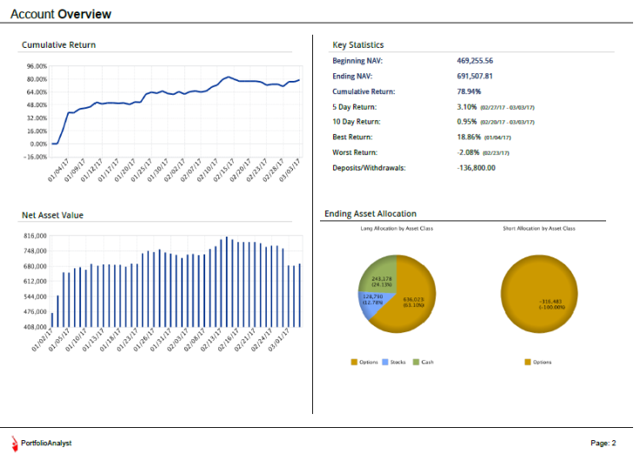 Disclosure: I am/we are long SVXY.
I wrote this article myself, and it expresses my own opinions. I am not receiving compensation for it. I have no business relationship with any company whose stock is mentioned in this article.