Freeport-McMoRan (NYSE:FCX) has a huge trouble in Indonesia. The Indonesian government is escalating its demands. It demands Freeport-McMoRan to invest almost $2.7 billion into a new smelting facility and also to divest a majority share on the Grasberg mine. Today, Freeport owns 90.64% of its Indonesian subsidiary that operates the Grasberg mine, while the remaining 9.36% stake is owned by the Indonesian government. Moreover the Indonesian province of Papua, where the Grasberg mine is located, wants Freeport to pay $469 million in water taxes and penalties.
However, such taxes are not included in Freeport's contract with Indonesia. The exports of copper and gold produced at Grasberg have been banned for almost two months now. In the middle of February, all work has been stopped at the Grasberg mine. If the dispute isn't settled by the middle of May, an arbitration should follow.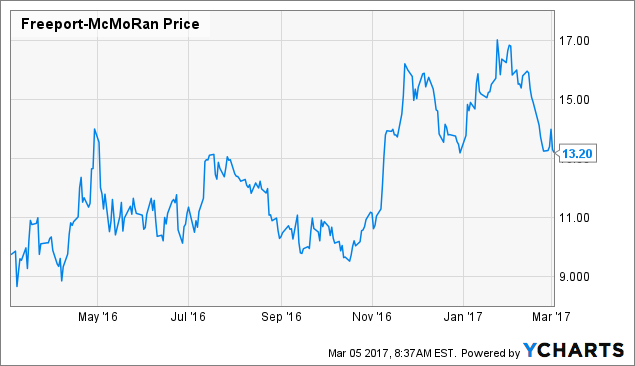 Freeport's share price is down by more than 20%, since the copper exports suspension. Although the copper price is strong and expected to grow, Freeport-McMoRan's shareholders should prepare for further share price declines, unless the Indonesian issues are resolved. The situation is serious. According to the Indonesian media, one of the Indonesian ministers stated:
Grasberg mine is not a greenfield. We are very ready to take over.
The media speculate that the Grasberg mine could be taken over by the state-owned company PT Indonesia Asahan Aluminium Persero, also known as INALUM. One thing is sure. The current dispute is a loss-loss situation for both of the sides.
The loses of Indonesia
The Grasberg mine is important for Indonesia. There is not too many companies, if any, that contribute to Indonesian tax revenues more than Freeport-McMoRan. The Grasberg mine is expected to generate tax, royalties and dividend revenues of over $40 billion over the next 24 years. It equals to $1.66 billion per year on average. But there are also indirect tax revenues, as the Grasberg mine has over 33,000 employees. All of them pay various taxes.
The income tax rate stands at 30% and there is also a 10% sales tax rate in Indonesia. A closure of the Grasberg mine would lead not only to a loss of corporate income tax and personal income tax revenues, but also to loss of sales tax revenues, as the purchasing power of the 33,000 former employees and their families would decline rapidly. The Indonesian government's budget deficit climbed almost to $23 billion in 2016. A major disruption of Grasberg operations could easily push it higher by $2 billion.
Moreover, in early 2016, it was expected that Freeport will invest a further $20 billion in further Grasberg mine development over the coming years. Given Freeport's vast cost-cutting measures and the highly unstable and unfriendly behavior of the Indonesian government, it is questionable whether Freeport really will be willing to invest such a huge amount of money into the country.

The Grasberg mine is located in the Indonesian province of Papua. Although the province covers an area of almost 320,000 km2, which is comparable to Germany or New Mexico, it has only less than 3.5 million inhabitants, which is comparable to Moldova or Connecticut. For this province, the Grasberg mine is highly important.
In 2015, the Papua province contributed to the Indonesian GDP with $11.03 billion. In the same year, 752 million lb copper and 1.232 million toz gold, worth $3.26 billion (using Freeport's 2015 average realized prices) were produced at Grasberg. In 2016, the Grasberg production grew to 1.063 billion lb copper and 1.061 million toz gold, worth $3.79 billion (using Freeport's 2016 average realized prices). It means that the Grasberg mine production is worth approximately 30% of GDP created in the whole Papua region. But there is also a significant indirect impact, as Grasberg has over 33,000 employees.
The Papua province has a population of approximately 3.5 million people. An average Indonesian household consists of 3.9 people. Given that Papua is a relatively poor region, its average household size is probably even higher. It is possible to assume that over 30,000 households, or 120,000 people, are directly dependent on the wages paid by Freeport-McMoRan to the Grasberg mine employees.
Although it is hard to estimate the indirect impacts, it is possible to assume that at least a further 80,000 people should be negatively impacted. It means that approximately 5.7% of the Papua province population should feel the strong negative impact of the Grasberg mine operations suspension. A steep decline in the purchasing power of almost 6% of the population will have some negative impacts also on a better part of the remaining 94%.
The losses of Freeport-McMoRan
The Grasberg mine is Freeport's most important asset. According to the company, Grasberg accounts for approximately 31% of its copper reserves and for a majority of its gold reserves. It was also expected to be responsible for more than 32% of Freeport's copper production in 2017; however, this target will be missed, due to the recent production disruptions.

Source: Freeport-McMoRan
But losing Grasberg doesn't mean only losing 1/3 of copper reserves and production. The impact of Grasberg on Freeport's financial results is much bigger. Thanks to the high gold credits, the Grasberg mine is able to produce copper at negative net cash costs. In 2017, the net cash costs should be $1.55/lb copper in North America, $1.61/lb copper in South America, but it was expected at $-0.03/lb copper in Indonesia.
At a copper price of $2.75/lb, gold price of $1,200/toz and molybdenum price of $7/lb, the Indonesian operations were expected to generate more than 50% of Freeport's EBITDA. This is why Freeport's problems in Indonesia may have a devastating impact on the share price.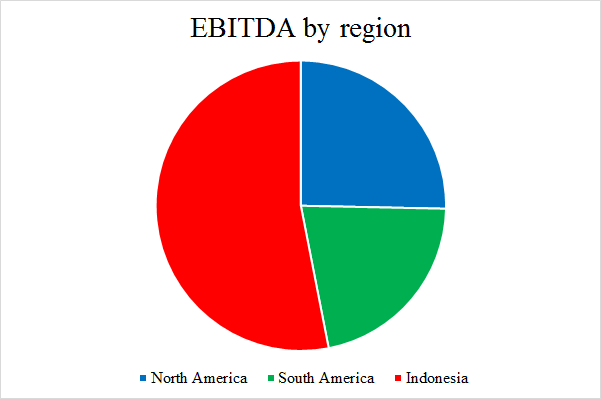 Source: Own processing, using data of Freeport-McMoRan
Conclusion
Freeport-McMoRan did extremely well in 2016. It managed to divest some of its non-core assets, it managed to push the operating costs down, it managed to cut its scary net debt down by more than 40% and a significantly improved copper price helped to push its share price up by more than 100%. But the dispute with the Indonesian government endangers Freeport's most valuable asset. Although both sides record losses right now, the Indonesian government wants a bigger share of the pie and it wants to play hard.
It seems like Freeport's management has accepted the challenge and it wants to take the case to an arbitration. The situation is serious and it is possible that the mine will be suspended for a relatively long time. It is also unclear whether Freeport will be able to maintain its ownership or whether it will be forced to give up a part of it. Also the worst-case scenario of losing the Grasberg mine completely can't be excluded. As a result, Freeport's shareholders must prepare for some sleepless nights and further share price declines.
Disclosure: I/we have no positions in any stocks mentioned, and no plans to initiate any positions within the next 72 hours.
I wrote this article myself, and it expresses my own opinions. I am not receiving compensation for it (other than from Seeking Alpha). I have no business relationship with any company whose stock is mentioned in this article.