Stock Performance
Last month Hewlett Packard Enterprise (NYSE:HPE) reported first-quarter results that missed revenue estimates while non-GAAP earnings came in at the high end of management's range, largely due to cost reduction programs that the company implemented. Hewlett Packard Enterprise reported year-over-year declines across all of its operating segments, which is not necessarily an indication of any execution issues, but rather the markets where HPE is playing and the lack of the company's strategic positioning in the face of a dramatically changing operating environment driven by public cloud. Management issued EPS guidance for the fiscal second quarter that was lower than we expected and also reduced its full-year guidance for fiscal 2017. The stock has had an impressive run in the last 12 months, amassing a 71% return, but the last 3 months have been tough - HPE stock underperformed the S&P 500 by 12 percentage points.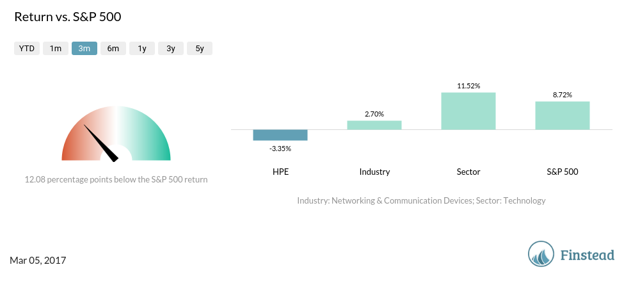 Market Conditions
However, the reason why we're concerned is because the enterprise hardware business where HPE competes has no long-term viability. As the world moves to cloud, the demand for proprietary servers and storage continues to shrink. While the overall server and storage market may be growing by low single digits (percentage wise), most of the growth stems from hyper-scale and service providers, fueled by the tech giants: Apple (NASDAQ:AAPL), Microsoft (NASDAQ:MSFT), Amazon (NASDAQ:AMZN) and Facebook (NASDAQ:FB).
Whitman brought up the issue of a Tier-1 service provider on the earnings call without identifying the customer's name. We now know the real scoop. The softer demand came from Microsoft, a long-time partner of HPE, as the cloud giant pushed for lower prices from the hardware vendor in an attempt to out-rival Amazon Web Services. Amazon and Alphabet's (NASDAQ:GOOG) (NASDAQ:GOOGL) Google, #1 and #3 competitors in the public cloud market, use dirt-cheap, commercial off-the-shelf hardware, and HPE's deals with Tier-1 services providers (such as Microsoft) are already dilutive to its margin. Both HPE and Microsoft declined to publicly comment on the issue. It's very likely that over the next 12-24 months, Microsoft will continue to optimize vendor costs, which spells trouble for HPE.
Competition
Looking beyond servers, HPE will continue struggling to compete against market leaders such as Cisco (NASDAQ:CSCO) in networking and Dell/EMC (NYSE:DVMT) in storage. In addition to strong incumbency positions and switching costs, both vendors likely prosper from cost advantages over HPE, as they have greater research and development budgets. Cisco's historical R&D spend is double the revenue that HPE has generated in its networking business segment. EMC's historical R&D spend is approximately equivalent to HPE's storage-related revenue.
HPE's largest hardware business - servers - has a low barrier to entry and switching costs. Servers are commoditized pieces of hardware, and players within the space compete largely on price. HPE is the long-term industry leader in servers, but rivals such as Cisco have been increasing their presence recently.
HPE also faces risks associated with enterprises shifting their server and storage workloads to the cloud, which could limit future revenue and profitability. By 2020, most storage workloads will be in the cloud. Of these cloud workloads, at least a half are expected to be in public cloud data centers in 2020, while the rest will be in private cloud data centers. HPE may have a presence in private cloud data centers, but the firm's server business, in particular, is poised to suffer from the shift to cloud computing.
Valuation
From our perspective, the HPE stock is overvalued, given the recent revenue decline (double-digit revenue decrease for two quarters in a row). The stock currently trades at a high PEG multiple (Price/Earnings, adjusted for growth) - among the highest in the industry.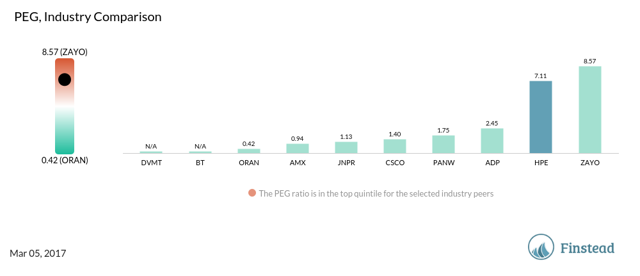 Over our three-year forecast period, we expect consolidated sales to show negative growth (in the range of -3% to -5% per annum). Unlike many analysts, we don't expect low-single-digit growth from the Enterprise Group because their server and storage products are poorly positioned for the growing segments of the enterprise hardware market. We anticipate Enterprise Services (infrastructure technology outsourcing and application and business services) to remain a drag on top-line growth. Contracts with hyper-scale/Tier 1 service providers will be particularly dilutive to HPE's EPS. As enterprises migrate workloads to the public cloud, the demand for IT infrastructure equipment in on-premises data center will shrink. We expect HPE's gross margins to contract slightly from 29% in fiscal 2016 to 25% in fiscal 2020 as enterprise hardware prices drop. We think the profit margin will remain in the 5-6% range (significantly below that of Cisco).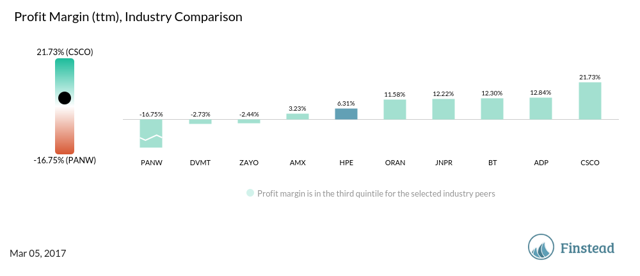 Conclusion
In sum, we don't see a bright future for HPE, primarily because of workload migration to the public cloud, but also because of the hyper-scale and service provider customer segments, which are increasingly unwilling to do business with HPE. The migration of workloads to public cloud service providers will likely deter companies from increasing investment in on-premises data centers, which means that less infrastructure supplied by HPE will hit the market. HPE is still a leader in servers, but we still expect cutthroat competition here. The company lacks the size and scale of industry leaders such as Cisco in networking and EMC in enterprise storage. Finally, the revenue growth trend from the last couple of quarters is likely a sign of continued bleeding that won't stop any time soon. We expect HPE to continue to shrink in the future, and don't see a business that will start growing any time soon.
Disclosure: I/we have no positions in any stocks mentioned, and no plans to initiate any positions within the next 72 hours.
I wrote this article myself, and it expresses my own opinions. I am not receiving compensation for it (other than from Seeking Alpha). I have no business relationship with any company whose stock is mentioned in this article.