The U.S. stock market saw solid gains in 2016, buoyed by a post-election rally. Each of the three major stock indexes closed 2016 with gains, and the Dow Jones Index (NYSEARCA:DIA) is near all-time highs and has breached the 21,000 level.
The Shiller P/E ratio for the S&P 500 may indicate that the stock market is hitting worrying levels. The Shiller "cyclically adjusted price-to-earnings ratio" (CAPE) is calculated using price divided by the index's average historical earnings, adjusted for inflation. This ratio is based on Yale economics professor Robert Shiller's research, which found 10-year stock market returns were negatively correlated to high CAPE ratio readings on a relative basis.
Although I think the stock market will perform well under the Trump administration, it is noteworthy that the current level on the Shiller P/E ratio was also reached before the 1929, 2000, and 2008 plunges. Whether or not you believe a stock market correction is imminent, this elevated level should provide investors with more caution in picking stocks and should push them to ensure they are not invested in overvalued stocks. I believe that looking at stocks by using Warren Buffett's precepts will uncover undervalued opportunities in this frothy market. I will first discuss Mr. Buffett's investment precepts and then will conclude by offering three undervalued stocks.
Buffett's Precepts
Warren Buffett is one of the most successful investors of all time. Today, his amassed fortune stands at a staggering $68 billion. This fortune was not created by a matter of luck, but by rigorously adhering to strict guidelines that ensure his investments provide superior returns. A vast amount of investors had a paradigm shift and view the stock market more as a casino than an avenue to invest in companies. There are classes of investors such as chartists who do not concern themselves with the underlying businesses they are investing in. These injudicious investors will inevitably fall subject to lackluster returns and significant risk. To analogize investing to a casino, Warren Buffett is counting cards while they are playing the slots. Warren's methods are not difficult to learn, and if practiced correctly, they will provide your portfolio with extraordinary performance.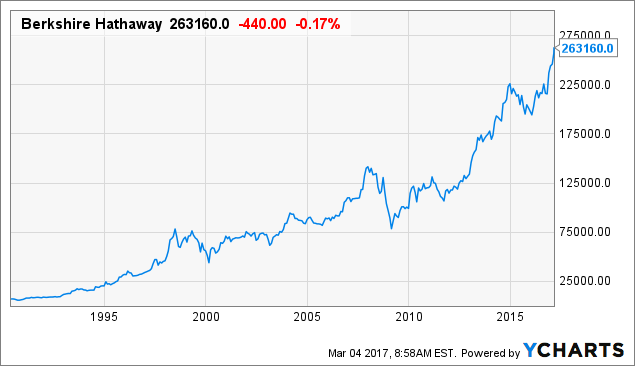 Finding an Attractive Company
The most salient step towards exceptional returns is identifying phenomenal companies. One book that discusses this process well is "Buffettology: The Previously Unexplained Techniques That Have Made Warren Buffett the World's Most Famous Investor" by Mary Buffett. Businesses in this book are broken into two basic types: Commodity-based firms and consumer monopolies.
Commodity-Based Firms:
Selling price is the most important factor determining purchase
Categorized by low profit margins
Absence of brand loyalty
Examples: Steel Producers, Gas & Oil Companies, Paper Manufacturers
Consumer Monopolies:
Selling products where there is no effective competitor
Strong earnings trending upwards
High return on equity
Free to adjust prices based on inflation
After an investor determines that a company falls into the consumer monopoly category, deeper analysis is required to be conducted. In order to research the company well, the investor needs to gain an understanding of the industry and of the business itself. How can someone project the future prospects of a business that they cannot understand? This adherence prevented Warren from enjoying the lucrative returns of the 1990s for technology companies, but has also prevented him from substantial losses.
Management Analysis
The next step of analysis required is to determine if management will guide the company towards success. One of the most important metrics in determining the efficacy of management is return on equity. This metric gives an investor an insight into the ability of management to gain a return on shareholders' money. Another avenue to shed light onto is where management is investing for the future. Management may begin to drift into different industries and this can be viewed as a very bad sign. R. J. Reynolds in the 1990s began to realize the cigarette market was risky and began to diversify into other consumer products. Venturing into a competitive industry that it did not have much experience with resulted in large losses for shareholders.
Avoiding Uncertainty
Uncertainty is a feeling that Warren tries to avoid vehemently. Along with this trend, he looks for companies that are conservatively financed. Looking at the debt to equity levels and ensuring that they are at least near the industry average is an imperative consideration. Along with this trend, it is important to find consistency in returns. He will look over a 10-year horizon and a 5-year horizon and see if the return on assets and equity are consistent and trending positive. To further mitigate uncertainty, Warren does not invest in companies that are largely influenced by commodity prices. You will never see a mining company in the Berkshire Hathaway (NYSE:BRK.B) (NYSE:BRK.A) portfolio.
Value Investing
Warren Buffett learned the doctrine of value investing from the father of value investing, Benjamin Graham. Investing in companies that are undervalued is the crux of producing remarkable returns. Even if all of the above analysis proves to be positive, a good investment cannot be determined without considering the price. The price you pay for an investment is a direction function on the return that you will achieve.
A quick way to glean whether the company is attractively valued is to view the price to earnings ratio versus the industry average. In many cases, there will be reasons for it trading above or below this value based on the expected future prospects. Although this is not an all-encompassing valuation consideration, it does provide a quick litmus test. To view the valuation on a deeper level, you can view the PEG ratio, which divides the P/E ratio by the annual growth rate.
A valuation consideration based on achieving a certain return is to divide the earnings per share by the price per share. By coupling this percentage with the expected earnings per share growth rate, you can project your expected return.
Two more metrics are essential to ensuring the company is attractively valued. The price to book ratio will tell an investor how much they will have to pay for the underlying assets of the company. This metric varies by industry so it is important to view it as compared to the industry average. A final critical metric to consider is the free cash flow. Companies that will experience exceptional growth will need strong cash flow to facilitate that growth through investments. Cash also provides a buffer against uncertainties that will arise.
Long-Term Horizon
In order to pull together all of the above into a successful investing strategy, an investor needs to have a long-term outlook on their investments. The short-term vagaries of the market are caused by emotions as opposed to fundamentals. Synthesizing the emotions of millions of investors is not feasible. By ignoring all of the noise of the market, Warren is able to view investments objectively and unearth exceptional opportunities. Volatility of a company's stock price caused by a recession, or odd event can create a unique buying opportunity for investors that have an eye on the long term. In the 1987 crash, Warren was able to get many stocks at a steal, one of which all of you are probably familiar with, Coca-Cola.
A corollary from Warren's long-term outlook is that companies that do not pay dividends are enticing to him. If management has a track record of high return on equity, he would rather than grow his investment and not have to pay the marginal tax rate on that growth like he would have to if he were paid dividends. This compounding growth while paying no taxes or transaction fees is one of the keys to successful investing.
Confession
Although investors can follow the principles that Warren Buffett employs, he receives deals because of his prominence that others are not privy to. For example, in 2008, Warren bought preferred shares of Goldman Sachs (NYSE:GS) with a 10% annual dividend. Retail investors simply will not be able to get deals like this. However, there is optimism for the retailer investor. Warren does consider the substantial amount he invests to be an impediment of his returns. In 1999, he said "It's a huge structural advantage not to have a lot of money. I think I could make 50% a year on $1 million. No I know I could. I guarantee it."
Conclusion
Being a grounded, value investor means that you will not catch every wave. Removing the emotion from investing can be very difficult, but proves to be critical. You will miss out on stocks such as Tesla (NASDAQ:TSLA) and Netflix (NASDAQ:NFLX), but you will also be protected from stocks such as BlackBerry (NASDAQ:BBRY). Although playing the slots is quite enticing, your future will be much brighter if you stick to the boring strategy of counting cards and gradually amass your wealth just as Mr. Buffett did.
Value Picks
With all of that being said, I offer three value picks that I believe are in line with Mr. Buffett's precepts: Fitbit (NYSE:FIT), GoPro (NASDAQ:GPRO), and Chipotle (NYSE:CMG).
All three of these stocks have been chastised by the market and are selling at incredible levels when considering their asset values and future business opportunities. Moreover, each is positioned to create a competitive advantage to thwart off competition and enjoy pricing power - which will lead to margin expansion. Although many may see these stocks as operating in commoditized industries, I believe each is prudently pivoting their businesses to create a competitive moat.
Here is a quick summary of each of my picks, with links to each of my articles in which I did a deep-dive analysis on each of those respective stocks.
FIT
Despite FIT reporting quarterly numbers that were below expectations, management is prudently pivoting its business model to create a competitive advantage and generate recurring revenue.
First, with respect to the recurring revenue, FIT launched the Fitstar Personal Training app, which is a subscription-based fitness app that can generate a predictable, recurring revenue stream. During the most recent quarterly call, management discussed how its new app has been performing: "Consumers have loved these new features with Fitstar registering more than 1.2 million downloads since January; positive indicator that deeper insights and coaching have strong appeal." This prodigious download level led to the Fitstar app moving from number 50 to number nine on top apps by revenue, since January.
With more users on the app, FIT will be able to further refine it, and improve the functionality and interface of it. Furthermore, this can lead to consumers who like the app telling their friends about it, which could lead to them purchasing a Fitbit device and starting a subscription as well.
In addition to this possible recurring revenue stream, management has begun to reduce its expense run rate by reducing its headcount. Further, it restructured its accessory business, opting to partner and license rather than bear the bulk of the cost of designing and producing the accessories itself. This will allow FIT to shed excess inventory and allow it to mitigate the risk that it will have to write off losses from old accessory inventory in the future.
However, the most compelling reason I am bullish on Fitbit is due to the current valuation. At the current trading range, FIT has a market capitalization of just $1.3 billion. When considering FIT's asset levels, it appears to be quite an attractive takeover candidate. FIT's total assets are $1.82 billion, with current assets alone being $1.48 million. In contrast to this asset level, it has no debt, with just about $821 million in total liabilities. Moreover, in just cash alone, FIT has $706 million. It also has $477 million in accounts receivables, which can be quickly turned into cash through factoring. This means that FIT's takeover value is much lower than its current market capitalization implies.
Here are two links (here and here) to my articles, which provide a more in-depth discussion about FIT.
GPRO
GPRO recently announced disappointing earnings and investors sold off its shares accordingly. However, I believe there were short-term issues, which led to these losses and another adage from Warren Buffett comes to mind when considering GPRO: "Be greedy when others are fearful."
The first, and most salient, reason that GPRO missed on its quarterly expectations had to do with early production issues with the HERO5 Black product compromising launch volumes. This significantly impacted demand because retailers canceled their marketing efforts, since they didn't have the product to sell. With production issues being ironed out now, sales should improve. Another reason for the sales miss was due to the Karma drone being taken out of the market. However, its issues have been fixed and it is back for sales in the U.S. and will soon be available in international markets.
Similar to FIT, GPRO is creating a competitive moat with a recurring revenue stream with its launch of a cloud subscription editing service. Here is a snippet from my article discussing this service:
In September 2016, GoPro launched a cloud subscription service, called GoPro Plus that allows users to seamlessly upload their footage from their camera to the cloud. After uploading, users can edit the footage using GoPro's suite of mobile and desktop editing applications.

Management has prudently created a seamless, end-to-end platform where users can easily upload, edit, and display their content. This service offers users a compelling value proposition. Consumers no longer have to buy and keep track of SD cards. This also saves consumers from having the burden of figuring out how to edit and share their videos. GoPro is democratizing valuable content creation.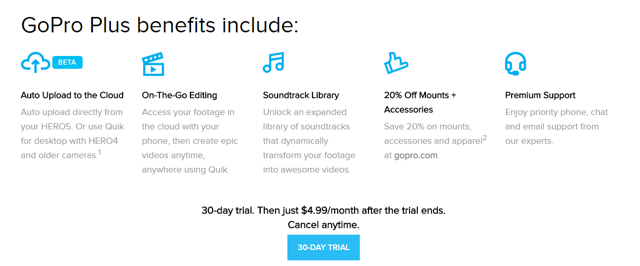 Source: GoPro.com
GoPro will benefit from this service in two material ways. First, and most obvious, it will have a recurring revenue stream in the form of $4.99 per month per user that signs up. Assuming this service gains some traction, it will provide a predictable revenue stream, which will allow the company to generate cash flow to either invest in other endeavors or begin returning money to shareholders in the form of dividends or share repurchases. Secondly, this will create a positive virtuous cycle for GoPro's licensing efforts by enabling users to quickly make content.
GPRO can license its content to global advertising brands, and with drones being back on the market, it can license this footage as well. GPRO launched a platform to sell this content. This platform will be quite beneficial to these brands, and agencies, since it will allow easy access to creators' content with time-saving tools to search, download, and preview content to license for use in advertising, news, and other media and entertainment. If GPRO is able to generate a lot of content on an intuitive platform, this can create a competitive moat that will generate substantial revenue.
Another similarity to FIT, which makes GPRO attractive, is its valuation. At the current trading level, $8.84 per share, GPRO's market capitalization stands at just $1.1 billion. This is a far cry from the roughly $11 billion market capitalization reached in 2014, and is significantly below its IPO price of $24 per share. Historical price should not be considered alone in determining if a security provides a value investment opportunity. However, when considering the value of GoPro's assets, when coupled with its new business opportunities, I believe that the company is currently undervalued.
As of December 30, 2016, GoPro held about $923 million in total assets compared to just $475.7 million in total liabilities, which means shares are trading at just 2x its book value. Management also has not made any borrowing on its credit facility and currently has no debt. Furthermore, its price-to-sales ratio is only .86.
Here is a link to my article on GPRO, which provides a more in-depth overview.
CMG
CMG missed earnings expectations and experienced a bit of a sell-off after the latest earnings release. The main driver of the sell-off was the operating margin decline to 13.5%, which alarmed many investors. However, I am not too concerned, since the primary factor of that decline was due to increased marketing and promotional spend and sales deleveraging. However, once management restores the CMG brand, following the E. coli crisis, it will be able to decrease marketing and promotional spending and with comparable sales continuing to rise, operating margins should move upward as well. I believe this crisis has created a buying opportunity, and a turnaround seems to be occurring already, with management disclosing during the conference call, following the release, that comparable sales increased a prodigious 24.6% in January.
CMG's management is creating a competitive moat, in this very tough industry, by focusing on driving operational efficiencies. It is using digital ordering coupled with its proprietary "smarter pickup times" software to use technology to predict and shorter the soonest available pickup times for customers. This will help not only the top line, but the bottom line as well.
By narrowing the pickup window, and trimming the amount of time it takes to put together an order, these stores can increase their sales. Moreover, it will allow for more profitability, as digital orders can be done with less labor. For example, management discussed that remote orders account for roughly 7% of CMG's sales and could lead to an additional 130 orders being made in an hour without any extra labor. Another benefit, which is salient, is that these improvements will reduce wait time, which could lead to customers visiting the store more regularly and becoming more loyal customers.
CMG is also growing its catering business, which can provide a huge boon to its top-line growth, if successful. It will also give CMG a competitive advantage over other fast-casual restaurants that do not operate catering because it will essentially provide free advertising to generate more customer interest.
Another notable positive, which investors may not be accounting for, is the possible tax benefits that CMG will receive under a Trump administration. Although it is not a foregone conclusion, CMG will likely be a huge beneficiary from changes to the tax code. CMG paid a 2016 effective tax rate of 40.8% and is guiding between 39% and 39.5% next year. However, the Trump administration has promised corporate tax cuts to 15%, which would represent a huge boon to CMG.
Similarly to FIT and GPRO, I am most compelled by CMG's current valuation, especially in light of the catalysts that I highlighted above.
After the sell-off following the E. coli scare, and again recently, from the sell-off post-earnings, CMG is trading at a significant discount to its historical price to sales ratio. Moreover, it is trading at a much lower price-to-sales multiple, as compared to its competitors, McDonald's (NYSE:MCD) and Starbucks (NASDAQ:SBUX). This discount is unwarranted, however, as CMG's growth opportunities significantly outpace MCD's and SBUX's.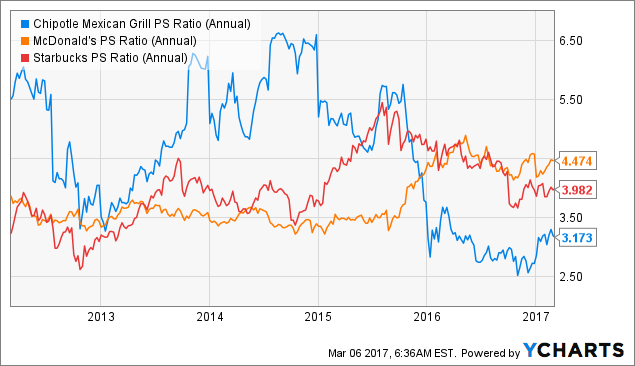 CMG PS Ratio (Annual) data by YCharts
Before the E. coli scare, CMG was generating about 25% y/y revenue growth, which was significantly above MCD's and SBUX's.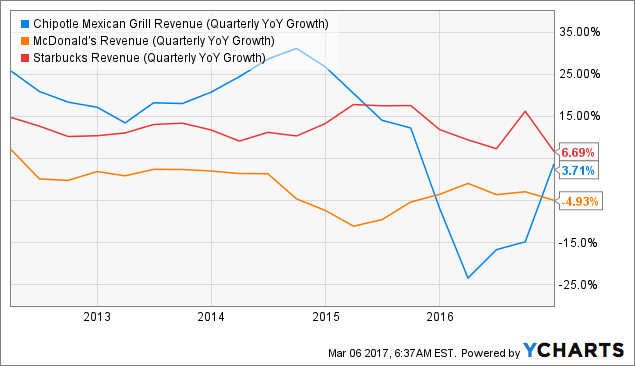 CMG Revenue (Quarterly YoY Growth) data by YCharts
With comparable store sales already beginning to rebound, with 24% growth in January, around 200 new stores being planned to launch in 2017, and a number of new initiatives being deployed to regain customer loyalty and improve operational efficiencies, I believe that CMG is positioned to return to its prior level of revenue growth and improve margins.
Here is a link my article, where I provide a more in-depth overview of CMG.
Remember, "Be greedy when others are fearful."
Note: If you like my material and want to see more, scroll to the top of the article and hit "Follow." I also often write several "breaking" articles, which are time sensitive, actionable investing ideas. If you would like to be among the first to be updated, be sure to check the box for "Real-time alerts on this author" under "Follow."
Disclosure: I am/we are long FIT, GPRO.
I wrote this article myself, and it expresses my own opinions. I am not receiving compensation for it (other than from Seeking Alpha). I have no business relationship with any company whose stock is mentioned in this article.