Safety in the Old
Goldman Sachs calls graphene "The Miracle Metal," while science and innovation publications call it "the wonder chemical." Graphene-Info claims graphene is "set to revolutionize a lot of industries, including sensors, batteries, conductors, displays, electronics, energy generation, medicine and more." A 2017 Goldman report, suggests graphene is disrupting innovation in consumer and industrial goods fields. The Home of Graphene from the University of Manchester has a marvelous video explaining graphene and its endless possible applications.
Investing in a company like Cabot Corporation (NYSE: CBT) is the safest and smartest way to have a hand in graphene developments. Cabot Corporation
(NYSE: CBT) is a 130 years old specialty chemicals and performance materials company focusing on the transportation, infrastructure, environment and consumer industries. The company web site touts Cabot employees are PROBLEM SOLVERS working hand-in-hand with customers satisfying immediate needs and tackling opportunities of tomorrow. 26 results for graphene pop-up on the CBT web site detailed under the following headlines:
· Graphene-based best-in-class additives and formulated solutions
· Conductive additives for electrical and thermal conductivity materials
· Products
· Applications
According to CBT, the company views pursuits in graphene a natural extension of its long history in research and performance materials experience with carbon materials. CBT is researching graphene nanoplatlet-containing compounds and elastomers; research suggests, "Graphenes can increase modulus at a fraction of the loading of carbon black and thus can break important performance trade-offs offering customers breakthrough product improvement and enable new applications."
The company announced four years ago the availability of
LITX™ G700, a graphene-based additive for hi-energy lithium-ion battery applications, and has since been experimenting with graphene in plastics for electrical conductivity, the energy storage market, reinforced structural composites, barrier films, thermal conductivity, electromagnetic shielding components, and is increasing invest in elastomer composites (Press Release, March 2017).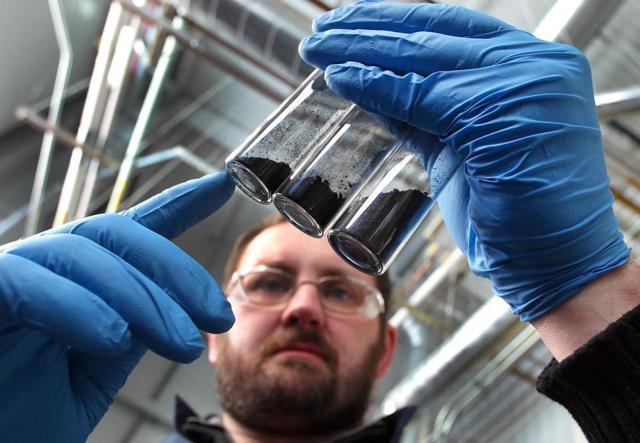 At Cabot Corp senior researcher examines graphene samples
CBT enjoys a $3.6B market cap. It offers a 2.06% dividend yield, but it currently trades near its 52-weeks high of $60.72 (low $42.27). On February 1st, CBT reported EPS that beat expectations by 14 cents on revenue of $611M (+1.3%) or $1.75M higher than expected-to-be reported (2.42B annually). CBT's gross margin is a respectable 26%, and its operating margin is an enviable 13.3%. The company reports $189M in cash and 913M in long-term debt. There has been a three-years dividend growth rate exceeding 14%. Its return on investment capital is a healthy 10.7%.
Graphene product sales will not contribute much to CBT's bottom line anytime soon, but the company is betting on the potential for graphene to enhance breakthrough product offerings. Cabot's strategy is forward looking to use its expertise in graphene R&D building stronger sales and relationships with existing customers in existing markets for carbon-based additives where CBT already excels.
Hype of the New
Despite mounting interest and investments since my first article for Seeking Alpha in March 2016, and my latest in January 2017, the 100 or so pure graphene companies (about 15 are public) are largely sustained by joint partnerships and investments, i.e., support from legacy corporations, mining companies, government investments and venture funds. These start-ups are financially risky with sparse sales and no profits. Three years ago The Graphene Council issued a warning to investors that buyers beware of "graphene play" stock investments that may be scam companies.
Following are some recent news events stirring the graphene investment pot, but not necessarily safe investments as of yet:
· IImagine Intelligent Materials of Australia develops graphene-based coatings for industrial textiles and fibers. It raised $2m in a private placement.
· The European Regional Development Fund made a grant of €1m to Directa Plus for graphene-based smart fabric development.
· A Euro bank and a fund loaned Skeleton Technologies €15m to further develop high energy and power density supercapacitors using graphene.
· Haydale (Grey Market: HDGHF) secured a collaboration agreement in 2017 and a strategic investment of €3.26m from Everpower International Holdings, which now owns 9.9% of Haydale. The plan is "to manufacture, supply and market existing Haydale products and develop nanomaterials and new graphene products for the Chinese market." Haydale stock rose from its 52 weeks low of $1.60 per share to $2.56.
· Elcora Advanced Materials (OTCQB: ECORF) announced a private placement valued at $5.5m that apparently is being used for construction of a graphene production facility, laboratory, and equipment for one of its subsidiaries among other uses at Elcora. ECORF reached 52 weeks high of 44 cents per share, but sells today for 25 cents and has no listed market cap.
· Graphene 3D Labs (OTCQB: GPHBF) stands-out as a company on the cusp of making a splash in the graphene industry. It is a supermarket of graphene product inventions being sold to reportedly 11,000 consumer, industrial and research facilities including NASA, HP, Ford, GE, Apple, Samsung, Harvard, MIT, Yale and Stamford Universities. Two new products are G6-Epoxy™ G6E-P-60 is a two component electrically conductive epoxy for high performance bonding, sealing and coating.
Investing is Rigorous
It's fun and exciting to be a part of an emerging industry, and to make money with the right stock picks. Five years ago, we witnessed that with the promising marijuana industry and its exploding stock prices. Take a step back for now from the pari passu graphene industry playing it a little safer by investing quality companies like Cabot. Take the advice of legendary singer, Janis Joplin, who said, "Life is rigorous, and the invitations to blowing it are numerous and frequent."
Disclosure: I/we have no positions in any stocks mentioned, and no plans to initiate any positions within the next 72 hours.
I wrote this article myself, and it expresses my own opinions. I am not receiving compensation for it (other than from Seeking Alpha). I have no business relationship with any company whose stock is mentioned in this article.