When it comes to Mylan (MYL) there seem to be two camps: those that believe the stock has bottomed since EpiPen pricing came under scrutiny, and those that believe the troubles aren't yet behind the company.
The Argument For Mylan
In October 2016, Bret Jensen pointed to the positive news that Mylan "reached a settlement with the government around not giving the proper amount of rebates on its EpiPen products to government programs like Medicare & Medicaid."
The stock popped about 10% on October 11th, 2016 at the open to $40.45 but finished the day at just under $39. In the weeks after, it tested the lows below $34 per share and seemed to put in a bottom.
Mylan is now trading at just over $45 per share. So even if you'd bought at the open on October 11th after the settlement news, you're doing quite well, up nearly 12% on your investment.
In his article, Bret also noted that EpiPen contributes less than 10% of Mylan's sales. I don't want to put words in Bret's mouth, but I think it's clear that the stock's reaction to the EpiPen pricing was overdone given its contribution to top line revenue.
But Bret's article was written in October, and things can change quickly in the investment world. What about Mylan today?
Jim Cramer believes the stock is undervalued as of Friday, March 3rd of this year:
Among other points, Cramer's conclusion is essentially that, "The stock's not expensive". Given that, and the fact that EpiPen makes up just 10% of Mylan's revenue, it seems like a logical buy.
Or does it?
The Argument Against Mylan
I recently read Intelligent Investments' Seeking Alpha article titled "Mylan: $5 Billion Potential Liability From EpiPen Underpayment Of CMS Rebates". If you're considering a position in Mylan, of any kind, I highly suggest reading their article first.
The recommendation, clearly laid out at the end of the article, is a strong sell on Mylan shares with a price target $10 per share.
Whoa! That's a pretty different stance than those advocating for Mylan being cheap at current levels.
A Look At The Technicals
Investors were quite pleased with Mylan's most recent earnings, and the stock gapped open on March 1st. As a result, it triggered a price alert I had set for the stock on a key technical level I've been watching: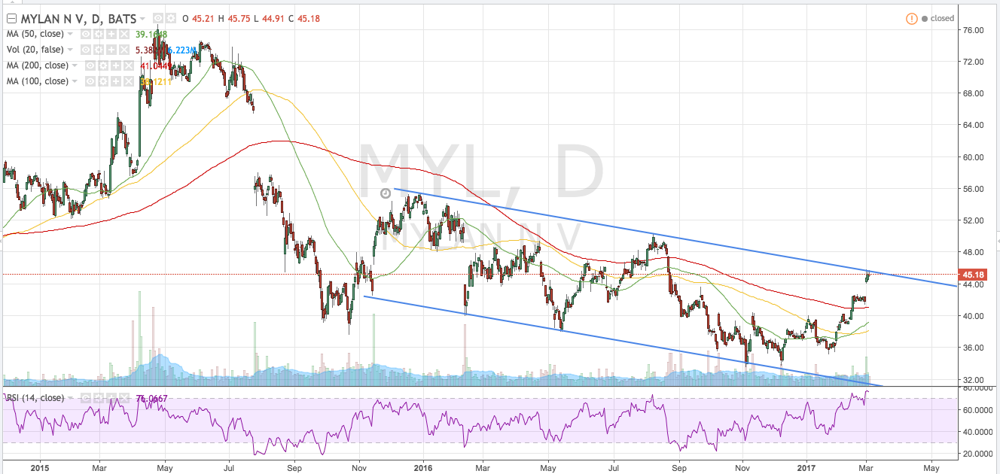 My alert was set to trigger when price touched the top trend line resistance line I'd drawn weeks ago. As you can see, Mylan has been trading in a very predictable down trend channel going back to December, 2015. Before that, it had been trading in a much more aggressive free fall.
With the stock now trading at $45 per share, just below trend line resistance, this is no time to buy Mylan stock. In fact, when you see a technical setup like this, it's the worst time to buy, period.
Why's that?
Consider The Scenarios
When a stock is trading just below a key resistance level, you are essentially betting that it's going to break through. And if that's what you're betting on, you better have a darn good reason to believe in it.
I don't think we have that with Mylan. An undervalued stock can become far more undervalued before price equalizes. But we're not even sure Mylan is undervalued at current levels. If you give any weight at all to Intelligent Investments' article, the stock may still be highly overvalued.
But all that aside, buying a stock below key resistance is a losing bet in the long run. There are three scenarios that will play out in the coming days, weeks, and months ahead:
Scenario #1: Mylan breaks higher, pushing through our trend line resistance.
If you're considering purchasing Mylan, or even still holding a long position, this is the scenario that you're hoping for. Remember, the odds are stacked against this scenario given the technical picture, even for a fundamentally healthy company (which, again, you could argue Mylan is not).
But if the stock were to break higher, the odds are also likely that it breaks our trend line resistance and then comes back down a bit to test that same resistance as support, giving investors a far less risky entry point. So even if you expect Mylan to break higher, it'd be far less risky to let it do just that and purchase the stock on a subsequent pullback.
Scenario #2: Mylan pulls back from current levels in order to build steam before breaking higher.
Given we're right below a strong resistance level, this scenario is also very likely. A pullback to $42.50 or even $40.00 per share isn't out of the question. Both areas were important from a technical perspective not long ago: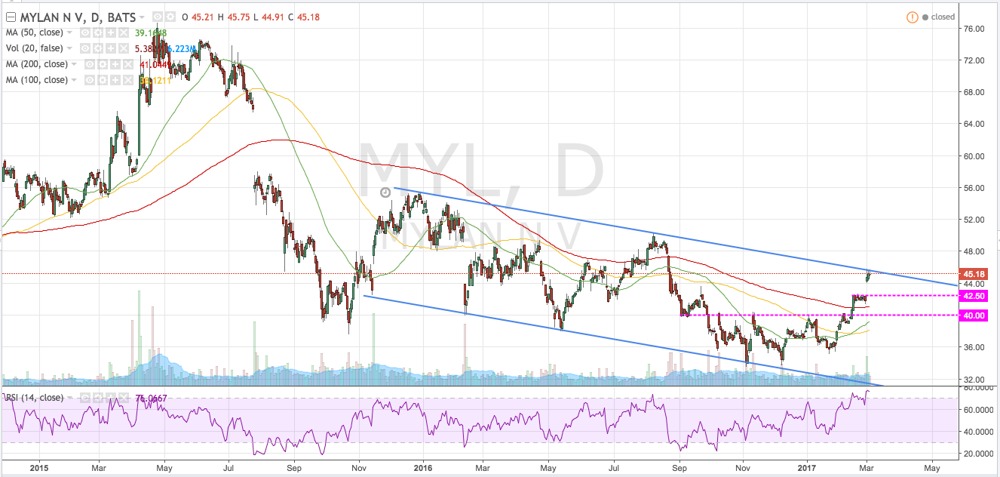 If you truly believe Mylan is undervalued, these would be great entry points to layer buy orders. Once the stock breaks higher through the trend channel resistance, you'd have an opportunity to add more on a pullback as per scenario #1.
Scenario #3: Mylan fails at current trend line resistance and continues lower in the down trend channel.
If Intelligent Investors' article makes sense to you, this might be the most likely scenario. And if so, Mylan is currently offering a fantastic short opportunity with very little risk.
The risk/reward here is so low because we know that if Mylan breaks higher through our trend channel resistance, we'd want to immediately get out of our trade. Considering how close price is trading to our resistance areas, that leaves us maybe a couple dollars before a short would be considered invalidated.
Conclusion
Although some believe Mylan to be undervalued at current levels, they could very well be overlooking a key piece of information to the tune of a $5 billion liability. But whether or not you believe the stock to be undervalued or a great short, Mylan is not a buy at current price level considering it's proximity to critical technical resistance.
Investors and traders would be wise to hold off on buying Mylan. Instead, consider the three scenarios I outlined above and which one suits your investment thesis around Mylan best.
Disclosure: I/we have no positions in any stocks mentioned, and no plans to initiate any positions within the next 72 hours.
I wrote this article myself, and it expresses my own opinions. I am not receiving compensation for it. I have no business relationship with any company whose stock is mentioned in this article.