Introduction
In October 2015, I wrote an article entitled, "If I Had to Build an Income Portfolio Today", which was published by Seeking Alpha, October 23, 2015. The article described the development of a portfolio for a relative that recently came into a significant sum of money and wanted to conservatively invest the funds to supplement their retirement income and help the grand kids with college costs. The series of articles through update nine has been very well received by Seeking Alpha readers, generating over 201,000 page views in total.
As I mentioned in the original article, after establishing the initial portfolio, there remained a significant cash account yet to be invested. In the sixth update, I discussed the decision to invest the balance of the cash in the iShares US Preferred Stock ETF (NYSE: PFF). With most of the funds invested except for a modest money market account for emergencies, the portfolio updates have, for the most part, focused on the capital appreciation and income produced by the portfolio and the modest changes to the portfolio holdings between updates. Given the recent strong rally in equities, I did get more aggressive in the month of February with respect to selling a few of the appreciated holdings in the portfolio. This article is the fifteenth update in the series, though previous readers will note that I changed the title of Update 8 to reflect the portfolio's performance. To be clear, it has been a little over 17 months since the portfolio was initiated.
Portfolio Capital Appreciation and Income
The chart below, compliments of Yahoo Finance, shows the financial performance of the portfolio as of market close March 3, 2017.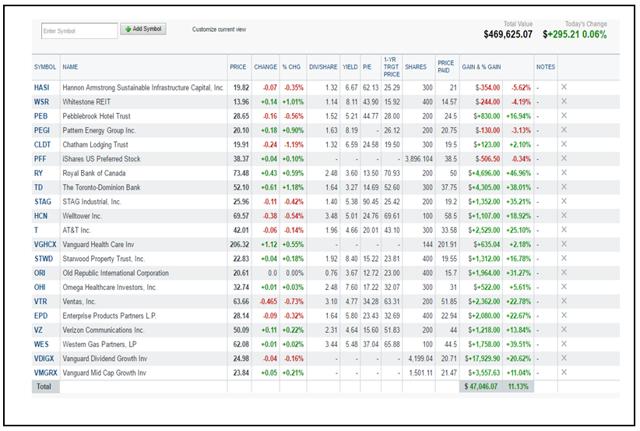 Source: Yahoo Finance
The portfolio performed very well in February. With few exceptions, the continued rally in equities has benefited the portfolio and I decided it was time to lock in some of the capital gains that had accrued.
Readers of Update 14 will remember that I sold all shares of Sabra Healthcare REIT (NASDAQ: SBRA) in this portfolio as well as in my personal portfolio. In summary, one of SBRA's tenants, NMS based in Maryland (MD), is the subject of a lawsuit by the MD Attorney General (AG) for their Medicare billing practices and treatment of Medicaid patients. While this lawsuit is in its early stages and NMS has denied any wrong doing, I didn't want to carry the additional risk. Roughly 15% of SBRA's revenue and earnings come from NMS so if it turns out there is merit in the AG's lawsuit and/or the US Attorney General's Office gets involved, there could very well be a reduction in SBRA's rental income. On top of this, the AG noted that SBRA allegedly paid almost 3x the typical cost per bed to acquire the skilled nursing facilities in 2015 that NMS operates in MD. For a more detailed summary of this issue, the reader can visit a more complete article here.
In late February, I sold all holdings of Lexington Realty Trust (NYSE: LXP), Ameren Corporation (NYSE: AEE), and American Electric Power (NYSE: AEP). The two utilities, AEE and AEP, I sold because the valuations had become a bit rich, and with the Federal Reserve apparently looking more aggressively at interest rate hikes in 2017, I chose to lock in those gains. The decision to sell out of LXP was based on the REIT's 4Q16 report and the cooler guidance that LXP provided for 2017. Retail office REITs should do well in a growing economy, but it seems that LXP just can't get it together to deliver more FFO growth in the coming year.
Having sold out of now seven positions over 16 months, I decided to include a new table summarizing the sales and the gains on each sale.
| | | | | | | |
| --- | --- | --- | --- | --- | --- | --- |
| Symbol | # of Shares | Price Paid | Price Sold | Gain | % Gain | Update Link |
| VGENX | 846.64 | $41.34 | $47.18 | $4944 | 14.1% | |
| O | 200 | $45.25 | $62.50 | $3450 | 38.1% | |
| CALM | 100 | $50.40 | $53.40 | $300 | 6.0% | |
| SBRA | 300 | $23.83 | $26.27 | $732 | 10.2% | |
| LXP | 500 | $8.00 | $10.90 | $1450 | 36.3% | Current |
| AEE | 200 | $39.75 | $54.75 | $3000 | 37.7% | Current |
| AEP | 100 | $53.60 | $67.00 | $1340 | 25.0% | Current |
Source: Author
The links in the table provide more detailed background on the sales of each equity. With the exception of Cal-Maine Foods (NASDAQ: CALM), I'm pleased with the results achieved. While I did pick up some rich special dividends from CALM during the bird flu epidemic, I held CALM a bit too long and missed out on the best gains from CALM.
The dividend income from the portfolio has also been steadily growing as can be seen in both the Annual Income column and the Cumulative Dividends Collected column.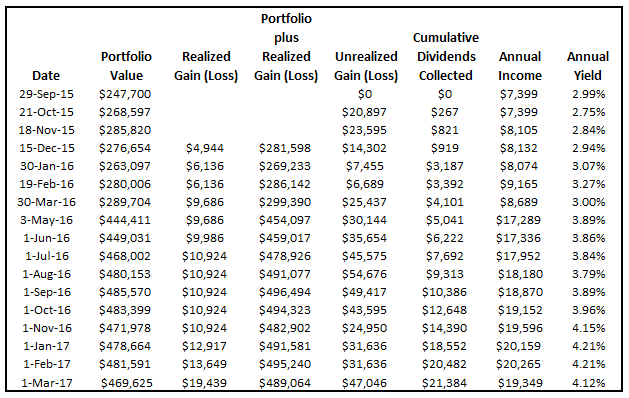 Source: Author
The cumulative dividends collected continues to increase, but the annual income (the rate of accumulation) has decreased with the sale of LXP, AEP, and AEE.
Total Portfolio
In update 3 of this article, I explained the rationale for placing a large portion of the portfolio into bank savings accounts and certificates of deposits. There has been no change to that portion of the portfolio. However, because I've accumulated a significant amount of excess cash from the sales in January and February, I have included the cash available for reinvestment now sitting in the settlement account.

Source: Author
Despite the recent dividend increases, the total annual income has decreased to $33,255 going forward due to recent sales. Including the interest earned in February of $1,187, the total interest earned since portfolio inception is $14,999 on the bank deposits. This brings the total return (realized and unrealized gains) including cumulative dividends and interest, since portfolio inception, up to $102,868 over 17 months and puts the total return percentage at 8.23% based on the total portfolio value of $1,250,606. In the last (fourteenth) update, I wrote the following:
"The portfolio took a pretty big hit in November and December due to the rotation out of income oriented stocks after Trump's surprise win and investor's fear induced by the Fed's bump in Federal Funds Rate. As I noted earlier, there has been significant recovery in valuations but some equities are still lagging near the lows hit in November and December. I'm expecting additional recovery in the coming months as investor's fears of aggressive tightening by the Fed and the fear that renewable energy producers will not fare well under the Trump administration are allayed."
It seems that my crystal ball was working well last month as the rally has continued to lift equity valuations. If only I could figure out how to maintain that level of clarity in my crystal ball.
In addition to PFF, the portfolio consists of the following stocks: Enterprise Products Partners (NYSE: EPD), Welltower (NYSE: HCN), Omega Health Care (NYSE: OHI), AT&T (NYSE: T), Western Gas Partners (NYSE: WES), Hannon Armstrong Sustainable Infrastructure Capital (NYSE: HASI), Pattern Energy Group (NYSE: PEGI), STAG Industrial (NYSE: STAG), Ventas (NYSE: VTR), Chatham Lodging Trust (NYSE: CLDT), Pebblebrook Hotel Trust (NYSE: PEB), Old Republic International Corporation (NYSE: ORI), Verizon Communications (NYSE: VZ), Starwood Property Trust (NYSE: STWD), Royal Bank of Canada (NYSE: RY), Toronto-Dominion Bank (NYSE: TD), and Whitestone REIT (NYSE: WSR). The portfolio also includes the Vanguard Mid-Cap Growth Fund (NYSE: VMGRX), Vanguard Dividend Growth Fund (NYSE: VDIGX), and Vanguard Health Care Fund (NYSE: VGHCX).
For the time being, I'm sitting on the cash in the settlement fund due to the high current stock valuations. At best, I may put the cash balance into PFF until there is a significant pullback or correction in stock prices.
Disclaimer: This article is intended to provide my opinion to interested readers and to serve as a vehicle to generate informed discussion in the comment posting. I have no knowledge of individual investor circumstances, goals, portfolio concentration or diversification. Readers are strongly encouraged to complete their own due diligence on any stock, bond, fund or other investment mentioned in this article before making their own investments.
Disclosure: I am/we are long CLDT, EPD, HASI, HCN, OHI, ORI, PEGI, PEB, PFF, RY, STAG, STWD, TD, T, VZ, WES, WSR, VTR, VDIGX, VRGMX, VGHCX.
I wrote this article myself, and it expresses my own opinions. I am not receiving compensation for it (other than from Seeking Alpha). I have no business relationship with any company whose stock is mentioned in this article.