On 5th March, Deutsche Bank (NYSE:DB) announced a EUR8bn rights issue of 687.5mn new shares, suggesting a 40% discount to Friday's closing price of EUR19.1. The subscription period is expected to start on March 21.
This strategic reorganisation is supported by a capital increase that aims to raise Deutsche Bank's financial strength to a new level. By issuing up to 687.5 million new shares in a rights issue, the bank seeks proceeds of approximately 8 billion euros. The issue is initially underwritten by Credit Suisse, Barclays, Goldman Sachs, BNP Paribas, Commerzbank, HSBC, Morgan Stanley and UniCredit. The subscription period is expected to start on March 21 and ends on April 6.
The news did not come as a surprise though. We have been bearish on Deutsche Bank for quite a long time now. Despite a plethora of articles suggesting that Deutsche Bank is a screaming undervalued buy, we have been very cautious on the stock.
Firstly, the bank's CET1 leverage ratio came in at just 3.2% as at YE16. This is a major read flag. For comparison, its smaller German rival, Commerzbank (OTCPK:CRZBY) has improved its CET1 leverage ratio to 4.8%. As a reminder, there are no formal minimum regulatory requirements set as yet. However, according to research from the Bank for International Settlements, global regulators have "considerable room" to raise the Basel III leverage ratio for banks as high as 5%. It is also well worth mentioning that US regulators and Swiss regulators have already increased their Basel III leverage ratio requirements to 5%.
Secondly, Deutsche Bank faces significant RWA (risk-weighted assets) inflation risks due to the so-called Basel IV standards/the FRTB (Fundamental Review of the Trading Book). Felix Hufeld, President of Germany's Federal Financial Supervisory Authority BaFin, has recently mentioned that Basel IV standards 'would hit some German banks':
New capital rules being drafted by global banking regulators will burden some German lenders, albeit in a reasonable fashion, the head of German financial watchdog Bafin said. Germany's flagship lender Deutsche Bank is seen among those hardest hit by the new capital rules - unofficially dubbed Basel IV - as they are expected to inflate Deutsche Bank's risky assets by 125 billion euros or roughly a third.
The RWA inflation following the Basel IV will be linked to the amount of market risk of each bank. The chart below illustrates that Deutsche has a higher share of market risk as part of its RWA compared to other European investment banks. In our view, the potential RWA inflation is probably the first thing that investors should consider when looking at a European investment bank.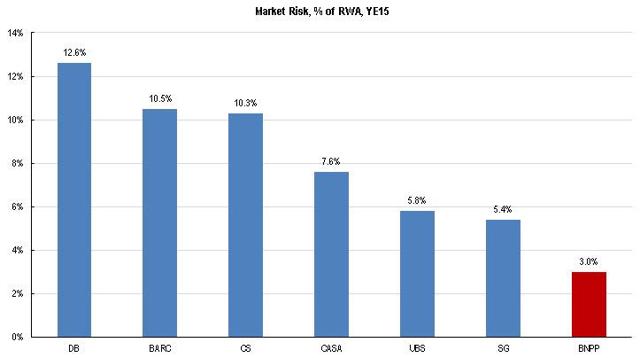 Source: Company data, Renaissance Research
The bank's management have been saying for years that the deconsolidation of Postbank, Deutsche's consumer unit, should be a game-changer as it would reduce the bank's RWA and improve its capital position. We have been skeptical on the plan though. In fact, in our view, the deconsolidation is very hard to execute given Postbank's structurally low profitability. Moreover, there are many legal and regulatory complexities associated with the Postbank's disposal.
Bottom line
Although higher Germany's bond yields should be a tailwind for the bank, we reiterate our view that Deutsche Bank is a stock to avoid. The company's 4Q16 results have clearly revealed that the franchise health is a major concern. Deutsche Bank has been losing market share for the past two years and its franchise is weak, while current shareholders should expect a major dilution. The announced capital raising is a brutal lesson for those who are underestimating risks of investing in a bank with weak capital adequacy ratios and subdued organic capital generation.
Finally, the most disappointing thing in the Deutsche Bank's story is that shareholders have given John Cryan, the bank's CEO, too much credit based on his rhetoric but are yet to see any signs of operating improvements.
As a buy-side analyst and a deputy portfolio manager, I oversee a financials-focused fund and will be continuously providing research coverage on developments with Deutsche Bank and other global banks. If you would like to receive our articles, consider following us by clicking the "Follow" button beside our name at the top of the page. Thank you for reading.
We also invite readers to check out our recently launched subscription service. Get in-depth fundamental research, stock recommendations, trading ideas, exclusive access to professional databases, sophisticated valuation models and expert commentary on Wall Street recommendation from a hedge-fund analyst with a proven track record. Go here to learn more or to activate your free 14-day trial period, we look forward to having you on board.
Disclosure: I am/we are long CRZBY.
I wrote this article myself, and it expresses my own opinions. I am not receiving compensation for it (other than from Seeking Alpha). I have no business relationship with any company whose stock is mentioned in this article.
Editor's Note: This article discusses one or more securities that do not trade on a major U.S. exchange. Please be aware of the risks associated with these stocks.