My Ian's Million Fund, "IMF," is a quasi-index fund where I have two main goals. One, beat the S&P 500 over time with my own diversified basket of stocks, while avoiding any ongoing management fees. Two, build a model that my non-investment professional friends can copy. If I didn't have other investments and had $1,000/month to invest, what retirement portfolio would I build to ensure I ended up with a strong solid nest egg? The "IMF" answers that question.
January started the year On The Wrong Foot for my portfolio. The IMF fell 0.3% compared to a 1.8% gain for the S&P 500 (SPY) and a 3% gain for the total world stock market (VT). That sort of performance annoys me; there'd be little reason to spend the time or energy running this portfolio if it doesn't beat the market.
February, however, got things well back on track. Thanks largely to a massive rebound in Mexican stocks, where the IMF has sizable exposure, the IMF had a huge month. The portfolio jumped 5.9% for February, as compared with 3.9% for the US, and 2.7% for the world market. That's 2% or more outperformance.
Mexico Bounces Back
The single largest factor in this outperformance were the Mexican stocks. Mexican stocks currently make up 14.9% of the overall IMF portfolio. This is above the 10% limit I generally hold myself to concerning any one emerging market. However, the post-Trump valuation opportunity there was unparalleled, and I allocated heavily. Over time, the proportion of Mexican equities in the fund will fall back to a more modest level.
But now, for the time being, they are a significant driver of overall performance. And yes, they had a great month, as Trump fears really faded. The Mexican Peso has now surged back to 19.5, more than 10% above the low set around 22 in January. We reached peak Trump negativity right as he was taking office; since then, he's become focused on executing his duties as president, and as such, has had less time and attention to spend on denigrating Mexico.
On top of that, U.S. spokesmen including Wilbur Ross have made much more conciliatory statements regarding US-Mexican relations. And the Mexican Central Bank took more ambitious steps to support the Peso. The net effect was a huge surge in the Peso, and not surprisingly, Mexican stocks (EWW):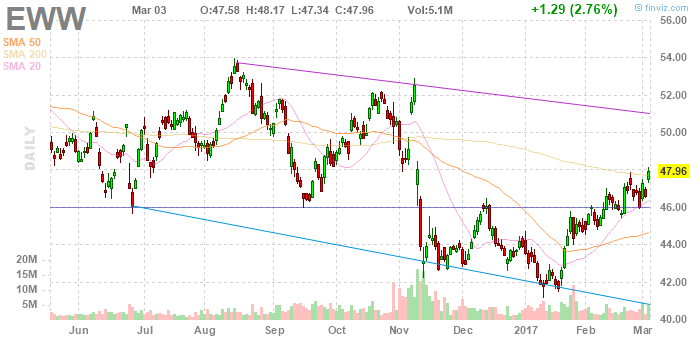 Mexican stocks are now back to where they closed on November 9th, the day after Trump won, and appear set to head up into the election night gap.
Two of the IMF's top four positions are Mexican firms, one being airport operator Grupo Aeroportuario del Pacifico (PAC). It's up 20% since I publicly named it my top pick for 2017 in January: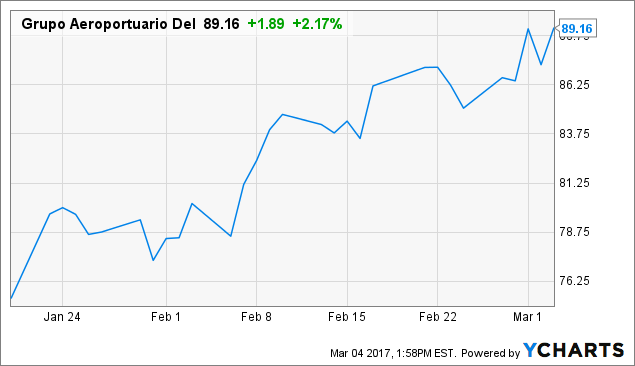 The portfolio's third-largest holding is another Mexican airport operator, Grupo Aeroportuario del Centro Norte (OMAB). This stock has been the single biggest driver of IMF performance of late, since it has rallied even more sharply. Being as exposed to NAFTA as it is, it sunk like a stone once Trump won, and is now surging back on positive traffic figures and the realization that Trump isn't really going to destroy US-Mexican economic relations: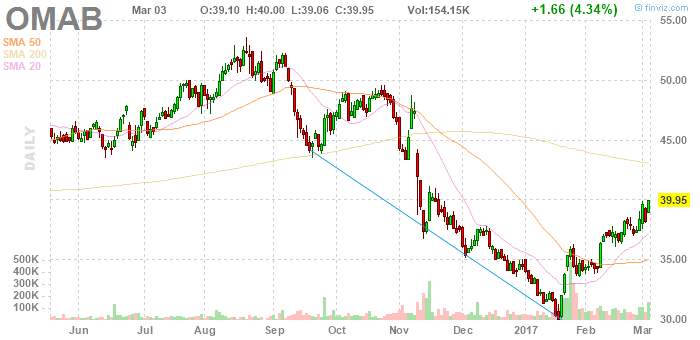 That is, indeed, a 33% rally since late January. And for a company with minimal leverage, a then greater than 6.5% dividend yield, and which grew earnings by more than 25% last year (in dollar terms no less). We can thank the occasional investor freak-out for offering rare deep value opportunities, even in 2017.
OMAB should trade back over 50 once Trump fears fully subside, offering a solid yield on cost for the portfolio and a 30% near-term capital gain on the fund's $38.55 cost basis for its shares.
This stock is a perfect example of figuring out whether a company's thesis is busted, or if the market is simply overreacting to a bump in the road. I started buying OMAB stock prior to Trump winning and had a mid-40s cost basis. After running up past 50, the stock fell more than 40% in two months. Had something gone wrong with my thesis?
In this case, no. Mexican air travel continues (and will continue) to grow. The early read on Trump is that he would talk loudly but not actually do too much damage to Mexico. Actual traffic at OMAB's airports, along with 2017 projections, support the case that Trump will cause a slowdown but not a collapse for the company's business. As such, this made for a great chance to dollar-cost-average into the company's shares, getting far more bang for the buck as it declined.
One shouldn't necessarily buy more of a stock just because it has gone down a lot. More than a few stocks that drop 40% go on to lose much more. But if people are panicking about a company, and yet your core thesis isn't impacted, you might be looking at a great buying opportunity. Over the course of an investing lifetime, there are dozens of situations like this that arise, where the market irrationally panics, creating the opportunity to load up on shares that will provide both strong growth and income for years to come.
Other Winners For February
Given the outsized positions in PAC and OMAB, those two stocks alone drove much of the fund's performance for February. The IMF holds 1.5% or greater positions in three other Mexican companies, and they were all up nicely for the month as well.
The consumer staples are starting to get their groove back as well. IMF #2 holding Diageo (DEO) has been on a tear since December, moving from 52-week low to near 52-week highs since then. Peer Brown-Forman (BF.A) (BF.B) confirmed the notion that if you buy something relatively cheap in a bull market, it will go up sooner or later. February was pay-off month for those of us who had been patiently buying the stock throughout the last year: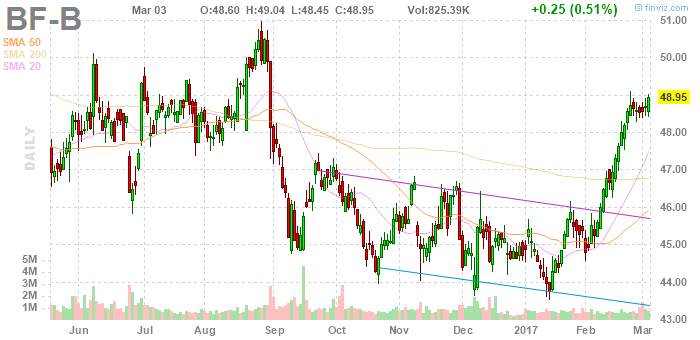 Other defensive names such as McCormick (MKC) and Hershey (HSY) are performing strongly. Heading into 2017, all the big-name analysts were saying to avoid consumer staples (XLP) in 2017, despite them badly underperforming in the back half of 2016. As is often the case, fading the popular consensus pays dividends.
Finally, a mention is in order for China Life Insurance (LFC), which continues to rally sharply in the face of a lousy Chinese banking climate and a torrent of capital flowing out of that country: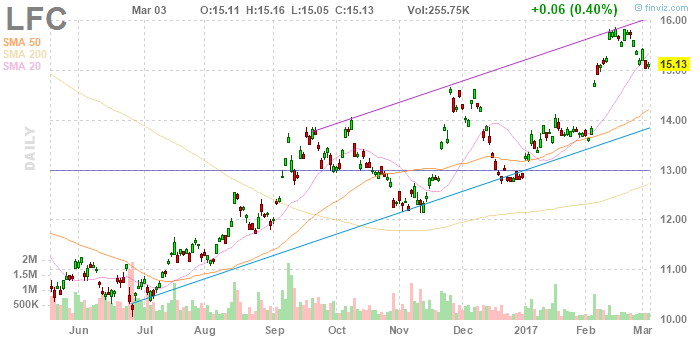 If the buy price is low enough, just about everything else can be wrong, as far as macro economic conditions go, and you can still make money.
What Didn't Go Right: A Holding Blows Up
2016's biggest winner for the IMF - on a percentage basis - is a front-runner to be 2017's biggest loser. Shares of Peruvian construction & engineering firm Graña y Montero (GRAM) rallied from my $2.32 cost basis up to $9 last year. They're now back to where I bought them, more or less: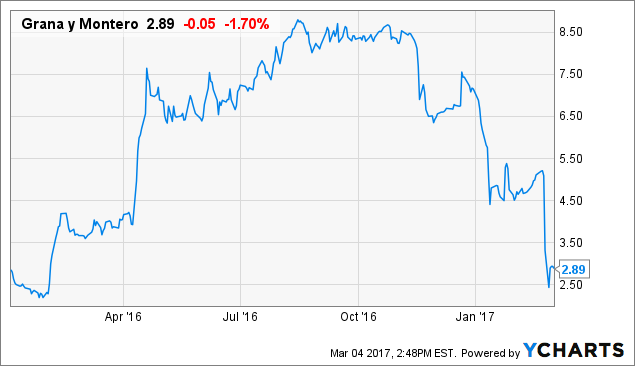 I mentioned this stock several times last year as one of the names I'd most like to sell if I weren't running this portfolio as a buy & hold operation. It's easy to look at a stock tripling and want to lock in profits. And in this case at least, it would saved some money; Graña's stock has been decimated in 2017.
The 35,000 employee company, one of Peru's largest employers, saw a key contract canceled due to bribery carried out by its Brazilian partner. That led to the January drop. The Brazilian partner testified that Graña was aware of the bribery as it was happening, leading to the most recent plunge.
As a trading stock, GRAM has worked well. We bought at $2.30 and sold at $2.93 within Ian's Insider Corner last week following the most recent revelations. But as an investment this one might be cooked. In theory the company still has huge franchise value and is an ideal play on Peru - Latin America's best performing economy at the moment. But in practice, there's a decent chance they run out cash and get liquidated before the scandal blows over.
That a holding could lose half its value on the month and my overall portfolio still trounce the S&P 500 speaks to the importance of diversification. In investing, particularly in small-caps, not everything will work out. But if you take smart risks, the winners should outweigh the blow-ups.
Top Holdings And Dividends
As of March 3rd, here are the portfolio's top 25 holdings in order:
Aeroportuario del Pacifico
Diageo
Aeroportuario del Centro Norte
Brown-Forman
National Grid (NGG)
Washington Trust Bancorp (WASH)
Tecnoglass (TGLS)
Fidelity Southern (LION)
BanColombia (CIB)
McCormick
Aviva (OTCPK:AVVIY)
Grupo Aval (AVAL)
Santander Mexico (BSMX)
Coca-Cola Femsa (KOF)
Cervecerias Unidas (CCU)
Orange (ORAN)
Fomento Economico Mexico (FMX)
Novo Nordisk (NVO)
CB Financial Services (CBFV)
Northrim BanCorp (NRIM)
China Life Insurance
First Guaranty Bancshares (OTCPK:FGBI)
Smith & Nephew (SNN)
BT Group (BT)
Telefonica (TEF)
As you can tell, I'm having trouble finding decent opportunities in the US lately. Ultimately, I'll have more American holdings in my top 25, but I am willing to wait until a significant correction hits the S&P 500 to start making that happen.
The largest holding is in PAC stock, which constitutes 5.1% of the portfolio. This is close to my target of having no stock make up more than 5% of the portfolio, though PAC's income may well come closer to 10% of the portfolio's overall dividends for the year due to its higher yield.
Speaking of yield, February was a weak month: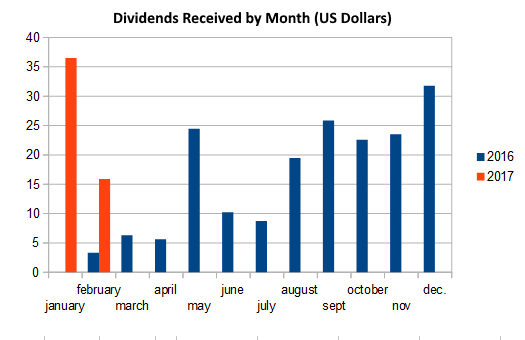 Of my less-than-quarterly paying foreign companies, only BT paid anything this month. Last month, by contrast, had a $14 dividend payment from Santander Mexico, among other things, to propel it to the record. I also simply don't have that many strong quarterly payers on the February/May/August/November cycle either.
Though it doesn't make a great deal of difference to me, as I'm unlikely to be living off dividend income for quite awhile, for investors who do, it's worth considering trying to balance out your month to month streams. If you have any preferred February payers (particularly if they are fairly valued) let's hear them in the comments.
Disclosure: I am/we are long OMAB.
I wrote this article myself, and it expresses my own opinions. I am not receiving compensation for it. I have no business relationship with any company whose stock is mentioned in this article.
Additional disclosure: Long all the other stocks mentioned in the top 25 positions list as well.