Once-promising medical breakthroughs often crash and burn when exposed to the infinite vagaries of human experience. For now, Kite Pharma (NASDAQ:KITE) is riding high on the crest of its latest trial results for its hot CAR-T gene therapy.
Kite's web site features an exceptional video clip (3:13 in length) that explains how its CAR-T therapy should work to kill cancer cells. Those who lack a technical background, such as myself, can get a basic understanding of the theories underlying the technology. The clip closes with a shot of the graphic above showing Kite's logo and its ambitious slogan, "Focused on the Cure."
Cancer patients and investors are keeping their fingers crossed. All hope that Kite has truly found a silver bullet to slay not only aggressive non-Hodgkin's lymphoma (the cancer targeted in the study recently announced), but also for a wide pallet of other cancers.
Kite's CEO enthuses over "biggest breakthroughs in cancer therapy since the introduction of combination chemotherapy more than 60 years ago."
CEO enthusiasm is critical for corporate success. Kite's founding CEO, Dr. Arie Belldegrun has heaping measures of enthusiasm. He is an archetypal successful CEO in this regard.
It is important for investors to consider the source when a CEO talks up his company's latest achievement. Obviously, this is not to say such statements ought to be disregarded. It is merely to state that they need to be carefully assessed. I never assume that a hyper-positive CEO is lying. Not at all. I assume that they believe their statements, but also that I need to verify them carefully before I act on them.
I bring this all up because I have become quite interested in Kite Pharma and its cancer therapies. I am trying to keep myself from becoming too enthused over its growing prospects. I have just completed reading Kite's Q4, 2016 conference call transcript. It tells an exciting story, all in the context of Kite's most advanced candidate, KTE-C19. EP Vantage recently published an article on SA providing an independent overview of the publically available Zuma I data to date.
In Kite's conference call introduction, Belldegrun is enthusiastic about results of Zuma I, a pivotal trial for the treatment of refractory, aggressive non-Hodgkin Lymphoma (NHL). After crediting the individuals and institutions who had worked on the KTE-C19 at different stages of its development, he characterized the results as showing:
... the biggest breakthroughs in cancer therapy since the introduction of combination chemotherapy more than 60 years ago.
Given medical science's successes in cancer therapies over the last recent decades, Dr. Belldegrun is making a bold claim. However, even if it is only partly accurate, it should present huge opportunities for Kite's patients, its employees, and last but not least, its investors.
Kite is hoping for its first round of many FDA approvals to occur no later than Q4, 2017.
On 12/4/16, Kite filed a rolling BLA application with the FDA for KTE-C19, the particular therapy that drew such rave conference call reviews from Dr. Belldegrun. It expects to complete the application by the close of Q1, 2017.
The slide below from Kite's January 2017 JPMorgan presentation which it boldly titled, "Engineering a Cure for Cancer", shows Kite's current schedule for milestones that it plans for KTE-C19 directed at other cancers: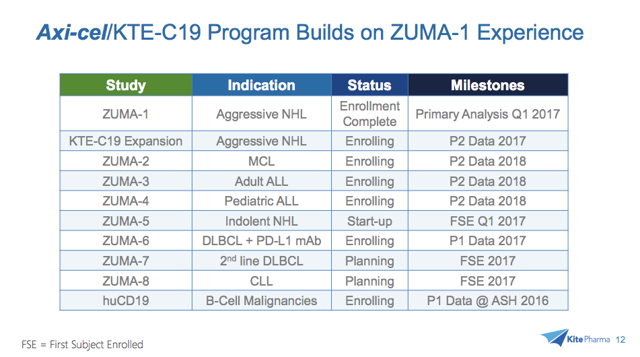 Kite is nothing if not aggressive. It is pursuing first mover advantage for KTE-C19 with single minded focus. Let me return to Dr. Belldegrun, Kite's cheerleader in chief. He states the following in his conference call opening remarks:
Today is a defining moment for CAR-T therapy as we announce exceptional outcomes with just a single infusion of axicabtagene ciloleucel, form ZUMA-1, the first pivotal multi center trial of CAR-T therapy in aggressive non-Hodgkin's lymphoma. The promise of CAR-T therapy is about to become a reality for patients. We were able to achieve these results in record time, less than two years from initiation of axi-cel Phase 1 clinical program at Kite to announcing six month follow up data from our pivotal study.

Given the complexity of this trial and the introduction of CAR-T therapy to a multitude of new clinical sites across the U.S. and in Israel, the outcome reflects the flawless execution by the team, not just the clinical study team, but also those in technical operations who manufactured axi-cel at a 99% success rate with the shortest turnaround time from leukapheresis to treatment,... [The term 'leukapheresis' refers to a process that Kite employs to separate white blood cells from a patient's blood.]
This effective marriage of execution and speed to which Dr. Belldegrun refers reminds me of tales of Gilead's heroic efforts to bring Sovaldi and then Harvoni to market after its acquisition of Pharmasset. When employees are working on therapies that are uniquely effective it seems to focus their attention.
On the other hand the time frame throws up a huge caution sign. Insofar as this grand endeavor has been going on for such a short time it highlights the lack of evidence to show persistent positive responses. Talk of a cure seems a bit overblown for something as yet so unseasoned.
Kite has everything teed up for commercial launch immediately following FDA approval.
Kite has been working methodically for several years to assure that it is ready to accommodate anticipated demand for KTE-C19 from around the world. Its therapy requires far more complexity of administration than a typical inoculation or infusion.
Ins its 10-K, at pages 29 and 30, Kite sets out no fewer than 19 bullet points listing risk factors associated with managing the processes necessary for commercial launch of KTE-C19. Keep in mind that Kite intends to start its commercial launch immediately upon approval of KTE-C19. The following excerpted bullets provides a flavor of the types of issues involved:
our commercial manufacturing facility may not pass pre-approval FDA inspection;
we may not be able to manufacture adequate commercial supplies of KTE-C19 or obtain raw materials to meet demand or at an acceptable cost;
we may be unable to manage the logistics of providing patient-by-patient therapy on a commercial scale;
our Kite Konnect and associated technology platform, which will track orders from patient enrollment to the collection of the patient's cells to infusion of KTE-C19, may not be sufficiently developed by the time of launch or may face technical issues post-launch;
Kite, has obviously gone to great pains to assure that its logistics are as impressive as its therapy. Indeed, its Kite Konnect strategy, as illustrated by the following slide from the "Engineering a Cure For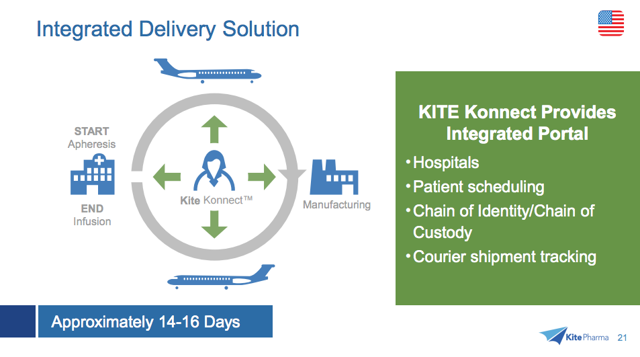 Cancer," slide deck, shows the extent of planning that Kite has expended in preparing its logistics.
Kite's CFO, Paul Jenkinson, gave a quick run down of Kite's cash expectations for the year as follows:
We expect full year 2017 revenue to be between $40 million and $50 million, which assumes no product revenue with full year 2017 GAAP operating expenses to be between $490 million and $515 million. As indicated in our quarter-three call, we expect to have sufficient cash resources to fund operations, including announced clinical programs and research initiatives through the first half of 2018. As a reminder, this estimate excludes cash inflows or cash outflows from future business development activity, if any.
It is theoretically possible, if Kite got an early FDA approval, that it could have product revenue in 2017. Kite does not expect it. Accordingly it looks to be another year before investors will have actual sales and market pricing information to work with.
Conclusion
Kite is reaching for the stars. It has full confidence in its therapy and in its procedures. As somebody in common with every reader of this article who may fall into dire need for a cancer cure, personally or for a cherished friend or relative, I wholeheartedly root for Kite.
Unfortunately, favorable trial data for finite periods is a long way from proof of a cure. At this point Kite's ambitions are bracing but unproven. The conference call points out that there will be many data sets coming out down the road. At the current time my position is to remain watchful. I have a small bet on the table. I intend to raise it in small increments.
Somehow I cannot manage to get the fable of Icarus out of my mind when I evaluate Kite. It is a relatively small company. It lacks experience in the important tasks it is about to undertake when it starts actual marketing of its therapy.
It is undertaking these massive efforts in the face of extensive competition. This competition just about guarantees that Kite will face patent disputes among other challenges. Indeed its 10-K reveals, at page 101, that it is already in patent litigation with Juno over Kite's right to commercialize KTE-C19.
Those who follow the healthcare industry are sure to take more notice of Kite as it rolls out its therapies. I am cautiously optimistic that an investment in Kite will turn into money good. I am rather confident that an investment in Kite will involve serious ups and downs.
Those who lack the stomach for herky-jerky rides need to be cautious about getting on roller coasters. It is not customary for me to use stock charts at the end of articles, but since I mentioned roller coasters I am going to do so in this case. Kite's stock chart sure looks like a roller coaster to me.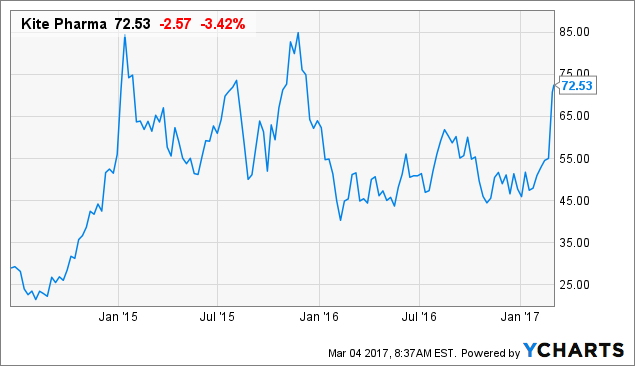 Disclosure: I am/we are long KITE.
I wrote this article myself, and it expresses my own opinions. I am not receiving compensation for it (other than from Seeking Alpha). I have no business relationship with any company whose stock is mentioned in this article.
Additional disclosure: I may buy or sell shares in Kite over the next 72 hours.