It is the political controversy du jour out of Washington. On Saturday morning, the President of the United States engaged in his latest Twitter firestorm by declaring that he had been wiretapped by his predecessor. This assertion came in response to allegations by Democrats that members of the Trump administration have been engaging in improper contact with the Russians. Whether either side is right or wrong in this latest dust up remains to be seen. But it has an important spillover effect that is increasingly problematic for the U.S. stock market.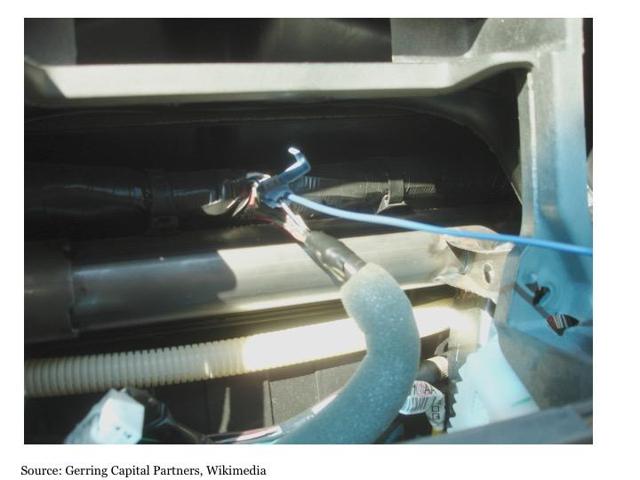 Sidetracked
When Mr. Trump won the presidency back in early November, the markets overcame some overnight jitters to immediately start rallying amid the belief that a GOP president along with a Republican controlled Congress would be swift in enacting pro-growth legislation upon entering office in January. This included corporate tax reform, individual income tax reform, a repeal of the Affordable Care Act, the rolling back of Dodd-Frank banking regulations and a $1 trillion infrastructure program.
Here is the problem.
Today is Monday, March 6. Four months have now passed since Election Day. And we are also now 45 days and counting from Inauguration Day in the United States. Yet little to nothing has been put in motion associated with the legislative transformation that investors have been banking on and were so quick to fully price into the market months ago now. And with each passing day, the probability getting any of these legislative priorities successfully in motion is increasingly fading away.
So how does the latest wiretapping face off play into all of this? Because it is one more distraction that will keep the administration and lawmakers tied up with something else other than working toward the pro-growth legislation that the market assumed as given so many months ago now. How long this latest back and forth continues remains to be seen. But each day lost is one day closer to getting nothing done at the end of the day, as the build up to the mid-term election cycle is coming quickly around the corner.
Looking ahead, one increasingly gets the sense that the latest confrontation on wiretapping will not be the last political donnybrook that we see out of Washington in the coming weeks and months. And with each new distraction brings another day without meaningful legislation action. Moreover, the ongoing contentiousness associated with these ongoing fights also helps ensure that negotiations that might finally get underway on any of the pro-growth legislation will get quickly bogged down and potentially stalled amid the bickering.
The longer this pro-growth legislation does not come to pass, the increasingly bearish this becomes for the U.S. stock market that not only expects it but has already priced it in and a whole lot more.
Neither "Soft" Nor "Hard"
It would be reassuring if the potential fading of hope could be offset by steadily strengthening fundamentals. Unfortunately, these are also increasingly on the wane.
Consider corporate earnings. Over the past week, the estimate for 2016 Q4 annual as reported earnings continued to drop like a rock, falling another -0.39% versus just a week earlier and now more than -4% lower from where this reading was at the start of the year. And the forecast for the coming quarter in 2017 Q1 is deteriorating equally as fast, as the annual as reported projection has fallen by more than -5% and counting to date, including another half point drop in the past week.
The quarterly reading for earnings also took another beating in the past week, as the 2016 Q4 as reported quarterly estimate dropped another -1.46% to $24.95 per share, which is now down more than -8.5% versus the estimate at the start of the year. Moreover, this latest reading now represents a -1.73% decline versus the previous quarter in 2016 Q3, which is a far cry from the +7.48% sequential increase in earnings at the start of the quarter.
The Bottom Line
We have a situation where the "soft" narrative of pro-growth policy hopes is quickly fading away while the "hard" data reality is increasingly deteriorating in its own right. At the same time, the U.S. stock market (NYSEARCA:SPY) is streaking to new all-time highs based almost purely on expanding already historically high valuation multiples. This is a toxic brew for a jarring market correction if and when any such reflex returns to the stock market (NYSEARCA:DIA).
For these reasons, while I remain short-term bullish on stocks outside of the expectation for a reasonably sharp but swift correction at any time now, I am becoming increasingly bearish over the intermediate term out beyond the next few months. And the longer the political brawling continues in Washington, the more bearish I am likely to become over shorter time horizons. At the same time, I continue to favor defensive stock allocations such as consumer staples (NYSEARCA:XLP) and utilities (NYSEARCA:XLU) over their more cyclical counterparts such as industrials (NYSEARCA:XLI), for not only are defensive stocks now relatively attractively valued versus their cyclical peers, but they also provide a measure of safety in the event of any near-term market decline.
Hopefully, the partisanship and fighting in Washington will start to subside and policy makers can get down to the business of productive legislation to support the economy. But while this is my hope, unfortunately, it is not my expectation any time soon.
Disclosure: This article is for information purposes only. There are risks involved with investing including loss of principal. Gerring Capital Partners makes no explicit or implicit guarantee with respect to performance or the outcome of any investment or projections made. There is no guarantee that the goals of the strategies discussed by Gerring Capital Partners will be met.
Disclosure: I/we have no positions in any stocks mentioned, and no plans to initiate any positions within the next 72 hours.
I wrote this article myself, and it expresses my own opinions. I am not receiving compensation for it (other than from Seeking Alpha). I have no business relationship with any company whose stock is mentioned in this article.
Additional disclosure: I am long selected individual stocks as part of a broadly diversified asset allocation.