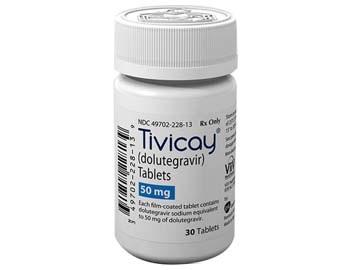 GSK's dolutegravir. Source: millionpharma.com
Gilead's (NASDAQ:GILD) vaunted HIV franchise showed cracks and the stock fell 10% shortly after Q4 earnings were reported. Without a strong showing from HIV, I do not believe GILD has much upside. That's problematic as GlaxoSmithKline's (NYSE:GSK) (OTCPK:GLAXF) (OTC:GLXKY) (OTC:GLXQY) HIV drug unit, ViiV Healthcare, is betting on a two-drug regimen that could be a game changer. ViiV held an investment analyst update in mid-February. This is what I learned.
GSK Focused On Minimizing Need For Cumulative Drug Exposure
Glaxo is the second-largest HIV company, with revenue of about $5.2 billion versus Gilead's $12.9 billion. Long-life antiretroviral therapy that the HIV infected have to endure has created a need to minimize cumulative drug exposure. Glaxo wants to develop HIV therapies that meet that need. It believes the potency, safety and resistance barrier of dolutegravir and the efficacy, safety and tolerability of Johnson & Johnson's (NYSE:JNJ) rilpivirine make them ideal for a two-drug regimen.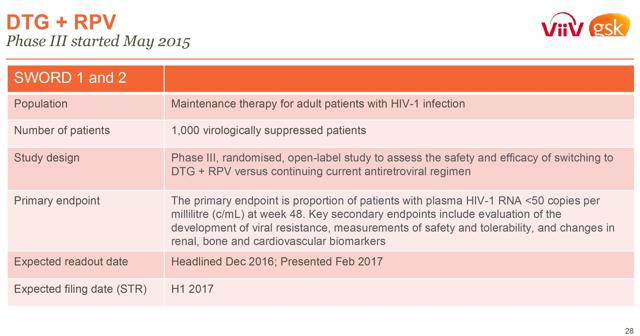 Source: February 15, 2017 ViiV investor and analyst update
In two phase 3 studies, the combo measured up to three- or four-drug combos in terms of efficacy. The two-drug combo was also non-inferior to the continuation of three- or four-drug regimens in virologically suppressed HIV infected.
Two-Drug Regimen Could Potentially Threaten Gilead's HIV Franchise
I had originally assumed that a two-drug regimen would only be a threat to Gilead's Atripla in terms of efficacy, and threaten Stribild and Genvoya on price:
GSK could be a direct threat to Gilead's Atripla. Atripla is a popular 3-in-1 HIV-1 treatment... Atripla's sales have likely been cannibalized by Gilead's single-pill regimens, Genvoya and Stribild... If approved, GSK could potentially market its two-drug regimen in the same manner that Gilead has marketed Genvoya - similar efficacy with fewer pills and at lower dosage levels...

Stribild and Genvoya are already getting customers to switch from older HIV treatments. However, GSK might be able to compete on price ... The sell to payers could be that not only does the two-drug combo have less side effects, but it is cheaper and offers an alternative to Genvoya and Stribild.
Genvoya's TAF-based regimen allows patients to take a single pill and a lower dosage. However, Genvoya is still four medicines in one pill. Glaxo's argument is that its two-drug combination is an advancement over Genvoya's four-drug combination because [i] it uses fewer drugs and has less side effects, and [ii] it can deliver efficacy similar to what is currently on the market. If Glaxo's two-drug regimen is approved, it could potentially threaten Gilead's entire HIV franchise. Analysts from Leerink concur with this assessment:
Gilead investors are likely to remain cautious about the threat posed by Glaxo's dolutegravir-rilpivirine doublet program, which showed almost equally impressive results in two large phase III switching trials. GSK's doublet should be on the market a year from now, and will maintain the intense competitive pressure that ViiV Healthcare has been able to apply to Gilead's dominant HIV franchise.
That said, Gilead's Q4 revenue fell 3% sequentially. Revenue from its HIV franchise, which includes Atripla, Truvada, Stribild and Genvoya (amongst others), fell 4%.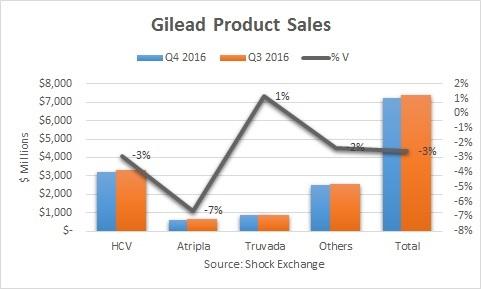 Not only is HIV 47% of total revenue, but it is expected to be the company's remaining catalyst now that HCV revenue has free fallen. If Glaxo's two-drug regimen is approved and performs up to par, it could upend Gilead's only growth engine.
Expected Regulatory Filing Some Time This Year
I originally assumed Glaxo could potentially bring its two-drug combination to market this year. I now understand that Glaxo expects to seek regulatory approval some time in 2017, and the drug could potentially come to market in 2018. That gives Gilead a year to respond. As Glaxo's regulatory filing date approaches, sentiment in GILD could take a turn for the worst. As an aside, Glaxo's management has not divulged potential pricing for the combo or profit sharing between it and Johnson & Johnson. It might be too early to turn bullish on Glaxo until those details have been ironed out.
Conclusion
The good news for GILD bulls is that Glaxo's two-drug HIV regimen might not hit the market until 2018. The bad news is that it could threaten Gilead's entire HIV franchise, not just Atripla. Gilead currently controls 51% of the HIV market, while Glaxo has about 20%. That could change. GILD remains a sell.
Disclosure: I am/we are short GILD.
I wrote this article myself, and it expresses my own opinions. I am not receiving compensation for it (other than from Seeking Alpha). I have no business relationship with any company whose stock is mentioned in this article.
Editor's Note: This article discusses one or more securities that do not trade on a major U.S. exchange. Please be aware of the risks associated with these stocks.