Ultra high end luxury goods company Hermès (OTCPK:HESAF)(OTCPK:HESAY) appears to have been left criminally under-covered here on Seeking Alpha. This is strange for a couple of reasons. Firstly, and as you'll see below, Hermès generates freakish levels of profitability, especially for a retailer. Secondly, the company's earnings growth and long-term shareholder returns have been off the chart impressive. When it first listed on the Paris Bourse in 1993 the shares were changing hands for a split-adjusted price of €5 each. Today they are going for over €400 each. That's equivalent to annual returns of over 20% before taking dividends in consideration.
Business Overview
Since Hermès appears to be so under-covered here on Seeking Alpha let's start by taking a brief look at the business.
Founded in Paris in 1837 as a high end manufacturer of harnesses and girdles the modern day Hermès operates just over 300 stores in approximately 50 countries. Broadly speaking the company can be broken down into its three largest operating segments: Leather Goods & Saddlery, which includes handbags, luggage and equestrian gear; Ready-To-Wear & Fashion Accessories, encompassing male & female clothing, belts, gloves, hats and shoes; and Silk & Textiles, which includes apparel such as scarves and ties.
Between them those three segments account for the vast bulk of total group revenue - approximately 80% as of the first half of 2016. The remainder comes predominantly from perfumes, watches, jewelry and homeware items.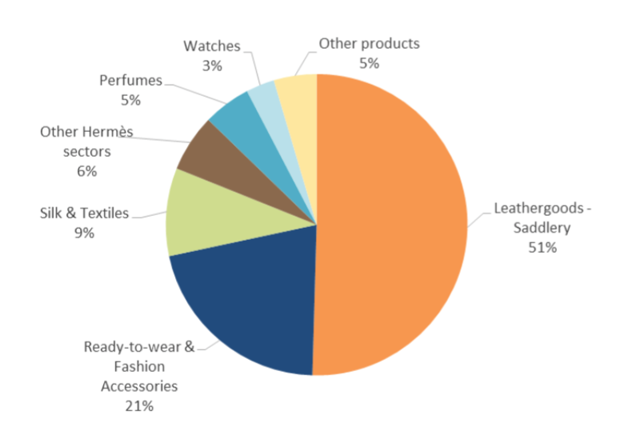 (Source: Hermès H1 2016 Results Presentation)
On a geographic basis Asia Pacific (excl. Japan) represented the largest reporting segment with just over a third of total group revenue, followed by Europe (excl. France) and the Americas which account for just over an additional third combined.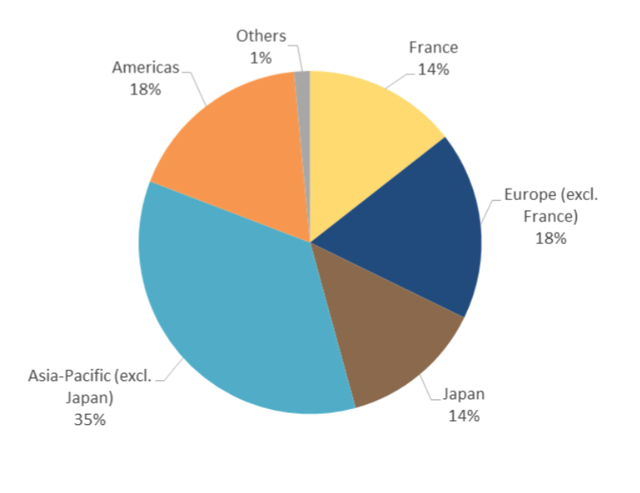 (Source: Hermès H1 2016 Results Presentation)
The (Luxury) Brand Equity Effect
The first aspect of the long-term investment case rests on just how obscenely profitable Hermès' underlying business is; primarily a result of its huge branding power.
An issue facing luxury goods retailers is how to effectively keep an image of exclusivity whilst still growing sales and maintaining profit margins. Basically the more available a luxury product is, the less desirable it becomes. The issue is arguably even more important for Hermès because it operates at the extreme end of the luxury segment. You can't charge $10,000 for a handbag if they're seen to be commonplace.
To date the company has circumvented this issue expertly with a focus on product quality and nontraditional marketing tactics. In terms of the former the company's products are individually handmade; almost exclusively in France.
In terms of the latter the company employ a variety of tactics to create product demand. It regularly, and deliberately, appears to limit the availability of its most coveted items; the famous Birkin handbag being a great example of this. Each one is handcrafted by one individual, which ostensibly is the reason for their relative scarcity and the existence of a "waiting list". Indeed the debate over whether said waiting list actually exists has taken on an almost legendary tale among affluent customers.
In reality the process by which mere mortals can purchase one of the company's flagship products is actually deliberately vague. It's a highly effective form of building brand equity in the luxury goods space whilst still allowing for sales growth each year. This brand equity then cascades down the value chain to the company's "cheaper" products: $150 for a pocket square, $425 for a silk scarf and so on.
In addition the company maintains a very strong control over the direction of its brand through the in-store experience. Limited-edition items are commonplace and often unique to a specific location, for example. Again this promotes an image of exclusivity whilst still allowing for sales growth.
The net result of all this is that Hermes exhibits tremendous pricing power leading to obscene profit margins. Over the past five years Hermès has converted around 15-20% of sales into hard free cash flow.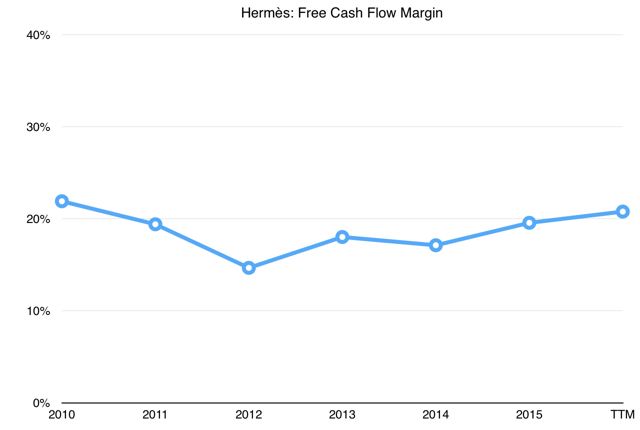 On a trailing-twelve-month basis the company generated net income of just over €1 billion versus total invested capital of €3.7 billion. In one year alone that would be impressive enough, yet Hermès has a track record of generating those extremely high levels of profitability. Over the past five years the average return on capital has averaged over 25%. In reality the underlying figure is actually much larger as this doesn't take into account the high levels of cash that Hermès has sitting on its balance sheet.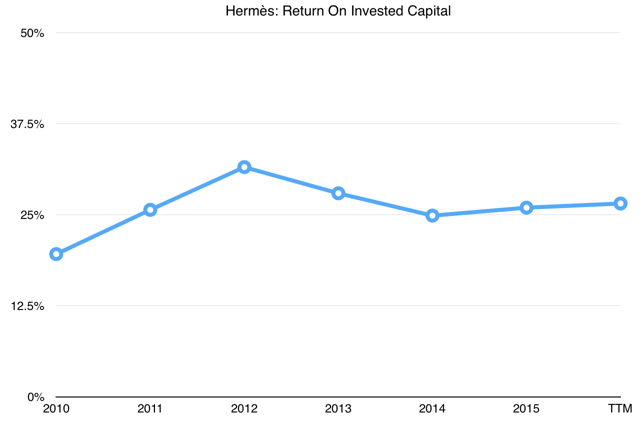 The Growth Story: Led By Asia
The second aspect of the long-term investment case has been the runaway growth experienced since IPO, but in particular over the past decade or so. In 2005 the company were reporting revenue of €1.4 billion, of which €247 million ended up on the bottom line. For 2016 consensus forecasts are for €5.2 billion in sales and approximately €1.1 billion in net profit. On a per share basis that works out to average annual revenue growth of 13% and average annual earnings growth of just under 15%.
A huge driver of that has been the growing contribution of Asia ex-Japan, led by the greater China region. As a share of overall group sales Asia Pacific ex-Japan accounted for around 17% a decade ago. At the end of 2016 it was approximately 35%. Over the same time frame the total number of stores in China, Hong Kong and Macau has risen from sixteen to thirty-six.
In addition, increasing tourism from emerging economies has helped to drive sales growth in the mature markets of France and the rest of Europe. Even though these two regions now account for a lower share of overall sales than ten years ago they've still posted annual top line growth of 9.35% and 13.35% respectively.
Notwithstanding some volatility along the way the potential for future growth looks solid in the long-run. China's GDP per head of population is still a fraction of that in Japan and South Korea for example. The reason I bring these two countries up is that they form rich markets for Western luxury goods companies. Between them they account for around 20% of Hermès' total store count. Japan, which the company breaks out separately for reporting purposes, generates almost 15% of total sales.
When you consider that mainland China has 10x the population of Japan but still less than half of its GDP per head of population then the long-term the growth prospects look attractive; even if it is a bumpy ride along the way.
The Dividend
As you'd expect given the combination of high quality cashflow and a high rate of earnings growth Hermès' dividend growth has been similarly impressive. Back in fiscal year 1997 the company were paying out an annual dividend of €0.19 per share after adjusting for a couple of 3-for-1 stock splits along the way. This year Hermès has paid out around €3.35 per share on a trailing twelve month basis. That's compounded annual growth of around 17% a year over the past couple of decades. Furthermore, the distribution has risen in every single year over that time frame.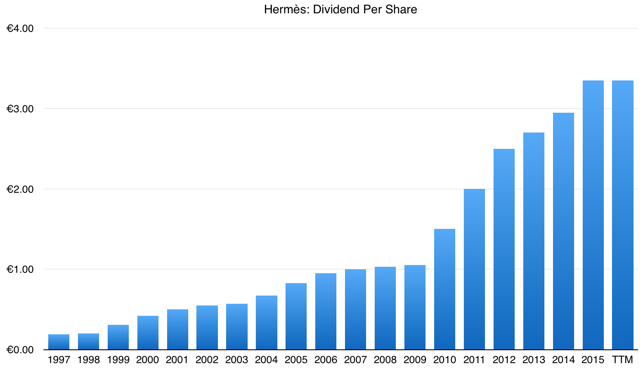 The major downside is that the stock nearly always trades with a low yield due to a combination of a significant value premium and a low pay-out ratio. At the current share price of €418 the trailing twelve month dividend yield is well under 1%. It's not really going to do anything for those looking for current income.
On the plus side you've got a few additional points though. Firstly, there is a huge runway for future growth due to aforementioned earnings growth potential plus some pay-out ratio expansion. Right now Hermès is only paying out around 30% of net profits by way of cash dividends.
Secondly, the company is literally generating more cash than it knows what do with. Despite paying out an extra €10 per share in special dividends since 2010 net cash on the balance sheet has risen from €800 million to €1.5 billion. It seems likely that more and more cash will find itself going into shareholders' pockets going forward.
Finally, shareholders' long-term interests are nicely aligned with that of the controlling Hermès family. Given that they own approximately 65% of the total shares in issue then long-term dividend growth in everyone's interest.
The Value Premium
For many people this is where the investment case will appear to come unstuck. If you pull up Hermès' fundamentals you will find trailing twelve month earnings per share of around €10 stacked up against a current share price of €418. That gives the shares a current earnings yield of just 2.4%. Indeed if you look at the historical figures you'll see Hermès has pretty much always traded with a large value premium.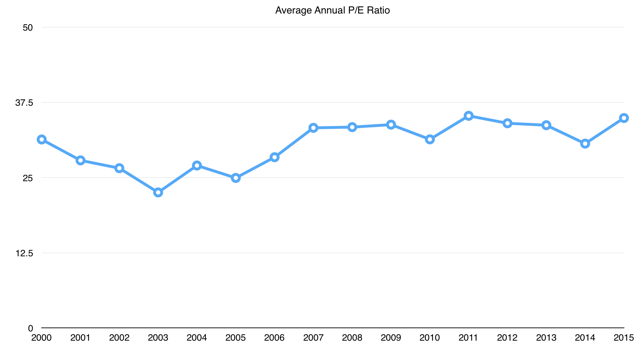 As always the question ultimately boils to whether the company can maintain a level of growth to compensate for the current high earnings multiple. The numbers would suggest this is a tough ask whilst still allowing for a suitable margin of safety.
To illustrate that let's look at the company's latest trading update from January. Full year sales growth for 2016 came in at 8%, whilst the company expect underlying profitability to increase compared to 2015. The issue is that even a decade's worth of 8% annual earnings per share growth would be largely wiped out if the P/E ratio reverted to the low-20s. I'm not saying that is going to happen, but it does illustrate how little the margin of error is here. With its shares trading at a 30% premium to their historical average prospective investors may want to keep Hermès on the watchlist for now.
Disclosure: I/we have no positions in any stocks mentioned, and no plans to initiate any positions within the next 72 hours.
I wrote this article myself, and it expresses my own opinions. I am not receiving compensation for it (other than from Seeking Alpha). I have no business relationship with any company whose stock is mentioned in this article.
Editor's Note: This article discusses one or more securities that do not trade on a major U.S. exchange. Please be aware of the risks associated with these stocks.