WTI (NYSEARCA:USO) finished the week down slightly by 1.22%.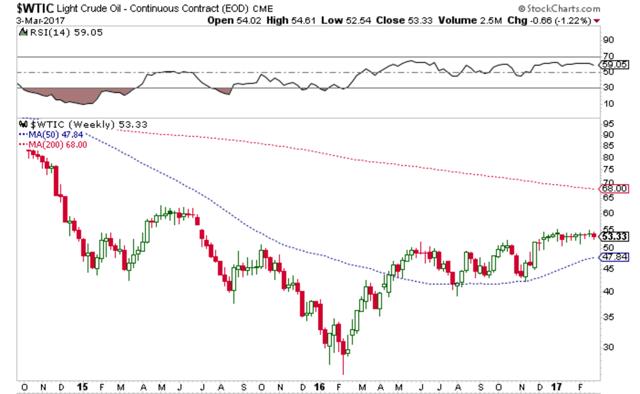 Range bound price action continues to plague the oil markets. Media pundits continue to pin the range bound price action to US shale putting a cap on oil prices. While the front month oil contracts remain stubbornly trading in a range, the oil price curve has flattened considerably over the last several months.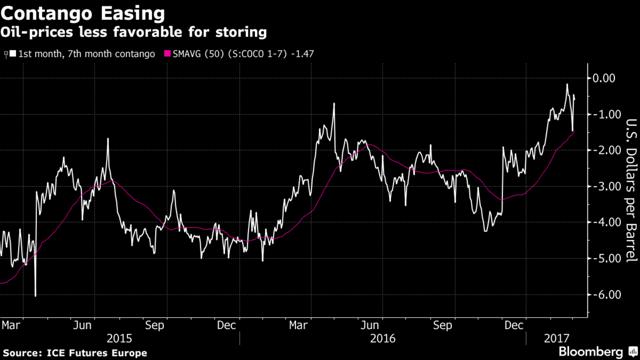 Source: Bloomberg
As the oil curve moves from contango into backwardation, there are many reflexive implications that take place. As Pierre Andurand recently put it in an interview with Hedge Fund Journal: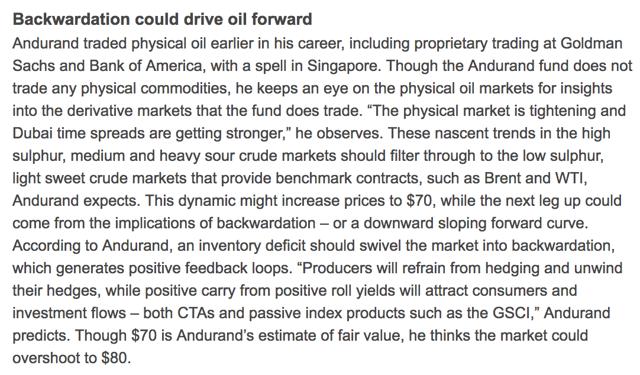 Source: Interview
When oil prices move into backwardation, traders will want to start unloading unprofitable contango trades as highlighted in this article by Bloomberg. Unprofitable carry trades will be sold, and we could continue to see offshore storage decrease. However, the impact on onshore storage will have a delayed effect, and likely cause some to worry about inventories bloating again. US crude storage is at an all-time high and giving some bears the ammunition for calling lower oil prices. We think the market is much more forward looking than simply paying attention to the current storage levels. Waterborne shipping volumes are decreasing as a result of the OPEC production cut, and we will start to see the impact filter through in US crude storage starting March.
We think there are many fundamental forces that are currently tailwinds for the global oil markets, and the consensus' obsession with US crude production growth is hilarious if not downright delusional. US crude production, according to EIA, is expected to grow by 400k b/d in 2017, yet production declines from China and other non-OPEC countries will easily wipe out those gains. Pierre Andurand's thesis is similar in that he believes non-OPEC production should disappoint to the downside this year.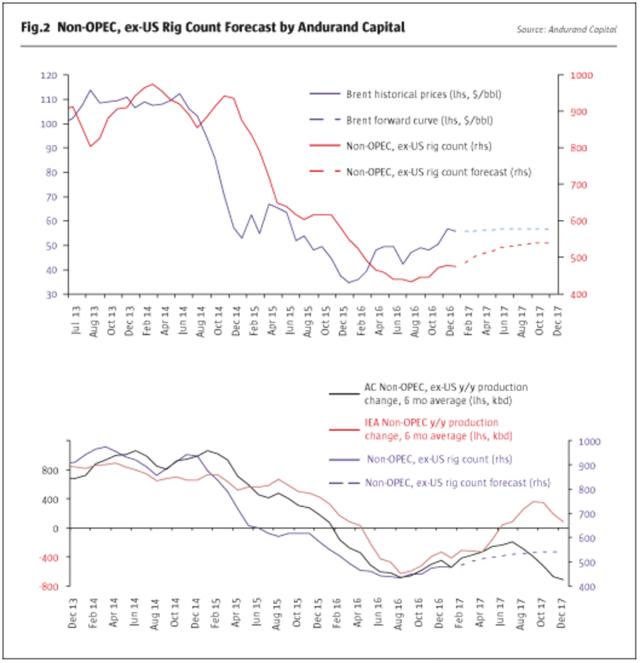 Source: Andurand Capital
While his projections are far more aggressive than ours, the contrarian prediction for non-OPEC production to actually decline this year will be one to pay very close attention to. IEA, EIA, and OPEC expect non-OPEC production to rebound, while our forecasts are vastly different.
We think the current set-up in the oil market remains attractive with several North American based E&P companies trading at very attractive valuations. We recently updated our best idea of 2017, Gear Energy (GXE.TO, OTCPK:GENGF) here, and we look to add other attractively priced energy names to our HFI Portfolio.
For analysis of how we are positioned and detailed oil market analysis, you can sign up here. For more info on premium, you can read this.
Disclosure: I/we have no positions in any stocks mentioned, and no plans to initiate any positions within the next 72 hours.
I wrote this article myself, and it expresses my own opinions. I am not receiving compensation for it (other than from Seeking Alpha). I have no business relationship with any company whose stock is mentioned in this article.