Despite great growth prospects, ZAGG's (NASDAQ:ZAGG) hardships associated with a troubling acquisition and lower margins, the stock is now should be put on hold, until some good signs appear.
ZAGG's story
ZAGG's products are characterized by high demand whether you are in the U.S. or in Russia, because an average representative of our generation mostly cannot live without a smartphone (and smartphones have a tendency to discharge and break down).
As smartphones are becoming a more and more important in our lives, demand for complementary goods to them grows as well. The former thesis should not be of doubt as number of smartphones sold to end users globally increased in the last ten years with a CAGR of 32% demonstrating more than 12-fold growth over this period.
It should be noted that key users of ZAGG's products are owners of Apple (NASDAQ:AAPL) and Samsung (OTC:SSNLF) models, and Apple's sales in terms of units are decreasing, but the story of joining the booming smartphone market is still promising.
Fig. 1 - Number of smartphones sold to end users worldwide from 2007 to 2016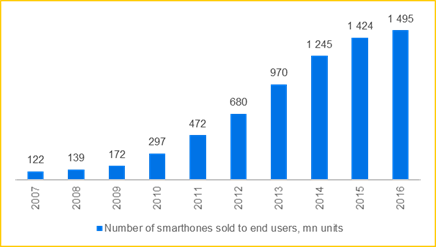 Past stock performance
In 2016, stock price of ZAGG fell some 40% due to multiple sales and earnings misses, which led to the fact that investors have lost trust in the company.
Fig. 2 - Stock performance of ZAGG vs. S&P 500 in 2016 (source: Bloomberg)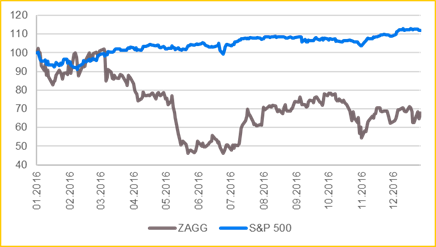 Financials
The management guidance for 2016FY net sales is US$ 400-420 mn; the 4th quarter and 2016 full year results will be announced on March 7. This figure (US$ 400-420 mn) is 52% higher than 2015FY net sales, nevertheless, one should take into account the recent acquisition of Mophie, a manufacturer of battery cases (deal value - US$ 100 mn). A short excerpt from the 3 rd quarter press release:
"Net sales for the third quarter grew 87% to $124.7 million compared to $66.8 million. This increase was primarily due to Mophie sales of $39.7 million, increased sales of screen protection and audio products, and an increase in online and international sales."
Although this is not a one-off, and Mophie will continue to contribute this share of revenue, net sales are not likely to show such high growth rates. That is why I use 5% net sales growth rate for the forecasted period in my DCF.
There is a serious alarm signal in the form of gross margin decrease - gross margin for the first three quarters of 2016 totaled 35% vs. 38% for the same period of 2015. It can be referred to as a product of integrating with Mophie, however, I think it would be fair to use 36% as gross margin for the forecasted period.
Another alarm signal is that (and this may be a product of the Mophie acquisition, which I think, was a good deal) cash decreased while ZAGG took on some debt in the amount of US$ 15.5 mn, and this is reflected in my valuation.
What can worry a potential investor apart from low margins and net sales guidance miss is (1) strong dependence of ZAGG on sales of iPhones and, to the lesser extent, Samsung models; and (2) strong dependence on key clients.
For example, see this excerpt from the annual report of the company for 2015:
"A small number of our retailers account for a significant amount of our net sales, and the loss of, or reduced purchases from, these or other retailers could have a material adverse effect on our operating results".
The four key customers of ZAGG accounted for 55%, 58% and 57% in 2013, 2014 and 2015, respectively. Moreover, the three key customers of the company took up 66% and 65% of its accounts receivable in 2014 and 2015, respectively.
Analyst recommendations
I like to give a brief overview of analyst recommendations on covered companies just to provide an insight of how an investment community sees the stock at the moment. There are 4 "Buy" recommendations and 1 "Hold" recommendation (as per Bloomberg). Consensus target price for the stock is US$ 7.83, which corresponds to a 28% upside. I do not fully agree with the dominant recommendation as well as the consensus target price due to the factors described above and in the following sections.
Valuation
Comparative valuation analysis in this case is somewhat pointless due to serious problems ZAGG faces in terms of margins, revenue growth and so on. Still, comparable companies in the Consumer Electronics sector have very high valuations, which actually is in line with the main growth hypothesis for ZAGG. Technology gets a stronger grasp of our generation and all supporting goods are going to do the same. It is a simple microeconomic rule of complementary goods.
Median EV / Sales multiple for the set of comparable companies in the abovementioned sector totals 1.6x (2016FY), whereas median EV/EBITDA multiple equals 10.8x (see table below).
Most assumptions I used in the DCF analysis are described in the Financials section. Discounting cash flows at a WACC of 16%, we get to the target price of US$ 6.8 (ca.11% upside to the current price). I firmly believe, this is not the upside potential, which is enough for us buying such a risky stock. Nevertheless, ZAGG is still a great growth story, because the market is booming, because there is high demand on the company's products, and, finally, because the company closed a very well priced acquisition and so on. As a possible argument for the future growth of the company, in the 3Q2016 conference call CEO of the company said that margins of the ZAGG business are increasing and the problem is in integrating a failing Mophie business. Come 4Q2016 results, or, what's more likely, 1Q2017 results, the situation will be clearer, but it's a hold for now. Still, I will keep this stock in mind and recommend you do the same.
My DCF analysis is attached here.
Table 1 - Valuation of comparable companies (source: Bloomberg)
| | | | | | |
| --- | --- | --- | --- | --- | --- |
| Company | Country | Market cap, US$ mn | EV, US$ mn | EV / Sales (2016) | EV / EBITDA (2016) |
| ZAGG Inc | USA | 170 | 213 | 0.5 | 5.5 |
| Harman International Industries (NYSE:HAR) | USA | 7 800 | 8 455 | 1.1 | 10.5 |
| Bang & Olufsen (OTCPK:BGOUF) | Denmark | 629 | 531 | 1.2 | 77.2 |
| Focusrite | Britain | 150 | 142 | 1.9 | 10.1 |
| B&C Speakers | Italy | 102 | 103 | 2.5 | 11.1 |
| Rockford Corp. (OTCPK:ROFO) | USA | 88 | 94 | n/a | n/a |
| | | | average | 1.7 | 27.2 |
| | | | median | 1.6 | 10.8 |
Fig. 3 - Football field for ZAGG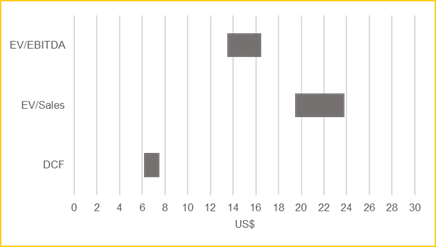 To conclude, investors should wait for a sign that ZAGG is able to efficiently integrate Mophie in its operations, improve margins and boost sales. This can be discovered in the next quarter results announcement or in the one after that, but for now the stock should be put on hold. If the growth story starts to unfold, upside potential is the one that is worth waiting.
Disclosure: I/we have no positions in any stocks mentioned, and no plans to initiate any positions within the next 72 hours.
I wrote this article myself, and it expresses my own opinions. I am not receiving compensation for it (other than from Seeking Alpha). I have no business relationship with any company whose stock is mentioned in this article.