Merger arbitrage or risk arbitrage is an event-driven strategy that appeals to a small group of professional and retail investors who are looking for a strategy that could provide consistent returns across market cycles. In the Introduction to Merger Arbitrage section of my website, I described the strategy as follows,
Merger arbitrage is a process akin to picking up a few pennies and nickels along the way while panning the river for the big prize, gold. You are basically trying to pick up a few short-term and hopefully low risk dollars in your journey to your long-term investment goals.
One of the big challenges with the strategy is the damage caused to a portfolio by a deal falling apart, or as we saw in the case of Rite Aid's (NYSE:RAD) acquisition by Walgreens Boots Alliance (NASDAQ:WBA), a significant change to deal terms. We addressed this concern in an article titled Collecting Pennies In Front Of A Bulldozer: How Likely Are You To Be Run Over? a few months ago.
Given below is a table from that article that looked at the rate of success and failure of deals by year.

Since we published that data nearly six months ago, an additional 115 mergers have closed and the total completed mergers in our database are 1,350 as of March 3, 2017. The total failed mergers are 63. The success rate of 95.5% continues to remain close to what we saw the last time we updated the data. We will publish another detailed update next quarter with the rates of success and failure and also look into why those deals failed.
As readers pointed out in the comments to the "Collecting Pennies" article, a delay in closing can significantly impact the internal rate of return and hence the annualized profit numbers we list in our Merger Arbitrage tool would be impacted. If you are a seasoned arbitrageur, you probably look more at the potential annualized return from a deal instead of the direct profit from the deal. If a deal is likely to return 5% in six months, its annualized rate of return is 10%. If, however, the deal is delayed and it takes a full year to close, your annualized return is now just 5%.
We decided to dig into our universe of 1,350 completed deals spanning over 6 years to look into how many deals completed ahead of time, how many were delayed and the average number of days they were delayed. As you can see from the tables below, just 16% of the deals were delayed and on average they were delayed by 44 days. The other 84% of the deals completed ahead of time and on average completed almost two months ahead of time.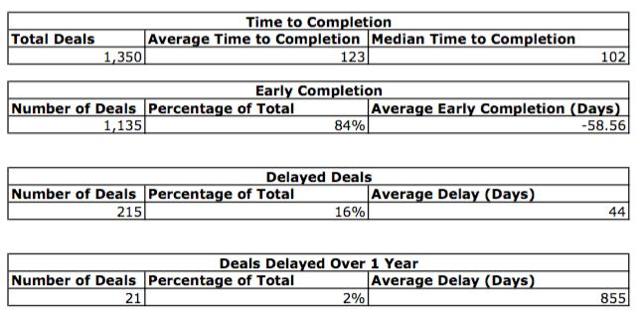 Less than 10% of the delayed deals, or 1.56% of all deals, were delayed by over a year. The deal that took the longest to complete was the acquisition of Hudson City Bancorp by M&T Bank (NYSE:MTB), which took 1,162 days to complete and finally closed on November 1, 2015, after being held up for over three years by regulators. The deal that took the shortest time to complete was the acquisition of Human Genome Sciences by GlaxoSmithKline (NYSE:GSK). It took just 18 days for this deal to complete on August 3, 2012.
Given how long it took the Hudson City Bancorp deal to close, I decided to check how long it took on average for deals from the financial sector to close and the average was 169.11 days across 265 deals, which represents 20% of the total deals. Excluding the Hudson City Bancorp deal, because it is an outlier, the average dropped to 165.35 days, which is still much higher than the 123 days for the full data set. An additional insight could be to avoid deals in specific sectors as they are more likely to be derailed or delayed by regulators.
Conclusion:
The data implies that both the risk of failure and deal delays is mitigated across a large number of deals and this might partially explain the rather slim spreads we have been seeing in recent years. The strategy no longer generates the 20% annualized returns that it did for a period of 60 years as discussed by Mr. Munger in this video but there are still returns to be had for diligent and disciplined investors.
Disclosure: I am/we are long RAD.
I wrote this article myself, and it expresses my own opinions. I am not receiving compensation for it (other than from Seeking Alpha). I have no business relationship with any company whose stock is mentioned in this article.