Summary
What are your options if you are a fixed income investor and see rising rates on the horizon? You may want to keep your fixed income exposure, but also principal protection or even increased income.
I've written previously about one option, fixed-to-float preferreds (see here), but today I'm going to discuss senior loans. Due to its higher yields, this asset class started getting traction a few years before the threat of rising rates was present.
Today, they make sense for another reason. Most have floating coupons based on LIBOR. LIBOR often mirrors moves in the Federal Funds rate so this benchmark has been rising rapidly over the last year.
I am going to focus on the following Closed-End Fund in this article:
Nuveen Credit Strategies Income Fund (NYSE:JQC)
What is a Senior Loan?
A Senior Loan is a security that is higher in the capital structure than a bond, preferred stock or common stock. It often has floating rate coupons indexed to a fixed base amount plus LIBOR (many use 3-month LIBOR).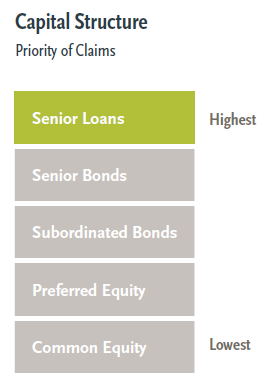 (Source: Nuveen)
This allows it to have higher recovery rates in the event of default.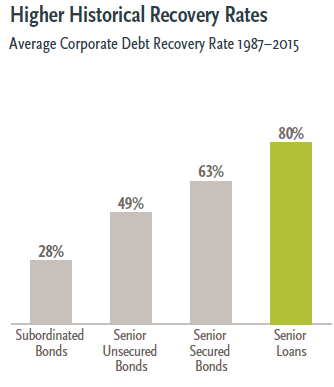 (Source: Nuveen)
Nuveen's research also claims Loans outperform bonds during a period of rising rates: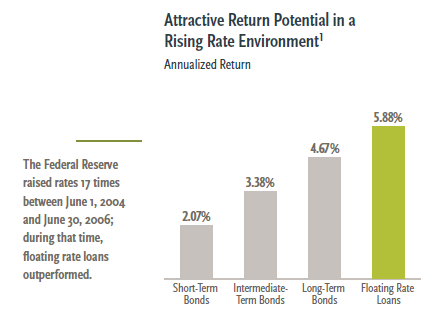 (Source: Nuveen)
With that being said, I feel there is an illusion of safety here. Many senior loans are issued to below-investment grade companies. This is essentially the "safest" way to invest in a junk-rated company.
Understanding Senior Loan Floors
Interest rates, including LIBOR, sank to very low levels after the 2008 financial crisis. This caused many senior loans to incorporate a "floor" for the floating rate portion of the coupon. If LIBOR is less than the floor, the coupon equals the fixed portion plus the floor. The coupon will begin to rise once LIBOR exceeds the floor.
Here is the Level 3 loan in JQC as an example:

(Source: Level3)
Here is the Dynegy loan in JQC as another example:

(Source: Corporate-IR)
The good news is we are beginning to enter this situation and with the Fed determined to hike rates in 2017, LIBOR may rise higher.
For reference, LIBOR has history of tracking the Federal Funds rate: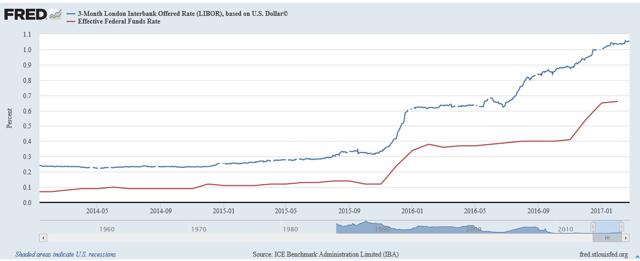 (Source: FRED)
It's important to understand that JQC (like many closed-end funds) uses leverage to boost returns. This leverage is also tied to LIBOR. When LIBOR is less than the floor, this creates a drag on the fund's income. When LIBOR rises above the floor, the fund's income to shareholders will increase.
JQC Holdings and Characteristics
JQC was the first senior loan CEF I chose primarily due to its discount at the time and my overall familiarity with Nuveen and its other funds.
It's actually not a pure senior loan fund and holds almost 20% of its assets in corporate bonds.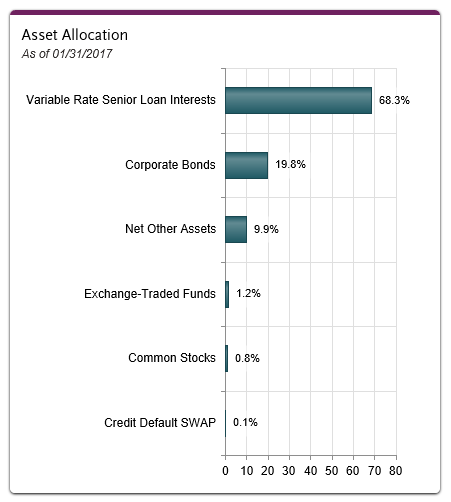 (Source: Nuveen)
As mentioned earlier, this is definitely not an investment grade portfolio with most of it sitting in the BB/B area: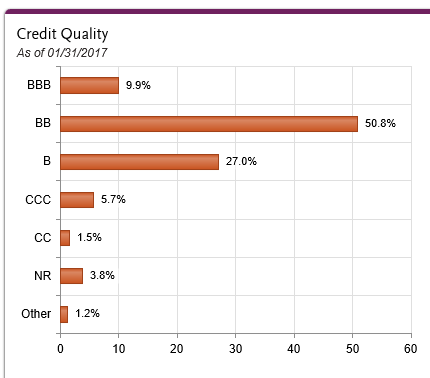 (Source: Nuveen)
I pulled the Top 20 holdings to give you an example of the portfolio composition. Some of these are recognizable to me but definitely not all of them.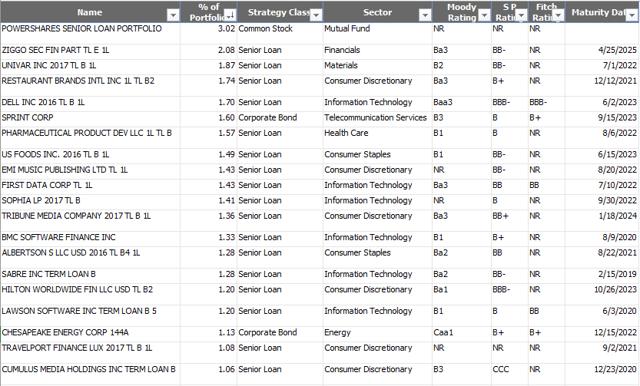 (Source: Nuveen)
One of the biggest downsides to investing in this space is lack of transparency. Many senior loans are made to middle market companies and some are not publicly traded. This makes research more difficult. The end result is being dependent on the fund manager to pick quality names.
JQC Discount and Income
JQC is under-earning its current distribution. However, I see no 19A-1 notices posted on the Nuveen website for JQC in the last two years.

(Source: Nuveen)
A rising 3-month LIBOR that eclipses the floor of the portfolio's loans should make this less of an issue going forward.
JQC yields 6.99% and is trading at a 5.36% discount as of this writing. This is pretty slim historically as CEFConnect shows: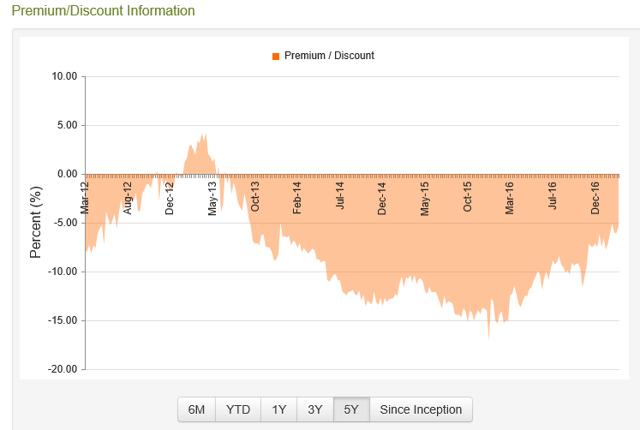 (Source: CEFConnect)
However, this is actually one of the largest discounts left in the space! Investors have entered this sector heavily over the last year. JQC is the last Nuveen Senior Loan CEF trading at a discount:

(Source: CEFConnect)
Conclusion
It may be a bit late to enter this trade as many senior loan CEFs are trading at slim discounts or even premiums. However, JQC still has enough discount to make it enticing if you really want exposure.
Rising LIBOR that clears the loan floors will produce rising distributions in JQC and other senior loan funds. This is a nice way of riding the Fed's interest rate hikes.
Keep in mind that many issuers are junk rated and despite high recovery rates it's probably not where I would want to be situated in a recession. No recession is forecasted over the short term (Are they ever?) but the current economic expansion is old and the Fed is hiking late in the cycle.
It's possible the easy money has been made here but I would keep an eye on the NAV of the funds if you do instantiate a new position.
Disclosure: I am/we are long JQC.
I wrote this article myself, and it expresses my own opinions. I am not receiving compensation for it (other than from Seeking Alpha). I have no business relationship with any company whose stock is mentioned in this article.