Severn Bancorp (NASDAQ:SVBI) is a savings and loan holding company. Its banks offer various deposit products and originate mortgages in Anne Arundel County, Maryland and to a lesser extent in other areas in Maryland, Delaware, and Virginia. The fact that their business is heavily concentrated in a single county is a risk factor to keep in mind since it does not offer geographical diversification. Its principal subsidiary, Hyatt Commercial, is a commercial real estate brokerage and property management company.

The banks revenues mainly come from interest earned on mortgage, commercial and other loans. From a competition standpoint, the Annapolis Maryland area where most of the banks revenue is derived has a high density of financial institutions. Many of these competitors have greater financial resources than Severn but the bank believes that its community orientation and reputation can provide a strategic advantage. Severn's loan portfolio composition as reported in their last annual report is provided below.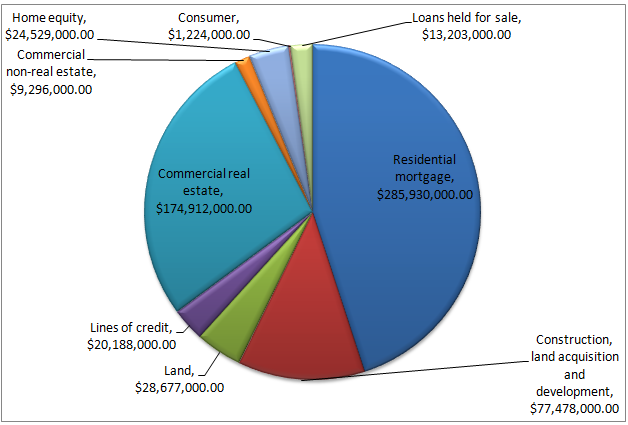 Source: Latest Severn 10K
Restoring the Dividend
A big negative factor for the stock is the lack of a dividend. Severn has not paid a dividend since 2009 when the dividend payments were halted to preserve capital. Severn has been making progress to meet the requirements that would allow it to resume dividend payments to common shareholders. However, no timeline has been set for a resumption of dividend payments to common holders. As of its last annual filing, it had to pay over $7 million in dividends to its Series B preferred shareholders before any could be paid to common shareholders. On a positive note, its latest quarterly statement let us know Severn did just that: "On April 15, 2016 Bancorp paid all unpaid cumulative dividends and interest in arrears on the Series B Preferred Stock totaling $7,590,000". The bank does have to pay a dividend on its Series A preferred stock before it can pay on to common shareholders. There are 437,500 outstanding Preferred A shares.
The bank was not allowed to pay a dividend on its common until interest deferrals on a loan due in 2035 (referred to as 'Junior Subordinated Debt Securities due 2035' in its filings) had been paid. The amount of accrued unpaid interest on this loan was reported as $1.8 million in the 2015 annual report. They made progress in this regard as well per the latest 10Q; Severn reported that all of this deferred interest had been paid as of September 30, 2016.
Another thing potential shareholders need to know is that there could be a conversion of Series A preferred stock or an exercise of a warrant issued to the Treasury Department. This involves an additional 437, 500 shares and 556,976 shares, for the Series A conversion and exercising of the warrant, respectively. This would depress the price of the common stock. The series B shares were issued to the Treasury Department under the Troubled Asset Relief Program (TARP) in 2008. The Treasury sold these shares to outside investors in 2013 but still holds the warrant. The company currently has 12.1 million common shares issued based on the latest 8-K filing.
Valuation
As you may expect, Severn, with its focus on residential mortgages, saw a dramatic decline in the value of its stock due to the bursting of the real estate bubble. As a result of loans that went bad, Severn participated in the TARP program as mentioned previously. The stock currently trades at $7.20, nowhere near its 2007 high of $21.82. However, it has had an impressive recovery from its lows as can be seen in the two year graph provided below which compares its performance to that of the S&P 500. In the last two years the stock has gone up 57.49% compared to a 13.43% return for the S&P 500.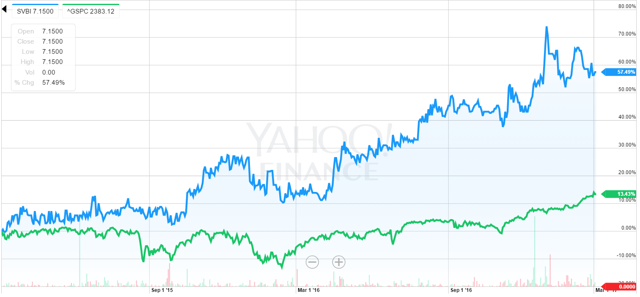 Source: Yahoo! Finance
Let's look at some financial metrics to see why the stock could continue its recovery.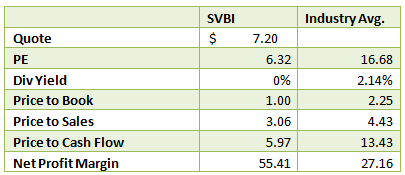 Source: Reuters
As we can see from the data provided above, Severn is trading at a low Price to Earnings Multiple compared to both its industry and the general market. Keep in mind that this is a small cap stock (market cap: 87.77 Million) that receives virtually no coverage from analysts. Perhaps even more interesting is the fact that the company is trading at book value. This is unlikely to remain the case if the company can keep delivering positive earnings and cash flow. The company looks cheap on most of the metrics above. However, these metrics need to be considered in combination with the some other financial and qualitative factors. Next, we will see a basic present value analysis under different growth scenarios for the company. The calculations consider a 10 year time period.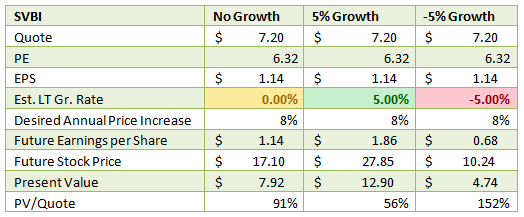 Even if you have a 'No Growth' outlook for the company, it looks undervalued presently. Assuming no growth, we calculate that Severn is trading at 91% of its present value. Of course if you assume a five percent long term growth rate for the company, it looks very attractive from an investment standpoint with quite a margin of safety coming with your purchase. Not surprisingly, the company is significantly overvalued if you assume a negative five percent long term growth forecast. For a full list and explanation of the formulas used in the calculation above you can visit this link. One note is that a PE of 15 is used in the future stock price calculation. This seems reasonable given it is even below the current average of 16.68 for the industry and 15 is the average historical PE ratio for the S&P 500.
While earnings and financial strength have seen recent improvements and even strength, we are not forgetting the not so distant past when Severn along with other thrift institutions suffered due to a sudden increase in non-performing assets. Here are some key numbers related to the current financial strength of the company from its recent 8K filing.

Source: SVBI 8K
The positives from the data above include the nice increase in book value and the decrease in the loan to deposit ratio. However, the loan to deposit ratio is still higher than we would like. A number closer to 80% would provide investors with a greater sense of safety. Additional concerns include the uptick in non-performing assets largely associated with a 9.79% increase in non-accrual loans. These are loans that are not generating their expected interest rate because of non-payment from the borrower indicating increased likelihood of default. At least the non-performing assets to total asset ratio was held constant.
Here is a brief look at recent performance metrics.

Source: SVBI 8K
The EPS numbers in the table above cannot be considered without taking an important item into account. The 2016 earnings included a non-recurring income tax benefit of approximately $11,837,000, resulting from a reversal of a net deferred tax asset valuation allowance. Therefore, it is important to consider what the numbers above would look like if this amount were excluded. If we exclude this onetime non-recurring item the EPS for 2016 would be 0.32. Still an impressive increase of 52% compared to 2015. However, this does reveal that only looking at Severn's PE ratio as reported on financial websites could be very misleading. The PE ratio being reported is artificially low due to this key item.
Final Thoughts
It has been a long road for many small banks since the bursting of the 8 trillion dollar housing bubble. This is reflected in the tremendous decline seen in Severn's stock price since the collapse that started in 2007. The company has made substantial progress and regained momentum since then. We think there is still opportunity for investors to enter this stock at the present levels. This is a bank trading at or slightly below book value that has not received much attention from analysts which may account for it trading at a discount compared to the industry. We have to reiterate that it is critical to remember that the reported PE ratio is artificially low due to the earnings increase provided by a non-recurring income tax benefit. Stated another way, it is not as undervalued as it looks at first glance. One thing to keep in mind when considering any investment in the present market conditions is that we are in one of the longest bull markets in history. The S&P 500 PE ratio currently stands at 26.75, far above the mean of 15.64. Given the expensive overall market conditions, it is appropriate to be cautious. Nonetheless, given the undervaluation of Severn, it is definitely worth a look.
Disclosure: I/we have no positions in any stocks mentioned, and no plans to initiate any positions within the next 72 hours.
I wrote this article myself, and it expresses my own opinions. I am not receiving compensation for it (other than from Seeking Alpha). I have no business relationship with any company whose stock is mentioned in this article.
Editor's Note: This article covers one or more stocks trading at less than $1 per share and/or with less than a $100 million market cap. Please be aware of the risks associated with these stocks.