It has been a wild week for IPOs after the social media giant Snap Inc.(NYSE:SNAP) finally went public and hit the ground running with a $35 billion market capitalization. Whether or not Snap can ever live up to its sky high valuation or whether Facebook's (NASDAQ:FB) Instagram will cripple Snap, only time will tell. What we do know though, is that huge IPOs like Snap frequently consume most of the attention, and other valuable stock IPOs can sometimes fly under the radar. In January, 2015 a cloud based enterprise storage provider and mobile business collaboration platform, Box Inc. (NYSE:BOX) went public. The IPO failed to generate the hype of a Facebook, Twitter (NYSE:TWTR), Alibaba (NYSE:BABA), or Snap, however, the company could be an interesting growth play going forward in 2017.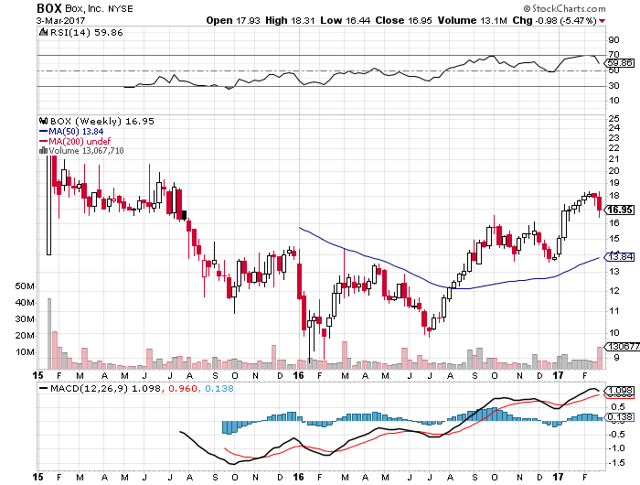 Box went public just over two years ago and its stock surged from the IPO. After the IPO though, its share price declined most of 2015, and then found a bottom in 2016. This year, Box had seen its share price run up almost 20%, but after its latest earnings call on March 1, 2017, Box saw its share price fall 8%. The story behind the recent price action could be an intriguing one.
Earnings:
Box reported Q4 2017 earnings that beat analyst expectations. EPS came in at a loss of $0.10, compared to analyst projections of a loss of $0.14. Revenue was $109.9 million, compared to analyst projections of $108.9 million; a 29% increase. Perhaps most impressive though, was that CEO Aaron Levie said two years ago that Box would be free cash flow positive by Q4 2017, and that is exactly what happened. Box reported FCF of $10 million, compared to a loss of $21 million in the previous years period. Billings were also up 22% for the quarter.
If Box reported strong earnings and revenue, why did Box's stock price fall post conference call? Guidance. Box projected an EPS loss of $0.14-0.15 for Q1 2018, compared to a consensus estimate of $0.12. Despite earnings the revenue guidance was pretty much in line though. Box projected to bring in $114-115 million, compared to the consensus revenue estimate of $115.15.
Our Take:
Although the companies guidance was weaker than expected, the CEO came out and said that the lower EPS would be related to investing in growth. Since the revenue projections are relatively in line, I do not EPS as a reason for concern here. The CEO also made some other comments that caught my attention. He said that Box would remain free cash flow positive for the full year of 2018 and focus much of the cash on investing in growth. Annually Box is projected to earn $500-504 million in revenue in fiscal year 2018 compared to $398.6 million this past year; about a 26% growth rate.
Levie said Box will be focusing on large deals in the enterprise segments that have fueled its growth recently. Box is attempting to help these large enterprises migrate their data from files, into the cloud. I think the business model and overall story seems compelling. As long as revenue growth stays on track, I do not see EPS as a cause for concern in 2017.
One area for concern could be competition. Even though Box has partnered with IBM (NYSE:IBM), Microsoft (NASDAQ:MSFT), and Salesforce.com (NYSE:CRM) in the enterprise market, its largest rivals remains Alphabet (NASDAQ:GOOGL) and privately held Dropbox. Alphabet is a cash machine and has beaten out competitors all across the board. That being said, it's no wonder Box is trying to be aggressive and invest in growth because if they do not, I'm sure Alphabet will take full advantage of the opportunity.
Disclosure: I/we have no positions in any stocks mentioned, and no plans to initiate any positions within the next 72 hours.
I wrote this article myself, and it expresses my own opinions. I am not receiving compensation for it (other than from Seeking Alpha). I have no business relationship with any company whose stock is mentioned in this article.