The conversion of preferred shares of Berkshire Hathaway (NYSE:BRK.B) and the Kuwait Investment Authority was a long awaited event.
Shareholders of Dow Chemical (NYSE:DOW) are diluted for nearly 9% but Dow is getting rid of $4B of preferred shares with a yield of 8.5%. This is a good deal for current holders since it eliminates high interest like payments which could not be returned to shareholders. The current yield is only 2.9% which means that capital is freed up which can be used for additional investments, dividends and share repurchases.
The preferred shares were acquired in conjunction with the acquisition of Rohm and Haas for $15B in 2009 during the depth of the financial crisis for a price set at the height of the boom. Dow was unable to get out of the deal and Warren was held to the deal which he admitted limited his ability to invest during the crisis and subsequent recovery since the preferred were only worth 60% of its value when the deal was signed. Still Berkshire Hathaway made a decent profit from the 8.5% yield and conversion but profits could have been better. So while Berkshire did significantly better than ordinary shareholders of Dow Chemical do not think that Warren Buffett was happy with the deal in 2009
Warren Buffett's Decision
As disclosed a year ago, Warren Buffett did like the preferred but not the ordinary shares. That is why he sold the entire Dow Chemical position. Selling such a significant position directly is not uncommon for Buffett, even though he's known by some as a buy and hold investor because of his investments in iconic companies like Coca Cola (NYSE:KO), American Express (NYSE:AXP) and Wells Fargo (NYSE:WFC). This clearly means Warren does not see any value in holding Dow Chemical ordinary stock.
Another famous investor Stanley Druckenmiller once said that investors do not focus enough on what moves certain industries. Druckenmiller found that for Chemical companies the primary mover of stock prices is capacity. When capacity is cut supply is reduced and future prices are likely to increase while additional capacity will add to capacity and decrease profitability. The best time to invest historically in chemical companies has been when capacity has been cut significantly and the market is bottoming while the time to get out is when capacity is added through significant investments.
Investments in capacity
Because of stronger demand and low natural gas prices profitability is high and increasing. This is why prospects seem good and Dow Chemical is trading at a p/e of 19.3. Investments in capacity however are increasing as can be seen from the presentations of Dow Chemical, Phillips 66 (NYSE:PSX) and BASF (OTCQX:BASFY). It is only natural for these companies to invest in growth to retain market share and build profitable capacity but it will reduce future profitability of the industry.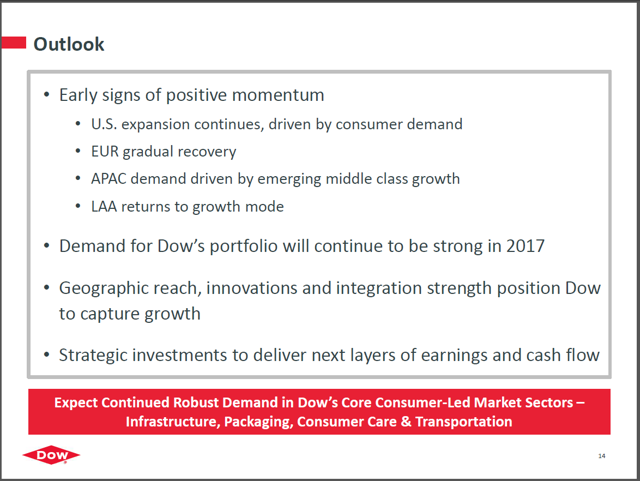 Source: Dow Chemical presentation
Du Pont merger
The deal with Du Pont (NYSE:DD)is likely to close since the European Union has agreed to the terms but the merger is already taking a year longer than originally planned. Divestitures because of the merger could harm operations and synergies while likely are uncertain. Du Pont has furthermore a mediocre operating track record and is expensive at current prices with a p/e of 28. While the merger creates a company with a strong US position to profit from cheap natural gas the deal activity and corresponding prices in the sector makes me nervous especially since Dow Chemical is not a takeover target anymore.
Conclusion
Dow Chemical is primarily a chemical company and now after its recent run seems like an investment with poor risk-return characteristics. Not only is the valuation expensive but also Warren Buffett directly sold his position after conversion of his preferred stock. Additional investments in capacity throughout the industry will most likely pressure margins in the future while the merger with Du Pont creates additional operational uncertainties.
Disclosure: I/we have no positions in any stocks mentioned, and no plans to initiate any positions within the next 72 hours.
I wrote this article myself, and it expresses my own opinions. I am not receiving compensation for it (other than from Seeking Alpha). I have no business relationship with any company whose stock is mentioned in this article.
Editor's Note: This article discusses one or more securities that do not trade on a major U.S. exchange. Please be aware of the risks associated with these stocks.