There is a disturbing trend among mall-based teen fashion retailers. The Limited and Wet Seal went out of business completely in the past couple months. Vanity Shop of Grand Forks Inc. recently announced plans to close 140 Vanity stores across the country after filing for bankruptcy protection. The only reason Aeropostale (NYSE:ARO) (OTCPK:AROPQ) is still in business is because mall owners bought a piece of the company out of bankruptcy. Teen fashion retailer The Buckle (NYSE:BKE) is struggling and headed for disaster if it doesn't change course quickly.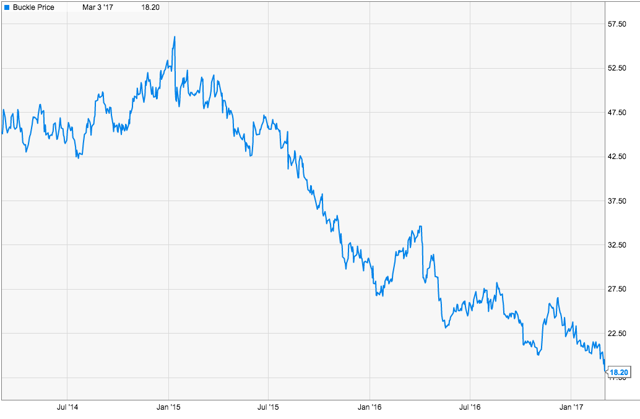 Source: Ycharts
The Buckle's same-store sales fell a whopping 23% in February, same-store sales were down 17% in January and down 15% in December. During most of 2016, BKE's sales were down 10% to 15% below sales in 2015. February's comps were the worst I've seen in The Buckle's history since going public around 1991. I've been following this company from the early 1990s when I first bought shares in The Buckle after hearing a report from my sister-in-law, who used to work for The Buckle in Kearney, Neb. I made a lot of money off this stock -- appreciation plus regular dividends and special dividends, especially in the period from 2007 to 2012. I liked The Buckle because it had good leadership, decent operating margins and a solid balance sheet. The Buckle has a long history of operating stores in communities with a college or university. Fashion is a fickle business, trends change all the time, but management at The Buckle was for years on-trend. But not anymore.
About 85% of the company's stores are located in malls. And malls are in secular decline. Young people don't frequent malls as much as they used to. Kids are spending more time on their digital devices than walking around the malls.
I asked my 22-year-old son, Reid Hooper, a senior accounting major at the University of Nebraska-Lincoln, what he thought of The Buckle. He said, "I think their clothing has kinda gone out of style. I don't know anyone who regularly shops there or who regularly goes to malls." My son has 1,210 friends on Facebook, is a popular kid, a member of Delta Tau Delta, a good student, yet he doesn't know anyone who goes to malls or The Buckle on a regular basis.
Instead, teens and young people are buying their clothes over the Internet.
The Buckle has had a store on Massachusetts Avenue in downtown Lawrence, Kan., for over 25 years, but the store will close April 2. Lawrence was the ideal market for The Buckle, it's a college town, home to the University of Kansas. Thousands of youth and their parents walk up and down Mass every day. On game day -- when Kansas is playing basketball -- the town fills up. But BKE can't make it there anymore?
Some SA contributors believe The Buckle is a buy because The company runs an extremely tight ship, has operating margins that are higher compared to some of its larger competitors and the stock is extremely attractive from a valuation perspective. The stock has been trading around 7 to 8 times trailing earnings. Siddharth wrote, "the disconnect between its valuation and favorable aspects of its operations however, lies in the failure of the management to chart out a strategy to arrest business declines in the last several months."
The Buckle on Oct. 29 had $163 million in cash and $49 million in short-term investments. The company paid out a $0.25 regular dividend plus a $0.75 special dividend in January. Shortly after paying out $1.00 per share, the stock fell $4 per share.
BKE will release earnings before the market opens on Friday. The consensus earnings are $0.80, with a high and low of $0.85 and $0.77, respectively.
Conclusion
I sold 440 BKE shares in February 2014 at $42 per share because I was worried about the decline in sales; the declines were modest back then, but I wanted to preserve my capital and there is nothing worse than a declining retailer. Now Buckle stock is trading below $20 per share.
On Feb. 2, 2017, the Buckle had 465 retail stores in 44 states, down from 468 stores in 44 states a year ago. As of March 28, 2016, the stores were in four downtown locations, nine strip centers, 58 lifestyle centers, and 397 shopping malls.
BKE management needs to create a new business model. The company should use its cash hoard to redefine its mission and go after new markets, the current business model is headed for implosion. If you lose one-fourth of your sales year after year, you won't have any business left.
Buckle stock is cheap and it will get cheaper. Stay away.
Disclosure: I/we have no positions in any stocks mentioned, and no plans to initiate any positions within the next 72 hours.
I wrote this article myself, and it expresses my own opinions. I am not receiving compensation for it (other than from Seeking Alpha). I have no business relationship with any company whose stock is mentioned in this article.