Last week, I wrote a heartfelt piece: An Ode To Those Who Wander. Soon after its publication, I had a former Wall Street bond trader, turned hedge fund credit analyst, then hedge fund credit portfolio manager reach out to me to discuss GNC Holdings, Inc. (NYSE:GNC). Over the weekend, we finally found a mutually convenient time to chat. He had been closely following my work on GNC and has been building a large position, in the equity, in his PA. This piece will briefly share his twelve year run on Wall Street (before he retired/ left the frenetic pace of NYC for a long sabbatical) as well as discuss GNC.
For perspective, he is a hard charging Penn State graduate and through sheer hustle and networking, landed an internship on Merrill Lynch's credit desk in NYC. His hard work and "clickability" enabled him to spend another three years at Merrill, trading credit on the bond desk. Next, he parlayed this experience into a credit trading role at the then $3 billion hedge fund, Longacre. Incidentally, his time at Longacre partially overlapped with Sahm Adrangi, now hedge fund founder of Kerrisdale Capital. Sahm recently published an aggressive short piece: Northern Dynasty (NYSEMKT:NAK): The Pebble Deposit Isn't Commercial Viable, which moved the market on February 14th. Thanks to Sahm's piece, I am thrilled because we got the opportunity to buyback our position in NAK (and we have been aggressively adding shares in the $1.40s).
Anyway, after Longacre, he worked on the credit team for Paulson & Co, and yes, the guy that made like $6 billion shorting mortgage bonds. Post Paulson & Co., he was a credit PM, for three years, at Bowery Investment Management, LLC. In June 2015, he made a life decision to quit Wall Street given the hours, high cost of living in NYC, and the perception that the game had changed given the industry wide asset outflows/ assault on the once lucrative "2/20" fee structure. He still loves investing and generates a lot of his current income from good securities selection from the capital returns he generates from his seed capital he made on Wall Street. After our hour plus conversation, my sense is that he is a good guy and loves investing and that has made good money in his PA.
In the interest of making my Seeking Alpha article more interesting, I try to weave in relevant stories that may help the readers make better decisions and/or offer them insights that they may not otherwise get from reading less in depth cotton candy financial media sites that feature 100 word pieces that masquerade as financial articles. I can't really discuss too much about his individual experience at each firm, but he reached out to me because he has enjoyed what he termed my "high caliber" and passionate GNC research. Incidentally, he said given my personality, based on our conversation and from reading my articles that I probably wouldn't like the insular hedge fund world as, in his view, it isn't a place that encourages out of the box and creative thinkers that have enough conviction to double down on a bet when it goes against them for 50%. We both shared the love for high conviction research and welcome a stock moving swiftly against us, as we can buy more shares cheaper, as long as our core thesis is still intact.
Anyway, they say in life, there are period of ebbs and flows, and all of a sudden, a light switch flipped, and the ebb pattern has turned to flowing, as am I having a half dozen interesting investors reach out to me to trade notes and talk markets. Like I have said time and time again this is the Power of the Seeking Alpha platform. The SA platform is an open and democratic site where the cream rises to the top based on merit. It is also a great place to get very valuable readers' insights to enhance one's thought process.
In terms of GNC, this former hedgie, said he 100% shares my core thesis and that he too has been visiting stores, conducting his own channel checks, as he and his wife moved to the Chapel Hill/ Raleigh area. He too is noticing decent traffic trends in his region and recognizes that there is a major disconnect between the bears' thesis that this is a dead brand and his experience visiting stores. Again, the Robert Moran playbook is working, there is just an inherent lag between now and when the turn shows up in the numbers. Moreover, Wall Street lacks the imagination or desire to envision this turn, so collectively, it still clings to its ratios and financial models that are associated with the Old GNC. As the late and great inspirational philosopher, Dr. Wayne Dyer, often said "The wake doesn't drive the boat". Outside of that, he said from his years on Wall Street that GNC's debt is trading so poorly because the bond folks are glued to the equity, as their barometer, and they like having a big market capitalization cushion. So he said the equity will actually be the "tell" or proverbial the white smoke at the conclave signaling the all clear.
Besides pretty much agreeing on the current asymmetrical risk/reward for GNC, at $8 bucks per share, he offered a key insight that I actually missed in my prior pieces, he sent me a link that on December 1, 2016, Bodybuilding.com laid off 15% of its staff (90 people). My response to this news, which I completely missed by the way, was a Donald Draper, yes of Mad Men, WHAT!!! (see this funny clip). So I had to laugh as the hedge fund supernovas short GNC cite bodybuilding.com as a major threat, yet the company just laid off 15% of its staff. That weakens the bears' arguments.
To wrap up this post, through pure synchronicity, this weekend, we visited my in-laws to celebrate my mother in-laws birthday. My father in-law is a huge history buff and big time reader, and he has a plethora of book in his book shelves. Randomly, I noticed that he had a copy of Amity Shlaes' "The Forgotten Man". I started reading parts of it and I found some great market history that I will try to connect to GNC. And yes, suspend your disbelief before you start rolling your eyes. The Dow Jones Industrial Index closed at a then all time high of 381 on September 3, 1929. It famously crashed in late October 1929 bringing with it the abrupt close of the roaring 1920s in exchange for the onset of the Great Depression. Anyways, on July 8, 1932, the Dow hit what would prove to be the low of 41.4. Nine months later, on March 6, 1933, Franklin Roosevelt gave his courageous and rousing speech "The only thing we have to fear is fear itself". Incidentally, on March 15, 1933, the Dow rebounded smartly and was up 15% for the day. This is still the record percentage gain for any one trading day. So if you are still with me, let me take this home for you and connect the dots. Peak to trough, the Dow dropped 89.2% over a 1,039 day period. GNC peaked on November 29, 2013 at $60.96 and its all time low (intra-day) of $6.95 was made on February 16, 2017. This is a 88.6% peak to trough drop over a 1,175 day time span. Now either I missed my calling as an ad salesman on Madison Avenue or maybe I am onto something, as Robert Moran gave his Rooseveltesque speech in the form of ponying up $5 million bucks to buyback GNC shares on the open market. Either way, I am not nearly dashing enough, as Ms. Menken's father famously said about Don Draper in the First Season of Mad Men, so I will stick to writing.
Rachel Menken and her Dad (Mad Men Season One).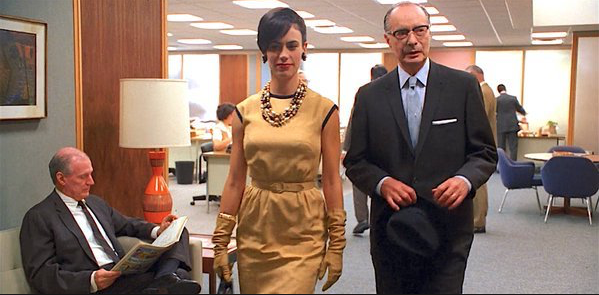 Disclosure: I am/we are long GNC.
I wrote this article myself, and it expresses my own opinions. I am not receiving compensation for it (other than from Seeking Alpha). I have no business relationship with any company whose stock is mentioned in this article.