I flagged Frontier Communications (NYSE:FTR) as a risky investment due to the weak fundamentals and consistent decline in the subscriber base. The fourth-quarter results have confirmed my fears and the stock has lost more than 18% since I last wrote about it. The dividend yield has become even more attractive due to the fall in stock price as the company has maintained its dividend payments. I still believe that it is a risky investment for the long term due to the fiercely competitive market conditions. However, there might be a short-term trading opportunity at current price levels.
I will not go into the details of the earnings announcement as it can be read from the press release. However, I have updated the financial metrics table for the full-year results.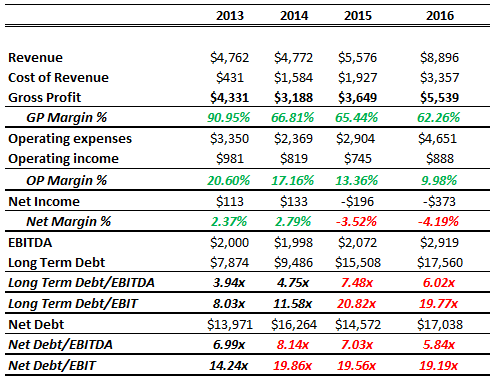 Data sourced from SEC filings
It is the first full-year results after the integration of the Verizon (NYSE:VZ) assets. While the revenue has grown due to the acquisition, the margins have been affected negatively. Gross and operating margins have come down considerably. Net margin has also gone further in the red. Increase in EBITDA is not as large as the increase in revenues. Keep in mind that I have used simple EBITDA figures for this whole exercise.
Adjusted EBITDA figures for the year were in excess of $3.5 billion. Using the adjusted EBITDA figures, we will get improved debt metrics. While the simple EBITDA figures have resulted in a slight improvement in leverage (6.02x from 7.48x), this ratio will be around 5x based on adjusted EBITDA. For adjusted EBITDA, we need to make adjustments for some non-cash and non-recurring expenses, such as acquisition costs, restructuring charges and pension costs. I believe the leverage ratio for the revolver has been calculated based on adjusted EBITDA. According to the new covenants, Frontier needs to have a leverage ratio of no more than 5.25x, and the ratio needs to gradually come down to 4.5x by the second quarter of 2020. The company would be in violation of these covenants if we calculate the leverage ratio using normal EBITDA figures. Changes in revolver provide the company with some additional liquidity and better covenants.
EBITDA margin for the full year has come down by almost 200 basis points to under 40%. Despite all the claims of better profitability due to the Verizon acquisition, the numbers tell a different story. The profitability has in fact taken a hit. As I said before, the management has not been able to take full advantage of the acquisition. Frontier has doubled in size with Verizon's wireline assets. It is clear from the revenue growth. However, it has also made it a more levered business. Debt has almost doubled as well. Before the acquisition, its total leverage ratio was around 4.7x, which has now gone over 6x. It is due to the lower-than-expected increase in EBITDA. The importance of synergies becomes even more evident when we look at these numbers. Around 9400 Verizon employees transferred to Frontier as a result of this transaction. As the company starts to eliminate overlapping operations and jobs, EBITDA figures will start to grow. We are also not likely to have acquisition and integration expenses in the next year, which will also give a boost to EBITDA.
This is where my short-term investment thesis comes in play. One positive nugget of information was the increase in expected synergies to $1.6 billion. The management is expecting to capture $1.25 billion by the end of the first quarter of 2017. This means that the profitability will likely get a boost in the first quarter. And if the management is able to realize full amount by the second quarter of 2018, then there might be some good news regarding EBITDA and debt metrics. These are the two reasons I believe Frontier will bounce back in the next few weeks and it might offer some good returns to those investors who have a good appetite for risk in the medium term.
The issue of a reverse stock split looks a cosmetic measure to me. While the stock price has fallen due to the pressure on some key consumer metrics as well as weak profitability, I do not expect it to go below $1. The company is still generating healthy cash flows which are sufficient to cover dividend as well as the lower end of capital spending. Along with more than $500 million in cash, Frontier has a revolver which gives it security regarding the working capital needs. Almost all of Frontier's peers have a stock price in double-digits. Sometimes, it sends the wrong signal to the market for a company with such scale of operations to have a stock price in low single digits. The proposed reverse stock split ratio of between 1-for-10 and 1-for-25 will take the stock price to between $30 and $75. I am assuming a market price of $3 per share at the time of reverse stock split. This will bring the stock price in line with its larger competitors.
No matter what the reason, reverse stock splits normally give negative vibes to the market. On many occasions, this measure has been used to "boost" the EPS number. Convertible preferred shares will also be adjusted for the reverse stock split. Skeptics might also point out that the reverse stock split is being executed to make preparations for the impending dilution from the conversion of these preferred shares. In my opinion, converting these preferred shares to common will offer better value for the common shareholders, especially for those who are holding Frontier with the sole purpose of collecting dividends. Full-year preferred dividends were $214 million, while my calculations show that upon conversion, common dividend expense will increase by at most $175 million, based on current dividend. So, there will be an immediate saving of about $40 million which will go towards the net income available to common shareholders. Will the shareholders be willing to accept a dilution of about 22-25% for this security? I believe yes. Shareholders with an eye on dividend growth alone will be more likely to be happy with this step.
Current stock price offers a good trading opportunity for short-term investors. It might also yield some healthy returns for investors willing to hold till mid-2018. However, the price performance in the medium term will depend heavily on the management's ability to execute the acquisition properly and capture the estimated amount of synergies.
Disclosure: I/we have no positions in any stocks mentioned, and no plans to initiate any positions within the next 72 hours.
I wrote this article myself, and it expresses my own opinions. I am not receiving compensation for it (other than from Seeking Alpha). I have no business relationship with any company whose stock is mentioned in this article.