President Trump has demonstrated extraordinary hostility towards the news media, calling it the "opposition party" and refusing to allow journalists from The New York Times (NYSE:NYT) in particular to attend a White House briefing.
However, it appears his actions are benefiting the NYT stock price. At least, we see a correlation with the constant slander and NYT.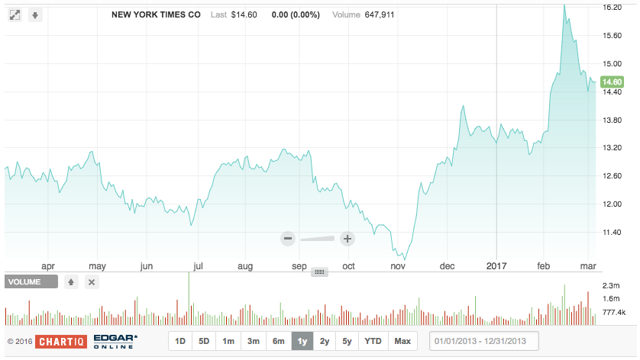 These events, combined with what we view as solid fundamentals and a competitive industry position, present a unique chance to buy NYT.
Recent Events Highlighted
On Feb. 24, President Trump called journalists "the enemy of the people." According to President Trump, The New York Times, CNN and other organizations anonymously publish sourced reports that reflect poorly on him. President Trump took to Twitter last Friday, claiming "FAKE NEWS media knowingly doesn't tell the truth."
Slander Boosts NYT Share Price
Although the NYT has been one of President Trump's main targets for disapproval since he was elected, his criticism of the organization has not had a negative impact on its share price. In fact, it has done just the opposite. According to Bloomberg, during the run-up to the election in 2016, NYT stock struggled and was down almost 17 percent. Since President Trump's election, however, NYT stock is up nearly 40 percent.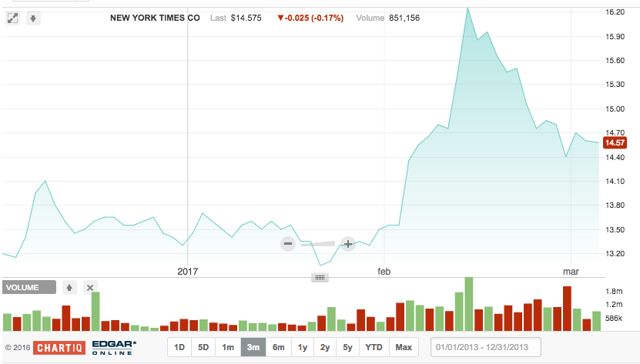 (Nasdaq.com)
Strong Q4 Results
Data shows that the NYT's fourth-quarter results, reported on Feb. 2, indicate that while the newspaper's print business continues to decline, the number of digital subscribers has increased, following interest in the recent election.
Total revenue dropped 1 percent in the past year to $439.7 million, and fourth-quarter print advertising revenue fell 20.4 percent as global ad spending continues to move toward online channels. On the other hand, the NYT's digital advertising revenue increased 10.9 percent to $77.5 million, or 41.9 percent of the organization's total advertising revenue--a 34.1 percent increase from the fourth quarter in 2015.
In addition, the NYT indicated a net increase of 296,000 digital-only, paid subscriptions in the fourth quarter, bringing its number of total digital subscribers to 1,853,000 by the end of 2016. The increase in these subscriptions also helped to increase digital circulation revenue by 21.9 percent to $63.7 million. According to CEO Mark Thompson, the fourth quarter was the company's single best quarter since 2011, when the company launched the pay model.
Comparison With Peers
NYT exists in a competitive field. Scholastic Corp (NASDAQ:SCHL), Time, Inc. (TIME), Meredith Corp. (NYSE:MDP), Pearson PLC (NYSE:PSO) and John Wiley & Sons, Inc. (NYSE:JW.A) are all close with regards to pricing multiples. While market cap is slightly smaller than the industry average, NYT's P/B of 2.5 sits comfortably below the 4.3 industry average. Net income of $29M also dwarfs the $48M loss that TIME reported. While P/E of 68 is still relatively high compared to peers, we see NYT as a strong rival in its field.
Conclusion: Buy
Even as President Trump has publicly derided The New York Times, his first few months in office have spurred interest in political coverage, corresponding with an increase in subscriptions and revenue for the newspaper.
This trend is likely to continue in the coming quarters. We see a buying opportunity for NYT, particularly following a 9% pullback in price since mid-February.
Don Dion's IPO Insights provides up-to-date information and analysis on the major IPOs each week, along with additional opportunities to invest and short these stocks at their quiet period and lockup period expirations, respectively. Consider following us at the link above. We will continue our PRO offerings on Seeking Alpha alongside our more exclusive research.
Disclosure: I/we have no positions in any stocks mentioned, and no plans to initiate any positions within the next 72 hours.
I wrote this article myself, and it expresses my own opinions. I am not receiving compensation for it (other than from Seeking Alpha). I have no business relationship with any company whose stock is mentioned in this article.