Billionaire Paul Singer, activist hedge fund Elliott Management founder, has it out for Arconic (NYSE:ARNC). He's pushing to get ARNC CEO ousted and install Larry Lawson as CEO - former AeroSystems Holdings CEO. In the least, Singer says that ARNC should form a search committee to conduct a full search for a new CEO. It recently upped its stake and now owns 13% of ARNC.
Elliott also wants to overthrow the ARNC board. And it turns out ARNC is caving at bit. The company recently said it would put David Hess, the former CCO of United Technologies (NYSE:UTX) on the board. But a bigger issue still remains with the board - it lacks auto and aerospace manufacturing experience.
A heated battle is shaking up.
Alcoa (NYSE:AA) split its aluminum production and specialized products business last year. A move that Klaus Kleinfeld made in hopes of further driving AA shares higher. Kleinfeld took over as CEO in 2008. The split was a move to finally (hopefully) generate returns for investors. AA's stock price has been moot since Kleinfeld took over, despite his claim of saving the aluminum producer from the depths of the recession.
Elliott was supportive of the AA split, but has since considered ARNC the best bet - saying shares were undervalued. Now, Elliott already has three seats on the ARNC board, but it wants more - nominating five additional members for the board.
ARNC recently sold its AA stake, hoping to appease shareholders by raising capital for debt reduction and/or buybacks, but the market shrugged it off. And the company, despite adding Hess to the board, is still backing CEO Klaus Kleinfeld. ARNC says that it has taken into account Elliott's criticisms and already engaged in a deep review of its business and strategy.
So, a new board and a new CEO - will that finally generate some outsized returns for ARNC shareholders?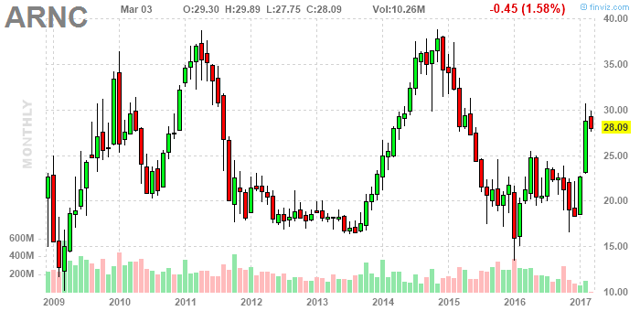 Beyond just management and board overhaul, the big key is getting a better grasp on spending. This includes its unnecessarily expensive headquarters on Park Ave. in New York City. Out of touch for a company with most of its employees in Pittsburgh.
Elliott has been gathering support, with the likes of Lion Point voicing support for Elliott's plans at ARNC. However, the current suite of directors are adamant in supporting Kleinfeld. This includes three previously nominated Elliott directors. Elliott joined AA after the spinoff announcement, so they've been focused on unlocking value at ARNC - rather than spin-offs or buyouts. Still, Elliott continues to gain support with Orbis Investment Management, owning 3% of ARNC, supporting Elliott in its board battle.
In the end, the business gets overlooked by all the board battling. It's hard to justify Kleinfeld's near $20 million pay. By all accounts, we will see a new ARNC CEO by 2018 thanks to Elliott. But will this boost its business? ARNC is levered toward the auto and aerospace industry, which is growing nicely. However, ARNC hasn't done well with managing expectations, which includes missing earnings expectations. All this starts with the top level in the C-suite. Without a new CEO, it's hard to see ARNC getting back to its $40 a share price tag.
Disclosure: I/we have no positions in any stocks mentioned, and no plans to initiate any positions within the next 72 hours.
I wrote this article myself, and it expresses my own opinions. I am not receiving compensation for it (other than from Seeking Alpha). I have no business relationship with any company whose stock is mentioned in this article.