Commercial real estate finance company Ladder Capital Corp. (NYSE:LADR) is on track to earn more money in an environment of rising interest rates. In light of Janet Yellen's latest comments that pointed to a rate hike in March, interest rate-sensitive assets continue to be preferred investments. Ladder Capital also covers its dividend with core earnings, and only recently hiked its cash dividend by 9 percent. An investment in Ladder Capital yields 8 percent, and the company may very well hike its dividend again in 2017.
The stock market has surged since the election of Donald Trump in November last year, and investors have chased stock prices to new all-time highs. The Dow Jones Industrial Average closed above 21,000 lately, and the S&P 500 closed above 2,380 - both of which are records. Business optimism is high, which in turn makes the case for higher short-term interest rates.
In her latest remarks, Fed Chair Janet Yellen dropped the clearest hint yet that Federal Reserve officials want to raise prime rates at the next policy meeting this month. In other words, interest-rate-sensitive assets are poised to profit from a rate hike decision, and that includes commercial real estate finance company Ladder Capital due to its variable rate loan portfolio.
Interest Rate Upside
Higher short-term interest rates translate into higher earnings from variable rate assets. Companies with large portfolios of floating rate investments, therefore, should profit handsomely from the Federal Reserve's decision to lift interest rates, and potentially hike at least two times more in 2017.
Ladder Capital's management anticipates that a 100 basis point increase in LIBOR will boost the company's Net Interest Income by a whopping $6.7 million, which, obviously, has huge ramifications for shareholders.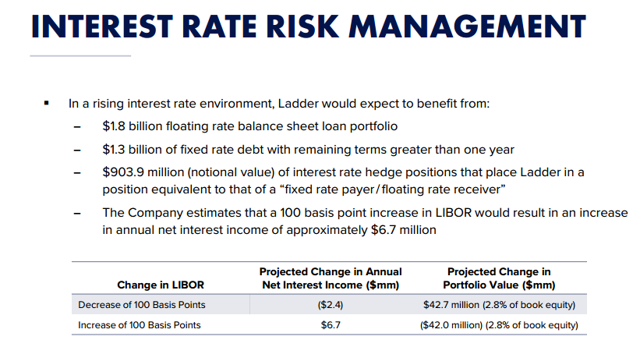 Source: Ladder Capital Corp.
Higher Net Interest Income on the back of higher short term interest rates could mean that management will declare a higher dividend in 2017. After all, management has shown that it is willing to grow its cash dividend when core earnings allow it. In the 4th quarter Ladder Capital raised the cash component of its dividend by 9.1 percent to $0.30/share.
Expect Improving Dividend Coverage
Ladder Capital already has good dividend coverage based on core earnings, without factoring in higher Net Interest Income related to the Fed's expected rate hikes.
The company has consistently over-earned its cash dividend with core earnings, and a boost to NII on the back of a more hawkish money policy on the part of the Federal Reserve is set to improve Ladder Capital's dividend coverage stats even more.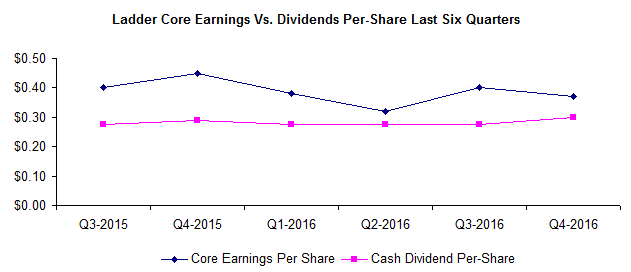 Source: Achilles Research
How Much Do You Have To Pay For Ladder Capital?
Ladder Capital's shares have risen in lockstep with other high yield income vehicles. Ladder Capital is up ~26 percent in the last year, even though the real estate finance company announced a class A common stock offering in December. Today, shares sell for ~10.0x Q4-16 run-rate core earnings.
Your Takeaway
Ladder Capital looks like a good investment as long as interest rates are rising, and shareholders can expect growth in core earnings on the back of the company's $1.8 billion floating rate loan portfolio. Ladder Capital's dividend coverage was robust in the last six quarters, with the company consistently over-earning its dividend. Interest rate upside and a higher cash dividend in 2017 are the two top selling points here. An investment in LADR yields 8.14 percent. Buy for income and capital appreciation.
If you like to read more of my articles, and like to be kept up to date with the companies I cover, I kindly ask you that you scroll to the top of this page and click 'follow'. I am largely investing in dividend paying stocks, but also venture out occasionally and cover special situations that offer appealing reward-to-risk ratios and have potential for significant capital appreciation. Above all, my immediate investment goal is to achieve financial independence.
Disclosure: I/we have no positions in any stocks mentioned, and no plans to initiate any positions within the next 72 hours.
I wrote this article myself, and it expresses my own opinions. I am not receiving compensation for it (other than from Seeking Alpha). I have no business relationship with any company whose stock is mentioned in this article.