Sometimes a step backwards of a company, or even a false step, is a possible entry point for investors, as long as there is the residual value on which to focus.
The purpose of this article is to highlight the potential of Innate Pharma (OTCPK:IPHYF) and, to a lesser extent, to underscore how combination therapies will be next big thing for Bristol-Myers Squibb's (NYSE:BMY) Opdivo (nivolumab).
An investment in Innate Pharma carries a number of risk, mainly due to the fact that his lead candidate target Natural Killer (NK) cells and only few clinically approved therapies currently exist that harness their potential. There's a flip side to it: companies like Bristol-Myers Squibb, Novo Nordisk (NYSE:NVO), Sanofi (NYSE:SNY) and AstraZeneca (NYSE:AZN) thought that targeting NK cells was so really interesting to acquire rights of Innate Pharma's antibodies.
Innate Pharma.
Innate Pharma is a French biotech company with a focus on immuno-oncology which is developing antibodies that enhances the innate immune system.
Innate Pharma's approach has resulted in several checkpoint inhibitors designed to enhance the activity of natural killer (NK) cells by targeting KIR (lirilumab and IPH4102) and NKG2A (monalizumab), plus other assets in preclinical development.
The most advanced programs in Innate Pharma's pipeline, lirilumab and monalizumab, are respectively developed by partners Bristol-Myers Squibb and AstraZeneca .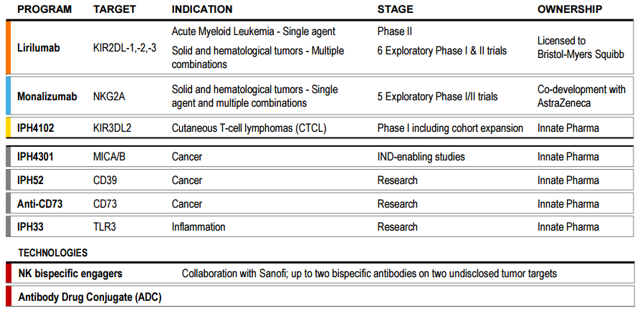 Figure 1. Innate Pharma's pipeline (source company presentation)
On February 6 Innate Pharma announced top-line results from EffiKIR, a randomized, double-blind Phase II trial of lirilumab single agent as maintenance treatment in elderly patients with Acute Myeloid Leukemia (AML). The study did not meet its primary efficacy endpoint: there was no statistically significant difference between either lirilumab arms and the placebo arms on the leukemia-free survival (LFS, primary efficacy endpoint).
Despite the news was negative, the share price did not collapse as would be expected. There are two possible explanations of why it did not happen: 1) investors had already expected the failure of the study or, 2) investors were not interested in the drug used as a single agent.
It is very likely that both explanations make sense.
Lirilumab.
In 2011 Bristol-Myers Squibb paid Innate Pharma $35 million upfront for exclusive worldwide rights of lirilumab, then called IPH 2102. The French company would be eligible to receive up to $430 million based on achieving development and commercialization milestones plus tiered double-digit royalties. It was the largest-ever biotech licensing deal signed in France at that time. Under terms of the agreement Innate Pharma had to continue to develop lirilumab through to the end of Phase II trials as a treatment for AML. What Bristol-Myers did since 2011, and it is still doing now, is to check how lirilumab works in combination, especially with Opdivo. This is what matters to Bristol-Myers and this is what investors should care.

Innovation Is Combination
The combination of lirilumab with PD1 blockade is supported by a strong theoretical rationale: inhibition of KIR would spur the activation of natural killer cells and some subsets of T cells, as shown in figure 3.

Figure 3. Lirilumab mechanism of action (source: company presentation) NK-cell-mediated cell kill is complementary with Opdivo mechanism of action:

Lirilumab, combined with Opdivo, has already demonstrated early signs of efficacy in squamous cell carcinoma of the head and neck (SCCHN). According to interim data released in a late-breaking presentation at the Society for Immunotherapy of Cancer (SITC) it seems that targeting both the KIR and PD-1 pathways may provide enhanced clinical activity, particularly in PD-L1 positive tumors.
"Among 29 evaluable patients with SCCHN, the objective response rate (ORR), a secondary endpoint measured by Response Evaluation Criteria In Solid Tumors (RECIST), was 24% (n=7). Seventeen percent (n=5) of these evaluable patients had deep responses, with reductions in tumor burden greater than 80%. Early signals of enhanced clinical benefit were observed in PD-L1 positive tumors, with an ORR of 41% (7/17) in patients with ≥1% PD-L1 expression."
A response rate of 24%, even when compared to Opdivo as single agent in the same indication (13.3%), is not what I would call "a promising result". In some extent I would compare apples and oranges, but I just want to put these ORR data in context.
The U.S. Food and Drug Administration (FDA) approval of Opdivo for the treatment of patients with SCCHN was based on findings from CheckMate 141 trial which demonstrated a statistically significant 30% reduction in the risk of death with Opdivo versus chemotherapy. Estimated median overall survival was 7.5 months (95% CI, 5.5-9.1) in the nivolumab arm vs 5.1 months in the control arm.
In an expansion cohort of the KEYNOTE-012 study, Keytruda, anti-PD1 from Merck & co (NYSE:MRK), was evaluated in patients with recurrent or metastatic SCCHN (both HPV positive and negative).
Among the one hundred thirty evaluable patients, the overall response rate was 18%, which included four complete and twenty partial responses.
As you can see, 24% RR just isn't that great and also because it includes unconfirmed responses. But what about survival? Things turned out differently.
In Checkmate 141 the estimates of the one-year survival rate were 36.0% with Opdivo (versus 16.6% with standard therapy) and the rate of progression-free survival at six months was 19.7% (versus 9.9% with standard therapy). In KEYNOTE-012 six-month progression-free survival and overall survival rates were 23% and 59%, respectively.
Let me expose another example. Bristol-Myers is not the only company which is developing a combination of checkpoint inhibitors in HNC. AstraZeneca has its own combo with durvalumab and tremelimumab(anti-PDL1 and anti-CTLA), the closest thing to BMS' combo Opdivo + Yervoy. FDA placed a partial clinical hold to enrollment of patients in durvalumab (in mono-therapy and also in combo) trials in SCCHN, last October. The FDA's action followed a voluntary decision taken by AstraZeneca to pause recruitment of new patients while an analysis of adverse events was conducted. Not even two months later, EAGLE and KESTREL (names of the two phase III program) reopened. Good for AstraZeneca and for patients, because durvalumab early data showed a promising sign of efficacy with one year overall survival rate of 42% and it is interesting to note that ORR was 11%.
As I said earlier, comparing different trials is tricky, particularly because of difference in patients characteristics, so is not an apple to apple comparison, but it could be useful to contextualize that.
Overall survival rate with Opdivo + lirilumab at six and twelve months were 90% and 60% respectively (patients at risk at six months, n = 15/41 and patients at risk at one year, n = 10/41). Now, I know what you are thinking, small study, small numbers... but it's all we've got.
| | | | | |
| --- | --- | --- | --- | --- |
| Checkmate 141 | Keynote 012 | Durvalumab | Opdivo + liri | |
| 13 | 18 | 11 | 24 | ORR |
| 19 | 23 | | | 6mos PFS % |
| 55 | 59 | 62 | 90 | 6mos OS % |
| 36 | | 42 | 60 | 1 year OS % |
Well, if we consider these data, we can assume that single agents could sound similar, in terms of efficacy. A twelve months overall survival rate of 36 or 42% it makes little difference but there is a gulf between 36% and 60%. This difference could come about by accident? Given the small number of patients involved, is it possible, but if we look at the demographic and clinical characteristics of patients we can make an interesting discovery.
For instance, let us compare the data from CA223-001 (lirilumab + Opdivo) and CM141: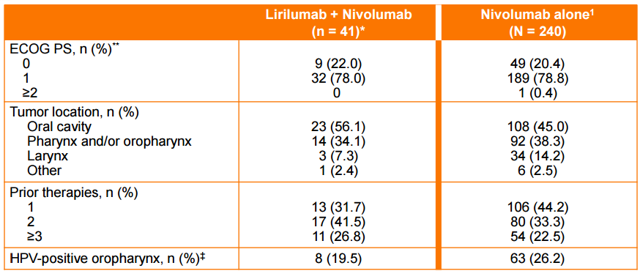 (Source: Company presentation)
First of all, patients in CA223-001 were heavily pretreated (68% > 2 therapies vs 55%). Secondly, there was a smaller percentage of HPV+ patients. The prognosis of SCCHN differs widely based on HPV status: patients with HPV+ tumors experience higher response rates and overall survival. In CM141, for example, overall survival of patients with HPV+ was 9.1 vs 4.4 months and in patients with HPV- was 7.5 vs 5.8 months. In KEYNOTE 021 ORR was 21.9 for HPV+ vs 15.9 for HPV-.
So, the question is: based only on ORR data, is it useful to add lirilumab is useful? Honestly, I can't imagine it. The ORR does not seem to be a valid surrogate of survival rate.
But if we focus on survival rates the answer to the previous question could be: yes, I would say that's very likely.
To sum up, Bristol-Myers and Innate have good reason to be optimistic: the combination of lirilumab and Opdivo makes sense mechanistically and they had initial reports of efficacy from clinical trials. Moreover, SCCHN seems to had the highest median Treg/CD8+ T cell ratio and the highest levels of CD56dim NK cell infiltration, providing additional rationale for the combination.
About SCCHN market.
Head and neck cancer is the 7th most common cancer globally, with 400,000 to 600,000 new cases per year and up to 300,000 deaths per year. Squamous cell carcinoma constitutes approximately 90% of all head and neck cancers. Risk factors for SCCHN include tobacco, alcohol consumption and the Human Papilloma Virus (HPV) infection.
Head and neck cancer market may see an impressive growth in the next years, and it will expand from $386 million in 2014 to $1.53 billion by 2024, according to GlobalData.
Conclusion (risk/reward ratio).
There are risks as well as hopes. It remains unclear the role of Natural Killer cells in solid tumors but increased understanding of NK cell biology over the past years has renewed the interest in NK cell-based therapies in oncology and hematology.
Even if this column is focused on lirilumab, Innate Pharma is not just that. Monalizumab (in co-development with AstraZeneca) is a first in class humanized IgG4 antibody targeting NKG2A currently in Phase II development in various cancer indications and combinations.
The french company has a proprietary coupling technology to generate Antibody-Drug Conjugates (ADC) and has developed an innovative bi-specific antibody technology for engaging NK cells to kill tumor cells through NKp46.
In essence, all Innate Pharma's pipeline hinges on NK cell targets, nevertheless their approach is diversified.
Now, with regard to the future of lirilumab, I believe that the worst is over.
From the perspective of Bristol-Myers, SCCHN is a relative small market, but sales of the two CPI could run into hundreds of millions and Innate Pharma will be entitled to receive milestones payments and royalties if lirilumab will be approved and commercialized. In addition to this, there are several other indication to pursue: Bristol-Myers Squibb is now testing lirilumab and Opdivo in other solid tumors like non small cell lung cancer, melanoma, colorectal cancer and hepatocellular carcinoma. If there is a correlation between the highest levels of CD56dim NK cell infiltration and the efficacy of the combination, the sky is the limit.
Disclosure: I am/we are long IPHYF.
I wrote this article myself, and it expresses my own opinions. I am not receiving compensation for it (other than from Seeking Alpha). I have no business relationship with any company whose stock is mentioned in this article.