Recently I published two articles looking at the slow expansion of Tesla's (NASDAQ:TSLA) service centers, at least going by the number of centers open. These articles expanded on the work of Tesla Motors Club user Troy, who made the first such count that I'm aware of. I sought to improve on his work by providing an actual list.
Well, the company just posted its 10-K for 2016 so we're due for an update. First, some links:
The company has stated it intends to invest between $2 and $2.5 billion in the first half of 2017. I've rounded this down to $1 billion for the first quarter. Actually, as happened last year, I don't think the final figure will be even close. Nevertheless, until we know how much Tesla spent, their stated intention is all we have.
Their other objective is to deliver 500,000 cars in 2018. In fact, Tesla has said that already in 2017 it wants to make 100,000 to 200,000 Model 3s, plus presumably a greater number of Model S and X than last year (there were 76,000 deliveries of those). So while Tesla hasn't provided delivery guidance for 2017, as long as it doesn't retract or clarify its previous statements one can only assume their intention is to deliver about 250,000 autos this year. If you're going to quibble that Tesla said "make," not "deliver," OK - the difference between both numbers cannot be large.
Another 250,000 cars would more than double the installed base, which stood at just over 180,000 at the end of 2016. Surely they must be ramping up the service infrastructure? Well...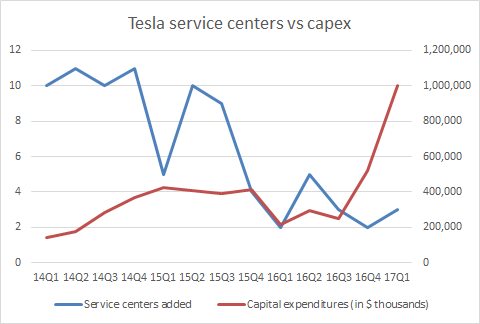 At the risk of repeating myself, and of stating the painfully obvious, it doesn't look like the company is getting ready to deliver 500,000 cars next year. Or 250,000. In fact, going by the amount of service centers opened it seems they're not even doing enough to service the numbers of Model S and X.
"What if they're moving to bigger service centers?"
There are two ways to increase capacity without opening new centers:
Replacing old service centers with new, bigger ones
Increasing the capacity of old centers
The second possibility is, of course, totally unverifiable. But we can check the first one. Perhaps the total number of centers didn't change much, but Tesla was "swapping" small centers for new ones.
Picking a short period can give a very distorted view of what's going on, so let's compare March 2 with November 14. This is a 14-week period which, considering Tesla delivered 22,252 cars over the fourth quarter, should have seen about 26,000 deliveries. Of course the exact number of cars on the road as of November 14 isn't known, but cumulative deliveries by the end of 16Q3 were 161,441. Let's say by November 14 the number of Teslas on the road had risen to 170,000.
In other words, the company's installed base roughly went from 170,000 to 196,000, for an increase of 15.3%. At the same time:
The number of service centers went from 128 to 134, i.e. growth of 4.7%
Exactly four service centers were "swapped"
If you want details:
In Hong Kong, Castle Peak was replaced by TML
In Milan, Via Cerva was replaced by Piazza Gae Aulenti
In Hawaii, Waikele-Waipahu was replaced by 746 Auahi Street
In Chicago, Villa Park was replaced by Westmont
Of these, Tesla has singled out Hong Kong as a new center that greatly increases capacity. In the other three cases it's unclear if the new facility is bigger than the old one.
My guess as to why Tesla is barely opening centers: money
In another article I pointed out that Tesla's accounts implied a negligible gross profit for its maintenance / service business. When including operating expenses (SG&A), the inescapable conclusion was that in fact service was losing money. The issue was simple:
Service and Other had a very small gross profit
At a minimum, one could expect the other components of Service and Other to have a gross margin of zero
Now there is no need to add and subtract: the company has come out and said it.
Service and other gross margin was affected by negative vehicle service gross margin in the quarter, as we ramp up our service capability ahead of the launch of Model 3.
Well, kudos for disclosing what used to take a bit of digging. That said, I don't think anyone at Tesla is reading this article, but if I may make some comments on how to improve their communications:
First: The statement that service gross margin in the quarter was negative suggests it was positive in other quarters. But it's impossible to know for sure: the Service and Other section as a whole has posted a gross profit in two of the four periods that can be analyzed, and these two it's unclear if "service" contributed anything (all gross profit may have come from sales of Certified Pre-owned vehicles).
More specifically: Service and Other had a gross loss in 15Q4 and 16Q4, and a gross profit in 16Q3. The numbers for 16Q1+Q2 aren't disclosed but simply subtracting shows they had a profit.
Prior to 2015Q4, the revenue from Service and Other also includes sales of powertrains, which makes the analysis more difficult. For what it's worth, for 2015 as a whole Tesla reports a gross Service and Other profit of $3,642,000, and $20,205,000 for 2014. Again, for service to have contributed any gross profit, the margins on powertrains and CPO must have been minuscule - about 1% in 2015 and 10% in 2014.
Second: The statement that the company is ramping up service capability ahead of the Model 3 is absurd, as shown at the beginning of the article. In any case, as seen just above, negative gross service margins happened at least once before this "ramp."
So there is no question about it: Tesla's service business loses money. There is no way to know how negative its gross margin is, but imagine for instance that the gross margin on CPO is 3%. Out of $472.5 million in Service and Other revenue for 2016, $177.8 million was Service. We'll assume the rest is CPO (there may be other, very small sources of revenue in there, but Tesla has not judged them worthy of mention).
That gives us $297.7 million in CPO revenue. With a 3% gross margin we're looking at $8.8 million. When considering that Service and Other as a whole lost $4.5 million, that's a loss for the service part of $13.3 million on revenues of $177.8 million, or a gross margin of -7.5%.
Losing money while charging over $1,000 a year
Since service revenue is earned over a car's life, whether through out-of-pocket payments or through the recognition of deferred revenue (service plans), one can compare the number of car-months that went by in any year with Tesla's revenues.

The result is that, for every car-month elapsed in 2016, Tesla had $108 in revenue, or $1,290. Why the revenue is this high is something of a mystery, though - the service plan costs about $750 a year in the US.
The good: this is lower than the figures for 2015, which implied a cost of about $1,450.
The bad: this money doesn't buy owners much.
The ugly: this money isn't enough for Tesla to adequately fund Model S and X service, let alone prepare for the Model 3.
Some notes:
First, the actual number of center additions through March 2 was four, not three. What happened is that Tesla removed from its website a center in Switzerland that was listed twice. So the total now is 134 centers, and at the beginning of the quarter was 130 rather than 131. Ideally I would remove the "extra" addition from a previous quarter and reflect that this quarter had four additions. But I don't know when the duplicate center was added.
Second: my assumption of 0% gross margin for batteries was in fact too optimistic for 2016. The company lists $3,062,000 in gross profit for Energy and Storage, but more than the totality of this amount ($3,606,000) came from Q4, when the numbers include some Solarcity profit. In other words: from January to September, gross profit at Tesla's battery business was minus $544,000. I guess you already knew that.
Disclosure: I/we have no positions in any stocks mentioned, and no plans to initiate any positions within the next 72 hours.
I wrote this article myself, and it expresses my own opinions. I am not receiving compensation for it (other than from Seeking Alpha). I have no business relationship with any company whose stock is mentioned in this article.