Thesis
Despite beating Q4 earnings, TASER International (TASR) sank afterwards. This presents what may be a good buying opportunity for a growth play. The company does more than just sell tasers, this is part of their continued growth story.
About The Company
TASER International develops, manufacturers, and sells tasers, stun guns - whatever you want to call them - to law enforcement, military, corrections, private security, and private individuals. TASER also produces body cams and dash cams for law enforcement. Furthermore, the company provides cloud-based digital management of the video from these cameras. It operates in two segments: weapons and axon. Axon is the name of the segment focused on cameras and cloud-based video services while the weapons segment is self-explanatory. Their revenue distribution is shown in Figure 1.
Figure 1: TASER Revenue Distribution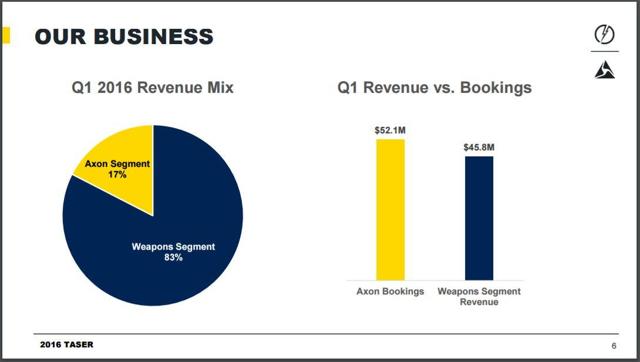 Source: Analyst Day Presentation
What I Like
TASER is a growth opportunity first and foremost. They have a high P/E of 70 and trade on par with future cash flow. They trade at a Price/Book of 8 which is even with the capital goods industry, but is by no means cheap. The real story is in their earnings and revenue growth.
Quarterly revenue growth is up 42% YoY while quarterly earnings growth is up a whopping 153% YoY. Earnings are projected to grow an additional 197% over the next three years while cash flow and profit are expected to increase more than 50% in the next two years. Analyst growth expectations are shown in Figures 2 and 3. With that kind of growth in mind, one starts to ignore the P/E of 70.
Figure 2: Analyst Growth Expectations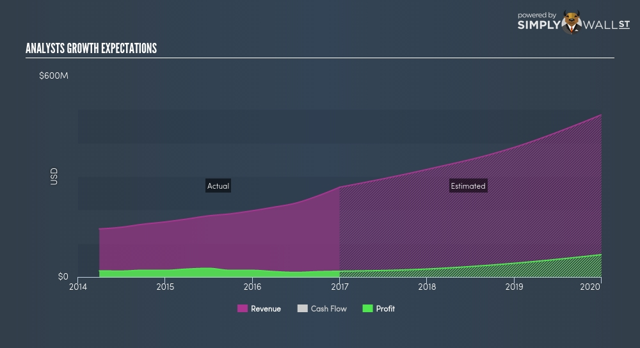 Figure 3: Analyst Earnings Expectations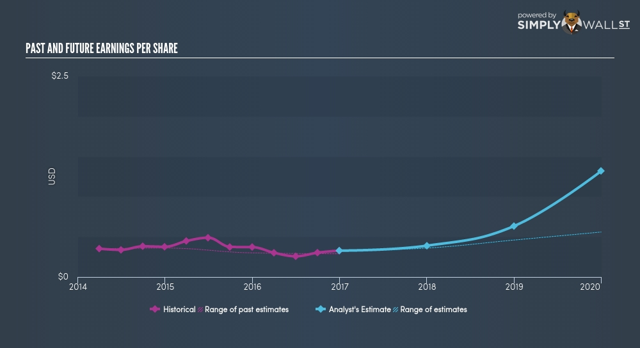 Source: Simply Wall St
What I like most of all is the cloud-based video service. By providing a platform for law enforcement to save, access, and review video from body and dash cameras, TASER separates itself from other companies. Worth mentioning are the company's returns on equity, assets and capital which were 11.2%, 7.8%, and 16% respectively. It lagged its sector in ROE but exceeded the sector average in ROI and ROC.
Finally, I like the balance sheet. They have a negligible amount of debt with a debt/equity of 2%. TASER does not pay a dividend but does have a stock buyback program. In 2016, it had a $50m repurchase program.
Opportunity And Drivers
There has been a lot of public focus on law enforcement relations with the public. Body cams have been a widely accepted solution to this problem. The company stresses less lethal solutions for law enforcement and references a serious amount of statistics from where their products have already been implemented. Notably, taser weapons resulted in 70% fewer officer injuries and 40% fewer suspect injuries. Statistics on body cameras are shown in Figure 4.
Figure 4: TASER Statistics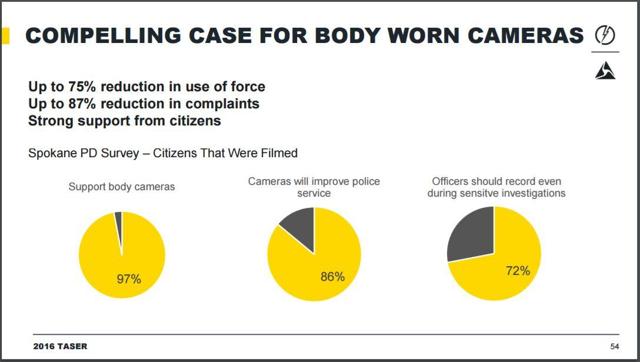 Source: Analyst Day Presentation
There really are a substantial amount of growth opportunities for TASER. There is a whole country of law enforcement out there who can be using their body cameras and cloud storage services. The company has strong recurring revenue due to contracts. It also cites global expansion as an additional opportunity. I truly believe the P/E is justified when you take a look at the numbers they are throwing out.
Risks
The most obvious risk is law enforcement choosing not to use less lethal weapons or body cameras. It is my opinion that this is not the way the tide is turning. Public support matters and it is hard to come up with a compelling argument against implementing a mandatory body cam policy. The other risk is competition. I believe this risk is mitigated by TASER's cloud storage services and all inclusive platform. By subscribing to TASER's cameras and web services, law enforcement departments can save time, money, and bad press.
So what happened last earnings? TASER blew expectations out of the water yet dipped 10% before settling down 5% on the day. The honest answer is that investors are skittish. With a P/E of 70 the company needs to display growth in line with investor expectations, not analyst expectations. There is no telling how investors may react to future earnings, but I expect TASER to produce growing profits for its investors and reward them in the intermediate term.
Final Thoughts
I recommend buying TASER while you can at this price. The company has shown previous support for the $22 price level. I believe there is significant upside due to substantial growth opportunities. I would really recommend checking out their most recent analyst presentation. It is 126 slides long and can't fully be captured in an article like this.
Disclosure: I/we have no positions in any stocks mentioned, but may initiate a long position in TASR over the next 72 hours.
I wrote this article myself, and it expresses my own opinions. I am not receiving compensation for it (other than from Seeking Alpha). I have no business relationship with any company whose stock is mentioned in this article.