The last thirty days for Seadrill (NYSE:SDRL) have been quite eventful. I've watched as blind optimists, who tried to go long after the first major dip, end up with a holding that is worth nearly 40% less. This is when you get out of the way. Distressed investing should be left to the best of the best investors, those with significant experience in investing when bankruptcy is on the horizon. Seadrill was down 25% in Friday's session on nothing more than investor fear to remain long. There is far too much uncertainty surrounding this company, making for a highly volatile investment, and it is advised that investors steer clear of the name.

Source: Seadrill
A Challenging Position
I've read a significant amount of commentary - both institutional and from contributors here on Seeking Alpha - that is both positive and negative about the company's prospects. Those that are more positive are focused on a "one day at a time" approach, optimistic that sometime next month the company may be able to come to a favorable agreement with creditors, enabling the company to pay off its sizable short-term debt, and gaining time to allow dayrates to materially recover. Those that are more negative are expecting a continuance of creditors to be against a favorable restructuring agreement for Seadrill as that potential agreement could carry far too much risk, even when syndicated out.
I noticed a new video was uploaded to Seadrill's website. It's a quality video that showcases the hard working individuals and the high-tech fleet. It also emphasizes the safety measures being taken to ensure the best possible production day in and day out. However, it comes at a interesting time. The video mentioned the company's ability to be agile and flexible in times of challenge, however they have very limited options at this point and pivoting to stay out of bankruptcy is a massive, massive challenge - and the stock is now starting to reflect that.
The video brings up an interesting point, however. This company did what nearly every other offshore driller did prior to the commodity collapse - take on a significant amount of leverage while it was cheap in order to expand production, which would be highly lucrative considering dayrates were rising. However, the offshore drilling recovery has been elongated, cost cuts haven't been as heavily as needed (especially now that the company has stated it has reached the minimum number of employees to operate "safely and efficiently", and cash flows have decreased heavily due to commodity price weakness.
On the Q4 2016 results, CEO Per Wullf said the following,
We continue to see an improvement in the level of bidding activity following the increase and stabilization of oil prices. Improving dayrates will not be a feature of 2017, however, based on the expected level of scrapping and cold stacking activity we believe there is room for some optimism. Our scale and young fleet position us well for the eventual recovery in the industry. Our key stakeholders have demonstrated a desire to be part of a solution to our restructuring requirements with the right structure and terms.
It's key to note here that the CEO of the company does not expect dayrates to improve in 2017. Should that be the case, then a restructuring agreement in April would have to buy the company at least eight months to continue operations in order to generate enough cash flow to manage leverage. The best case scenario right now is that a positive agreement amounts from current negotiations and that the company secures some sort of financial package to continue operations long enough to benefit from a recovery in oil prices and, subsequently, dayrates.
The fact that this company has a positive bottom line is likely the driving force behind why there are even optimists out there. It's likely that this is one of the few reasons that banks would even considering entering into a syndicate to help Seadrill get back on its feet. Can this company file for bankruptcy and several months down the line emerge? Sure, we're seeing it occur with several well-followed names like Linn Energy (LINEQ). So, this company, if it files for bankruptcy, may emerge one day a more financially stable entity; however, a lot has to happen in the fundamental environment in order for this to be a reality.
Additionally, the company's net income has been sliced in half YOY and operating cash flow declined from $1.7 billion in 2015 to $1.1 billion in 2016, but was more heavily weighted by D&A in 2016. These figures are projected to see declines to, not just by analysts, but by the company itself, who expects EBITDA and operating income to be significantly lower in Q1 2017 because of lower dayrates for West Freedom and AOD III. Are they profitable right now? Yes, but their profits relative to the amount of debt coming due, even when viewed on a net of cash basis, still leaves Seadrill desperately needing a large capital lifeline, massive float dilution, or the intervention of John Fredriksen. In this regard, I think it's a poor allocation of capital if investors speculatively buy this name.
Let's clear the situation up and make it as simple as possible. Investors should be focused on two figures: $8.47 billion and $3.19 billion. The former figure is the net interest bearing debt, while the latter represents the current portion of long-term debt. The offshore drillers that are going to make it through this downturn are those that have debt structured in such a way that a "wall" isn't present, whereby maturities aren't front-loaded, but rather become due after 2020. Those that are going to have significant challenges are those that have large portions of short-term debt due, like Seadrill.
It should be noted that the $8.47 billion figure is net of cash, placing the total interest bearing debt amount at $9.84 billion. Right now, I think there's very few banks on the street that would be willing to extend a $1 billion+ lifeline to an offshore driller that has a debt/EBITDA of above 5x, considering the fundamentals for the next twelve months at least point to a very slow recovery for offshore drillers.

Source: Investor Relations
As a sidebar, I've seen some comments be in line with the thesis that because commodity prices are already recovering and have been on an uptrend for about a year now, that Seadrill, too, should be recovering. This is a fair thesis as offshore drillers often have direct correlations to crude oil, but there has been the added pressure with this name of severely low dayrates, the stacking of rigs, contract terminations, poor financials, and a debt level that continues to remain too high.
Playing With Fire
One of the most difficult parts of investing in securities whose names are placed in the same headlines as "bankruptcy" is being able to handle the volatility. The large dip on Friday came as a result of the bulls getting scared out of their positions as the weekend approached and didn't want to hold the stock coming into Monday's session. You can't blame them either, this is a highly volatile stock with highly negative fundamentals. So, while the notion of a "speculative buy" has been thrown around, how much capital are you actually willing to commit to a situation that has no better odds than roulette, especially when the possibility of massive float dilution in the next couple of months is high?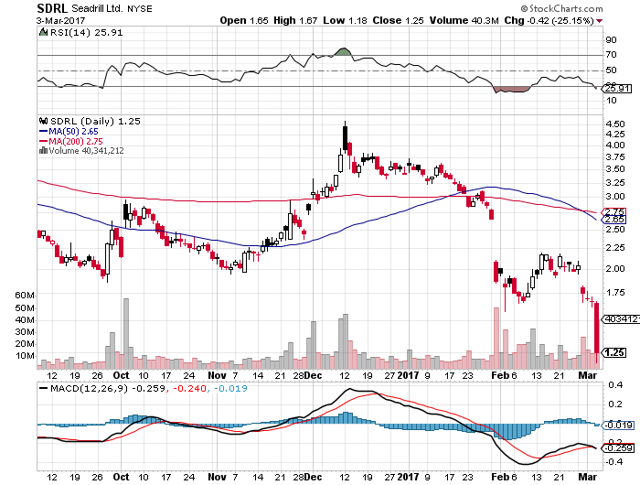 Source: StockCharts
The large sell-off on Friday pushed the stock to an oversold momentum level, with the RSI reading 25. While I am a strong advocate of using momentum indicators in trading to gauge trends and timing, I'd only expect this stock to see a small bounce back in Monday or Tuesday's session before continuing its slide towards becoming a penny stock. For added perspective, this time last month, the RSI ticked as low as 20 and, yes, did bounce, but if investors went long on that dip, they'd now be out a couple dozen percentage points.
Would it surprise you to know that the short interest has picked up? Probably not as the news surrounding the company has been heavily negative for the last thirty days plus. I'm sure optimists will say that this increased short interest sets the stage for a larger short squeeze should a restructuring agreement be reached, let alone be favorable, but there's currently no indication that this is probable.
Conclusion
I said last month that investors should put their money in quality. There are plenty of ways to play the recovery in commodities that are far less volatile than Seadrill and have similar correlations to major commodity futures. Investors are being paid nothing to wait right now, the threat of becoming a penny stock within weeks and have float dilution and a potential bankruptcy looming overhead.
Disclosure: I/we have no positions in any stocks mentioned, and no plans to initiate any positions within the next 72 hours.
I wrote this article myself, and it expresses my own opinions. I am not receiving compensation for it (other than from Seeking Alpha). I have no business relationship with any company whose stock is mentioned in this article.