Last week, Best Buy (NYSE:BBY) investors were treated to a roller-coaster ride. They started the week losing 3.14% over the first two days of the week and on March 1st, Best Buy dropped 8.69% after posting mixed 4th quarter results and disappointing on guidance. However, the dip did not last long as Best Buy regained much of its losses on March 2nd, popping by approximately 6.5% on broader retail strength and on the news that hhgregg (NYSE:HGG) was shrinking its retail footprint. Best Buy ultimately ended the week down 2% on higher than average volume. Lost in last week's retail failures was Best Buy's ambitious capital return plan which included a 21.4% raise in the quarterly dividend. As a dividend growth investor, I was particularly appreciative of the fact that Best Buy was explicit in its targeted payout.
New Capital Return Plan - The details
Best Buy's new capital return plan is fairly straightforward. It intends to return $3 billion to shareholders through the newly announced share repurchase plan over two-years and as mentioned previously, it raised the quarterly dividend to $0.34/share, a 21.4% increase. Furthermore, Best Buy explicitly states that the targeted dividend payout ratio is between 35% and 45% of non-GAAP earnings.
Reduced Share Count will Support Dividend Growth
Best Buy intents to complete its $3 Billion share repurchase program over the next two years which is three times the size of its previous $1 billion repurchase plan. At today's prices, this would equate to approximately 67 million shares, which represents 20% of Best Buys current float over a two-year period. Although the numbers seem ambitious, the reduced share count is in-line with FY2017, when it managed to reduced share count by 8%. To give investors an idea of the impact on EPS, in 2017 the reduced share count impacted earnings by $0.14/share in Q4 2017, approximately 7% of Q4s non-GAAP earnings. Although the forecasted 20% share reduction does not include equity based awards, it still gives investors a good idea of the type of impact the proposed buyback will have on share counts and non-GAAP earnings. A significantly reduced share count which positively impacts non-GAAP EPS will in turn benefit the dividend growth rate.
Dividend Growth Will Continue
The new quarterly dividend amounts to a 38% payout ratio of recently announced 2017 non-GAAP earnings. With the payout ratio near the low end of its target and Best Buy forecasting that operating income growth will be in the low single digits, investors can expect dividend growth to continue over the short term. Based on FY 2017 numbers, a 45% payout ratio would equate to approximately $0.40/share, a 17.6% increase over the current quarterly dividend. Of note, this fails to take into account any reduction in share count or increase in non-GAAP earnings. As such, even if all factors remained flat in FY 2018, Best Buy would still be well positioned to raise its dividends.
Operation Cash Flow Supports "The Plan"
Best Buy's FY 2017 operating cash flow increased by 92% over FY 2016. At current levels, its OCFs more than cover expected dividends and buybacks.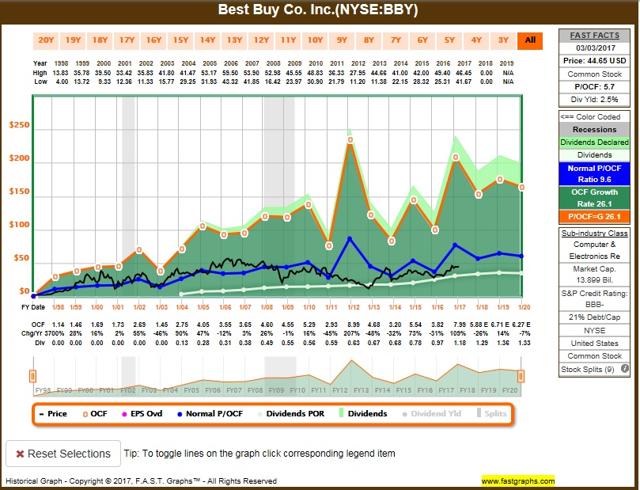 Using FY 2017 ending share count, in FY 2018 Best Buy can expect to pay out approximately $439 million in dividends for the year which is equal to only 17% of FY 2017 OCF which was $2.545 billion. Of note, this estimated $439 million in dividends paid is on the high side as it does not take into account any share count reduction. Furthermore, assuming its $3 Billion share repurchases are split equally over the 2 years, both the share repurchase program and dividend payout ($1.5 billion + 439 million) would also be fully covered by current OCF.
Shareholder Friendly
Best Buy's new two-year capital return plan has provided shareholders with comfort and clarity. Thanks to the detail of the reports, investors can sleep well knowing that despite this ambitious plan, Best Buy is well positioned to deliver. Shareholders, can be re-assured that the new capital return program can be fully funded internally by OCF, which means that no external financing will be needed. Even in a scenario where Best Buy disappoints in FY 2018, it is still well positioned to deliver on its plan and to continue raising dividends. The retail sector has been hit hard as of late, but Best Buy is well positioned to weather the storm and remains very shareholder friendly.
If you would like to receive updates for any of my upcoming articles, please click the "Follow" text at the top of this page next to my profile
Disclosure: I/we have no positions in any stocks mentioned, and no plans to initiate any positions within the next 72 hours.
I wrote this article myself, and it expresses my own opinions. I am not receiving compensation for it (other than from Seeking Alpha). I have no business relationship with any company whose stock is mentioned in this article.
Editor's Note: This article covers one or more stocks trading at less than $1 per share and/or with less than a $100 million market cap. Please be aware of the risks associated with these stocks.