In 2013, The Economist published an article titled " How to lose half a trillion Euros" chronicling the troubles of European Utilities struggling to integrate renewable energy sources with a grid that was designed to handle conventional energy sources such as coal and gas. The problems faced by European utilities is common to all utilities across the world trying to integrate renewable energy sources with a power grid designed for predictable power generation using commercial-scale power plants. That article also highlighted the need to reform the regulatory and business environment under which utilities could operate profitably.
In 2014, California became the first state in the country to generate 5% of its energy from utility-scale solar projects.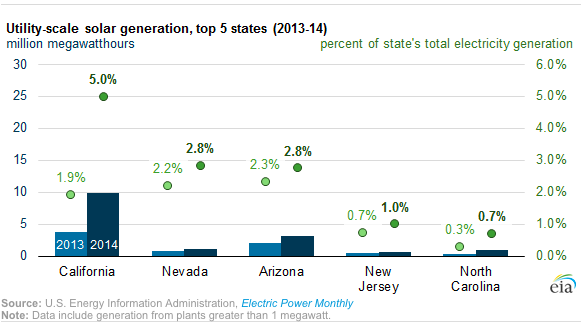 Exhibit: California Becomes First State to Generate 5% of its Power from Solar. (Source: U.S. Energy Information Administration)
California has promoted the use of renewable power and requires its electricity providers to obtain 33% of the power they sell from renewable sources by 2020. The Southwestern states - California, Arizona, and Nevada - have some of the best solar resources in the world.
The California power grid has challenges similar to the European utilities. During the day there is less load on commercial-scale power generation, but the utilities need to be ready to ramp-up production dramatically in the evening. This causes a condition called the Duck Curve. This makes a normally profitable and stable utility business model into a very unstable and potentially unprofitable venture.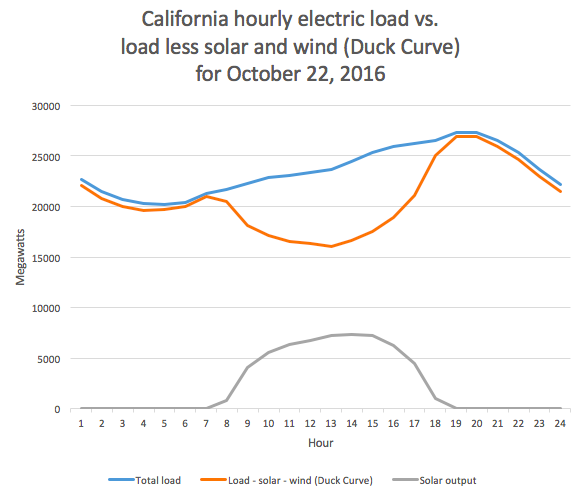 Exhibit: Excess Power Generated by Solar & Wind Puts Stress on Commercial-scale Power Plant (Source: Wikipedia.Org)
During the day time hours there's an excess of clean renewable power that causes rates to go negative and makes commercial-scale power generation financially nonviable. This condition is only expected to get worse in California as more Solar power sources are added to the grid.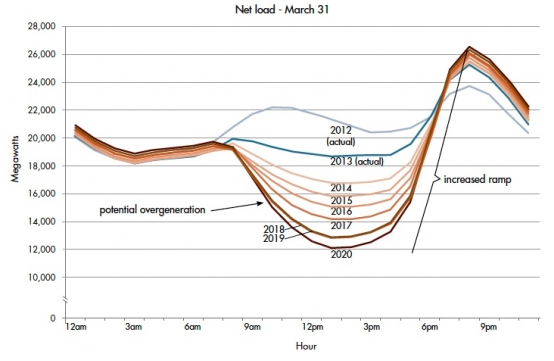 Exhibit: The Duck Curve will only get worse as more Solar and Wind Capacity is Added (Source: California Independent System Operator, Wikipedia.Org)
California has set an ambitious goal of 33% of its power in 2020 to be generated by a portfolio of renewable resources and by 2030, 50% of its power to be generated by renewable sources.

Exhibit: California's Progress to Meeting Power Generated by Renewable Sources (Source: California Energy Commission)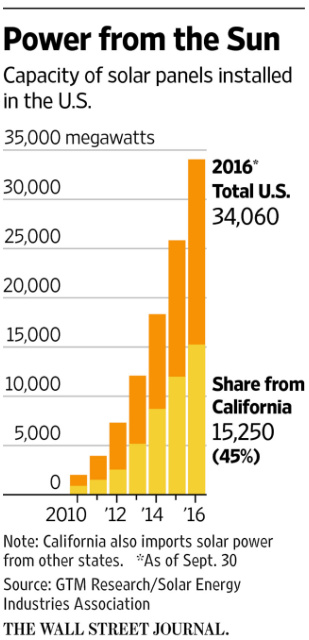 Exhibit: Solar Power Capacity Installed in the U.S. (Source: The Wall Street Journal)
To keep utilities financially viable, California and its utilities have worked out a way to decouple revenue from sales.
Decoupling of Revenue and Sales
Pacific Gas & Electric company (NYSE:PCG) is one of the utility companies in California that benefits from the decoupling and that leads to some unusual findings. For Pacific Gas & Electric, slightly higher number of customers, each with lower power consumption every passing year has led to higher revenue.
PG & E has seen a slight increase in the number of customers it serves each year. After a spike in power deliveries after the recession, deliveries have been decreasing. Lower deliveries may be due to better conservation efforts and more installation of roof-top deliveries. Nearly 45% of total solar capacity installed in the U.S came from California.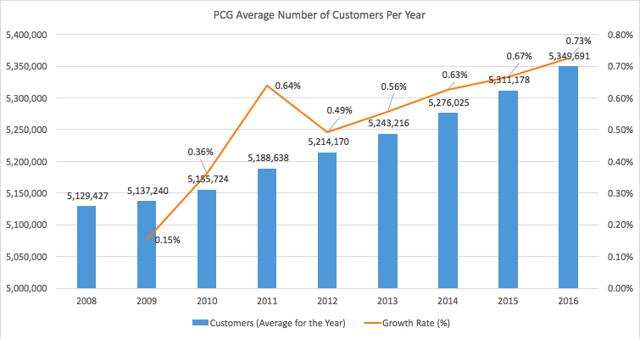 Exhibit: PG&E Average Number of Customers Per Year (Source: Company Filings)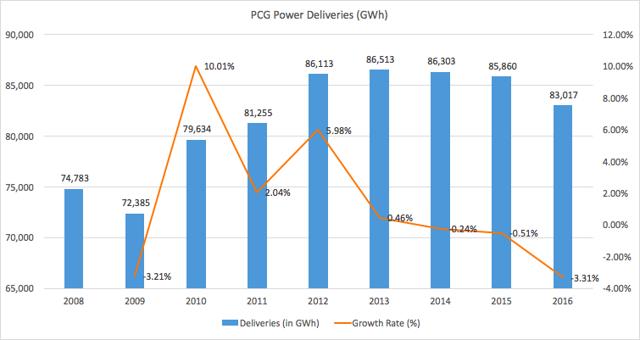 Exhibit: PG&E Power Deliveries (Source: Company Filings)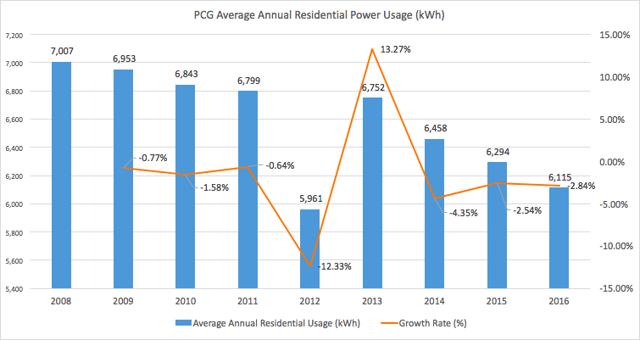 Exhibit: PG&E Average Annual Residential Power Usage (Source: Company Filings)
Annual residential power usage has seen a 12% drop since 2008.
The agreement that California utilities have with the state of California leads them to have growth in the rate they charge consumers due to rate hikes and guarantees a minimum return on equity.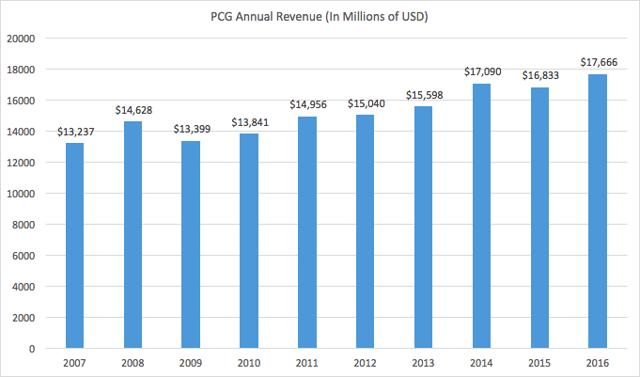 Pacific Gas & Electric's total revenue is split into two broad categories.
Base Revenue
Pass-through
Base Amount or Base Revenue = Operating Expense + Capital Costs
Operating Expenses = Maintenance + Administration + General Expenses
Capital Costs = Depreciation + Tax + Financing Expenses
Pass-through = Cost to Procure Electricity + Natural Gas + Nuclear Fuel + Administer Public Purpose & Customer Programs + Decommission Nuclear Facilities
Pass-through revenue has no impact on earnings. Base revenue would vary depending on operating expenses and capital costs. But, regulations ensure that even the variable costs will be fully recovered by the utilities. Until 2017, California regulators guarantee Pacific Gas & Electric a Return on Equity of 10.4%.
California is already investing more in energy storage innovation and is investing in battery research and is promoting electric vehicles. Usually, great change and innovation in a particular industry leads to loss of market share and lower profitability for the incumbent players. But, the power generation business is unlike any other in the world.
In these times of dramatic changes, California is more dependent on their utilities than ever before and they have been willing to change the business model of their utilities to keep them financially viable. That results in dramatic lowering of risk for shareholders and makes investing in Pacific Gas & Electric, one of the safest investments in the world even during these times of change. This new found business model stability in the face of unprecedented change is creating favorable conditions for public-private partnership for innovation in the area of power generation and transmission.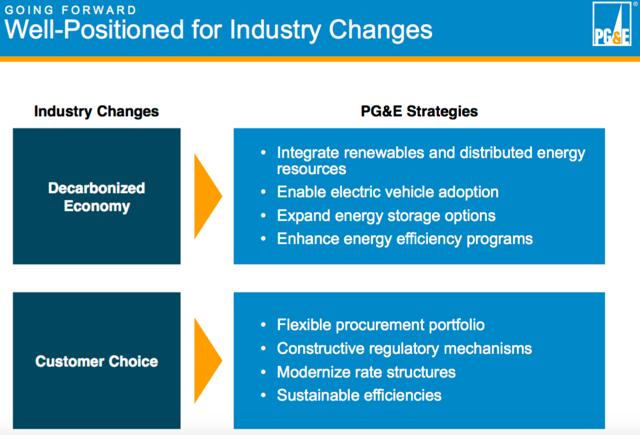 Exhibit: Business Model Enables Investment in Innovation. (Source: Company Filings)
This stability for the utility and the focus on innovation has huge implications for the internet-of-things (Smart Grid) applications and electric cars.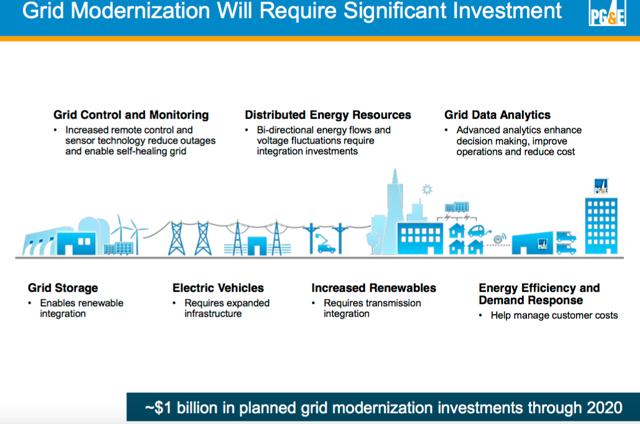 Exhibit: Business Model Makes it Easy to Invest to Innovation (Source: Company Filings)
Companies like General Electric (NYSE:GE), Siemens (OTCPK:SIEGY) (OTCPK:SMAWF) (OTC:SMQFY), Silver Spring Networks (NYSE:SSNI), Itron (NASDAQ:ITRI) and Xylem (NYSE:XYL) could be just a few of the beneficiaries of a new wave of investments and research into a smart grid infrastructure.
Disclosure: I/we have no positions in any stocks mentioned, and no plans to initiate any positions within the next 72 hours.
I wrote this article myself, and it expresses my own opinions. I am not receiving compensation for it (other than from Seeking Alpha). I have no business relationship with any company whose stock is mentioned in this article.