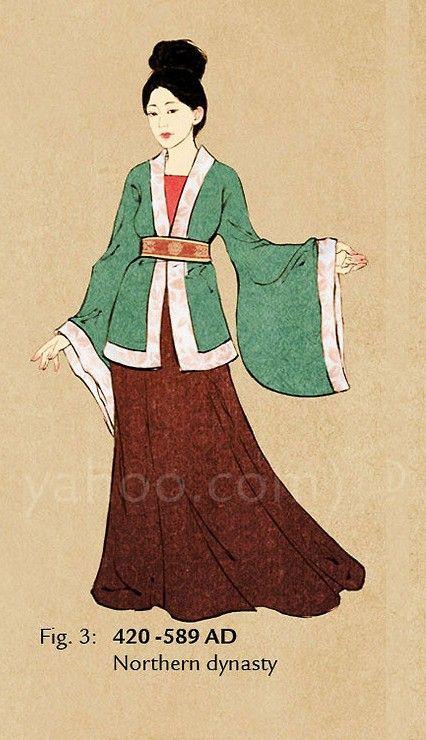 Here is a link to our favorite rock song of all time to get you into the mood for this week's
Resource Sector Digest.
(Vol. 78 - March 4, 2017)
Brought to you by Itinerant and The Investment Doctor.
In this edition we shall:
set the scene,
highlight actionable ideas,
comment on news releases and
link to relevant articles.
PDAC time is upon us. To celebrate the occasion, and for a limited time only we are offering a free two weeks trial for all comers wishing to test drive Itinerant Musings. Please join our friendly community, check out our exclusive content, and browse the extensive library of PRO articles.
In case you missed out on previous editions of this newsletter, simply click here, here or here to catch up.
Setting The Scene
The Pebble project in Alaska is one of the largest undeveloped metals mining projects in the world, and Northern Dynasty (NYSEMKT:NAK) has been trying to develop it for over a decade. Except there have been sizeable obstacles all but preventing any meaningful work for several years now. This has frustrated not only Northern Dynasty shareholders, but also several large JV partners including Anglo American (OTCPK:AAUKF) and Rio Tinto (NYSE:RIO).
For quite some time now, the only observable activities by Northern Dynasty have included a very public mudslinging match with the Environmental Protection Agency (or EPA) and several fund-raising initiatives, which have more than doubled the share count over the past two years, with no reported progress on the actual project to show for.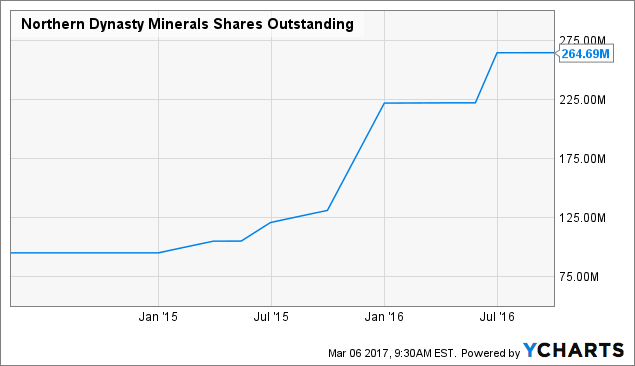 NAK Shares Outstanding data by YCharts
The new administration in Washington and a few tweets have served as the backdrop for renewed optimism with regards to the future of this large project among some. The new POTUS would surely reign in the EPA and cut the red tape, finally allowing for development of this awesome deposit into a mine, or so the argument went. Various spokespersons, newsletter writers, and public relations agents made sure this message got heard and the share price went from 30-something cents before the election to $3+ at the start of the year.
The party ended rather suddenly when Kerrisdale Capital Management called the emperor naked on February 14.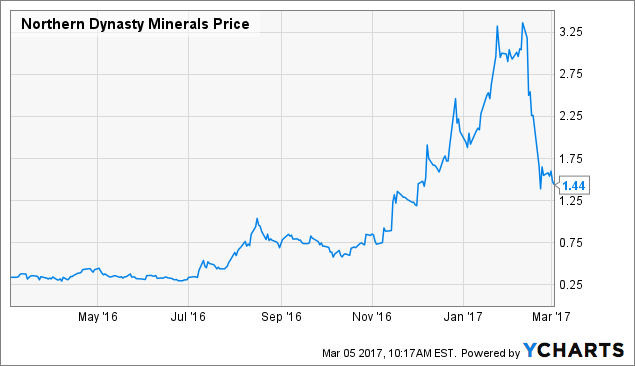 Kerrisdale stated a simple thesis: the Pebble project isn't economical; and consequently, it doesn't really matter how EPA dramas play out. This digestor is on record harboring very similar thoughts dating back more than two years, and in our view even the company itself has confirmed the thesis in its 2011 PEA.
The market responded swiftly and profoundly; the initial chatter was deafening; and the lack of meaningful counterarguments even more so. What was most surprising to this digestor was the response by the company itself. Plenty of unpublished data must be at the company's disposal from years of work on the often delayed PFS; and surely if public disclosure requirements hadn't been enough to coax some of this data from the company's files, this moment of crisis would have warranted the release of some of this data. But rather than presenting a coherent line of arguments to refute the "hit piece" Northern Dynasty resorted to quoting a plethora of non-relevant and outright banal information and bluster, before calling on so-called "independent analysts" such as Stansberry's Investment Advisory, an outfit led by a person convicted of security fraud.
If this response by Northern Dynasty was all the company could throw at the short report, then we will stick by the title of our follow-up piece to the one referenced above: Northern Dynasty may be a lost cause.
Actionable Ideas
Sometimes it's best to do nothing, and this is exactly what we propose at this point. Wait for the metal prices to show direction, and then plan your next moves accordingly. And if you can't just sit still, then buy General Motors (NYSE:GM).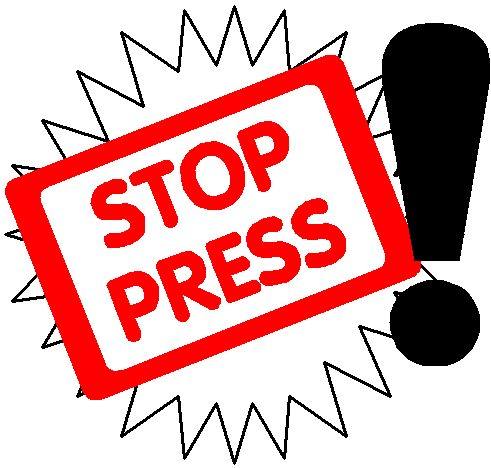 News Releases
Here is this week's digested summary of news releases from the resource sector.
News release of the week goes to Osisko Gold Royalties (NYSE:OR) and Taseko Mines (NYSEMKT:TGB) for closing a silver streaming agreement for the white metal produced at the Gibraltar mine. The deal is a rare case of both sides benefiting in our opinion.
And without further ado, here is our extensive weekly drill result summary: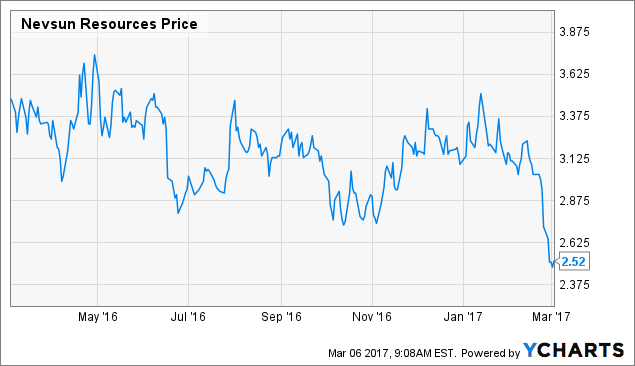 SilverCrest Metals (OTCQX:SVCMF) surprised itself and the market by finding bonanza-grade silver mineralization in places it had originally assumed mined out. The Babicanora vein is starting to look very interesting indeed, and Itinerant Musings readers have done very well on this pick if they joined us in this trade back in November 2015.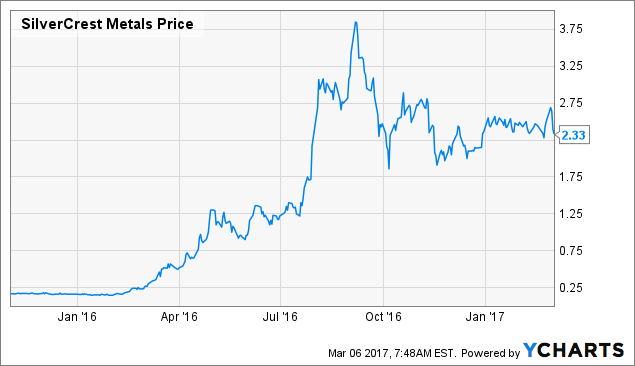 Moving on to financings this past week.
Rubicon Minerals (OTC:RBYCF) managed to close a C$10M flow-through placement, which we find quite remarkable given the dog's breakfast the company in its previous incarnation has made of the Phoenix project in the Red Lake district.
And apropos dog's breakfast: times have certainly changed, as even Aurcana (OTCPK:AUNFF) has been able to place C$3.45M worth of its equity. In case you wondered, yes, the company wishes to bury the proceeds at the Shafter project in Texas, where plenty of shareholder value has already been misplaced.
IAMGOLD (NYSE:IAG) is replacing its 2020 Senior Notes with a new $500M debt offering maturing in 2025. We reserve our judgment until conditions for the new debt become known, others believe it's a "positive financial decision" regardless of interest rates or the like.
Luna Gold (OTCPK:LGCUF) and JDL Gold (OTCPK:LWLCF) have raised C$80M to supplement the treasury of the two preceding the proposed business combination. Not bad for a company that looked like an utter failure not long ago. Sandstorm Gold (NYSEMKT:SAND) will own a substantial stake in the joint entity upon finalization of the deal.
Goldcorp (NYSE:GG) acquired 19.9% of Triumph Gold (OTCPK:NFRGF) in a C$6.3M flow-through placement. The junior's flagship projects are located in the Yukon, proximal to the major's Coffee heap leach project.
Rathdowney Resources (OTC:RATHF) has closed its previously announced C$6.9M placement and provided an update from its project Olza in Poland.
Leagold (TSX ticker LMC.V) has no problems finding financiers wishing to throw money at it. The mix to finance the acquisition of Goldcorp's Los Filos mine in Mexico's Warrior State has been modified to a US$150M five-year term loan, US$50 million equity private placement, and a previously announced C$175M equity offering. Not bad for a company listed on the Venture exchange, we think.
In other news:
Beaufield Resources (OTCPK:BFDRF) has taken steps to defuse the ongoing proxy battle by bringing in a new CEO with a pertinent employment record. Meanwhile in the same neighborhood Great Thunder Gold (OTC:MLBVF) has joined the me-too crowd trying to benefit from Osisko Mining's Windfall project.
Mountain Province Diamonds (NYSEMKT:MPVD) and JV partner De Beers Group announced commercial production at the mighty Gahcho Kue mine. The milestone was reached on budget and ahead of schedule according to De Beers CEO Bruce Cleaver.
Treasury Metals (OTCPK:TSRMF) has issued a corporate and project update for the Goliath project. This latest news release fits well with our recent article on the company, and Itinerant Musings subscribers will be treated to an update from this scribe shortly.
Wellgreen Platinum (OTCQX:WGPLF) has finally released results of a metallurgical test program. The good news is that byproducts show higher recoveries than anticipated in the 2015 PEA; but the bad news is that nickel recoveries turned out significantly lower. Don't be fooled by the company name: Wellgreen is a nickel project, hence the market reaction.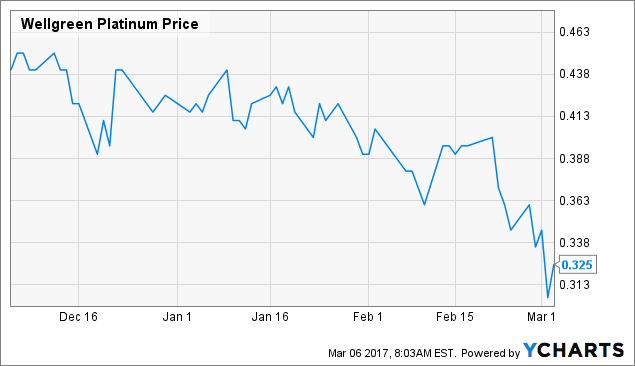 Eurasian Minerals (NYSEMKT:EMXX) is chipping away at its project portfolio, and has optioned the Copper Springs project in Arizona to Anglo American. The ongoing C$7M placement will be needed to replenish the pipeline after a good number of similar deals during the past year.
Lydian International (OTC:LYDIF) confirmed our expectations by converting inferred resources into reserves at its Amulsar project in Armenia. Just like we anticipated the strip ratio is set to drop to 2.2 as a result, and production during the first 5 years will increase by 8%.
And that's already more than plenty for this week's edition. See youse all again sane and healthy next week.
Thanks for reading our article. If you're looking to stay on top of the mining sector, consider following my account above to get my latest articles. If you want to see our best ideas, please have a look at Itinerant's Musings, with exclusive access to our small and mid-cap ideas, a lively community, and regular commentary and outlook on metal prices. We'd love to have you on board.
Disclosure: I am/we are long SVCMF, NSU, SAND.
I wrote this article myself, and it expresses my own opinions. I am not receiving compensation for it (other than from Seeking Alpha). I have no business relationship with any company whose stock is mentioned in this article.
Editor's Note: This article covers one or more stocks trading at less than $1 per share and/or with less than a $100 million market cap. Please be aware of the risks associated with these stocks.